Sri Lanka: Despite UN calls to protect civic freedoms, government targets activists and critics and stifles dissent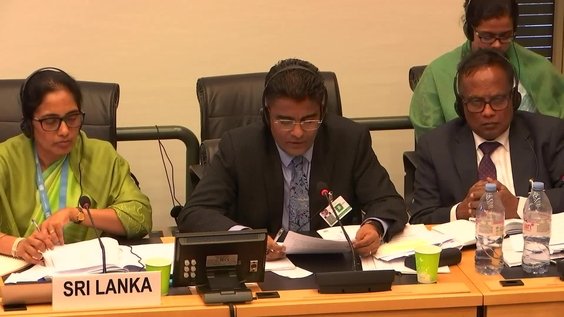 The state of civic space in Sri Lanka remains rated as 'obstructed' by the CIVICUS Monitor. Ongoing concerns related to fundamental freedoms include the targeting of civil society groups, human rights defenders, journalists and the families of victims of past violations. Further, the government has used the draconian Prevention of Terrorism Act and ICCPR Act to silence dissent. There has also been impunity for crackdowns on mass anti-government protests including arbitrary arrests, judicial harassment and excessive use of force.
On 8-9th March 2023, the UN Human Rights Committee reviewed the state's implementation of its obligations under the International Covenant on Civil and Political Rights (ICCPR). Ahead of the review, CIVICUS submitted a report to the Committee. In its concluding observations, the Committee highlighted concerns around the harassment, intimidation, surveillance, disappearances and killings, with impunity, of journalists, human rights activists and other media workers, the misuse of the International Covenant on Civil and Political Rights Act No. 56 of 2007 to stifle freedom of expression and the blocking of public access to social media platforms ahead of and during anti-government protests in 2022.
The Committee also noted with concern the use of excessive force in dispersing peaceful assemblies, the application of counter-terrorism legislation against protestors and the lack of effective investigations and prosecutions in these cases. It was also concerned about onerous requirements for the registration of non-governmental organisations and frequent denials of requests from organisations working on politically sensitive issues.
In April 2023, the US said it would refuse visas on human rights grounds to a Sri Lankan provincial governor and former Naval Commander who has been charged with killings during the island nation's long civil war. A Sri Lankan investigation accused Wasantha Karannagoda, a former navy chief, among others, of abducting teenage children of wealthy families and killing them after extorting money.
In May 2023, Human Rights Watch noted that 14 years since the end of the country's brutal civil war the Sri Lankan government remains in denial about the atrocities committed by its forces. The government Office on Missing Persons, set up to trace the disappeared, has made no progress. Some government officials implicated in alleged crimes remain politically powerful or hold senior positions in the Sri Lankan military. The authorities continue to seize or hold land belonging to Tamils or owned by Hindu temples.
In July 2023, the Universal Periodic Review of Sri Lanka's human rights record will be adopted by the UN Human Rights Council following its review in February 2023. The government accepted recommendations on civic space it received during this cycle, including to repeal the Prevention of Terrorism Act and ensure any replacement legislation conforms to international human rights standards; to guarantee freedoms of expression, peaceful assembly and association; and ensure a safe environment for civil society, including human rights defenders and journalists, and refrain from imposing undue limitations on NGOs.
In recent months, the authorities have questioned or arrested activists, journalists and critics including Nathasha Edirisooriya, Bruno Divakara, Ramachandran Sanath, Tharindu Udavaragedera and Prasad Welikumbura. Human rights lawyer Priyalal Sirisena has received threatening phone calls while another, Hejaaz Hizbullah, continues to face judicial persecution. The authorities are investigating alleged contempt speech made by five activists against the arrest of Nathasha Edirisooriya. There have also been attempts to weaken unions and to increase monitoring of NGOs. The proposed draft terrorism law contains numerous provisions that threaten human rights, while protests have met with excessive force.
Expression
Arrest of youth activist and comedian
🇱🇰#SriLanka: The gov't must immediately release youth activist & stand-up comedian Nathasha Edirisooriya & drop charges against her. Her arrest & detention go against the country's int'l human rights obligations & is a clear attack on artistic expression https://t.co/H00WP3tzMw pic.twitter.com/8hIuwoJz4B

— CIVICUS (@CIVICUSalliance) June 21, 2023
Youth activist and stand-up comedian Nathasha Edirisooriya was arrested in May 2023, and accused of hate speech and insulting Buddhism for two jokes made during a comedy performance published on YouTube three days earlier. An edited clip of the performance was circulated, resulting in severe social media backlash. She retracted the video the same day and publicly apologised.
On the night of 27th May 2023, Nathasha was prevented from travelling and subsequently arrested by the Criminal Investigation Department (CID) at the Bandaranaike International Airport. The police initially refused access to lawyers or her partner.
Despite her apology, online harassment and threats against her escalated, and the location of her residence was shared online. She faced trolling, and serious threats of violence and rape.
On 28th May, she was charged under Section 3 of the International Convention on Civil and Political Rights (ICCPR) Act No. 56 of 2007, Section 291A (deliberate intention of wounding the religious feelings of any person) and 291B (deliberate and malicious intention of outraging the religious feelings of any class of persons) of the Penal Code of Sri Lanka and the Computer Crimes Act. She was denied bail on the basis that her release would result in 'public disturbance' and was remanded until 7th June 2023. Her bail was then extended until 21st June and again to 5th July.
Nathasha Edirisooriya is one of the few practising women stand-up comedians in Sri Lanka. She has actively created and defined a space for herself as a feminist who addresses issues of gender, sex, chauvinism and misogyny, moral and religious hypocrisy and mental health through her stand-up comedy. She has also been part of the CIVICUS Youth Action Lab for grassroots Global South youth activists building resilient and sustainable movements for a more equitable world. In 2021 she conducted a piece of research titled 'Decoding Sexual Harassment' to understand the instigation of sexual harassment in Sri Lanka.
The CIVICUS Monitor has documented how the ICCPR Act – which, among other provisions, criminalises the advocacy of 'national, racial or religious hatred that constitutes incitement to discrimination, hostility or violence' - has been misused over the years to criminalise activists, stifle freedom of expression and detain and silence poets, writers and others.
On 5th July 2023, the Colombo High Court ordered Nathasha's release on bail. Delivering the judgment, High Court Judge Adithya Patabendige stated the ICCPR Act is currently being implemented in a manner contrary to its intended purpose of introduction by the legislature and emphasised the relevance of the Rabat Action Plan. She was released the following day.
YouTube channel owner arrested
Bruno Divakara, the owner of the YouTube channel 'SL VLOG' was brought in for questioning on 31st May 2023 around the video of stand-up comedian Nathasha Edirisooriya (see above), which had gone viral across social media platforms. It was initially published on the YouTube channel of 'SL VLOG'.
The Criminal Investigation Department (CID) arrested the 'SL VLOG' owner under the ICCPR Act after grilling him for more than eight hours over the video. Police Spokesman Nihal Thalduwa said that Divakara was arrested for 'aiding and abetting an illegal act' committed by Edirisooriya. He was granted bail on 21st June.
Investigation into activists for contempt
Inquiry over those who spoke against Nathasha's arrest https://t.co/j8hEOZVmyI

— NewsWire 🇱🇰 (@NewsWireLK) June 7, 2023
On 8th June 2023, it was reported that the Colombo Fort Magistrate had ordered the Criminal Investigations Department (CID) to commence a probe into alleged contempt speech made by five activists at a press conference held against the arrest of stand-up comedian Nathasha Edirisooriya.
According to reports, a press conference was held on 30th May at the Centre for Society and Religion following the arrest of Edirisooriya. Journalists Tharindu Jayawardena and Tharindu Udavaragedera, lawyer Lakmali Hemachandra and activists Vidharshana Kannangara and Bitro Fernando had expressed their views on the arrest at the media briefing.
On 4th July, Tharindu Udavaragedera was questioned by the CID regarding the press conference he had participated in.
Activist questioned for critical tweet
On 14th June, social activist Prasad Welikumbura was questioned by the Criminal Investigation Department regarding a Twitter video he published in February 2023. According to journalist Tharindu Jayawardena, the video showcases a group of citizens expressing their dissatisfaction with a military motorcade.
In the tweet he said: "People showing their disgust for a military parade in #Moratuwa. They question spending money on the military when there are medicine shortages in the hospitals."
Association
Draft terrorism law threatens human rights
In March 2023, Sri Lanka published a new Anti-Terrorism Act (ATA) which is intended to replace the notorious Prevention of Terrorism Act (PTA), which led to widespread torture and arbitrary detentions since its introduction in 1979.
According to Human Right Watch, while the new bill contains some improvements, it includes provisions that will facilitate abuse. Its definition of terrorism is vague and overbroad and can include peaceful protest or acts that, while criminal, do not rise to the level of any reasonable definition of terrorism. While under the PTA, the authorities can detain a suspect for up to a year on orders signed by the defence minister, the proposed bill gives the authority to issue detention orders to deputy inspectors general of police, increasing the risk of abuse. The police could take a detainee from pretrial detention back into police custody, and the defence secretary could transfer a detainee to the custody of "any authority." This puts suspects at greater risk of torture and other ill-treatment, as abuses under the current law demonstrate.
The proposed bill also grants police and the military sweeping powers to stop, question, search and arrest anyone, or seize any document or object without a warrant if they believe they have "reasonable grounds." The military, which is not trained in law enforcement, would have 24 hours to transfer a detainee to police custody, placing detainees at greater risk of abuse. The president, on the advice of the police or military, would be authorised to declare any location a "prohibited place," with up to three years in prison for violations.
Following strong pushback from civil society, the draft bill has been recalled for additional consultations.
Journalist and human rights defender summoned for interrogation
I've received concerning reports of the interrogation of Sri Lankan HRD Ramachandran Sanath by the Terrorism Investigation Division on 6 April, in relation to an article he wrote on Malayaha Tamils. Acts of intimidations against HRDs for their peaceful work must stop@SLUNGeneva pic.twitter.com/JndecB14ct

— Mary Lawlor UN Special Rapporteur HRDs (@MaryLawlorhrds) April 18, 2023
Frontline Defenders reported that on 1st April 2023, journalist and human rights defender Ramachandran Sanath was summoned to appear before the Terrorism Investigation Department (TID) office in Nuwareliya (Central Province) for an inquiry on 6th April 2023. The summons was delivered to Ramachandran Sanath's home in Kandy. The TID refused to disclose the purpose of the inquiry.
According to the human rights group, Ramachandran Sanath is an independent Tamil journalist, human rights defender and advocate for the rights of plantation workers in Kandy, Sri Lanka. He is known for his outspoken criticism of government policies. Apart from his work as a journalist, Ramachandran Sanath actively writes about social issues and the human rights issues pertaining to Indian-origin Tamils in Sri Lanka. Furthermore, he has been actively involved in protesting and advocating for land rights and fair wages for plantation workers.
Front Line Defenders said it was "deeply troubled by the acts of reprisals against Ramachandran Sanath, as well as other human rights activists and journalists, particularly those from Tamil and Muslim communities."
Human rights lawyer receives threatening phone calls
🚨 URGENT APPEAL: #SriLanka - Threats and intimidation against human rights defender Priyalal Sirisenahttps://t.co/02EqkRwxVI pic.twitter.com/DCnB63IBRc

— Front Line Defenders (@FrontLineHRD) May 30, 2023
According to Frontline Defenders, on 21st and 23rd May 2023, human rights defender and human rights lawyer Priyalal Sirisena received threatening phone calls from unidentified persons who warned him to stop his work and actions against a 'minister'.
Although the minister was not named during the call, there is good reason to believe that the threats are linked to Priyalal Sirisena's legal action against a powerful elected official in Sri Lanka for contempt of court.
Priyalal Sirisena is a human rights defender and lawyer who has dedicated himself to supporting and advocating on behalf of victims of human rights violations in Sri Lanka, especially victims of custodial torture and arbitrary detention.
More recently, Priyalal Sirisena has been involved in a legal case against a State Minister for contempt of court based on this minister's public criticism of the magistrate's court's decision to grant bail to protesters linked to the economic crisis. Two charge sheets were filed against the minister in this case on 23rd February 2023.
PM threatens boycott by school and university teachers
In April 2023, Sri Lankan President Ranil Wickremesinghe threatened school and university teachers who were boycotting the evaluation of students' university entrance exams.
Speaking at a meeting with education ministry officials, Wickremesinghe warned that he would declare education an essential service covered by emergency laws and bring legal action against teachers if they failed to report for evaluation of exams within a week.
Tens of thousands of schoolteachers are involved in marking the exam answer scripts, which is supervised by university teachers. On 9th March, a nationwide strike was called by the Federation of University Teachers' Associations (FUTA) to protest the government's recent increase in tax on salaries and other issues. Although the FUTA ended its strike on 12th April, the boycott on marking continues. School teachers involved in the action are demanding that the daily allowance for marking the exam scripts be increased.
Attempt to weaken trade union strength
On 31st May 2023. IndustriALL Global Union reported that in another attempt to weaken trade union strength, the government had arbitrarily removed four trade unions from the reconstituted National Labour Advisory Council (NLAC), a tripartite mechanism to discuss labour-related matters.
They include Commercial and Industrial Workers Union - United Federation of Labour (CIWU-UFL), Ceylon Mercantile Industrial and General Workers' Union (CMU) and Free Trade Zones and General Services Employees' Union (FTZ&GSEU).
IndustriALL Global Union said: "This comes at a time when the Sri Lankan government is proposing to reform the country's existing labour laws. Unions claim that is an attempt to side line independent unions, especially in the private sector. Excluding representation in the NLAC of workers from the free trade zones and export manufacturing sectors will allow employers to more easily negotiate for labour law reforms to their advantage."
Ongoing persecution of lawyer and human rights defender Hejaaz Hizbullah
Joint statement on the ongoing trial of lawyer and human rights defender Hejaaz Hizbullah @EU_in_Sri_Lanka @UN_HRC @UN_SPExperts @amnestyusa @hrw @Justice4Hejaaz https://t.co/0SixheoooT via @LankaBrief

— sunanda deshapriya (@sunandadesh) June 21, 2023
In June 2023, eight law and human rights organisations, including Lawyers for Lawyers, the Bar Human Rights Committee, the International Bar Association's Human Rights Committee (IBAHRI), International Commission of Jurists, the Law Society of England and Wales, Lawyers' Rights Watch Canada, the International Federation for Human Rights (FIDH) and the World Organisation Against Torture (OMCT) raised concerns about the ongoing violations of fair trial rights in the trial of lawyer and human rights defender Hejaaz Hizbullah.
Hizbullah is a lawyer and human rights defender known for advocating for the members of the minority Muslim Community in Sri Lanka. He has advised and represented victims of discrimination, particularly in regard to hate speech and hate-based violence in Sri Lanka since 2012.
The groups said that Hizbullah is being persecuted for his work to defend the rights of persons from the Muslim community in Sri Lanka in his capacity as a lawyer and human rights defender. They also raised concerns around reliable reports of witness intimidation and coercion in the case.
They called on the authorities to ensure that Hizbullah is afforded all the elements of a fair trial under international law; to end all acts of harassment against Hizbullah and immediately stop the arbitrary arrest, threat of arrest, coercion and other intimidation of witnesses in his case.
As previously documented, Hejaaz Hizbullah was arrested on 14th April 2020. During the first eight months of his pre-trial detention, he was denied access to a lawyer. It was almost a year after his arrest, on 3rd March 2021, that Hizbullah was officially charged with "inciting communal disharmony" under the PTA, for "advocating national, racial or religious hatred that constitutes incitement to discrimination, hostility or violence" under the International Covenant of Civil and Political Rights Act of 2007 and for conspiracy and abetment charges under the Penal Code. These charges all relate to a speech that Hizbullah was alleged to have made at the Al-Zuhriya Arabic College in August 2018. Hizbullah denies having made the speech and evidence is available for his whereabouts at the time of the alleged speech. On 9th February 2022, after 22 months, he was released on bail by the Puttalam High Court.
Minister calls for NGOs to be monitored closely
On 13th June 2023, it was reported that Sri Lanka's Public Security Minister, Tiran Alles, had called for the mandatory registration of non-governmental organisations, "so that we can monitor them closely".
According to the Tamil Guardian, the Minister's call for closer monitoring follows a speech in which Milan Jayathilake MP denounced NGOs as a "threat to national security".
As previously documented by CIVICUS, in January 2021, the Office of the UN High Commissioner for Human Rights (OHCHR) noted a pattern of intensified surveillance and harassment of NGOs by a range of security services, including the CID, TID and State Intelligence officials, who questioned them about administrative details and activities of the organisation and demanded lists of staff, including personal contact details, donors and funding sources. The OHCHR also noted that the government moved the NGO Secretariat, which supervises and monitors the registration and operations of NGOs, from a civilian ministry to oversight by the Ministry of Defence and its intelligence arms.
Peaceful Assembly
Police attack rally to mark anniversary of the 2022 protests
On 31st March 2023, the police arrested three people and violently disrupted a demonstration marking the first anniversary of the anti-government protests that began outside the house of former President Gotabhaya Rajapakse in Mirihana and led to a mass movement that forced his resignation.
According to a report, security personnel, including 3,000 policemen, were deployed to the area, well before the event. Police attacked the protesters, attempted to grab their placards and forced them towards the nearby town of Nugegoda. Police also reportedly physically attacked and tore the shirt of journalist Shantha Wijesuriya as he was photographing the police violence. Vindana Prasad Karunaratne, a Sirasa TV journalist, was also threatened by police.
Anuruddha Bandara, Sudara Jayasinghe and Dhanish Ali, leading figures in last year's Galle Face Green protests, were arrested but released later that night on condition that they take no legal action against the police.
After the police chased away the crowd, protesters congregated at Nugegoda junction, carrying placards and chanting slogans "Don't postpone elections!" and "Hands off the rights of people!"
Protesters demand justice for 2019 Easter Sunday attacks
Thousands of Sri Lankans held a protest in Colombo, demanding justice for the victims of the 2019 Easter Sunday bombings that killed nearly 270 people https://t.co/tNihgoLraJ pic.twitter.com/T4hoKNr3z2

— Al Jazeera English (@AJEnglish) April 21, 2023
In April 2023, thousands held a protest in the capital demanding justice for the victims of the 2019 Easter Sunday bomb attacks that killed nearly 270 people.
The protesters demanded that the government uncover who they said were the real conspirators behind the attacks on three churches, that included simultaneous suicide bombings during Easter celebrations on 21st April 2019. Three tourist hotels were also targeted, killing 42 foreigners from 14 countries.
Thousands of people including Catholic clergy lined up in a silent protest on both sides of the main road connecting the capital, Colombo, with the country's international airport. They blamed the government for not taking adequate measures to deliver justice for the victims of the bombings and punish those responsible.
The protesters, dressed in white and black, held one another's hands, forming a human chain. They displayed placards and banners that read "Until justice is meted out, we are watching," "No justice delivered to victims so far" and "Where is the mastermind behind the Easter Sunday attack?"
Tear gas, water cannon fired on protesting students
On 7th June 2023, the authorities used excessive force to disperse hundreds of students protesting in the capital.
The protest march had been organised by the Inter-University Students' Federation (IUSF) to demand the release of people arrested during last year's anti-government protests - including the detention of its members Kelum Muddannayake and Dilshan Harshana - the revoking of the suspensions imposed on several university student activists and to demand help with the high cost of living.
According to reports, the Soratha Road – the stretch of road from Wijerama Junction to the Sri Jayewardenepura University – was cordoned off by the police due to the protest march by the IUSF. Police then fired tear gas and water cannon to disperse protesting university students near the Sri Jayawardenapura University at Wijerama Junction in Nugegoda.