South Korea: Trade unionists face harassment and attacks while journalists charged for reporting on Ukraine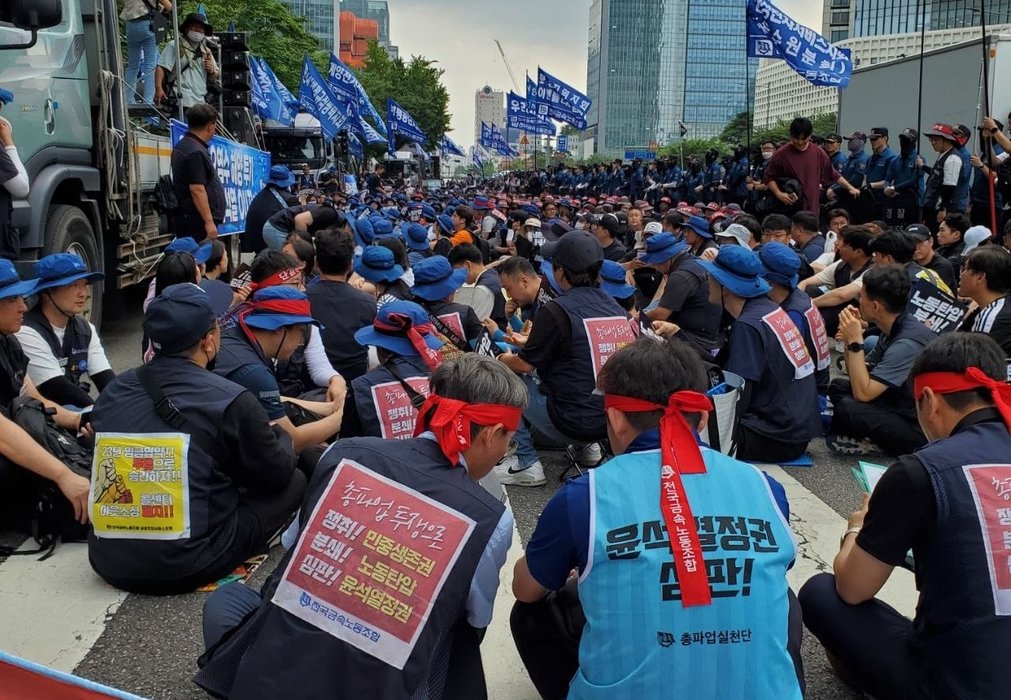 South Korea's civic space is rated as 'narrowed' by the CIVICUS Monitor. Among the civic space concerns documented previously are the disruption of union protests and raids on their offices. There have also been restrictions and investigations of civil society groups working on North Korea, concerns around press freedom and the right to privacy.
In recent months, it was reported that trade unionists are facing vilification and attacks while South Korea had dropped in the Reporters Without Borders (RSF) press freedom rankings and a journalist was charged for coverage of the Ukraine war. In a positive move, the Supreme court ruled to allow activists to fly balloons into North Korea, while lawmakers passed legislation on same-sex marriages.
Association
Trade unionists face vilification and attacks
There are serious concerns about the repression of trade unions in recent months. According to IndustriALL – a global union - President Yoon Suk-yeol's use of union-bashing rhetoric has set a national tone that is echoed on the ground in workplaces across the country, with increasingly violent attacks against trade unionists.
On May Day, a local union leader Yang Hoe-Dong, from the Korean Construction Workers Union (KCWU), set himself on fire outside a court to protest the concerted prosecution against trade unionists like him for carrying out union organising activities. He was under investigation for forcing construction companies to hire unionised workers and collecting union membership dues.
On 4th May 2023, a car rammed into three trade union leaders causing serious injuries to the union's vice chair.
In June 2023, two unionists from the Federation of Korean Metalworkers' Trade Unions (FKMTU) were injured after they were violently attacked by Korean police. While visiting a sit-in protest of FKMTU members working at POSCO steel mill in Gwangyang on 31st May, FKMTU president Kim Man-jae was ill-treated. Six plain-clothes police officers pressed Kim to the ground and knelt on his neck before handcuffing him.
The following day, FKMTU secretary-general Kim Jun-yeong joined the sit-in protest on a makeshift scaffolding seven metres high. At dawn, four police officers approached Kim with a mobile crane, striking Kim Jun-yeong with a long stick until he fell off the scaffolding. Kim suffered severe injuries to his forehead and head, a fractured knee and bruises all over his body. He was taken into police custody.
Shoya Yoshida, General Secretary of ITUC-Asia Pacific, condemned the recent police brutality and arrest of union officials, saying: "The ITUC-Asia Pacific is gravely concerned with the anti-union behaviour of the Korean government."
Supreme court rules to allow activists to fly balloons into North Korea
Defector-activist says he sent anti-Kim leaflets and medicine into North Korea https://t.co/VzeWHY3fWk pic.twitter.com/K6b78BfuJD

— Chad O'Carroll (@chadocl) May 8, 2023
On 27th April 2023, the Supreme Court ruled that it was unfair for the Moon Jae-in administration to cancel permission for the establishment of a group run by North Korean defectors to fly balloons filled with leaflets into North Korea. It reversed the lower court's decision which had said the cancellation of the permission was just.
The Supreme Court said that sending leaflets into North Korea plays a positive role in showing North Koreans the reality of their nation's regime, calling attention to their human rights situation.
In July 2020, the Unification Ministry decided to revoke the registration of Fighters for Free North Korea (FFNK), a defector group leading the leafleting campaign led by a well-known North Korean defector, Park Sang-hak.
In December 2020, as previously documented, South Korea's parliament passed revisions to a law to ban the launching of propaganda leaflets into North Korea. The amendments to the Development of Inter-Korean Relations Act bar any scattering of printed materials, goods, money and other items of value across the heavily fortified frontier. It also restricts loudspeaker propaganda broadcasts. The law carries punishment of up to three years in prison or 30 million won (USD 27,400) in fines.
Groups run by North Korean defectors and other campaigners have for decades sent anti-Pyongyang leaflets - alongside food, medicine, money, mini radios and USB sticks containing South Korean news and dramas - into the North, usually by balloon or in bottles on border rivers.
In May 2021, the law was used against North Korean defector Park Sang-hak. His office was raided and he was arrested and indicted.
The ruling was a huge win for Park and his freedom campaign. While going through the legal battle in 2022, he managed to send leaflet-carrying balloons across the inter-Korean border nine times.
According to Suzanne Scholte, chairwoman of the North Korea Freedom Coalition, thanks to the information carried by such balloons, many ordinary North Koreans have learned about the outside world as well as inside ― the truth North Korea's propaganda machines would never tell.
Phil Robertson, deputy director of the Asia division of Human Rights Watch, also welcomed the court decision. He said: "It is commendable that the court has upheld the right of people in South Korea to freely communicate views, and struck down the previous government's action."
Apart from the case in which the top court ruled in favour of Park's group, the anti-leaflet law is now awaiting a ruling by the Constitutional Court. Park said he might seek damage compensation from the government if the Constitutional Court finds the law did not comply with the Constitution.
Expression
Rankings drop in latest press freedom index
South Korea fell four spots to 47th place among 180 countries in the latest edition of the 2023 World Press Freedom Index released by Reporters Without Borders (RSF) in May 2023.
According to the RSF, South Korea is a liberal democracy which respects media freedom and pluralism and has a rich media landscape with over 400 broadcasters and 600 dailies.
At the same time, defamation is still punishable by seven years in prison, which can lead media outlets to omit key details of stories, such as the names of individuals and companies. Journalists accused of violating the National Security Act for the dissemination of sensitive information, especially if it involves North Korea, can also face jail. News outlets are confronted by pressure from politicians, government officials and business conglomerates, and journalists face harassment - including online - in relation to their work.
Journalist charged for coverage of Ukraine war
Freelance photojournalist Jang Jin-young is facing criminal charges for covering the war in Ukraine without permission from the government.
The International Federation of Journalists (IFJ) reported that South Korea charged Jang Jin-young under Article 17(1) of the Passport Act (Restriction on the Use of Passports) on 14th April 2022, which gives power to the government to "stop visiting or staying in a specific country or region only in countries where war has occurred". On 28th March, Jin-young was fined KRW 5 million (USD 3,917) for his coverage of the Ukraine war, where he reported without permission or designation by the Ministry of Foreign Affairs.
At the beginning of the war in 2022, the Ministry of Foreign Affairs allocated a select number of journalists in a 'permit system' to travel to Ukraine for a limited number of days. Jin-young, a freelance photojournalist, flew to Poland in March 2022, concerned that the limits would restrict the quality and quantity of news coverage on the conflict from Korean media.
The People's Coalition for Media Reform has found the law under which Jing-young was charged violates Article 21(2) of the South Korean Constitution, which "bans any permit system for press or publication". The Passport Act came into effect in August 2007 and has since blocked reporters from engaging in coverage in conflict zones globally. South Korea is the only country in the world to have a 'permit system' for reporting in conflict areas.
The International Press Institute (IPI) Director of Advocacy Amy Brouillette said: "The South Korean public has the right to information on these global topics, and South Korean journalists should not face punishment for doing their job of covering them."
Peaceful Assembly
Protest strike by metal workers' union against repression and for labour rights
SOUTH KOREA: Trade unions protest against escalating repression-IndustriALL https://t.co/Q3PhXpYBUI

— LabourStart (@labourstart) July 30, 2023
On 20th July 2023, the Korean Metal Workers' Union (KMWU) held a protest against trade union repression in Korea, calling for an end to the heavy-handed tactics employed by the government and for better labour rights. The protest came after a nationwide strike in early July 2023 where over 100,000 KMWU members from various industries participated.
During the rallies, KMWU leaders presented several demands, including the reform of the Trade Union and Labour Relations Adjustment Act (TULRAA), starting with articles 2 and 3. They also demanded wage hikes for all workers, starting with an increase in the minimum wage. Additionally, the union called for the rejection of the proposed 69-hour work week, fearing its impact on worker wellbeing. Other demands included putting a stop to trade union repression by the government and the resignation of the Yoon Suk-Yeol regime.
The nationwide strike, which took place from 3rd to 15th July, was part of the Korean Confederation of Trade Unions' (KCTU) broader protest against the government's actions towards trade unions. More than 100,000 KMWU members, including workers from Hyundai Motor, Hyundai Mobis, Daewoo Shipbuilding, and Hyundai Heavy Industries participated in the strike.
LGBT festival held in Seoul as lawmakers pass legislation on same-sex marriages
SEOUL: Tens of thousands attended South Korea's largest annual LGBT festival on Saturday, vowing to continue fighting for gay rights after the Seoul city government denied them a prime location and gave it to an anti-LGBT Christian group. https://t.co/O8sZXGhZBx pic.twitter.com/o4r0Yp6pRM

— Bangkok Post (@BangkokPostNews) July 1, 2023
Tens of thousands attended South Korea's largest annual LGBT festival on 1st July, vowing to continue fighting for gay rights after the Seoul city government denied them a prime spot and gave it to an anti-LGBT Christian group.
The Seoul Queer Culture Festival, staged outside city hall in the nation's capital annually since 2015, except for two years during COVID-19, was instead held nearby after the city government gave the permit for a Christian youth concert to be held at the prime spot.
Previously on 1st June, Human Rights Watch reported that lawmakers in South Korea had introduced legislation that would extend the right to marry to same-sex couples. The bill would amend the gendered definition of marriage in the country's civil code, allowing same-sex couples to marry and extending them the same rights and benefits afforded to heterosexual married couples. Meanwhile, the National Assembly is also considering legislation that would create civil partnerships as an alternative to marriage for both same-sex couples and heterosexual couples.
In the absence of partnership recognition, same-sex couples in South Korea are particularly vulnerable to discrimination and rights violations, including discrimination in taxation, inheritance and family law.