Somaliland: Media and journalists face new wave of attacks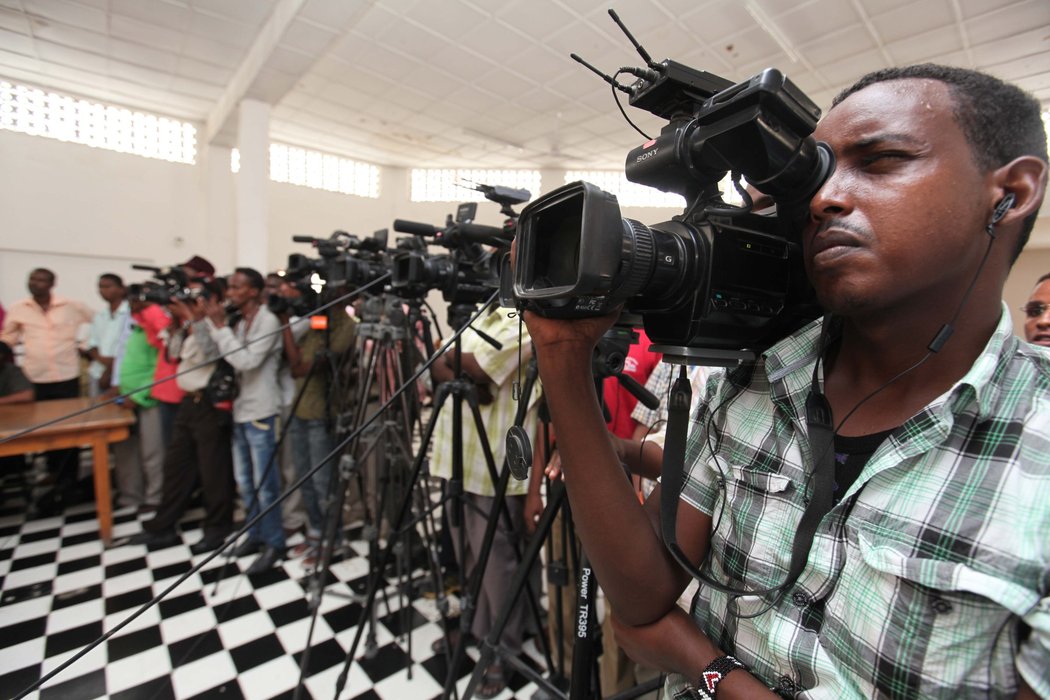 General updates:
Somalia
On 15th May 2022, Hassan Sheikh Mohamud was elected by the Federal Parliament of Somalia to succeed the outgoing Mohamed Abdullahi Mohamed, also known as Farmajo. The election took place after a delay of several months. The results were announced after three rounds of voting where Hassan Sheikh won 214 votes while his opponent Farmajo received 110 votes.
On 15th June 2022, after one month in office, President Hassan Sheikh Mohamud selected Hamza Abdi Barre, a member of the lower house of parliament, as the new prime minister, and on 25th June 2022,Barre's nomination was unanimously approved by parliament.
In a televised speech on 23rd August 2022, President Mohamud declared that his government would wage "total war" against the extremist organisation Al-Shabaab. The president made these remarks after the extremist group staged a fatal hotel siege in Mogadishu on 19th August 2022, killing at least 21 people and injuring more than 100.
Somaliland
On 23rd September 2022, the Somaliland electoral commission postponed the presidential election for nine months after stating that it could not organise the election scheduled for 13th November 2022 due to "time, technical, and financial constraints."
Opposition protest still continues in Hargeisa and other cities in #Somaliland. Leader of Waddani Party Hirsi Ali & presidential candidate Abdirahman Irro are seen marching with protesters demanding timely presidential election. #Somalia pic.twitter.com/44Oh2vumCn

— Somali Guardian (@SomaliGuardian) August 11, 2022
Peaceful Assembly
SOMALILAND
On 11th August 2022, a protest broke out in Hargeisa over an alleged attempt to delay the presidential elections. President Muse's current term was set to end on 13th November 2022, but the opposition accused him of trying to extend his stay through "Guurti", a council of elders that acts as the de facto parliament in Somaliland. Security forces fired live ammunition to disperse the protest and arrested approximately 100 protestors. Somaliland's commander of police operations, Ibrahim Abdi Haji, accused the political opposition of being responsible for the violence, stating that their leaders would be held accountable. Somaliland President Muse Bihi Abdi announced on 12th August that at least five people had been killed and 100 more injured following clashes between security forces and protesters.
In September 2022, the elections were officially postponed to 13th November 2022 (as mentioned in general update section)
Expression
SOMALIA
On 9th May 2022, the Parliamentary Committee on Presidential Election released a memo restricting independent journalists from accessing the presidential election venue on 15 May 2022, the day of the elections. The memo stated that journalists could follow the process through the TV screens installed outside the hall. On 10th May 2022, the Somali Journalists' Syndicate (SJS) and Somali Media Association (SOMA) condemned the move and urged the Federal government and the speaker to withdraw the restrictive decision and allow journalists to access the voting venue fully.
Mohamed Osman Makaran, the Secretary-General of the Somali Media Association (SOMA) said:
"As Somalia now concludes the delayed electoral process which is marred by many serious allegations of malpractice, it is again concerning that the Parliament is refusing the media to have access to the voting venue on 15 May. We ask all concerned officials to act quickly and withdraw this draconian decision."
On 1st June 2022, the Southwest state police raided Radio Barawe, a local minority community rights station in Barawe and detained two of its journalists. Osman Aweys Bahar and Fuad Shoble were forcefully detained at gunpoint. Before the raid, the Lower Shabelle court issued a warrant of arrest for Bahar after he reported on the escalating conflict between the Barawe District Council and the district commissioner.
On 13th June 2022, representatives from the Villa Somalia communications department barred and intimidated journalists in Mogadishu reporting on the visit of Victoria Nuland, the U.S. Under Secretary of State for Political Affairs. The presidential staff allegedly locked journalists in a small room for an hour to prevent them from accessing the venue. Similarly, on 15th June 2022, Villa Somalia security guards prohibited journalists from covering the appointment of the new prime minister, Hamze Abdi Barre,despite the fact that all the journalists had invitations and press accreditation to cover the event.
On 19th June 2022, the Haramcad police officer who shot and critically injured SJS member and Goobjoog TV cameraman Sharma'arke Abdinur Wehliye received a one-year sentence from a Somali military court. He was also ordered to pay compensation for his injuries. Sharma'arke was shot on 20th March 2021.
On 24th June 2022, the Somali Mechanism for the Safety of Journalists (SMSJ) released its annual monitoring report for 2021, in which it noted that 105 violations against the media had been recorded in 2021. The 2021 figures show a 62 per cent increase in violations from 2020 and are the highest caseload recorded in 10 years. Among the major violations recorded are two cases of murder, 66 arrests, 14 media outlet raids, 14 physical assaults, 13 cases of harassment and two sham trials.
On 27th June 2022, two Somali journalists, Abdikarin Mohamed Siyad and Khalid Mohamud Osman, working for Hirshabelle State television, were wounded in a terrorist attack after a vehicle they were travelling in was hit by a landmine at Qabno locality. It was reported that at least three people were killed in the attack, including Abdirahman Adow, the driver of the journalists' vehicle, in what is widely suspected to be the work of Al-Shabaab militants.
On 4th July 2022, military personnel stopped two journalists at gunpoint while they were conducting interviews with fishermen at Liido beach. The military officers confiscated equipment and threatened to shoot Risaala Media Corporation journalist Abduqadir Osman Indhoy and his cameraman Mohamed Said Nur. The two were investigating the effects of the monsoons on food security. On the same day, Najib Abdi Abib, the police commissioner for the Hawl-wadag, and his armed officers briefly held two other journalists from Risaala Media Corporation, Kasim Ibrahim Adani and Abdukadir Hussein Anshur, and threatened to shoot them. The journalists were reporting an armed robbery attack. The authorities confiscated their equipment and forced the journalists to delete the footage before releasing them.
On 5th July 2022, police officers detained RTN television reporter Mohamed Abdirahin Mohamed. Mohamed claims he was pursued after his interview with South West State Assembly opposition members. The political opposition member and six others had protested the revocation of their immunity and membership in the state assembly. Mohammed was warned against publishing the interview or criticising President Abdiaziz Hassan Mohamed (Laftagareen).
Separately, the Jubbaland president's office banned independent media from covering the inaugural session of the Jubbaland Assembly's fourth session in Kismayo. President Ahmed Mohamed Islam (Madobe) addressed the regional lawmakers on 6th July 2022 and on 9th July 2022, armed officers detained Shabelle television and radio journalist Hashim Omar Hassan while covering the Eidul-Adha congregation in Adado town. His arrest is related to a Facebook post criticising Galmudug State president Ahmed Abdi Karie.
On 15th July 2022, South West State intelligence officers in Baidoa detained Arlaadi Media Network (AMN) journalist Hassan Ali Da'ud in an unknown location. Hassan was allegedly detained following a broadcast regarding a grievance raised by South West State (SWS) opposition parliamentarians who came out against a physical assault by Abdiaziz Hassan Mohamed security personnel in Baidoa. In another incident, two AMN journalists were attacked, shot at, beaten and detained by police in Wadajir district. The officers attacked the journalists while reporting on the impact of roads blocked by the ongoing rains. Additionally, their equipment was confiscated and destroyed. The journalists were released without charge that evening.
On 30th September 2022, Somali National TV journalist Ahmed Mohamed Shuku was killed in a bomb attack while covering security operations against Al-Shabaab.
SOMALILAND
On 13th April 2022, police officers and intelligence officers arrested 15 journalists for covering a prison fight between inmates and guards in a prison in Somaliland. At first, the security forces arrested nine journalists, seven working for local private media outlets and two working for international outlets. However, an advocacy group, the Human Rights Centre, claimed that two of the detained journalists were released after a few hours. On the same day, security personnel raided the Horn Cable TV offices and arrested six journalists for airing the reported prison fight. One of the detained journalists, Naima Abdi Ahmed, reported that officers beat and kicked her, causing bodily harm. On 19th April 2022, Somaliland authorities released 12 of the 15 journalists.
On 18th March 2022, five men believed to be intelligence officers beat and dragged freelance journalists Abdisalan Ahmed Awad, Ali Mahdi Jibril, and Saab TV reporter Shafic Mohammed Ibrahim out of their car while they were driving in Hargeisa, Somaliland. The men accused Abdisalan of criticising Somaliland President Muse Bihi Abdi on Facebook. They assaulted him and warned him to leave their president alone. The journalists reported that several shots were fired during the attack. Relatedly, intelligence officers arrested and detained Abdisalan in an undisclosed location on 3rd April 2022. The arrest was allegedly related to the assault incident on 18th March 2022. Abdisalan was allegedly detained in retaliation for speaking out about the March attack.
On 23rd May 2022, the Regional Courts sentenced MM Somali TV director Mohamed Abdi Ilig and Horn Cable TV reporter Abdijabar Mohamed Hussein to one year and four months in jail. Gobonimo TV journalist Abdirahman Ali Khalif was acquitted. The three journalists were among the journalists who were held in detention for covering the Hargeisa prison fight, a fight between prisoners and guards. They were accused of publishing "false news". The court case was allegedly conducted hastily without the defendants' families or defence attorneys' awareness.
Unrelatedly, the Marodi Jeh Regional Court of Appeal sentenced journalist and social activist Abdimalik Muse Coldon, who was jailed on 19th August 2021, to a two-year jail term and fined him three million Shilling (USD 372). As previously reported by the Monitor, his arrest was allegedly related to a statement claiming that the Hargeisa Cultural Center and the Abaarso school is spreading anti-Islamic and anti-Somali ideology.
Suleyman Yusuf Ali, the Minister of Information for Somaliland, announced at a press conference that the government would suspend all BBC activities on 19th July 2022. However, it was unclear whether the suspension would apply to all the outlet's reporting and broadcasting activities in Somaliland. Suleyman accused BBC Somali of losing its objectivity and was "undermining the integrity of the Somaliland state." According to a BBC spokesperson, the suspension was not formally communicated.
On 11th August 2022, Ahmed-Zaki and Abdinasir of Horyaal 24 TV were detained by police while covering opposition demonstrations in Hargeisa. On the day of these protests, NetBlocks saw a significant disruption to internet services on numerous provider platforms in Somaliland. On 15th August 2022, police officers accused the journalists of taking part in the protests but did not file charges. After discovering Ahmed-Zaki was a journalist, the court ordered his release, but it is unknown why the court did not release Abdinasir. Unfortunately, the police did not follow the court order to release Ahmed-Zaki.
#Somaliland's information ministry banned @CBA_TV's operations in #Somaliland accusing of lack of license, but Hussein Jama, the director of @CBA_TV, denied the accusation.

— Zakeriye Ahmed (@ZakeriyeAxmed) September 7, 2022
On 6th September 2022, Suleyman Yusuf Ali, Minister of Information, banned CBA TV from operating in Somaliland. He claimed that their licence had expired and alleged that the broadcaster was airing content that "threatened the peace in the region." In his letter Suleyman accused CBA TV of breaching Article 45 of Somaliland's press law, which he said prohibits media from propagating content harmful to the stability of Somaliland. CBA TV noted that permits issued in 2018 by the Ministry of Information and the Attorney General's offices do not expire. They also claimed that their reporting was balanced.