Solidarity protests with Belarus held, journalists covering military operations face risks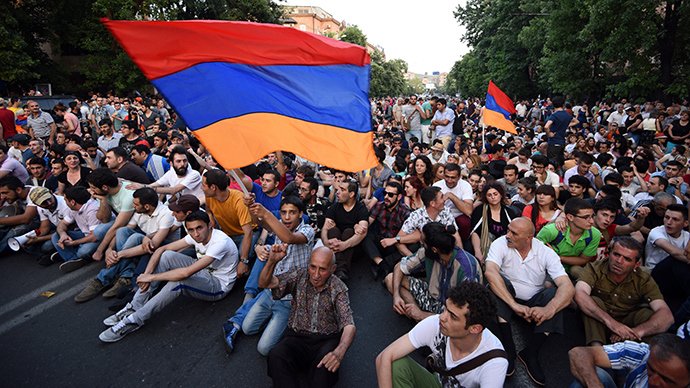 Another day, another protest against the Amulsar gold mine in Armenia, which has become increasingly tense in recent weeks. Today, Jermuk residents against the mine are holding an auto-rally and driving to Yerevan. pic.twitter.com/K6600pBnsN

— Tom Rowley (@te_rowley) August 20, 2020
Peaceful Assembly
Protests against Amulsar explorations continue
In early August 2020, several protesters, demonstrating against gold mining activities by the company "Lydian Armenia" near Mount Amulsar, were detained by law enforcement officials.
At least 14 protesters were detained on 5th August. On 6th August2020, several activists who protested in front of the government building demanding a stop to the exploration in Amulsar were also detained. Those who were detained included Nina Karapetyants, the head of the Helsinki Association of Armenia, while holding a solo picket. Public authorities cited COVID-19 restrictions on public gatherings, although protesters said that the officials used the pandemic as a pretext to stop any demonstrations.
Protests against Lydian Armenia's explorations have been going on for years, as previously documented on the Monitor.
Protest in #Yerevan, #Armenia in solidarity with #Belarus 🤍❤️🤍 https://t.co/esMcAi8YF6

— Karine Ghazaryan (@GhazaryanKarine) August 14, 2020
Solidarity Protest with Belarus
Following the outbreak of violence against citizens who protested against the disputed August 2020 elections in Belarus, on 13th August 2020, several Armenian activists marched to the parliament building in Yerevan to express support and solidarity with Belarusian protesters who were mistreated by law enforcement.
Separately, on 10th September2020, the Armenian National Platform of the Eastern Partnership Civil Society Forum and other non-governmental organisations protested in front of the Embassy of Belarus in Armenia to call for the release of three civil society representatives who were detained in Belarus between 7th and 9th September 2020. Among those detained by Minsk authorities were several members of the Eastern Partnership Civil Society Forum (Irina Sukhiy, Andrej Jahorau and Stanislava Husakova), who are also members of the Belarusian National Platform of the Eastern Partnership Civil Society Forum.
Authorities in #Armenia and #Azerbaijan must ensure the safety of journalists reporting on the conflict in Nagorno-Karabakh.https://t.co/dAPhKY3FDN

— Committee to Protect Journalists (@pressfreedom) October 1, 2020
Expression
Journalists under attack in Nagorno Karabakh
On 27th September 2020 in Nagorno Karabakh, a region that is legally recognised as part of Azerbaijan but declared independent in 1988, military operations broke out again, in attacks that resulted in many victims including civilians and military personnel. Two journalists from "Le Monde" and two Armenian journalists from "24News" were among those injured, while reporting in Martuni region, in eastern Nagorno Karabakh. According to the journalists, the attacks were coordinated by the Azerbaijani side. On their part, Azerbaijani officials said that the attacks against the media were supported by the Armenian side.
Separately, The International Federation of Journalists also reported that three journalists from the Azerbaijan Public Television ITV who were documenting the conflict from the Azeri side were fired upon by Armenian armed forces on 29th September. In their press release, the International and European Federation of Journalists called on Armenian and Azeri authorities to secure journalists' safety.
Other journalists, including Russians, also confirmed that they were under military attack.
IFJ General Secretary Anthony Bellanger said:
"It is essential to publish accurate reporting about the conflict over Nagorno-Karabakh. This means that journalists must be able to report without fearing attacks. We call on Azeri and Armenian authorities to ensure the safety and independence of the press corps reporting on the ground."
Association
The Eurasia Partnership Foundation granted special advisory status with ECOSOC
On 25th September 2020, the Eurasia Partnership Foundation (EPF) in Armenia announced that it had received the special advisory status with the United Nations Economic and Social Council in late June 2020. This development was supported by the Committee on Non-Governmental Organizations, which appreciated the EPF's efforts to strengthen the capacity of Armenian civil society to monitor the implementation of reforms and public policies. According to a press release issued by EPF, this consultative status is important for civil society organisations because it allows access to the UN system by enabling the organisations to deliver oral and written reports at UN meetings and hold consultations with ECOSOC and its subsidiary bodies. Through this decision of the ECOSOC, the contribution of Armenian NGOs to democracy and the rule of law is recognised.