Smear campaign against green activists, anti-protest laws and media restrictions in Australia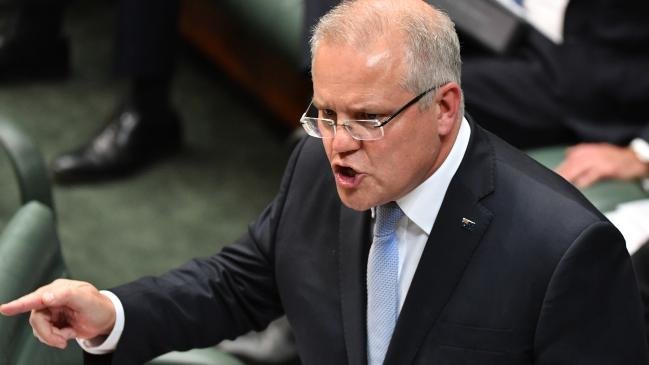 In recent months, the Prime Minister has vilified environmental groups while a law is being debated on political donations and election spending that could be used to silence civil society groups. Anti-protests laws have been passed in Queensland and may soon be enacted in Tasmania. Journalists continue to campaign against restrictions on press freedom while the authorities are urging Facebook to stop end-to-end encryption plans.
In December 2019, the CIVICUS Monitor downgraded Australia from 'open' to 'narrowed' following a deterioration in civic space due to concerns around freedom of the press, the targeting of whistleblowers and increased surveillance.
Association
Environmental groups vilified by Prime Minister
In November 2019, Prime Minister Scott Morrison slammed environmental groups "targeting" businesses with "selfish" secondary boycotts. The Prime Minster branded environmental protesters "anarchists" and threatened a radical crackdown on the right to protest in a speech claiming progressives are seeking to "deny the liberties of Australians".
In a speech to the Queensland Resources Council, the prime minister said a threat to the future of mining was coming from a "new breed of radical activism" and signalled that the government would seek to apply penalties to those targeting businesses who provide services to the resources industry.
Civil society groups, including the Human Rights Law Centre and Australian Conservation Foundation and the Greens, immediately "attacked the proposal as undemocratic and a bid to stifle a social movement fighting for Australia to take action on climate change".
The Greens' acting leader Adam Bandt labelled the prime minister "a direct threat to Australian democracy and freedom of speech". He added:
"The prime minister's commitment to outlaw the peaceful, legal protest of Australian individuals and community groups reads like a move straight from the totalitarians' playbook. Instead of getting tough on the climate crisis, Scott Morrison is dismantling democracy."
Queensland urged not to pass laws that would silence civil society groups
In January 2020, legal experts said that the Queensland government's bill to limit political donations and election spending will have the unintended consequence of silencing charities and community groups unless it is amended,
The Electoral and Other Legislation (Accountability, Integrity and Other Matters) Amendment Bill 2019 is currently before the Economics and Governance Committee for review.
Alice Drury, Senior Lawyer at the Human Rights Law Centre, said that the Bill needed to be amended if it was to achieve its purpose of creating a more level playing field between big corporations and ordinary Queenslanders. She added:
"These laws can have unintended consequences for people who are actively engaged in the issues that they care about, be it the bushfires or women's rights. It's critical that the laws do not effectively prevent small charities and local community groups from speaking on important issues in an election year."
The proposal will limit third parties from receiving AUD 4,000 (USD 2,677) per term in donations for election-related advocacy. As a result, charities and community groups will struggle to raise funds to speak out in elections on the matters they work on. In contrast, corporations will not face any restrictions on the income they can use on campaigning and will be able to spend up to AUD one million (USD 670,000) each on election advertising.
Peaceful Assembly
Anti-protest laws passed in Queensland
Queensland anti-protest laws 'inherently disproportionate', UN human rights experts say https://t.co/JBp8iXq33q

— The Guardian (@guardian) December 13, 2019
In October 2019, new anti-protest laws were pushed through in Queensland which threaten sentences of up to two years in prison for using "lock-on" devices to disrupt transport or hinder business in Queensland. Under the law, police also have the power to search anyone they reasonably suspect is in possession of a lock-on device. The legislation, justified on "public safety grounds" was reportedly drafted in consultation with the state's key mining industry lobby.
The law was developed after a series of disruptive Extinction Rebellion (XR) actions in Brisbane in mid-2019, in which more than 70 people were arrested and charged by police.
In a letter to the Australian government, four UN special rapporteurs on human rights outlined concerns about the law they say are at odds with international obligations.
They say the legislation contains a number of provisions that unduly restrict the right to freedom of peaceful assembly and to freedom of expression. The letter says unclear definitions in legislation were also a cause for concern, including what might constitute "unreasonable interference" or a "reasonable excuse".
Further, serious concern was expressed that the mandatory and disproportionate penalties could have a deterrent effect on the legitimate exercise of the right to peaceful assembly and the right to freedom of expression, silencing and punishing human rights defenders and any dissenters that hinder, obstruct or prevent a lawful activity. The UN experts said the short time period for public scrutiny was also of concern.
Tasmania may pass strict anti-protest laws
Proposed anti-protest laws which could see activists in Tasmania jailed or fined up to $10,000 have been lashed by opponents as draconian. https://t.co/4GGwzNCJP8

— SBS News (@SBSNews) November 14, 2019
In Tasmania, Australia's southernmost state, even stricter anti-protest laws may soon be enacted. The Workplace (Protections from Protesters) Amendment Bill would amend existing legislation found unconstitutional by the Australian High Court in 2017 because it restricted free speech. The amendment recently passed Tasmania's lower House of Parliament and will be discussed in the Upper House when it sits again in 2020.
Individuals found guilty of breaking this law could face jail terms of 18 months for a first offence and four years for a second offence. Threatening to protest against business on social media would also become a criminal act under the amendment.
Leader of the Tasmanian Greens, Cassy O'Connor, described the proposed amendment to Al Jazeera as "draconian". She said:
"The law makes everywhere in Tasmania a potential workplace where people protesting face arrest. A person obstructing a business or taking part in a protest in a public place means that police can arrest them immediately under the act."
Climate protesters arrested in Brisbane and Sydney
Seven people were arrested in the Brisbane CBD following climate change protests on 9th October 2019. The people arrested, ranging in age from 17 to 67, are facing a range of charges including endangering the safety of persons travelling by railway, obstructing police and contravening a direction or requirement. The day before, more than 20 activists were arrested including a man who suspended himself from Brisbane's Story Bridge for six hours to urge the prime minister to declare a climate emergency.
According to Human Rights Watch, in the same month, police in Sydney arrested a former federal senator and dozens of activists at a climate change protest for not complying with police directions regarding a road closure. The bail conditions for arrested protesters restricted them from going to the Sydney CBD and banned them from associating with other protesters. These conditions were overturned following a legal challenge.
Expression
Newspapers redact front pages to support campaign for press freedom
Australian newspapers redact front pages to protest media curbs https://t.co/XPvkgtrjSy pic.twitter.com/MpsccUa0xx

— Reuters (@Reuters) October 21, 2019
In October 2019, newspapers across the country carried heavily redacted front pages as part of the "right to know" campaign to protest against laws restricting freedom of the press. The initiative, which includes an advertising campaign as well as news articles, opinion pieces and editorials across major news outlets, highlighted dozens of pieces of legislation which have made it harder to report on issues of public interest.
The campaign advocates for six reforms to protect media freedoms, including the right to challenge warrants issued for police raids on journalists,enactment of a "properly functioning" freedom of information regime and stronger protections for public sector whistleblowers. The rival media outlets joining forces for the campaign include the ABC, The Guardian, Nine, News Corp Australia, Prime Media, Seven West Media, Sky News, SBS, Ten, and the WIN Network.
The "Right to Know" coalition said Australian governments have passed around 75 laws related to secrecy, encryption and spying which are often used to intimidate, prosecute and arrest journalists. In the past year, as previously documented on the CIVICUS Monitor, some media offices were raided for publishing classified information. Information requests on several public matters such as elderly abuse, the number of children in adult detention centres, and public surveillance were also denied.
Paul Murphy, chief executive of the Media, Entertainment & Arts Alliance, said some laws impede the work of journalists: He added:
"Journalism is a fundamental pillar of our democracy. It exists to scrutinise the powerful, shine a light on wrongdoing and hold governments to account to the people, but the Australian public is being kept in the dark about matters that affect them".
The Alliance for Journalists' Freedom launched a campaign in 2019 for a Media Freedom Act that "positively puts the role of the press in the middle of the legal system". At the moment, there is nothing in Australian law that explicitly protects press freedom. Such an act would "recognise the fundamental importance of national security while still providing a basis for journalists to investigate and report on government misconduct".
Plan for massive facial recognition database sparks privacy concerns
Australia's Facial Recognition Database Is Causing More Concerns - Gizmodo Australia https://t.co/YCAEs8bAsH

— Susan J. Minter (@susanjminter) October 11, 2019
In September 2019, it was reported that legislation before federal parliament will allow government agencies and private businesses to access facial IDs held by state and territory traffic authorities, and passport photos held by the foreign affairs department. It was proposed as a move to crack down on identity fraud.
Privacy advocates said, "the new legislation lacks proportionality – that the benefits do not outweigh the intrusion into people's privacy". The Australian Privacy Foundation says the proposal is highly invasive, because the system could be integrated into a number of other systems that collect facial data, including closed-circuit television.
The Human Rights Law Centre (HRLC) criticised the plan, citing it as "dangerously overboard, lacking safeguards and could dramatically alter the freedom of ordinary people going about their daily lives". Legal director for the HRLC Emily Howie said the scheme would fail to regulate facial recognition technology, placing extraordinary power in the hands of government departments without the necessary transparency or safeguards.
In a positive move in October 2019, parliament's intelligence and security committee said the legislation needed to be redrafted to ensure citizens' rights are protected. The new regime should be built around "privacy, transparency and subject to robust safeguards".
Press freedom case on raid on journalist's home, heard in the High Court
In November 2019, it was reported that a high-profile press freedom case will be heard in the High Court. Lawyers for News Corp political journalist Annika Smethurst are calling for the Australian Federal Police (AFP) to destroy copies of data collected from her mobile phone.
As previously documented, on 4th June 2019 police raided the home of Annika Smethurst, the national politics editor of the Sunday Telegraph, for more than seven hours as part of an investigation into the publication of a leaked plan to expand government surveillance in 2018. Police seized her computer, her mobile phone and printed documents. The raid was prompted by a story published by Smethurst in April 2018 revealing that the Departments of Defence and Home Affairs were considering extending their powers so that they could order the intelligence agencies to spy on the emails, text messages and bank accounts of any Australian citizen.
In their submissions, Smethurst's lawyers have taken aim at a law banning the disclosure of official secrets, arguing it was invalid at the time the article was published, because it breached the Constitution's implied right to freedom of political communication. They also argued that material was unlawfully collected from her phone in breach of Smethurst's rights, and asked that the AFP destroy all copies of the data copied from the mobile telephone.
States requests Facebook to stop end-to-end encryption plans
US, UK, and Australia jointly request for #Facebook to stop end-to-end #encryption plans https://t.co/tZwVXda9Jn via @ZDNet & @campbell_kwan

— Berto Jongman (@BertoJongman100) October 6, 2019
The United States, the United Kingdom and Australia have joined forces to request that Facebook delay its plans to implement end-to-end encryption across its messaging services. This is to ensure that encryption does not impede government officials from investigating possible crimes. The governments believe encryption will put citizens and societies at risk of child sexual exploitation and abuse, terrorism and foreign interference.
This is despite the governments acknowledging that Facebook -- along with WhatsApp, Facebook Messenger and Instagram -- have captured 99 percent of the child sexual exploitation and terrorist content that reside on its platforms.
Internet advocacy groups have expressed deep concerns about this, saying that strong encryption is an important feature for protecting users of social media platforms. Lucy Krahulcova, policy analyst of the non-profit internet advocacy group AccessNow said:
"This push to remove encryption for certain investigations will undermine our security for countless other issues -- encryption protects victims of domestic violence, it protects us from identity theft and scams and it protects the integrity and reliability of our networks,"
Privacy advocates have also said that the creation of backdoors would effectively destroy the secrecy of such platforms. Tim Singleton Norton, chair of Digital Rights Watch, said that end-to-end encryption is like "a lock on a door" and is a basic requirement for security in any form of online communication in the digital age.
Human rights group warns free speech under threat
On 14th January 2020, Human Rights Watch in its annual report said that Australia's sweeping national security laws and police actions against journalists and whistleblowers are having a chilling effect on freedom of expression. The organisation said in its annual report that while Australia was a vibrant democracy with robust institutions, freedom of expression came under unprecedented pressure in 2019 and the nation's "overly broad" national security laws were open to misuse.
Elaine Pearson, Australia director at Human Rights Watch said:
"Australia's national security laws shouldn't be used to intimidate the media or those holding the government to account. The government seems intent on sending a message to officials not to share information with journalists."