Sisi government targets HRDs from prominent human rights organisation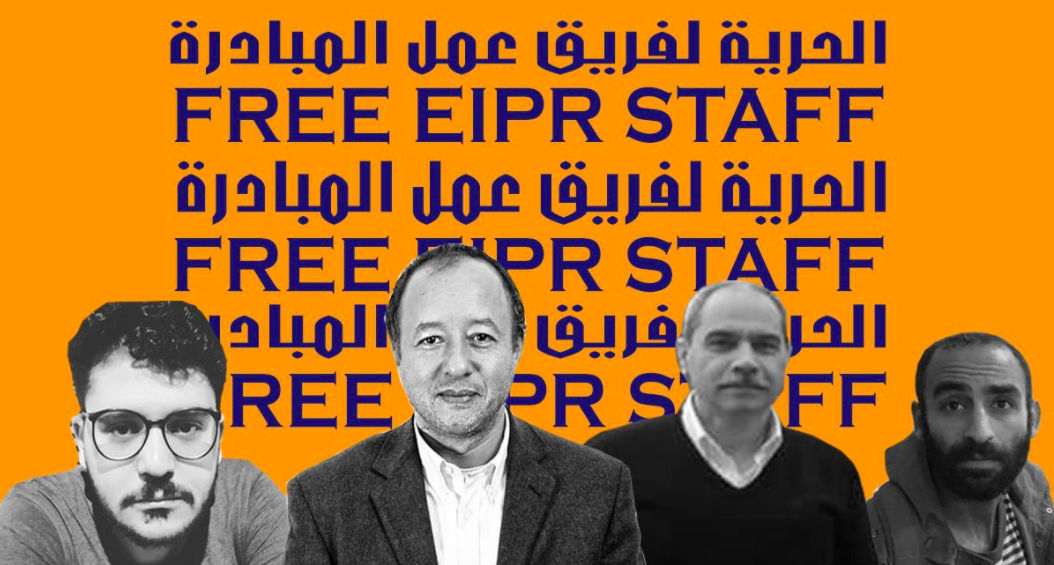 Association
On 15th November 2020, Mohammed Basheer, the Administrative Manager at Egyptian Initiative for Personal Rights (EIPR) was arrested at his home after midnight, and detained for more than 12 hours in a State Security Sector facility. His arrest was preceded by a meeting held on 3rd November 2020 with 14 European diplomats, including foreign ambassadors. Upon his arrest, authorities started questioning Basheer about EIPR's work, its latest publications and legal aid work, and then focused on the 3rd November meeting and its implications. The Supreme State Security Prosecution accused the activist of several crimes including: joining a terrorist organisation, using a personal account to spread false information on the internet undermining public security, committing crimes of funding terrorism and broadcasting false news harming national interests.
Three days after the arrest of Basheer, National Security Agency officers arrested Karim Ennarah, the director of the criminal justice unit of EIPR. On 19th November 2020, Gasser Abdel Razek, executive director at EIPR, was also detained by security forces. The Supreme State Security Prosecution informed EIPR's defense team that a hearing has been scheduled for the HRDs on 23rd November 2020, at the New Cairo court building. In addition, on 21st November 2020, a Cairo South Criminal court renewed HRD Patrick Zaki's remand detention for another 45 days. As previously reported on the Monitor, on 7th February 2020, human rights activist and researcher for EIPR, Patrick Zeki was arrested at Cairo International Airport. Zeki, who is a postgraduate student at Bologna University in Italy, was returning home to visit his family when he was stopped and arrested.
Responding to arbitrary arrest of Mohamed Basheer of the Egyptian Initiative for Personal Rights (EIPR), over bogus charges https://t.co/JjTp9bKPua

— EIPR المبادرة المصرية للحقوق الشخصية (@EIPR) November 18, 2020
Several international human rights groups and organisations from the region, including the Arab NGO Network for Development (ANND), condemned the attack against EIPR and Egyptian human rights defenders (HRDs); noting that arbitrary detention measures are being used to restrict the space for civil society in Egypt. In a statement ANND said:
"These arrests only exemplify the latest developments in the ongoing crackdown carried out by the Egyptian authorities against human rights defenders as well as social and political activists.... Activists like Mohammed Basheer, Karim Ennarah and Gasser Abdel Razek are exclusively being targeted because of their advocacy work and involvement in human rights issues."
In a statement, Amnesty International condemned the arrest of HRDs:
"…the Egyptian authorities have yet again shown their intolerance of any scrutiny of their abysmal human rights record, sending a chilling message to the embattled human rights community in Egypt that they remain at risk,"- Philip Luther, Amnesty International's Middle East and North Africa Research and Advocacy Director.
The systematic attack against EIPR was condemned by organisations in solidarity, given that prior to the arrest of Ennarah, two media outlets affiliated with the General Intelligence service, namely Youm7 and Sawt al-Omma, published articles attacking EIPR and accusing it of plotting against Egypt to damage its reputation abroad and harm national security.
The EIPR has been working since 2002 to strengthen and protect basic rights and freedoms in Egypt through research, advocacy and supporting litigation in the fields of civil liberties, economic and social rights and criminal justice. During the last three years they have focused on documenting death sentences and executions, in addition to analysing evolving patterns in the state's use of the most severe punishment through the Egyptian Penal Code. Their documentation reveals that:
"By the end of October 2020, the justice system in Egypt had carried out the largest number of executions (in different cases of a varying nature) since it began its expansion of the application of the death penalty in the last five years. A total of 53 people were executed during the course of October, The last of these executions took place on October 28 when four convicts were executed in a judgement related to the killing of 17 people in a nightclub fire in Agouza."

On the other hand, on 3rd November, a Criminal Court ordered the release of 460 detainees held in remand detention in 19 different cases. As Mada Masr reports, the detainees were all released with as-yet-unspecified parole measures and include over 300 defendants who were arrested in connection with the September 2019 demonstrations, as previously covered by the CIVICUS Monitor.
الحمد لله
١٣٣٨، ١٤١٣
مبروك للسويس والفيوم والقاهرة
كله إخلاء سبيل بتدابير

أكثر من ٣٠٠ متهم ومتهمة تم إخلاء سبيلهم اليوم
بقرار من محكمة الجنايات بعد أكثر من سنة حبس

فرحة الأهالى أمام المحكمة بعد ما خرجنا لا توصف

يارب فرح الجميع
وتمها على خير pic.twitter.com/DWHu0Q2wTt

— Khaled Ali (@Khaledali251) November 3, 2020
Peaceful Assembly
#عاجل: مقتل الشاب «#سامي_بشير» برصاص قوات الأمن في قرية #البليدة بالجيزة، ووقوع إصابات خطيرة أخرى في صفوف المتظاهرين pic.twitter.com/g7YQdwND3x

— شبكة رصد (@RassdNewsN) September 25, 2020
Reports by Human Rights Watch (HRW) and Amnesty International documents that several protests took place during September 2020 in villages, towns and some poorer remote areas in the country. Protests began on 20th September 2020, marking the one-year anniversary of the 2019 protests, over COVID-19 and rising rates of poverty, amongst other issues. However, security forces used teargas, batons, birdshot and live ammunition to disperse the largely peaceful protests, with two people being killed and hundreds detained, reports Amnesty International. In a statement, AI said:
"The fact that these protesters took to the streets while knowing the very high risk to their lives and safety they were taking shows how desperate they were to demand their economic and social rights. Videos showing policemen firing birdshot at fleeing people indicate a total disregard for international policing standards. We are also gravely concerned about the deployment of officers with rifles, which are generally unsuitable for policing protests and presents an undue risk to human life. The authorities must urgently investigate the death of the two men,"- Philip Luther, Amnesty International's Middle East and North Africa Research and Advocacy Director.
فيديو وصلني، يُظهر جنود الأمن المركزي يطلقون رصاص حي من أسلحة أوتوماتيكية AK-47 مباشرة على المتظاهرين أمس أثناء فض مظاهرة كفر قنديل / الجيزة.#جمعة_الغضب_25_سبتمبر #ارحل_يا_سيسي @sarahleah1 @Moaliofficial_ pic.twitter.com/jbwiBdTTpi

— Hosam Yahia (@HosamYahiaAJ) September 24, 2020
فيديو صادم/ بأعقاب البنادق والهراوات مجموعة من أفراد قوات الأمن بينهم ضباط يضربون شابًا ضربًا مبرحًا أمس بعد فض مظاهرة في الكرنك / الأقصر.#جمعة_الغضب_25_سبتمبر #ارحل_يا_سيسي @sarahleah1 @Moaliofficial_ pic.twitter.com/d5ybaXKCiO

— Hosam Yahia (@HosamYahiaAJ) September 24, 2020
Expression
Among those released (as mentioned above) are some journalists. In a statement, Reporters Without Borders welcomed the release of Sayed Abdellah and Haitham Hasan Mahgoub.
"These releases are so unusual as to deserve being highlighted but they are far from sufficient and the list of journalists currently in Egyptian prisons is still much too long....Instead of freeing journalists in ones and twos and prolonging the detention of others indefinitely, the Egyptian authorities should comply with international law by agreeing to immediately release all of the arbitrarily detained journalists together" - Sabrina Bennoui, the head of RSF's Middle East office.
According to the Arabic Network for Human Rights Information (ANHRI) among those awaiting release is Mohamed Ibrahim, who is also known as Mohamed Oxygen. Ibrahim, a blogger who has been in pre-trial detention since September 2019, received an additional charge of "membership of a terrorist group". The state prosecutor's office ordered his detention to be extended, pending an investigation into the new charge.
The curse of "rotation" and tampering with the law strikes blogger Mohamed Oxygen… ANHRI calls on the Public Prosecutor to close the Case No. 855 and release all innocent citizenshttps://t.co/MjNiM8vzdv

— ANHRI-الشبكة العربية (@anhri) November 11, 2020
Egyptian authorities must immediately release blogger Mohamed Ibrahim, also known as Mohamed Oxygen, and drop all charges against him.https://t.co/G4QuOj5PAP

— Committee to Protect Journalists #IPFA (@pressfreedom) November 11, 2020
Whereas the charges against human rights defenders, bloggers and activists continue, the steps taken by the Egyptian government towards the protection of human rights remains questionable. In October 2020 Egypt's Supreme Standing Committee for Human Rights (SSCHR) announced the launch of its first integrated and long-term National Human Rights Strategy, as part of a comprehensive national development plan.
In a separate development, on 4th November Egyptian human rights organisations issued a joint statement denouncing the Egyptian authorities' blocking of at least 600 websites since May 2017 including media and political and human rights platforms. Blocking websites is a violation of people's rights of access to information and freedom of expression. They noted that the vaguely worded legislation passed to legalise website blocking, which includes the Press and Media Regulation law and the Cybercrime law of 2018, is unconstitutional. The list of blocked websites includes: 116 media and press websites, 394 VPN and proxy service providers, 15 human rights websites, 11 cultural websites, 17 chat websites, 27 political opposition websites, eight blogs and blog hosts, 12 multi-media sharing websites and others.
"The Egyptian government's continued efforts to block websites and restrict access to information online are a clear violation of human rights standards, mainly the 19 of the International Covenant on Civil and Political Rights (ICCPR) that Egypt has ratified, as well as national constitutional principles, and must come to an end."