Silenced dissent, sentencing of opposition activists, and still no right to peacefully assemble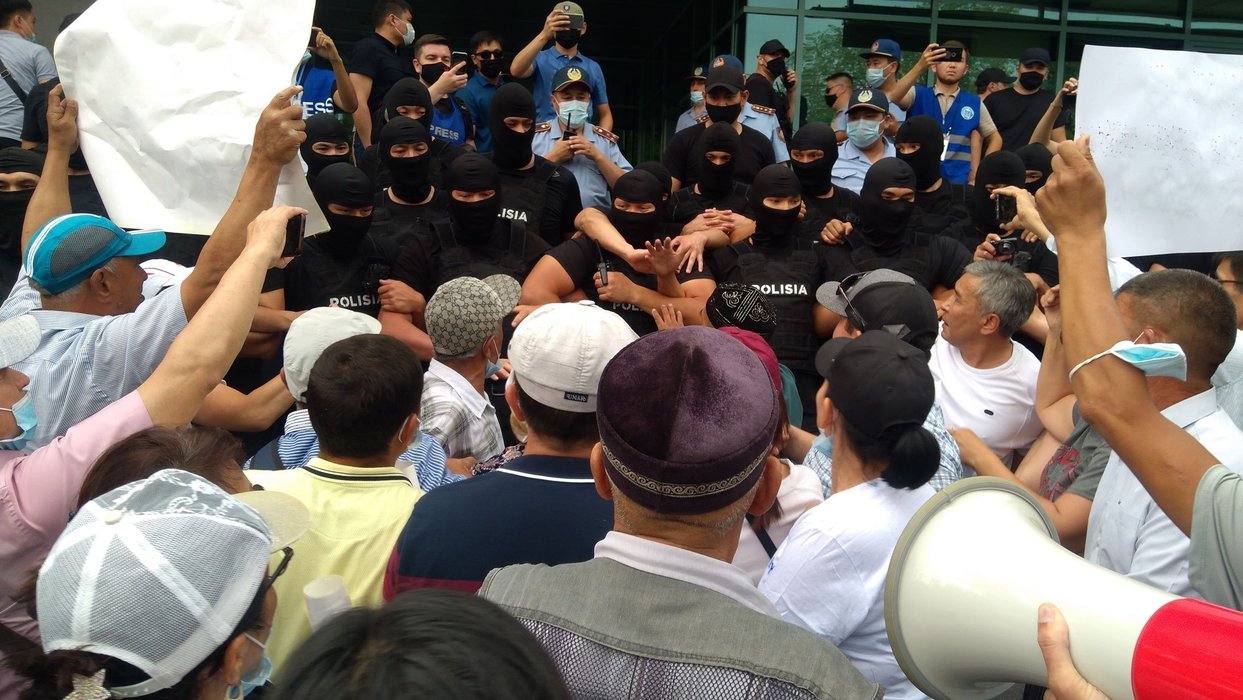 Introduction
This report covers developments on the freedoms of expression, association and peaceful assembly in Kazakhstan from April to July 2021 and was prepared for the CIVICUS Monitor by International Partnership for Human Rights (IPHR) and Kazakhstan International Bureau of Human Rights and Rule of Law (KIBHR) based on KIBHR's monitoring of the situation in the country.
The reporting period was characterised by an overwhelming number of prosecutions for participating in activities of a banned extremist organisation (Article 405 of the Criminal Code). In all cases, the targeted citizens are facing charges for allegedly supporting the Democratic Choice of Kazakhstan (DVK) and/or the Street Party, both of which have been banned and labelled extremist by court rulings. A significant number of administrative sentences and fines were also handed to citizens for exercising their right to peaceful assembly. Despite the adoption of a new law on the right to demonstrate last year, citizens are still denied this right in practice, especially when attempting to voice concerns about politically sensitive or controversial issues.
GENERAL DEVELOPMENTS
Human Rights Priority Action Plan
On 9th June 2021, President Kassym-Jomart Tokayev issued a decree instructing the government to approve a plan of priority measures in the field of human rights. According to the decree, the action plan should cover the following areas of work: improving the mechanisms of interaction with UN treaty bodies and special procedures at the UN Human Rights Council; ensuring the rights of victims of trafficking; human rights of citizens with disabilities; the elimination of discrimination against women; the right to freedom of association; the right to freedom of expression; the human right to life and public order; increasing the efficiency of interaction with non-governmental organisations; human rights in the field of criminal justice, enforcement and prevention of torture and ill-treatment.
Pegasus spyware
In July 2021, a new investigation by the Organised Crime and Corruption Reporting Project (OCCRP) revealed that the authorities of several countries around the world have monitored the phones of activists, journalists and human rights defenders using spyware from the Israeli company NSO Group. Kazakhstan was among the countries where the OCCRP found evidence of the use of the spyware against journalists. Investigators reported that spyware was potentially embedded in the smartphones of journalist Serikzhan Mauletbaeva, who works with Informburo; human rights defender Bakhytzhan Toregozhina; and Bigeldy Gabdullin, editor of the publication Central Asia monitor. In France, they also identified the exiled DVK leader Mukhtar Ablyazov as a potential target of the spyware. The list of those affected included, in addition to activists, the country's President Kassym-Zhomart Tokayev, Prime Minister Askar Mamin, Almaty's akim Bakytzhan Sagintayev, and a number of oligarchs and politicians who support the presidential administration (Akorda). The fact that a person's name appears on the list compiled by the OCCRP does not indicate with certainty that this person was spied upon, but rather suggests that he or she was of interest to the NSO Group's client in Kazakhstan, presumably the Kazakhstani government.
Irregularities in direct elections of regional city akims
On 25th July 2021, Kazakhstan held its first direct elections for akims (mayors) in key cities, settlements, villages and rural districts. Civil society viewed this as a significant and positive step towards democratisation, breaking with the previous system of appointing the akims. Before the changes, rural akims were appointed by akims of a higher level. However, election observer organisations reported similar irregularities seen in previous national elections, such as difficulties with registration for independent candidates; use of so-called administrative resources in favour of candidates from the ruling Nur Otan party; denial of access to polling stations for observers and media; and ballot stuffing. The main winners in the elections were members of Nur Otan.
Verdict in the case of the Dungan ethnic clashes in Kordai
On 27th April 2021, a court in Taraz delivered a verdict relating to the ethnic clashes in the Kordai border region in February 2020 (covered in a previous Monitor update). Thirty-seven ethnic Kazakhs and 14 Dungans were on trial facing charges of rioting, illegal storage, transportation or carrying of weapons and explosives, extortion, robbery and murder. Most Dungans on trial were reportedly people who had defended their homes and families from the attackers.One of the defendants - a Dungan - was acquitted, while the rest received sentences ranging from one year of restriction of freedom to 20 years of imprisonment. Twenty-four of the defendants pleaded guilty, 10 defendants pleaded partially guilty, 17 pleaded not guilty. The Dungan Association of Kazakhstan expressed its outrage at the verdict. "Our guys, the 14 guys who were convicted, they were defending their homes, their wives, their children. They should all have been acquitted. And yet six of them were given significantsentences, we will appeal" - Husey Daurov, head of the association, told media.
Expression
On 17th April 2021, Danil Koliya, an employee of a pig farm in Aktobe Region, was charged and convicted for libel (Article 73 of the Administrative Code) against the head of the regional akim's office. The public official claimed that during a meeting on 12th April 2021 between the employees of the Bestamak Pig Farm and the regional deputy akim, Koliya had "publicly, in the presence of the media, slandered representatives of local executive bodies, spreading deliberately false information defaming honour and dignity, undermining their reputation". Koliya was sentenced to 25 days of administrative detention.
In April 2021, Shymkent-resident Yerulan Amirov used the word "jihad" as he was citing the words of an associate of the Prophet Muhammad in a video message to young people, which contained an overall message to speak the truth about the corruption in the government. In the message, Amirov emphasised that he did not want people to take up arms, but merely to hold the authorities accountable. Due to this message he was charged under three articles of the Criminal Code: Article 256, part 1-2 (Propaganda of terrorism or public calls to commit an act of terrorism), Article 174 (incitement to hatred) and Article 405 (participation in a banned organisation). On 27th April 2021, around 20 officers from the Committee for National Security (KNB) searched his house and Amirov was placed in a pre-trial detention centre. On 8th June 2021, based on a court order, he was sent to a psychiatric institution in Almaty region to undergo compulsory treatment due to an alleged "affective hallucinatory-delusional syndrome". The institution to which he was sent is known for housing especially dangerous patients. On 21st June 2021, Amirov's mother was refused permission to visit her son at this institution. At the end of the reporting period, Amirov remained detained in the psychiatric institution and continued to be denied visits. His family maintained that he has never had a mental health condition.
On 22nd April 2021, Pavlodar City Court ruled that human rights defender Elena Semenova and prison inmate Alexander Chekashin should publicly refute information that Semenova had in July 2020 published a post on Facebook concerning how Chekashin had self-harmed in order to draw attention to the sexual abuse of a female prisoner temporarily being held in the men's prison. The allegations relate to sexual abuse and rape of a female prisoner named by staff of the prison colony Arkalyk UK-161/12. The alleged rape had reportedly occurred after the female prisoner had been transferred to the men's prison as a punishment for repeated violations of prison rules and for fighting with fellow prisoners in the women's prison where she had previously been held. However, in November 2020, the female prisoner withdrew the allegations and filed a lawsuit against both Semenova and Chekashin claiming that they had discredited her honour and dignity by disseminating the information about the alleged sexual assault. The Court also ruled that Semenova should pay the female prisoner compensation of 100,000 KZT (220 EUR or 235 USD).
In another case involving Elena Semenova, on 9th June 2021, Pavlodar City Court ruled in favour of the administration of the prison AK-159/25 in Zhezkazgan (Karaganda Region), which had sued her for defamation after she published information on violations of prisoners' rights in this prison. Despite the fact that Semenova presented audio recordings of the testimonials of prisoners concerning the violations, and that the prison employees were unable to present any evidence to disprove the allegations, the judge ruled in favour of the prison, and ordered Semenova to refute the information she had published.
On 15th June, the Second Almaty Auezovsky District Court for Civil Cases, ruled to satisfy the claim of Bauyrzhan Baybek (the deputy chairman of Nazarbayev's Nur-Otan party, and the former mayor of Almaty) thatZhanbolat Mamai (the head of the unregistered Democratic Party) and his wife,journalist Inga Imanbai, haddamaged Baybek's honour, dignity and business reputation by publishing information on YouTube regarding alleged illegal land seizures and other corrupt transactions implicating him. The court ruled that Imanbai and Mamai should publicly refute this information and pay 438,201 KZT to cover Baybek's court costs, and about 75,000 KZT for a forensic psychological and linguistic examination conducted as part of the proceedings (in total 1,000 EUR or 1,207 USD).
On 25th June 2021 in Ili near Almaty, a court case began againstbrothers Bauyrzhan and Sabyrzhan Bibadzhanov. Zhasulan Onalbaev, the akim of Ashchibulak rural district sued the brothers for allegedly damaging his honour, dignity and business reputation by disseminating ''inappropriate'' information about him. Since 2001, Bauyrzhan and Sabyrzhan Bibadzhanov and their families, including 12 small children, have lived in an abandoned building given to them by the local authorities. However, the local authorities did not grant them a residence permit for the property which is an abandoned warehouse; instead Onalbaev sold the building to a sports school. The Bibadzhanov families are now threatened with eviction. Some media outlets (Tengrinews.kzand Infoprof.su), have become co-defendants in the lawsuit after speaking out about the situation on YouTube. Onalbaev demanded 500,000 KZT in moral compensation (1,000 EUR or 1,176 USD) from the Bibadzhanovs, but the claim was denied by the court. The family, however, lost their eviction case, and are currently appealing against the decision.
On 17th July 2021, Yesilskiy District Court in Nur-Sultan dismissed the claim of Lukpan Akhmedyarov, the former editor-in-chief of Uralsk Week, for moral compensation from the Ministry of Finance. Akhmedyarov had demanded 50 million tenge (approximately 100,300 EUR or 117,600 USD) from the Ministry on the basis of the decision of the UN Human Rights Committee, which in October 2020 found that Kazakhstan had violated Akhmedyarov's rights to a fair and public hearing of the case by a competent, independent and impartial court and the right to freedom of expression. The decision of the UN Human Rights Committee referred to a verdict of 2012, when a court in Uralsk ordered Akhmedyarov to pay 5 million KZT (around 10,000 EUR or 11,700 USD) in compensation to a West Kazakhstan official for publishing an article alleging the official's nepotistic ties.
The Ministry of Information and Social Development of Kazakhstan advised online news outlet Mediazona to remove an image from its website showing graffiti on a mural depicting former president Nursultan Nazarbayev as the Joker from Batman. According to Mediazona's editorial board, they received a letter from the Ministry on 22nd July 2021, three days after the image was published. The letter reminded Mediazona that it is a criminal offence to publicly insult the honour and dignity of the former president, including "desecration" of his image, according to Article 373 of the Criminal Code. The maximum punishment for this offence is three years of imprisonment. However, Mediazona did not delete the image, but applied a filter to it in such a way that it was impossible to recognize Nazarbayev's face, and only the outlines of the Joker's face were visible. A similar request was sent to the media outlet "The Village" on 30th May 2021. 
Peaceful Assembly
The number of legally permitted protests has increased since the new Law on Peaceful Assemblies came into force last year, but authorities continue to make a distinction between peaceful assemblies depending on their nature. Pickets on topics which are not considered politically sensitive and/or single pickets are now largely sanctioned by the authorities, or allowed to take place even if they have not been pre-approved. However, peaceful protests initiated by members of the political opposition, in particular supporters and sympathisers of the banned DVK and Street Party movements, are not allowed to take place. These protesters are even deprived of the right to apply for permission to demonstrate, since they are regarded as supporters of extremist movements. The authorities also use various tactics to prevent peaceful opposition protests from being held without official sanction, including by carrying out ''preventive'' arrests of activists ahead of planned protests and by using the controversial tactic of "kettling" of protesters. The following examples illustrate this trend:
On 4th April 2021, residents of the Altyntobe village near Shymkent gathered near the mosque to demand the release of Zhasulan Mamatullaev, the head of a gold processing workshop, where many of the city's workers are employed. Mamatullaev had been arrested on suspicion of illegal gold mining. The residents demanded to speak with the akim, and then attempted to block the road, after which the special forces present "kettled" the protestors, dividing them into two groups and holding them for about an hour. The police then took about 50 people to the police station. According to eyewitnesses, among the detainees were men and women who worked in the workshop, and relatives of workers. The detainees were released shortly afterwards. During the protest, unknown persons in civilian clothes obstructed the work of a journalist present, attemptingto cover her camera with their hands and to grab her phone. Regional correspondents of the KTK, Astana and 31 Channel TV channels stated that they were also threatened, physically attacked and had their work obstructed by representatives of law enforcement agencies as they were filming the protest.
After DVK had called people to demonstrate in Almaty on 1st May 2021, the authorities turned off mobile internet in the city centre and cordoned off some pedestrian zones. In the area around Gorky Park, police detained a group of women who were demanding freedom for political prisoners and the implementation of the European Parliament's resolution on human rights in Kazakhstan passed in February 2021. During the arrests, unidentified people with umbrellas prevented journalists from taking photos or videos. At least ten people were detained near the pedestrian street Arbat. According to KIBHR's monitoring, passers-by, including elderly people were also arbitrarily arrested.
In Turkestan Region, about a hundred truck drivers joined a nationwide protest against the introduction of toll roads and the perceived lack of proper road infrastructure. From the early morning of 31st May 2021, they gathered at the exit from the city of Turkestan, placing trucks along the section of the main highway linking western China with Eurasia. However, on the night of 2nd June 2021, police detained the protesters as they slept, some of whom were taken to police stations. At the same time, only one was brought before court and received a minor fine for violating traffic laws and an administrative offence.
On 29th May 2021, Gulzada Serzhan and Zhanar Sekerbaeva, the leaders of the feminist organisation "Feminita", were detained by police in Shymkent after being verbally and physically attacked by a crowd of nearly 100 aggressive men, according to KIBHR. Gulzada Serzhan and Zhanar Sekerbaeva were due to hold a meeting in a hotel with residents from Shymkent on LGBTI rights. On the evening before the meeting, the activists received threats from unidentified persons, and a group of men came to the hotel and attempted to find out the activists' whereabouts. The hotel administration eventually refused to let Feminita conduct its meeting, although an advance payment had already been made. Participants then went to a nearby cafe, and a crowd of 20 people followed them there. Members of the crowd attacked Serzhan and Sekerbaeva, punching Zhanar in the face. Gulzada and Zhanar were then taken to Abay District Police Department. Zhanar admitted that she may have torn a shoulder strap of one of the policemen when she resisted detention. For this reason, a criminal case was initiated against her on charges of insulting a representative of the authorities (Article 387 of the Criminal Code). Two months later, on 29th July 2021 in Karaganda, a crowd of angry men disrupted a small closed human rights training organised by the two Feminita activists with a focus on women and LGBTIQ rights. The aggressive behaviour of the crowd and calls for reprisals against the audience forced the participants to leave. After passing through a corridor organised by the police, they were taken to the police station, where a man in civilian clothes recorded personal information from the participants.
On 13th June 2021, over a hundred residents of Stepnogorsk gathered at the central square with the slogan "Stepnogorsk is not a burial ground", in protest against the construction of a waste disposal complex in Stepnogorsk. The following day, a public hearing was scheduled on the matter. On 22nd June 2021 environmental activist Artem Sochnev, who co-organised the 13th June 2021 protest, was fined the equivalent of around 200 EUR after being found guilty of violating the "Resolution of the Chief State Sanitary Doctor of the Republic of Kazakhstan from 25th December 2020 No. 68", which provides for a ban on holding "mass events".
On 6th July 2021, about 70 supporters of the unregistered Democratic Party gathered outside the Sports Palace in Almaty demanding that former president Nazarbayev withdraw from politics. They also protested against the detention of ethnic Kazakhs in the Chinese Xinjiang internment camps. As soon as the demonstration began, special police forces "kettled" the crowd. The police only allowed people to leave the 'kettled'' circle one by one, for toilet breaks. After almost 10 hours, about 30 people continued to be held in the police cordon, while most of the journalists who had covered the protest had left. At this point, the police reportedly attacked the remaining protesters, beating at least five people and detaining four participants. Two activists from the Democratic Party, Abzal Dostiyarov and Yrysbek Toktasyn, and left-wing activist Alimzhan Izbasarov were sentenced to six days' administrative detention on charges of hooliganism. Dostiyarov was also sentenced to an additional 15 days of administrative detention for participating in an unsanctioned assembly. Dostiyarov told his lawyer that police had beaten him and demanded that he make a video statement renouncing the Democratic Party while he was held for several hours before being taken to court. The whereabouts of a fourth activist, Valikhan Sultanov, who also was detained in connection with the protest, were unknown for two days. On 8th July 2021, the activist made a statement that he had been admitted to a psychiatric clinic. His lawyer was not allowed to see him there and he was released ten days later.
On 13th July 2021 in Nur-Sultan, members of the "Save Bozzhyra"movement held an ecological art performance-protest in defence of the Bozzhyra tract, a ridge of rock formations in the steppe in Mangystau Region, some hundred kilometres from Aktau. As part of the art-protest, artist Askhat Akhmedyarov performed a purification ritual in front of the House of Ministries dressed in a shaman's costume, with a drum and kamcha (a type of Kazakh traditional whip). Activist Aliya Akhmalisheva waved a flag with the inscription "Bozjyrany Saqtaiyq" ("Let's Save Bozzhyra" in the Kazakh language). Journalists andpolice were watching before police and special forces "kettled" the protesters and detained Askhat Akhmedyarov and Aliya Akhmalisheva, who were released later the same day. The formal grounds for their detention were not clear.
DVK had called for nationwide protests on 17th July 2021 against forced COVID-19 vaccinations for certain categories of employees. Eight people were detained in connection with a planned protest in Aktobe, and there were reportedly "preventive" detentions of activists in Uralsk (2 people), Kokshetau (2 people) and Almaty (2 people). In Petropavlovsk, where about 70 people protested, police and riot police reportedly attacked the protesters and briefly detained most of them. In Pavlodar, where up to a hundred people gathered near the akimat (mayor's office), the police initially attempted to redirect the protesters to the nearby embankment, but then began to attack protesters without warning, targeting those who were filming the event. According to KIBHR's monitoring, police used excessive force against protesters as they detained them.KIBHR's employee Meruert Shakirova was detained, although she was wearing a special vest identifying her as a civil society monitor. Those detained were takento the police station before being released. In Mangystau Region, activist Ulbolsyn Turdieva was reportedly detained by force and as a result she cut her veins in protest. Instead of being taken to a medical facility, she was sentenced to 20 days of administrative detention for libel against a police officer. Turdieva has faced administrative charges related to her civic activities five times this year, has spent a total of 75 days in detention and been fined a total of over one million KZT (2,000 EUR or 2,350 USD).
In the reporting period, numerous citizens faced legal proceedings under Article 488 of the Code on Administrative Offences (violating the procedure for organising and holding peaceful assemblies):
On 11th April 2021 in Aktau, Sholpan Zhanzakova and Ulbolsyn Turdieva were detained after attempting to hold a peaceful picket in support of political prisoners, and against "genocide in Xinjiang". The women reported that they had submitted notification of the picket to the akimat. They were taken to the police station, where they were held for five hours before being released. Later the same day Aktau Administrative Court fined each 145,850 KZT (292 EUR or 343 USD) under Article 488.
On 22nd April 2021, human rights activist and former political prisoner Vadim Kuramshin was arrested on charges of organising an unsanctioned demonstration (Article 488) and sentenced to ten days' administrative detention. Despite the fact that Kuramshin had a temperature of over 40 degrees Celsius during the court hearing, leading to thesuspicion of COVID-19, he was nevertheless sent to a detention facility. Kuramshin had attempted to organise a demonstration forequity owners of the Komsomolsky residential complex. The demonstration never took place, as the akimat did not permit it. On 4th April 2021, Kuramshin was also detained for having posted information on social networks about the upcoming demonstration.
On 26th April 2021 in Uralsk, activist Baurzhan Alipkaliev was sentenced to 10 days of administrative detention for violating the law on peaceful assemblies. Alipkaliev was the organiser of a sanctioned demonstration on 28th February 2021, where one of the speakers expressed support for the banned DVK movement. Alipkaliev was sentenced for not stopping the speech.
On the evening of 26th April 2021, Shymkent Administrative Court sentenced local activist Daniyar Baytileu to 15 days of administrative detention for calling for an unsanctioned rally against the sale or lease of land to foreigners. On 19th April 2021, Baytileu and several other activists had informed the authorities of their intention to hold a demonstration on Nauryz Square on 24th April 2021. However, the akimat refused to allow the demonstration, citing restrictions related to COVID-19.
On 2nd April 2021, activists Gulmira Akhmanova and Rakila Beknazarova held a demonstration near Almaty police department, demanding the release of activist Muratbai Baimagambetov from Kyzylorda. On 27th April 2021, Gulmira Akhmanova was sentenced to 12 days of administrative detention after being found guilty of violating the rules for organising and holding peaceful assemblies (Article 488). Two days later, on 29th April 2021, Rakila Beknazarova was given 15 days of administrative arrest.
On 12th May 2021, Almaty Administrative Court fined activist Zhenis Zarkan around 145,000 KZT (290 EUR or 341 USD) and Nurzat Ermekbai around 87,000 KZT (175 EUR or 205 USD) for violating the law on peaceful assemblies. The two activists held a protest outside the Chinese Consulate in Almaty, demanding the release of their disappeared relatives from Chinese internment camps in Xinjiang. Baybolata Kunbolatuly was also fined for live streaming their protest. Kunbolatuly is calling for the release of his younger brother from a Chinese prison and was previously subjected to administrative detention after holding a series of protests at the Chinese Consulate, and was fined over 145,000 KZT (290 EUR or 341 USD). They were all arrested on 11th May 2021 outside the Consulate. The recurring demonstrations outside the Chinese Consulate in Almaty were also covered in our previous Monitor update.
On 12th June 2021, in Uralsk, activist Orynbai Okhasov was sentenced to five days of administrative detention, and activist Darkhan Kayyrbaev and Amangeldy Orazbayev were given three days each for participating in an unsanctioned rally on 29th May 2021. On 29th July 2021, Uralsk City Court again convicted Orynbay Okhasov under Article 488 of the Administrative Code and sentenced him to 20 days of administrative detention for repeatedly participating in unsanctioneddemonstrations. The new sentence was imposed a day before Okhasov was due to be released from custody after serving the first sentence.
On 22nd June 2021, the Specialised Inter-district Administrative Court in Almaty fined activists Altynay Arakhan and Gulbaran Omirali 87,000 KZT (175 EUR or 205 USD) and 145,000 KZT (290 EUR or 340 USD) respectively, for participating in a demonstration on 10th June 2021 in front of the Chinese consulate in Almaty, where the crowd held posters calling to "Stop the genocide in China", referring to the ongoing detention and disappearance of Uighurs, Kazakhs and other ethnic minorities in the Chinese internment camps of Xinjiang. The next day, the court ordered the detention of activist Baybolat Kunbolatuly for 15 days, as the alleged organiser of the aforementioned protest.
On 28th June 2021, police in the capital detained activists Marat Musabayev and Kayirgeldy Nurgaliev. Later, the Specialised Inter-district Administrative Court in Nur-Sultan sentenced Nurgaliev to 15 days of administrative detention and Musabayev to 20 days of administrative detention for participating in an unsanctioned demonstration near the US Embassy on 14th June 2021, which called for the release of Street Party and DVK activists held in pre-trial detention.
In the early morning of 30th June 2021,police arrested civil activist Marua Yeskendirova while she was leaving herhome in Uralsk. Her whereabouts were not known until around 14:00, when her relatives learned that she hadbeen taken to the Uralsk police station on charges of violating the procedure for holding peaceful assemblies. The Specialised Administrative Court of Uralsk sentenced her to ten days' administrative detention for taking part in a protest held in Uralsk on 19th June 2021 in support of businessperson and human rights activist Barlyk Mendygaziyev, who has been subjected to persecution.
On 1st July 2021 in Shymkent, three activists began a hunger strike in front of the Akimat building (municipal office), demanding an end to the persecution of activists from the unregistered Democratic Party and the banned Street Party. They were accompanied by a crowd of supporters. A representative from the Akimat told the crowd that the hunger strike was illegal and demanded that they disperse, which they refused to do. As a result, about 15 protesters were put into minibuses by plain clothed police officers and taken to the local police station. On the same day,three protesters from the hunger strike - Erlan Fayzullaev, Nurzhan Abildaev and Ermek Konyshbaev – were sentenced to 15 days of administrative detention.
On 5th July 2021, Kostanay Specialised Administrative Court sentenced Sergei Zinchenko to three days of administrativedetention for calling for a peaceful assembly against forced COVID-19 vaccinations, although it failed to establish where (on what internet platform) he had made these calls. Zinchenko was detained and brought to court when he was on his way to another rally concerning the needs of a children's hospital, for which he had received approval. 
Association
DVK and Street Party prosecutions
During the reporting period, there were a large number of convictions and persecutions of individuals charged with participation in a banned extremist organisation (Article 405 of the Criminal Code). All of them were charged because of their alleged involvement in the banned Democratic Choice of Kazakhstan movement (DVK) and/or the Street Party, both of which have been banned as ''extremist" by a court, although they do not advocate or endorse violence. The list of documented cases below is not exhaustive:
On 1st April 2021 in Kyzylorda, local activist Muratbay Baimagambetov was hospitalised after sustaining an injury in a pre-trial detention centre, where he was held pending trial on charges of participating in a banned organisation (Article 405). Baimagambetov was arrested in autumn 2020 for his alleged participation in the DVK.

On 7th April 2021, Yerkin Sabanshiev, a resident of the city of Talgar (Almaty region), who was accused of participating in the activities of the banned Street Party (Article 405 of the Criminal Code), was sentenced to a year of restriction of freedom (a non-custodial sentence involving restrictions on the movement of those affected), and a three-year ban on using social networks.

In July 2018, Aset Abishev was detained in Almaty on suspicion of financing a criminal organisation (Article 266) and participation in the activities of a banned organisation (Article 405) and was sentenced to four years in prison. On 7th April 2021, he was additionally convicted of participation in the banned movementDVK whilst in prison. Abishev cut his veins in protest against an illegal search of his cell conducted in this context. Abishev reportedly did not receive adequate treatment. On 14th July 2021, a court in Kapshagai granted Abishev parole.
Other politically motivated cases
There were also several other cases of politically motivated persecution related to freedom of association. This includes pressure on citizens for being associated with opposition movements and groups which are banned in Kazakhstan.
During the reporting period, there were new developments in the case of Kenzhebek Abishev, who was sentenced to seven years' imprisonment for alleged terrorism propaganda following an unfair trial in 2018 (as previously covered on the Monitor), in a bizarre case where the defendants were associated with DVK. . On 17 July 2021, an Appeals Court in Taldykorgan city upheld a decision of a lower-level court and denied Abishev's request for release on parole. When pleading in favour of his client, Abishev's lawyer noted his record of good behaviour and also drew attention to the fact that he suffers from heart problems and respiratory diseases. Previously, a local court twice granted Abishev's requests for parole, but these decisions were overturned following appeals by the prosecutor's office. On 27th April 2021, a request for release on parole filed by Abishev's co-defendant Almat Zhumagulov, who was sentenced to eight years in prison on the same charges in 2018, was also denied by the court. According to media reports, the day prior to this, Zhumagulov was allegedly beaten in prison. Both men have denied the charges against them and Kazakhstani human rights organisations have recognised them as political prisoners. International human rights experts have criticised the broad use of the terms "extremism'' and "terrorism'' in law and practice in Kazakhstan.
The following case illustrates the practice of persecution of the associates and family members of business people who support the political opposition:
The Karachaganak Support Services (KSS), an oilfield service company, was founded by Barlyk Mendygaziev, who was forced to flee Kazakhstan after being subjected to pressure for his financial support to families of political prisoners. He is currently based in the US, where he created the Freedom Kazakhstan Foundation and has advocated for the imposition of sanctions against Kazakstani government officials responsible for human rights violations. In an attempt to make him stop his civic engagement, the Kazakhstani authorities have targeted people associated with the company he founded and his relatives.On 17th May 2021, Atyrau City Court convicted KSS Director Bauyrzhan Dzhusupov and two other company representatives, Natalya Dauletyarova and Rinat Batkaev, on charges of large-scale tax evasion (Article 245), believed to be politically motivated, and sentenced them to restriction of freedom ranging from three to five years. On 26th July 2021, when considering the case on appeal, Atyrau Court of Appeals overturned the lower-level ruling and issued a new verdict: Dzhusupov was sentenced tofive and a half years in prison, Dauletyarova to seven years in prison and Batkaev to five years in prison under Article 262 of the Criminal Code (being in an organised criminal group). In a separate development, on 5th June 2021, Barlyk Mendygaziev's brother Bekizhan Mendygaziev, co-owner of the company, was arrested on charges of participating in a criminal organisation, large-scale tax evasion and large-scale money laundering -- charges that also are believed to have been initiated in order to put pressure on Barlyk Mendygaziev.
In an important decision issued on 4th June 2021, the UN Working Group on Arbitrary Detention (WGAD) concluded that Kazakhstan violated international human rights law by detaining and imprisoning Zhanaozen activist Erzhan Elshibaev, and that his detention is arbitrary. The WGAD called for the release of Elshibaev, who is serving a five-year sentence in a prison in Kyzylorda. At the end of June 2021, the prison colony administration sent Elshibaev to a high security barracks as punishment, with the vague justification of "violating the order of serving his sentence". On the night of 16th July 2021, Elshibaev underwent abdominal surgery after an act of self-mutilation. Elshibaev was imprisoned on charges considered to be politically motivated after heading an initiative group of residents in Zhanaozen, who demanded that the authorities provide work for citizens. Elshibaev also recorded a video message in which he accused then-President Nazarbayev of corruption. The case was covered in a previous Monitor update.