Targeting of teachers' union spark protests coupled with violations on press freedom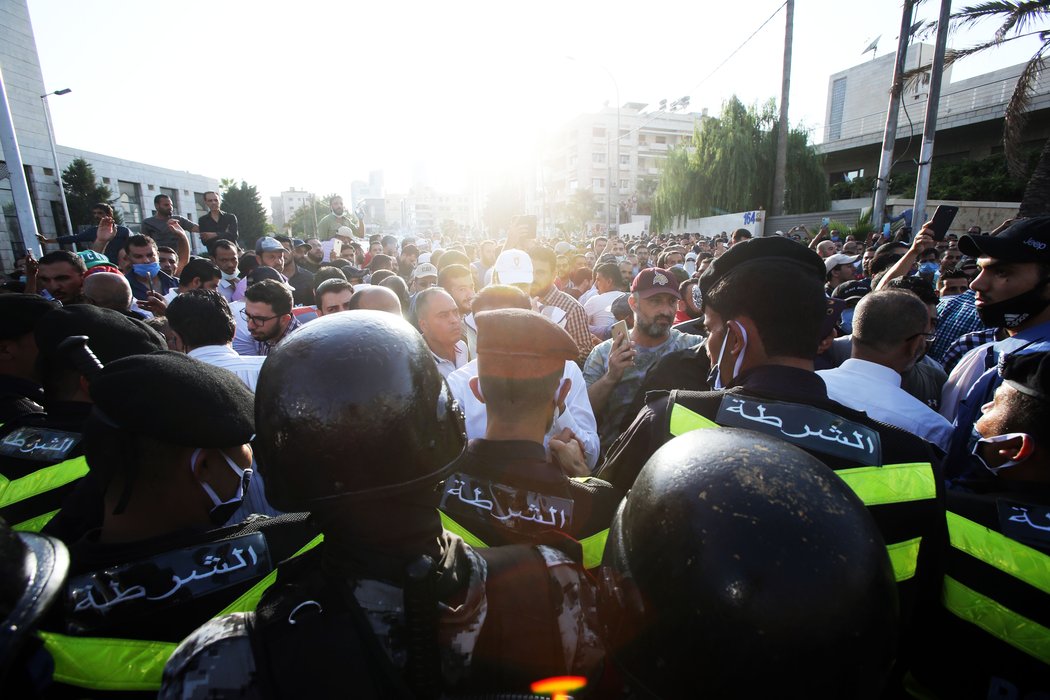 Association
On 25 July 2020, following a long dispute over a pay increase between the government and the teachers' union in Jordan, authorities stormed 13 union branches and arrested 13 board members and dozens of union members. The government had previously committed to increase salaries by 50 per cent but instead froze public sector pay until the end of 2020 due to the COVID-19 pandemic. The targeted individuals were banned from discussing the case after the Attorney General issued a gag order, including on social media and an order to shut down the union headquarters and branches for two years. These decisions sparked new protests (see below) in early August in which two journalists were detained while two others were beaten.
On these developments, Human Rights Watch said:
"Shuttering one of the Jordan's few independent labor unions following a protracted dispute with the government and on dubious legal grounds raises serious concerns about the government's respect for the rule of law. The lack of transparency and the ban on discussing this incident on social media only reinforces the conclusion that the authorities are violating citizens' rights."- Michael Page, deputy Middle East director at Human Rights Watch.
أعضاء النقابة لضابط الأمن: أين أمر الاعتقال.

الضابط: أنا الأمر!! pic.twitter.com/5qUKo43HNL

— الأردنية نت (@alurdunyya) July 25, 2020
On 31st December 2020, a court in Amman ordered the dissolution of the teachers' union and the arrest of its board members based on accusations of "corruption" and "incitement over social media" that began in August of the same year.
Peaceful Assembly
Authorities have prevented or dispersed teachers' protests. Several teachers and protesters have also been detained. The authorities claim that they responded to protests due to health and safety rules tied to the country's state of emergency for the pandemic, which limits gatherings to a maximum of 20 people.
Data published by NetBlocks, an independent international nonpartisan group monitoring internet access, found that Facebook live video streaming was restricted in Jordan on multiple days in late July and early August 2020 during protests.
According to evidence reviewed by Human Rights Watch, police "forcefully cleared mostly peaceful protests across the country". One protester reported being beaten by a group of men in civilian clothing and that police used tear gas directly at the protesters. Police also harassed those who attempted to capture footage.
"The Jordanian government, despite promises to the contrary, is exploiting the state of emergency to crack down on public outrage over the arbitrary government closure of the Teachers' Syndicate. Jordan should not use the pandemic as a pretext to repress expressions of public concern over these arbitrary measures."- Michael Page, deputy Middle East director at Human Rights Watch.
#فيديو | فض الوقفة الاحتجاجية لمعلمي المفرق، وقوات الأمن تلاحق المشاركين في الوقفة في الشوارع الفرعية وفق شهود عيان.#البديل_الإخباري #نقابة_المعلمين #المفرق#مع_المعلم#أسبوع_الشعب_الأردني pic.twitter.com/TFvICkBCha

— البديل الإخباري (@Albadeel_news) August 9, 2020
Expression
In the context of a new emergency law issued on 17th March 2020 and the enactment of the Defence Law No.13 of 1992, access to information in Jordan continues to be impeded.
According to Human Rights Watch, the enactment of Defence Law No. 13 allowed for the intimidation of several journalists by the General Intelligence Directorate, who started asking individuals about their work and warned them against covering certain issues. In addition, Jordanian authorities also used gag orders on various human rights issues such as the brutal killing of a woman by her father and during the teachers' protests. Moreover, Jordanian authorities restricted Facebook Live, limiting the ability of social media users to follow updates and news about the demonstrations
For more on #Jordan's Teachers' Union protests and authorities' far-reaching media gag order, appearing to correlate with identified internet restrictions, see @RSF_en's report 📰https://t.co/ASxxqU79UX

— NetBlocks (@netblocks) August 16, 2020
Related to teachers' protests, according to Reporters Without Borders, journalists who were outside the headquarters of the teachers' union on the day it was closed accused the police of obstructing their work after they sealed off the street. Reporter Omar Akour states that he was hit over the head and his equipment was damaged although he had identified himself as a journalist. Several journalists who attempted to cover the protests or provide commentary on the matter have been arrested.
On 26th August 2020, Imad Hajjaj, a journalist and cartoonist, was arrested. According to the statements issued, his arrest was prompted by a cartoon Hajjaj published which criticised the recent deal between the United Arab Emirates and Israel and mocked Emirati Prince Mohammed Bin Zayed. He was charged with "carrying out acts and publishing material aimed at undermining relations with a friendly country". Hajjaj was previously sued and was subject to harassment and death threats in November 2017, as reported by the Committee to Protect Journalists.
We want freedom for @EmadHajjaj the legendary artist who got under arrest just because he speak his mind and spill the truth. #عماد_حجاج pic.twitter.com/mLqxj8qkhQ

— 🦋🦋 (@thetalkingrawan) August 27, 2020
With international solidarity and campaigns Hajjaj was released and noted that
"Political cartoons are an artist's basic right to express his opinions. They are at the heart of democratic discourse."
#Jordan, release cartoonist Emad Hajjaj, drop all charges against him, and let him work freely!#Freedom4EmadHajjaj

Reference: https://t.co/NsVyKEqr8B #PressFreedom

Cartoon by @atiqshahid2 pic.twitter.com/3Z264cXde8

— Linda Hemby (@LindaHemby) August 29, 2020
In another development, on 24th December 2020, Jamal Haddad, publisher of the news website Alwakaai, was summoned by the National Security Prosecutor and detained pending investigation under the country's anti-terrorism law. Two days earlier Haddad has published an editorial which raised questions about government officials receiving the COVID-19 vaccine when it was not yet available to the general public. CPJ called on the Jordanian authorities to release Haddad and condemned the use of a national security prosecution to censor coverage of the COVID-19 pandemic.