Several killed in protests, violence after President Ouattara announces third term bid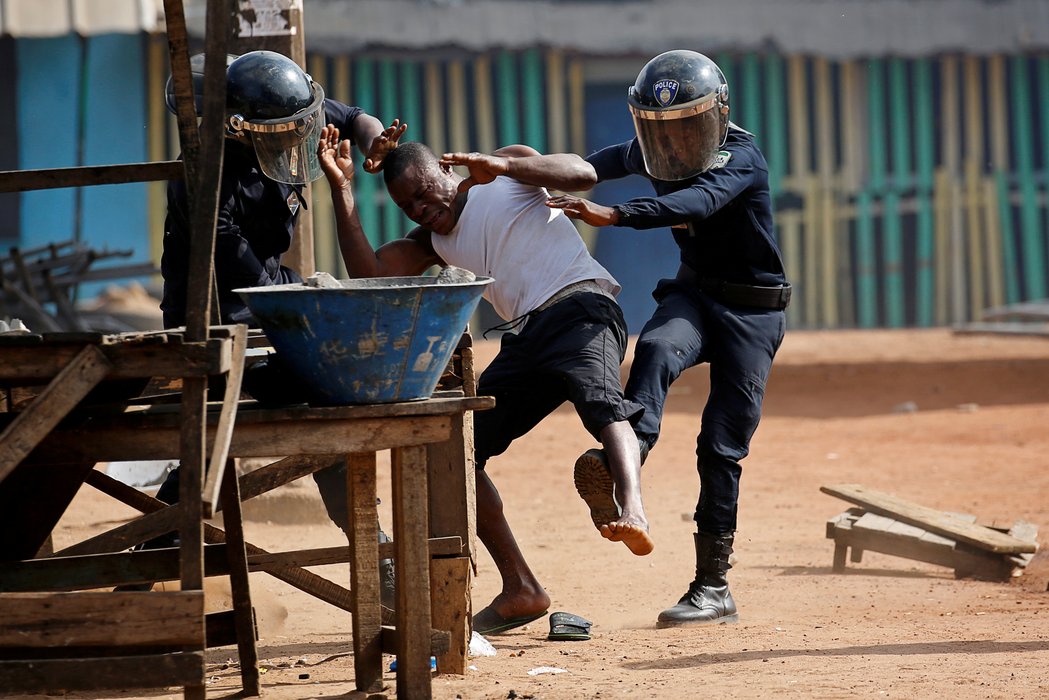 Ivory Coast's top court has cleared the way for President Alassane Ouattara to run for a contentious third term in the upcoming presidential election as several cities see violent protests. https://t.co/v5YUY49myO

— DW News (@dwnews) September 15, 2020
President Alassane Ouattara announced in March 2020 that he would not run for a third term of office in the upcoming presidential elections in October 2020. A mere five months later he reversed this decision after his chosen successor and presidential candidate for the Rassemblement des Houphouëtistes pour la Démocratie et la Paix (RHDP), Amadou Gon Coulibaly, passed away on 8th July 2020. During a state address to commemorate the 60th anniversary of Côte d'Ivoire's independence on 6th August 2020, President Ouattara said that he "decided to respond favourably to the call of my [his] fellow citizens". President Ouattara's announcement sparked deadly protests and violent clashes throughout the country.
The legality of Ouattara's bid has been challenged. Côte d'Ivoire's Constitution, which was adopted in 2016 after a referendum, sets a two-term limit for presidents, as did the previous 2000 Constitution. President Ouattara has served two five-year terms in office and his supporters claim the adoption of a new Constitution has reset the term limit and therefore allows him to run in October 2020. Opponents, however, say the two-term limit has not changed and therefore Ouattara is not eligible to run for a third term.
Meanwhile, the national electoral commission struck opposition leader Guillaume Soro of the Générations et peuples solidaires (GPS) political party and Laurent Gbagbo off the electoral list on grounds of their criminal convictions. Soro was convicted in April, in absentia, to 20 years in prison for embezzlement. As reported previously on the Monitor, Côte d'Ivoire's public prosecutor issued an arrest warrant in December 2019 against the former rebel leader and former prime minister. Soro is accused of attempts to undermine the authority of the state and territorial integrity, embezzlement and money laundering. Scores of people related to the political opposition were arrested between 23rd and 31st December 2019. Soro remains in exile in France.
Laurent Gbagbo of theFront populaire ivoirien (FPI - Ivorian Popular Front), acquitted in January 2019 by the International Criminal Court (ICC) for crimes against humanity in relation to the 2010-2011 post-electoral violence, fuels further uncertainty. Currently on conditional release in Belgium while the ICC's decision is under appeal, he is allowed to travel but has currently no passport and can only travel on the condition that the country of destination is willing to receive him. Additionally, Gbagbo risks being arrested if he returns as he was sentenced in absentia, in 2018, to 20 years in prison for the looting of the Ivorian National Agency of Central Bank of West African States and other commercial banks.
Supporters of both Gbagbo and Soro submitted applications to become presidential candidates in their names, despite the earlier disqualification of both by the national electoral commission. On 14th September 2020, the Constitutional Council retained four candidates, out of a total of 44: Alassane Ouattara, Henri Konan Bedie, Pascal Affi N'Guessan and Kouadio Konan Bertin. 
There are fears of a return to violence akin to the 2010-2011 post-electoral violence following Laurent Gbagbo's refusal to hand over power to Alassane Ouattara after the electoral commission announced the latter as the winner of the poll, and which saw 3,000 people killed. 
Côte d'Ivoire withdraws from African Court on Human and People's Rights https://t.co/qrmQhM3Q5Q "The intoxications of power mixed in with a shameful curbing of justice!" pic.twitter.com/85BJYUrtFi

— Global Voices (@globalvoices) June 3, 2020
Côte d'Ivoire withdraws the right of individuals and CSOs to appeal directly to the African Court on Human and People's Rights
On 28th April 2020, Côte d'Ivoire decided to withdraw from 'the declaration of jurisdiction provided for in the Protocol to the African Charter on Human and People's Rights', meaning that individuals and CSOs will no longer be able to directly approach the African Court on Human and People's Rights. The decision follows a ruling by the African Court ordering Côte d'Ivoire to suspend the arrest warrant against Guillaume Soro and free his supporters, stating that those accused should benefit from presumption of innocence. Alice Banens of Amnesty International commented to The Africa Report:
"Côte d'Ivoire's decision is a step backwards for human rights in the country. The withdrawal will deprive Ivorian individuals and NGOs of the valuable possibility to submit complaints when their rights are trampled on and when they aren't able to secure justice from the courts in their own countries."
https://t.co/6XQ7V2DUMe
La répression et les intimidations contre les voix dissidentes se multiplient.@Survie @AAfrikki @FidhAfrica @AmnestyWARO @Amnesty_CI @luchaRDC @BalaiCitoyen @YENAMARRE_SN @filimbi243 @RASLEBOLCongo @EN_AUCUN_CAS @Presidenceci @EmmanuelMacron @RFIAfrique

— Novox-cote D'ivoire (@NOVOXCi) August 28, 2020
Peaceful Assembly
Deadly protests against President Ouattara's third term bid
From 11th to 13th August 2020, protests broke out in several cities and localities against President Ouattara's announcement of his intention to run for a third term. According to the Minister of Security and Civil Protection, five people were killed - three in Daoukro, one in Gagnoa and one in Bonoua - and 104 people were injured, later adjusted to six people killed and 173 people injured. At least 69 people were arrested for 'disturbance to public order', 'incitement to revolt', 'violence against law enforcement agencies' and 'destruction of property of others'.
On 12th August 2020, Minister of Territorial Administration Sidiki Diakité banned the protests planned for the following day in a statement read on public television. On 13th August 2020, barricades were erected and tyres burnt in several neighbourhoods in Côte d'Ivoire's capital Abidjan. Clashes between police officers and protesters were reported in Yopougon and other suburbs, with security forces reportedly using tear gas and protesters responding by throwing stones. Riot police were deployed in great numbers in the affluent suburb of Cocody, and a group of women allied to the Générations et Peuples Solidaires (GPS) movement of Guillaume Soro were reportedly detained. The group was singing the national hymn and held up the Ivorian flag. At least 14 people were detained in Abidjan. Amnesty International, who obtained testimonies during the protests, said that police officers in Abidjan seemed to have allowed groups of men, some of whom were armed with machetes and sticks, to attack protesters who were demonstrating against president Ouattara's third term bid. Samira Daoud of Amnesty International commented:
"The apparent collaboration of the police with groups of armed men, that are neither trained nor accountable, to manage protests is extremely worrying. It represents an alarming resurgence of the use of unofficial "law enforcement" agents in Cote D'Ivoire, where we have previously documented multiple human rights abuses by armed men in civilian clothes."
Meanwhile, violent clashes between protesters and security forces occurred in Bonoua, 50 kilometres outside Abidjan. One person was killed and the police station was reportedly ransacked by angry protesters. Three people died in Daoukro, home town of former president and 2020 presidential candidate for opposition party Parti démocratique de Côte d'Ivoire (PDCI) Henri Konan Bédié. Clashes occurred between PDCI supporters and supporters of President Ouattara.
On 19th August 2020, the Council of Ministers announced a suspension of all public protests until 15th September 2020, using the state of emergency that was invoked to curb the spread of COVID-19.
Despite the ban on protests on public roads, opposition protests erupted on 21st and 22nd August 2020 to demonstrate against Ouattara's third term bid. Women leaders of the opposition called for 'a day of action of women'. In Abidjan, security forces used tear gas to disperse protesters in the suburb of Yopougon, while a considerable number of security personnel were deployed in Cocody to discourage protesters from demonstrating. Henriette Lorougnon, vice-president of political party Front populaire ivoirien (FPI) of Laurent Gbagbo, claimed during a press conference that about 20 people were arrested. The protests by women in Divo and Bonoua were dispersed by young people, at times armed with machetes and clubs, and were followed by violence, said Amnesty International.
In Divo, violence and clashes between political adversaries belonging to different communities – the Dioula and Dida – were reported in various neighbourhoods, with at least two people killed amid looting and burning of buildings and cars. Violence was also reported in Bonoua.
CSOs have strongly condemned the deadly violence and repression of protesters, such as the Media Foundation for West Africa and Article 19. Fatou Jagne Senghore of Article 19 said:
"The events of the last two weeks have plunged Côte d'Ivoire into a climate of violence, fear and insecurity. The bloody violence during the protests constitutes a threat to democracy and results in stifling dissident voices."
Les organisations de la société civile ivoirienne demandent la libération immédiate de la défenseure des droits humains Pulchérie Edith Gbalet et de ses collaborateurs. pic.twitter.com/AyrqR1nE3d

— Amnesty CI (@Amnesty_CI) August 20, 2020
Association
On 15th August 2020, civil society activist and coordinator for the NGO Alternatives citoyenne ivoirienne (ACI) Pulchérie Edith Gbalet and two of her colleagues - Djehi Bi Cyrille and Gbaou Gedeon Junior - were detained by armed men at a hotel in Abidjan where Gbalet was staying. They were placed under arrest and are being prosecuted for 'undermining public order', 'participation in an insurrectionary movement', 'undermining state authority', 'wilful destruction of public goods' and 'provocation to a gathering'. Pulchérie Edith Gbalet had called for protests against a possible third term for president Ouattara.
In a statement, 20 Ivorian civil society organisations, including the Coalition Ivoirienne des Défenseurs des Droits Humains (Ivorian Coalition of Human Rights Defenders) and Ligue Ivoirienne des Droits de l'Homme (Ivorian League of Human Rights), condemned the arrest of Pulchérie Edith Gbalet and her two colleagues, and asked for their immediate release. 
#CotedIvoire: @pressfreedom is concerned by and investigating reports that journalist Claude Dassé was on May 6 attacked, threatened, and briefly detained while reporting at a detention center in Abidjan. https://t.co/rkvPHAgshn

— CPJ Africa (@CPJAfrica) May 13, 2020
Expression
Journalist Claude Dasse of the daily L'Intelligent, who was investigating claims of extortion of prisoners by prison warders at the Maison d'arrêt et de correction d'Abidjan (MACA), said he was beaten, subjected to death threats and held for four hours on 6th May 2020 when he visited the prison facility - on appointment - to meet the manager of MACA and the manager of the prison warders. According to the Media Foundation for West Africa (MFWA), Dasse was received by an individual allegedly behind the extortion who threw him in a prison cell when the journalist asked if he could record the interview. An investigation into the incident has been initiated.
Cyber activist Yapo Ebiba François, also known under the pseudonym Serge Koffi Le Drone, was arrested on 7th May 2020 by officers of the Directorate of Computing and Technological Traces (DITT). According to Amnesty International, he faces charges of 'undermining national defence', 'disturbing public order', 'defamation', 'insults on social networks', 'dissemination of fraudulently obtained electronic data' and 'publication of false information tending to make believe that an attack on people will be committed'. In particular, he is accused of having published posts on social media calling for the destruction of material meant for the construction of a COVID-19 screening centre in Abidjan's suburb of Yopougnon. The human rights organisation further said that the cyber activist had been subjected to torture and ill-treatment between 7th and 11th May 2020.