Restrictive bills still being pushed by Nepali lawmakers as protests around Xi's visit stifled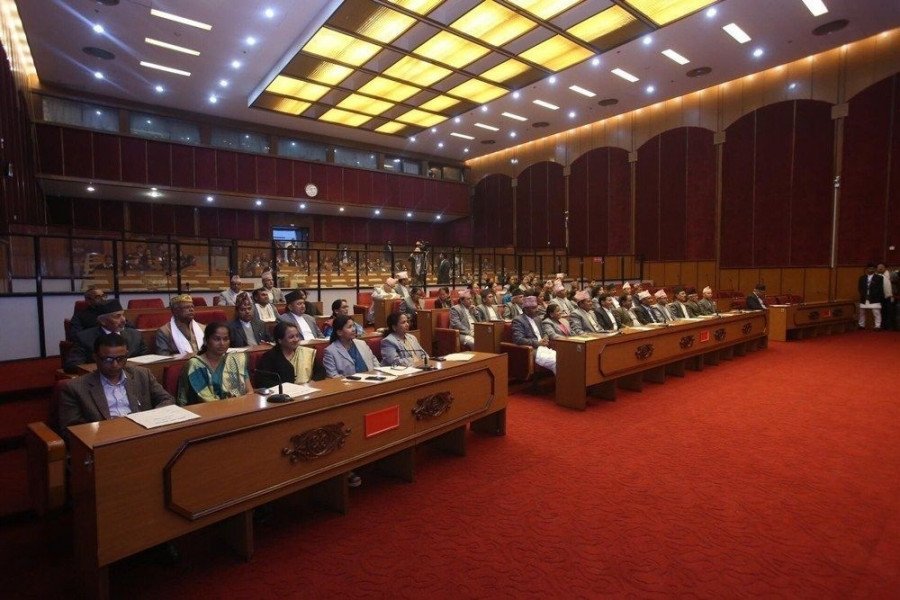 In recent months, the Nepal government has continued to push several pieces of draft legislation that threaten to undermine the right to freedom of expression, including the Media Council Bill and the Information Technology Bill. Journalists continue to face attacks and threats for their reporting while protests against China around President Xi's visit have been suppressed.
The government continues to pursue proposed amendments to the National Human Rights Commission Act which many believe is aimed at weakening its autonomy and independence. Civil society groups have also raised concerns that the authorities have failed to fulfil commitments to provide justice for the victims of the country's decade-long armed conflict and there has been a lack of transparency in the appointment of commissioners to the Truth and Reconciliation Commission and to the Commission on the Investigation of Enforced Disappearances.
Expression
Amendments to the Media Council Bill fail to address concerns
As previously documented, civil society and media groups have raised concerns around a proposed Media Council Bill that was introduced to parliament in April 2019.
The proposed bill aims to give sweeping powers to the self-regulatory body overseeing the press, and information rights activists and journalists have been saying that the new council could increase direct attacks on the press.
In August 2019, National Assembly members who participated in a multi-stakeholder discussion on the bill agreed to reform regressive provisions of the Media Council Bill after taking suggestions from stakeholders. However, in September 2019, it was reported that proposed amendments to the controversial bill by lawmakers did not follow through on promises made to the media fraternity.
Among the key amendments sought was that a recommendation committee for the proposed Media Council would be formed under the chairperson of the National Assembly (upper house of parliament). However, the amendments registered by the ruling party lawmakers on 2nd September 2019 failed to include this point. Currently in the bill, the three-member recommendation committee is led by the secretary of the Ministry of Communication and Information Technology, with one member from the law, information technology or social sector, and one senior journalist. All members would be appointed by the Minister for Communications.
Bipul Pokhrel, vice-chairperson of the FNJ said:
"We won't accept the bill if this provision is not changed. The recommendation committee was one of the four major theoretical issues we had pointed out for amendment. We urge lawmakers to ensure these changes."
Further, in September 2019, a group of ruling party lawmakers filed an amendment proposal to the Media Council Bill, proposing a provision for a 'journalists' licence', which would require all journalists to pass an exam. It has drawn widespread criticism from media professionals and civil society for being unfairly restrictive.
Civil society calls for amendments to restrictive Information Technology bill
Authoritarian & unconstitutional Information Technology bill in Nepal's House of Representatives:
- Ability to ban social networking sites
- Restrict & penalize from posting "improper contents" in social media
- Right to Freedom of Speech under attackhttps://t.co/yKjOxgms6D

— Prashish (@prashishh) February 20, 2019
As previously documented, in February 2019, Nepal's government tabled an Information Technology Bill that would impose harsh sanctions for 'improper' social media posts. According to civil rights activists, the bill is a way for the government to control online speech.
The Information Technology Bill creates a raft of loosely defined new offences that could be interpreted to include almost any online activity. Among numerous problematic provisions, the draft law also creates an intermediary liability for internet service providers (ISPs), meaning that they could be held legally responsible for material posted by others on the internet.
The Information Technology Bill is designed to replace the 2006 Electronic Transactions Act (ETA), which the current government has abused repeatedly, often to prosecute online journalists reporting on corruption.
In a letter to the Prime Minister in September 2019, Human Rights Watch raised detailed concerns about the bill and urged the government to revise it to clearly and narrowly define which online activity would be subject to regulation. They also recommended that there should be no intermediary liability for internet service providers.
Journalists face threats and attacks for their reporting
#Nepal 🇳🇵: Nepali journalist and union leader Ajaya Babu Shiwakoti had received threats and surveillance since publishing an article on an alleged rape by Nepal's Speaker in Parliament. We call on authorities to immediately ensure his protection.https://t.co/nzasBQ41f5

— IFJ Asia-Pacific (@ifjasiapacific) October 4, 2019
Journalists in Nepal continue to face various risks and threats for undertaking their work or for speaking up.
Journalist Ajaya Babu Shiwakoti has been the subject of a campaign of threats and surveillance since publishing a report on the alleged rape of a female employee of Nepal's Federal Parliament by Speaker Krishna Bahadur Mahara on 30rd September 2019. Mahara was forced to step down as House Speaker after the publication of Shiwakoti's story on the website, Hamra Kura. The Nepal Press Union (NPU) said Shiwakoti had received threats from various unknown numbers and that groups were "tracking his movements". He also received information that groups were planning to vandalise his office and assault him.
According to Freedom Forum, journalist Anil Burma was attacked by Mahagadhimai Municipality Mayor Upendra Yadav while reporting about municipality expenses in Bara district on 3rd October 2019. Burma is associated with Cinnepal.com and Radio Tarai Birgunj 107 MHz. Burma had requested information about the number of vehicles used by the municipality along with its expenses. When Burma asked Mayor Yadav about the expenses, he was assaulted by Yadav.
On 16th September 2019, nine journalists from Singha Durbar were arrested for demanding the reinstatement of two journalists affiliated with Radio Nepal, who were sacked by management after they demanded the implementation of a minimum wage for journalists in their office. Those arrested include Secretary of the Federation of Nepali Journalists (FNJ) Ram Prasad Dahal, FNJ Central Committee Members Yam Birahi, Janmadev Jaisi, Min Bom, FNJ Doti chapter president Yogendra Balayar, Ajayababu Siwakoti, the general secretary of the Press Union and journalists Dilip Poudel, Prakash Bam and Chakra Kunwar.
Comedian arrested for satirical comments on a film
Lawyer says Comedian Pranesh Gautam will be released from custody tonight. Police won't confirm or deny. https://t.co/gzUTceZbaN // by @bbhrikuti

— Anup Kaphle (@AnupKaphle) June 14, 2019
In June 2019, Nepalese stand-up comedian Pranesh Gautam was arrested for posting a satirical comment about a film 'Bir Bikram 2' on his YouTube channel.
The 24-year-old comedian was arrested after a report was filed against him by the movie's director Milan Chams who allegedly accused Pranesh of "defamation, libel, expressing sexist and racial remarks through social media" while reviewing the movie. The director also accused Gautam of cybercrime. Gautam was taken into custody under the Electronic Transaction Act and was put behind bars for almost nine days.
Following this, several people including YouTubers social media users, stand-up comedians and human rights activists spoke out against his arrest. The protestors came together in Kathmandu on 12th June 2019 and expressed their disappointment over the lack of freedom of expression in the country.
Police arrest anti-China and Free-Tibet activists ahead of President Xi's visit
Nepal witnessed series of anti-China protests in recent months.#nepal #protest #chinahttps://t.co/SoRYMT0lU6

— ET Specials (@ET_Specials) October 12, 2019
In recent months, Nepal has witnessed a series of anti-China protests ahead of President Xi's visit to Nepal in October 2019.
A protest was held on 14th August 2019 in front of the Chinese Huawei company's office for its involvement in the hacking of around 200 Nepali websites in May 2019, including some important government websites. The protesters shouted anti-Huawei and anti-Chinese slogans during the protests. The protestors also tried to enter the Huawei office. Police arrested five protesters.
On 9th September 2019, a group of 15 protesters including 10 women's rights activists held a demonstration near the Chinese embassy in Kathmandu protesting against the trafficking of Nepali women by Chinese nationals during the visit of Chinese Foreign Minister Wang Yi to Nepal. Nine of the women activists were detained by the police on complaints by the Chinese Embassy and were not immediately released, even after some human rights activists and lawyers approached the police.
At least 22 Free-Tibet movement campaigners and human rights activists from Kathmandu were arrested over a period of three days in October 2019. They were planning to hold protests during Chinese President Xi Jinping's visit to Nepal.
According to Metropolitan Police Range, Teku, five people were arrested from Swoyambhu, nine from Bouddha, six from Pharping and two from an undisclosed location in Kathmandu. Police said those arrested from Bouddha were wearing track suits with 'Free Tibet' slogans. Others were carrying Tibetan flags and bags with 'Free Tibet' slogans. Eleven of those arrested were Tibetan refugees while others were Nepalis, according to police.
Indra Prasad Aryal, chairman of Human Rights Organisation-Nepal said that police stepped up security around monasteries in Kathmandu to prevent protests against the Chinese's president's visit or raising Tibetan issues.
Peaceful Assembly
Bill affecting indigenous community withdrawn after intense protests
Thousands in Nepal protest against cultural 'guthi' bill https://t.co/Lb9IjPQyqr pic.twitter.com/XYgwUX6vW1

— Al Jazeera News (@AJENews) June 19, 2019
In June 2019, thousands of Nepalis took to the streets demanding the government scrap a bill that stands to interfere with a centuries-old trust system integral to the Himalayan country's cultural heritage.
The bill, which seeks to nationalise centuries-old community and religious trusts has triggered a public outcry. The system, known as "guthi", is rooted within the Newar community indigenous to the Kathmandu Valley. It has a special role in maintaining temples and traditional public spaces, as well as organising festivals and religious parades. Guthis, usually led by families or specific communities, generate income from commonly owned lands. Cultural experts and academicians say that if passed, this could pave the way for a "land mafia" to misuse Guthi's property.
According to news reports, at least six people were injured on 10th June 2019 when police used force to disperse heritage conservationists, locals and stakeholders who were protesting the proposed bill. Police also detained four protesters—Mahesh Man Shrestha, Kedar Maharjan, Bikash Maharjan and Anish Baidhya.
Macha Raja Dangol, treasurer of Naradevi Guthi said:
"We were protesting peacefully. But all of a sudden, security forces used water cannons and charged batons. We will continue our protest until the government withdraws the bill and agrees to revise it."
The bill was finally withdrawn on 25th July 2019 after weeks of intense protests.
Association
Anti-corruption campaigner attacked 
Gyanendra Shahi, an anti-corruption activist, beaten by 'unknown vandals' https://t.co/Kr6f2Q4CtC #AawaajNews #GyanendraShahi #SocialActivist #Chitwan #Abused #AntiCorruption

— AawaajNews (@AawaajNews) September 29, 2019
Gyanendra Shahi, an anti-corruption activist, was attacked in Bharatpur, Chitwan, on 19th September 2019. Shahi was travelling home in a bus when he was attacked with stones, rods and sticks by a group of local youths. A group of youths close to the ruling party had also obstructed a programme he was attending earlier that day which had to be cancelled. Shahi underwent preliminary treatment at Chitwan Medical College after which he was taken to Kathmandu for further treatment.
It is believed that the attack is linked to an incident earlier in September 2019 when Shahi was among the passengers who criticised Minister of Tourism Yogesh Bhattarai for causing a delay to a Kathmandu-bound Buddha Air flight in Nepalgunj.