Repression of Liberal Publishing House, journalists and online critics escalates in Vietnam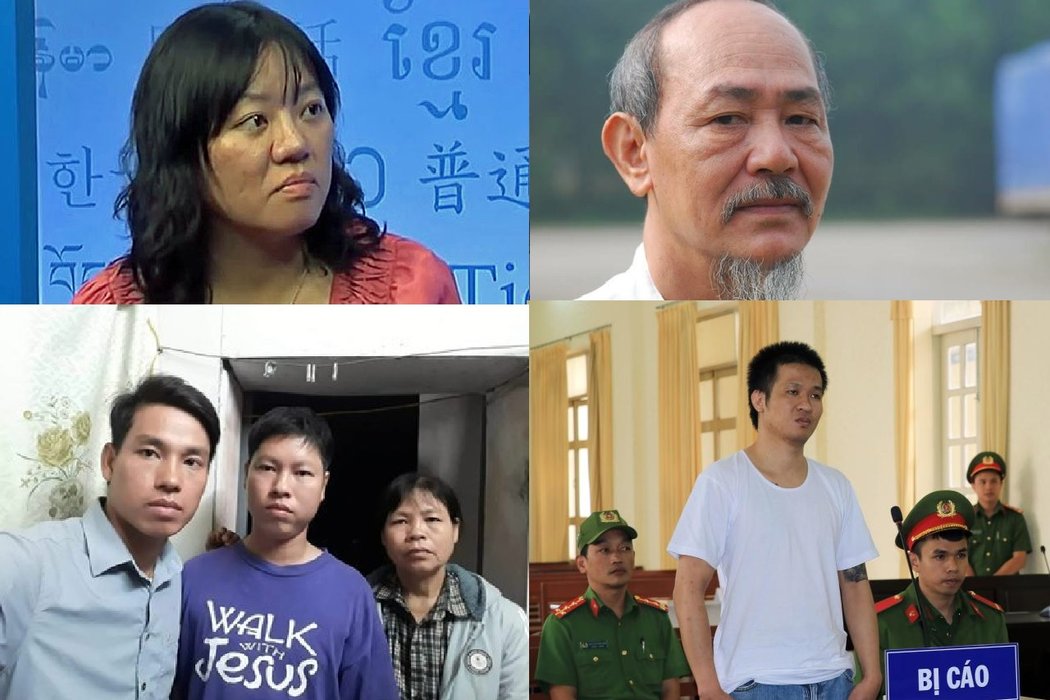 Ahead of the ruling Communist Party national congress in early 2021, the crackdown on critics has escalated. A targeted campaign against dozens of individuals connected with the Liberal Publishing House has persisted. Members of the Independent Journalists Association of Vietnam (IJAVN) - the last independent journalist organisation in the country - have been arrested and prosecuted. Online government critics are being pursued while Facebook has been accused of being complicit in the censorship of critical posts. Human rights defenders have also been arrested and convicted.
Expression
Targeted campaign of attacks against publishing house
The persecution against independent publishers, The Liberal Publishing House has continued in 2020 after a brief pause due to the pandemic. As previously documented, since early October 2019, police have harassed and intimidated dozens of people connected to The Liberal Publishing House – a local independent publisher that has produced books on public policy and political thought in Vietnam – in what appears to be a targeted campaign.
The Liberal Publishing House was founded in Ho Chi Minh City in February 2019 by a group of dissidents who wanted to challenge the authoritarian, one-party government's control of the publishing industry
The harassment has taken place in at least three major cities, including Hanoi, Ho Chi Minh City and Hue, in addition to the provinces of Binh Duong, Quang Binh, Quang Tri and Phu Yen. More than 100 individuals who have been targeted are believed to have either bought or read books printed by the publisher, or to have worked for the publishing house.
Individuals in those locations have been summoned to local police stations where they have been interrogated about books they bought from the publishing house. After questioning, most were pressured to sign statements promising that they would not buy books from The Liberal Publishing House again. Some have had their houses searched and been abducted.
In May 2020, Phung Thuy, also known as Thuy Tuat, was arrested in Ho Chi Minh City while he was delivering books for the Liberal Publishing House. While in custody, Thuy Tuat was interrogated and allegedly brutally tortured, including being punched in the face, chest, ribs and stomach by police. Upon release, despite having serious injuries, Thuy Tuat went directly into hiding fearing that police might re-arrest him. Subsequently, police arrested his 24-year-old daughter and refused to release her unless Thuy Tuat returned to the police station. She remains in police custody
On 10th July 2020, it was reported that that outspoken Vietnamese journalist and author Pham Doan Trang had withdrawn from the Liberal Publishing House after intense harassment by police over her work and the abduction and abuse of colleagues.
Recognising the important work of the publisher, on 3rd June 2020 the Liberal Publishing House was declared winner of the Prix Voltaire for the year 2020 awarded by the International Publishers Association (IPA). The prize is awarded to those who display "exemplary courage in upholding the freedom to publish and in enabling others to exercise their right to freedom of expression".
When awarding the prize, the Chair of the IPA's Freedom to Publish committee noted:
"The work of Liberal Publishing House in Vietnam as guerilla publishers, making books available in a climate of intimidation and risk for their own personal safety is nothing short of inspirational. The international publishing community recognizes their bravery and will support them however we can."
Authorities arrest members of independent journalist organisation
On 30 June, @ICJ_org & others sent open letters to Prime Minister of #Vietnam calling for immediate & unconditional release of HRDs: Dr Phạm Chí Dũng, Nguyễn Tường Thụy & Lê Hữu Minh Tuấn & urged the govt to cease harassment of activists from #IJAVNhttps://t.co/ek1W3pu7wt pic.twitter.com/X9GQ6nDyBs

— ICJ - Asia and the Pacific (@ICJ_Asia) July 1, 2020
Three members of the Independent Journalists Association of Vietnam (IJAVN) were arrested in May and June 2020 by Ho Chi Minh City police. IJAVN is a civil society organisation that was established in 2014 and promotes the right to free speech, freedom of the press and freedom of association.
According to Reporters Without Borders (RSF), Pham Chi Thanh, a journalist and prominent IJAVN member who uses the pseudonym of Pham Thanh, was arrested when police arrived at his Hanoi home on 21st May and immediately took him away. His is currently being held in a Hanoi prison under article 117 of the criminal code, which penalises 'propaganda against the state'. Thanh used to work with the state-owned Voice of Vietnam radio station before becoming a pro-democracy activist and critic of the one-party state.
The 88 Project, a human rights group, reported that on 23rd May 2020, Nguyen Tuong Thuy was arrested and his apartment searched by the Public Security Department of Hanoi. Thuy, a 70-year-old military veteran, is currently the vice president of the IJAVN. Thuy has been charged under Article 117 of the 2015 Criminal Code for alleged 'propaganda against the state'. He was immediately transported 1,700 km south of the capital to Ho Chi Minh city.
Then, on 12th June 2020, the Public Security Department of Ho Chi Minh City arrested Le Huu Minh Tuan, another member of IJAVN. Since joining the association, Le Tuan's work has focused on social injustices, domestic politics and the Vietnamese democracy movement. Tuan was said to have been taken to Chi Hoa temporary detention centre under the authority of Ho Chi Minh City police.
As previously documented, the president of the IJAVN, Pham Chi Dung, was arrested in November 2019, apparently in connection with his opposition to the EU-Vietnam free trade agreement.
According to the website Defend the Defenders, the arrests are part of a plan to demolish the unsanctioned IJAVN and take full control of the press ahead of the 13th National Congress of the ruling Communist Party of Vietnam scheduled for early 2021. IJAVN has more than 50 independent journalists and dissidents who have produced thousands of articles on issues such as human rights violations, systemic corruption and environmental pollution.
Online government critics arrested and convicted
There has been an increasing number of government critics being arrested and convicted for their online criticism of the state.
Today (April 18) Hau Giang arrested Dinh Thi Thu Thuy under Article 117 "making, storing, distributing or disseminating information and materials to oppose the Socialist Republic of Vietnam". pic.twitter.com/RcbnpBe3qz

— Grace Bui (@gracebui2016) April 18, 2020
Dinh Thi Thu Thuy, 38, uses Facebook to voice support for political prisoners. She was arrested on 18th April 2020 in Hau Giang province and charged with 'propaganda against the state' under Article 117 of the country's penal code. According to The 88 Project she was accused of 'opening multiple Facebook accounts to edit, post and share thousands of documents defaming and slandering the Party's leadership'.
A court in Vietnam on 17th April 2020 sentenced a man to 1.5 years in prison for uploading anti-state posts to Facebook. Chung Hoang Chuong was charged with 'abusing the rights to democracy and freedom to infringe upon the interests of the State' at a one-day trial in the southern province of Can Tho. He was accused of writing 'anti-state' posts and making comments which insulted three policemen killed in a clash with protesters near Hanoi in January 2020.
On 11th May 2020, The People's Court of Ninh Kieu District in Can Tho City sentenced online commentator Ma Phung Ngoc Phu to nine months in prison on charges of 'abusing democratic freedoms' under Article 331 of the 2015 Criminal Code. The state-controlled media reported that she was convicted of disseminating fake news about COVID-19 infection in the country.
On the same day, The 88 Project reported that online commentator Phan Cong Hai was sentenced to five years in prison in Nghe An Province. He did not have legal representation at his trial, which lasted only two hours.
This week: two more #bloggers - Huynh Anh Khoa and Nguyen Dang Thuong - arrested for "abusing democratic freedoms"; disappointment for Nguyen Duc Quoc Vuong's family as they are being refused to see him even though promised otherwise, and much more. https://t.co/qkAT8wHW3P

— The 88 Project (@The88Project) June 22, 2020
Police in Ho Chi Minh City arrested Huynh Anh Khoa and Nguyen Dang Thuong on 13th June 2020 for their activities in an online discussion group. According to Defend the Defenders they led a Facebook group with 46,000 followers about socio-economic issues in Vietnam. They were charged with 'abusing democratic freedoms' under Article 331 of the 2015 Criminal Code. Public security officers from the District 8 police department searched Khoa's home and forced him and his wife to sign three unspecified documents; he and Thuong are both reportedly now held at the detention centre in District 8. The group was reportedly closed down after the arrests.
On 23rd June, the People's Court of Hoa Binh Province tried hairdresser and online commentator Nguyen Van Nghiem under Article 117 of the 2015 Criminal Code and sentenced him to six years in prison. Nghiem was arrested in late 2019 for his Facebook posts and live streams dealing with issues such as sovereignty, anti-corruption and human rights.
On 24th June, Facebook commentator Vu Tien Chi, who is based in the Central Highlands province of Lam Dong, was arrested and charged under Article 117 of the 2015 Criminal Code.
On 7th July 2020, an online critic was convicted under Article 117 of the 2015 Criminal Code for 'propaganda against the state' for broadcasting his pro-democracy views on Facebook and jailed for eight years. The 29-year-old, Nguyen Quoc Duc Vuong (pictured above) had voiced his support for democracy in Vietnam and shared news of pro-democracy protests in Hong Kong before his arrest in September 2019. Since his arrest he was denied access to his family, and only met with his attorney. Besides sharing news articles, Vuong often live-streamed to express his opinion and debate on national and social issues such as sovereignty, corruption and land rights.
Facebook complicit in government censorship
On 21st April 2020, Reuters reported that Facebook has begun to significantly step up its censorship of 'anti-state' posts in the country. This follows pressure from the authorities, including what the company suspects were deliberate restrictions placed on its local servers by state-owned telecommunications companies that caused Facebook to become unusable for periods of time.
Two Facebook sources told Reuters that "we believe the action was taken to place significant pressure on us to increase our compliance with legal takedown orders when it comes to content that our users in Vietnam see". In an emailed statement, Facebook confirmed it had reluctantly complied with the government's request to "restrict access to content which it has deemed to be illegal".
Amnesty International slammed the company for these actions. William Nee, Business and Human Rights Advisor at Amnesty International said:
"The revelation that Facebook is caving to Viet Nam's far-reaching demands for censorship is a devastating turning point for freedom of expression in Viet Nam and beyond. The Vietnamese authorities' ruthless suppression of freedom of expression is nothing new, but Facebook's shift in policy makes them complicit."
In a report published in 2019, Amnesty International found that around 10 percent of Vietnam's prisoners of conscience – individuals jailed solely for peacefully exercising their human rights – were jailed in relation to their Facebook activity.
The crackdown has only intensified since the onset of COVID-19. According to Amnesty International, between January and mid-March 2020, a total of 654 people were summoned to police stations across Viet Nam to attend 'working sessions' with police related to their Facebook posts connected to the virus, of whom 146 were given fines and the rest were forced to delete their posts.
Association
Human rights defender arrested and beaten
#Vietnam: Police in Nghe An Province arrest dissident writer Tran Duc Thach https://t.co/4XTwir7uhO

— AG (@ag_fidh) April 25, 2020
In April 2020, police in Nghe An province arrested a former political prisoner, Tran Duc Thach, for his alleged affiliation with the Brotherhood for Democracy. Tran Duc Thach is a writer, award-winning activist and former political prisoner. He was reportedly charged with engaging in activities to overthrow the government, in violation of Article 109 of the Vietnamese Criminal Code.
Human Rights Foundation reported that a photo of him later published on state media showed he had sustained facial injuries, indicating that he was most likely beaten by the police while in detention.
According to Frontline Defenders, the Brotherhood for Democracy was founded in 2013 as a loose association of activists and human rights defenders formerly imprisoned for their political beliefs. The Brotherhood aims to support the development of a just society in Vietnam as well as to defend the human rights standards established in Vietnam's constitution and international human rights conventions. Prior to a 2017 crackdown on the Brotherhood by Vietnamese authorities, the group provided frequent training on human rights topics to Vietnamese citizens.
In April 2018, seven members of the Brotherhood for Democracy were found guilty of 'carrying out activities aimed at overthrowing the people's administration' and given lengthy prison sentences.
Three family members arrested for their land rights activism
On 24th June 2020, authorities surrounded and stormed into Trinh Ba Phuong's home and arrested him and later his mother, Can Thi Theu (at a different residence). Theu is a former political prisoner who has twice been jailed for her land rights activism, and Phuong is also a well-known activist who is very active in issues of land rights in his own community.
Police also searched the home of a third member of the family, Trinh Ba Tu, who is Phuong's brother, and arrested him. All three individuals were outspoken critics of the land incident in Dong Tam and alerted foreign diplomats about it. They have allegedly been charged under Article 117.
Another land rights activist, Nguyen Thi Tam, was also arrested in Duong Noi on the same day on the same charges
As previously documented, in January 2020, police launched an operation in Dong Tam village where residents had been protesting the lease of land to a military-owned telecommunications company for several years. During the operation, three police officers and the 85-year old village leader, Le Dinh Kinh, were killed while dozens were arrested for 'disrupting security'. Following this there was a nationwide crackdown to stifle public debate about the deadly land dispute.
Two anti-corruption activists sentenced
According to Defend the Defenders, on 8th May 2020, the People's Court of Soc Son district in Hanoi convicted two anti-corruption activists, Dang Thi Hue and Bui Manh Tien on a charge of 'causing public disorder' under Article 318 of the country's Criminal Code. They were each sentenced to 15 months in prison. The two individuals were arrested in mid-October 2019 when they were trying to block the Bac Thang Long-Noi Bai BOT (build-operating-transfer) toll booth to protest its illegal fee collection.
Anti-BOT activists have been persecuted by plainclothes agents and thugs. Previously in 2019, activists Ha Van Nam and six others were convicted and sentenced to between 18 months and 36 months for 'disturbing public order'.
Peaceful Assembly
Protesters indicted around land dispute in Dong Tam
As noted above, the Dong Tam land dispute protests (see above) in January 2020 left three police officers and a protest leader dead. In June 2020, the authorities indicted 25 people on murder-related charges for their involvement in the incident over land rights.
The Hanoi People's Procuracy released the indictments after a 20-day investigation, according to state media, accusing the slain man's son Le Dinh Chuc, and grandsons Le Dinh Doanh and Le Dinh Uy of murder, with 22 more charged as accomplices to murder. If convicted they could face a minimum of 12 years or be given the death penalty.
Four others from the village were accused of obstructing officers in the performance of their duty, a charge which carries a jail sentence of between two and seven years.
Activists have disputed the official version of the incident saying that the police attacked people using tear gas, rubber bullets and live ammunition. During the raid, access roads were blocked and phone and internet connections were shut down. They have called for a government inquiry to establish basic facts about the events in Dong Tam: the legal grounds for the raid, the number of police, the weapons used by both parties, the reasons for cutting phone and internet connections, and the number of casualties.
Relatives of those held in custody have been denied access to visit their loved ones in detention.