Repression of activists and journalists persists in Myanmar despite ASEAN rebuke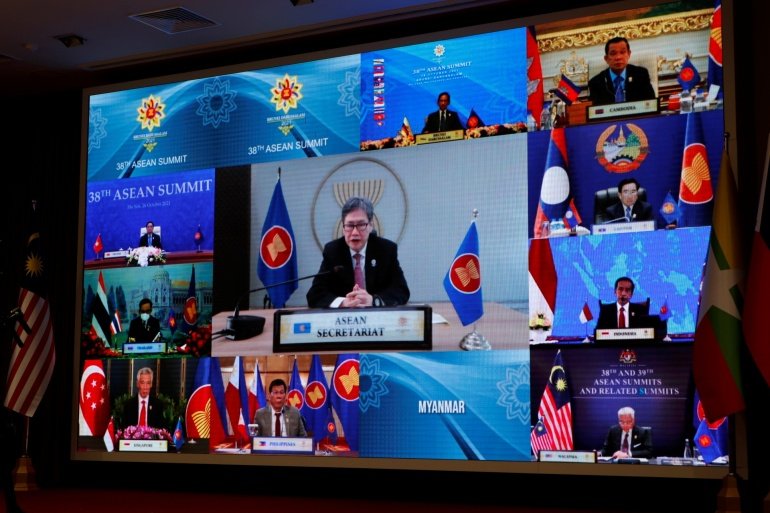 More than nine months after the coup, serious civic space violations by the military junta continued to be documented in the country. According to the Assistance Association for Political Prisoners (Burma), as of 8th November 2021, 1,244 people have been killed by the junta since the coup, while a total of 7,122 people are currently under detention.
In September 2021, the UN High Commissioner for Human Rights, Michelle Bachelet, said that urgent action was needed to prevent the situation in Myanmar from spiralling into a full-blown conflict. Her warning came in a new report from the UN Human Rights Office detailing widespread violations by the military, some of which may constitute crimes against humanity or war crimes.
It was reported on 12th October 2021 that the Association of Southeast Asian Nations (ASEAN) special envoy to Myanmar Erywan Yusof's visit to the country was postponed after the junta barred him from meeting with detained civilian leaders State Counsellor Aung San Suu Kyi and President Win Myint.
In an unprecedented move, ASEAN agreed on 15th October 2021 to bar Myanmar's military chief Min Aung Hlaing, who had toppled the civilian government, over his failure to implement a peace plan he agreed with ASEAN in April towards ending a bloody political crisis triggered by the coup. On 27th October, Southeast Asian leaders voiced disappointment at the Myanmar junta during the first day of their annual meeting, while also expressing concerns over the situation in the member state.
On 29th October 2021, the Myanmar military began shelling the town of Thantlang in Western Chin State, setting on fire as many as 200 houses and at least two churches. Soldiers also deliberately torched houses at random. On 4th November, 521 civil society organisations called on the UN Security Council to convene an urgent meeting on the escalating attacks in Chin State and address the rapidly deteriorating humanitarian, human rights and political crisis in Myanmar.
In the last two months, activists and journalists have continued to be targeted and criminalised and there are reports of torture of political prisoners. The internet has also been shut down in some regions. Some activists and journalists were released in a mass amnesty in October but some have been re-arrested.
Association
Judicial harassment of activists
There have been ongoing attacks, harassment, arbitrary arrests, prosecution and killings of human rights defenders and activists in recent months:
The junta detained human rights activist Ko Kyaw Minn Htut, his two-year-old child, wife and younger brother on 5th September 2021 in Monywa, Sagaing Region. The Myanmar Alliance for Transparency and Accountability (MATA) is the civil society alliance formed by over 400 organisations across the country for the implementation of transparency and accountability in the extractive industries. Ko Kyaw Minn Htut had been working for environmental protection and human rights and participated in the non-violent movement for democracy after the military coup.
Detained activist Min Thukha Kyaw was denied access to a lawyer during his three-month trial. https://t.co/RadfLRQyek

— Myanmar Now (@Myanmar_Now_Eng) September 8, 2021
Min Thukha Kyaw, the former chair of the Dagon University Students' Union, was sentenced to 10 years in prison by a military tribunal on 6th September 2021. He was denied access to a lawyer during his trial. Min Thukha Kyaw was arrested at his home in Yangon's North Okkalapa Township in June 2021 and charged with incitement under Section 505a of the Penal Code, which carries a maximum sentence of three years in prison. He has been held in Yangon's Insein Prison since his arrest.
Police officers shot and arrested a 24-year-old political activist and detained his mother at their home in Bago on 23rd September. At around 10pm, junta police came in two unmarked vehicles to arrest activist Sithu Kaung Myat, a well-known and active protester in local anti-coup demonstrations. The policemen opened fire when it appeared that Sithu Kaung Myat was reportedly trying to run away. Sithu Kaung Myat was then taken to Bago General Hospital but died from his injuries on 25th September.
Wai Yan Phyo Moe, the vice president of the All Burma Federation of Student Unions (ABFSU), was charged with violating Section 505a of the Penal Code for incitement at the Mayangone Township court in Yangon in the first week of October 2021. Wai Yan Phyo Moe was already facing charges for violating Section 19 of the Peaceful Assembly and Peaceful Procession Law in Kyauktada for allegedly breaking rules surrounding demonstrations, as well as for incitement in both Kyauktada and Kamayut. If convicted, each incitement charge carries a three-year prison sentence and the Section 19 charge is accompanied by a three-month sentence and/or a fine. He had been held in Insein Prison since his arrest in March 2021.
Aye Nandar Soe, Student Union's leader from Sagaing University of Education was seized on the way to Sagaing on Sep 19, and has been lost since then. Her family members are in grief as they can't make any contact with her. #WhatsHappeningInMyanmar #ReleaseTheDetainees pic.twitter.com/0QjPrpC5AQ

— Han Zaw Htun (@hanlayhzh) November 3, 2021
Aye Nandar Soe, 21, was arrested on 19th September 2021, on a bus at the Yadanabon bridge connecting the Mandalay and Sagaing regions. She leads the students' union at the Sagaing University of Education, where she is in her fourth year of studies. Her friends say her whereabouts are unknown and believe she was arrested because of her opposition to the coup.
#Myanmar: Two more journalists, Myo Thant and Win Naing Oo, arrested, detained incommunicado by the military junta, @RSF_inter reports https://t.co/rRRrHbL8wB #WhatsHappeningInMyanmar

— AG (@ag_fidh) September 16, 2021
Ko Jimmy suffered a head injury from torture in detention after he was arrested by the military over the weekend, his family says. "We've learned that he's now at the military hospital and is in critical condition.https://t.co/pvu0kBFkeg

— Radio Free Asia (@RadioFreeAsia) October 29, 2021
Kyaw Min Yu, better known as Ko Jimmy, was arrested by soldiers who stormed a housing complex in the North Dagon township of Yangon on 24th October 2021. The activist, who rose to prominence during Myanmar's 1988 student uprising, was arrested in an overnight raid. Ko Jimmy's last stint behind bars was from 2007 to 2012. He was released as the generals loosened their decades-long stranglehold on the country. The military issued an arrest warrant for him after the coup. The generals accused Ko Jimmy of inciting unrest with his social media posts. The following day it was reported that he was in intensive care at the Defence Services General Hospital in Mingalardon Township due to a head injury he suffered during the arrest.
Prisoners released by junta re-arrested
On 18th October 2021, the State Administrative Council junta announced that it was pardoning 1,316 people and dropping charges against 4,320 who "participated in protests." The junta provided no details about the terms of the releases or how they were being carried out. The mass amnesty came three days after the Association of Southeast Asian Nations (ASEAN) announced its decision not to allow the country's military chief to attend a bloc summit. Among those released include National League for Democracy (NLD) party members, journalists, student activists and others.
However, Human Rights Watch said that:  "The Myanmar junta's recent prisoner releases are limited in scope and do not reflect a broader change in the military's respect for human rights". According to the Assistance Association for Political Prisoners (AAPP) on 22nd October, the junta has re-arrested more than 100 anti-coup protesters freed.
Reports of torture of political prisoners by the junta
A new report by the Associated Press (AP) has found that the junta has been torturing those it has detained in a methodical and systemic way across the country. The report is based on interviews with 28 people imprisoned and released in recent months and on photographic evidence, sketches, letters and testimonies.
While most of the torture has occurred inside military compounds, the military has also transformed public facilities such as community halls into interrogation centres, prisoners said. The AP identified a dozen interrogation centres in use across Myanmar, in addition to prisons and police lockups.
Some were detained for protesting against the military. Multiple military units and police were involved in the interrogations, their methods of torture similar across Myanmar.
The military has also taken steps to hide evidence that it has tortured prisoners, with several prisoners saying interrogators brutalised only the parts of their bodies that could be hidden by clothes.
Photographs taken inside several detention and interrogation facilities confirmed prisoners' accounts of overcrowded, filthy conditions. Most inmates slept on concrete floors, packed like sardines. Some became sick from drinking dirty water only available from a shared toilet. Cockroaches swarmed over their bodies at night. There was little to no medical treatment.
The Myanmar military has a long history of torture, particularly before the country began transitioning toward democracy in 2010. While torture in recent years was most often recorded in ethnic regions, its use has now returned across the country. The vast majority of torture techniques described by prisoners were similar to those of the past, including electric shocks.
More charges for ousted leader Suu Kyi
On 26th October, former State Counsellor Aung San Suu Kyi was charged under Section 505b of the Penal Code along with ousted President Win Myint and ousted Naypyitaw mayor Myo Aung in relation to two statements denouncing the junta. She also faces ten other charges and a combined decades-long prison sentence.
The other charges include the illegal importation and possession of walkie-talkie radios in violation of the Export and Import Law and violating coronavirus protocols under Section 25 of the Natural Disaster Management Law. She is also accused of unspecified breaches of the Official Secrets Act, 'incitement' and breaching the anti-corruption law in four cases.
Raids on humanitarian groups
A group of at least ten soldiers raided the office of the Myoma Metta Social Relief Association in Hlegu Township, Yangon on 9th September 2021, arresting four people and confiscating two ambulances belonging to the group.
The Myoma Metta Social Relief Association was formed as a charity in August 2020 in response to the COVID-19 pandemic. Their work includes organising the transport of sick patients to hospitals and clinics, distributing face masks and spraying disinfectants to kill the virus.
According to Myanmar Now, the junta has repeatedly targeted those working with social outreach organisations in the crackdowns since the coup.
In another incident on 10th September, junta forces arrested five people after raiding the office of a local social relief group in Hlegu, Yangon Region. Around 50 soldiers and plainclothes personnel took part in a late-night raid of the Lu Nge Metta association's office.
Junta forces claimed they had found 12 bullets at the office and accused the charity of having ties to the People's Defence Force (PDF), which was formed by the underground National Unity Government and aimed to protect civilians from security forces.
The Lu Nge Metta association has been active for six years. It helps transport patients to hospital when they can't afford travel costs and has played a key role in the township's COVID-19 response.
Expression
Journalists arrested and charged
Dozens of journalists have been targeted and detained by the junta since the coup. Many were held on charges under Article 505a of the penal code, a broad and vaguely worded provision that penalises incitement and the spreading of "false news" with maximum three-year prison penalties.
Win Naing Oo, who formerly worked as a chief correspondent for Channel Mandalay, was arrested along with his wife Thu Thu from a mango farm in Mandalay's Sintgaing Township on 31st August 2021. Officials from the Sintgaing central police station charged him with incitement for allegedly violating Section 505a of the penal code. Win Naing Oo had stopped working in journalism after the February military coup.
#Myanmar: Freelance journalist #MaThuzar was abruptly taken into custody by military officials. Her family confirmed this instance of state abduction and admitted that they have lost all contact with her. #CFWIJ demands her immediate release!

READ: https://t.co/QoYGu70fke pic.twitter.com/cD6d1Eht2d

— #WomenInJournalism (@CFWIJ) September 6, 2021
Journalist Ma Thuzar was detained by police as she left her home in Yangon on the morning of 1st September 2021. The police finally confirmed on 5th September that she had been arrested, but they have yet to give the judicial grounds for her arrest or say where she is being held. She had been in hiding for four months. Ma Thuzar, who worked for the Myanmar Pressphoto Agency and the Friday Times News Journal, had filmed many of the major street protests that were triggered by the military coup. She has been charged with violating Section 505a of the Penal Code for incitement.
On 15th September 2021, the former editor-in-chief of Mizzima News, Ko Myo Thant, was arrested in Kangyidaunt Township, Ayeyarwady Region.
American journalist Danny Fenster, the managing editor of Frontier Myanmar, an online magazine based in Yangon, Myanmar's biggest city was arrested in May 2021 and charged with incitement under Section 505a of the Penal Code, for which he could be sentenced to up to three years' imprisonment. The charge against him does not make clear specifically what he is accused of doing. On 7th September, it was reported that his pre-trial detention had been extended. On 4th October, junta authorities added an additional charge under Section 17 (1) of the colonial-era Unlawful Associations Act, which carries a two- to three-year prison term.
On 27th October 2021, it was reported that three journalists jailed by the junta are now facing terrorism charges that could see them sentenced to several years in prison. The journalists are Win Naing Oo, a senior Channel Mandalay reporter, D Myat Nyein, a reporter with the now defunct Zayar Times in Sagaing Region, and Pyae Phyo Aung, who worked for the same outlet. All three were initially charged with incitement under Section 505a of the Penal Code.
Journalists released by junta
On 18th October 2021, the junta announced the release of over 5,600 prisoners in an amnesty on humanitarian grounds. At least 15 journalists were subsequently freed. However, at the time, over 20 other journalists were still behind bars.
Those released according to the Committee to Protect Journalists include: local independent media outlet Democratic Voice of Burma journalists Min Nyo, Kaung Myat Hlaing (Aung Kyaw) and Thet Naing Win; Mizzima news website co-founder Thin Thin Aung, reporter Zaw Zaw and office assistant James Pu Thoure; independent news outlet Myitkyina News Journal reporters Myo Myat Myat Pan, Tu Lawt (Christopher) and Ah Je, who were released in Kachin State.
Others released include Kachin Wave News website photographer La Raw; The 74 Media news website reporter Chan Bu; Voice of Thanbyuzayat news website photographer Htet Myat Thu; Tachileik News Agency reporter Kyaw Zin Hein; Dakhina Insight reporter Naing Linn Tun; Thanlyin Post editor Tu Tu Thar; and freelance reporter Aung Kyaw Oo.
The mass release came after a decision by the Association of Southeast Asian Nations (ASEAN) not to allow the country's military chief to attend the group's summit on 26th October.
Internet shutdown in several regions
Internet users in at least seven townships in the Sagaing and Mandalay regions have experienced limited or no service since 14th September 2021. The outages appear to affect mobile internet and some Wi-Fi connections in Sagaing's Pale, Yinmarbin, Kani, Budalin and Ayadaw townships and Mandalay's Myingyan and Mogok townships. The apparent shutdown of internet services comes a week after Myanmar's shadow National Unity Government (NUG) announced the start of a "resistance war" against the regime. Most of the townships in Sagaing Region hit by the blackout have seen heavy fighting between the military and local resistance forces in recent months.
On 23rd September 2021, the junta cut off mobile internet access and most Wi-Fi services to 11 townships in war-torn areas of Chin State and Magway Region. The affected townships were Gangaw, Htilin and Myaing in Magway Region, and Falam, Kanpetlet, Matupi, Mindat, Paletwa, Tedim, Thantlang and Tonzang in Chin State. Fighting broke out between the junta's troops and the Chinland Defence Force CDF in Thantlang on 18th September, forcing nearly the entire population of the town to flee.
As previously documented, following the coup internet shutdowns were imposed designed to interfere with protest organising and to prevent Myanmar citizens, journalists and human rights activists from easily broadcasting to the rest of the world what is happening on the ground.
Peaceful Assembly
Despite the brutal crackdown by the military junta since the coup, protests have persisted across the country including in Yangon and Mandalay. 
Despite tightened security, student union members in #Yangon staged a flash mob protest against the military regime. Protesters demanded an end to the military dictatorship and showed solidarity with #Thantlang in #ChinState, which is under attack.

MYANMAR NEEDS HELP#Nov1Coup pic.twitter.com/mH2nMBqVlX

— M.ROSE (@MROSE66943275) October 31, 2021
Monks protest against junta, three arrested
Mandalay Sangha Union marched marking 14th anniversary of Saffron Revolution and protested against Military Junta!
In 2007 Saffron Revolution Buddhist monks led large-scale pro-democracy protests. #Sep25Coup#WhatsHappeningInMyanmar pic.twitter.com/D67l37A2R7

— Kai Gracey (@GraceyKai) September 25, 2021
Scores of pro-democracy Buddhist monks took to the streets of Myanmar's second-biggest city on 25th September 2021, rallying against the military coup in demonstrations that coincided with the 14th anniversary of previous clergy-led mass protests. In 2007, Buddhist monks led huge demonstrations nationwide against the previous military junta regime -- an uprising that kicked off after a sudden hike in fuel prices.
Dozens of monks in their bright orange and crimson robes marched through the streets with flags and banners and threw colourful streamers in the air. The monks chanted for the release of political prisoners, including members of Aung San Suu Kyi's political party. Some monks carried upside down alms bowls -- ordinarily used to collect food donations from the community -- in a symbol of protest to reject the junta.
On 30th September, the junta took three Buddhist monks in Mandalay into custody. Ven. Pyinyathiha, 30, from the Kinwun Mingyi Monastery in Maha Aungmyay Township, was arrested by around 15 plainclothes military personnel. Two other monks, Ven. Tayzar Linkara, 48, and Ven. Tayzainda, 45, from the Maha Wizitarama Monastery in Pyigyidagun Township, were also arrested.All three arrests came a day after around 20 monks from various monasteries around Mandalay took part in anti-junta protests in the country's second-largest city.