Reports reveal death threats by Saudi officials against UN expert, reprisals against HRDs unabating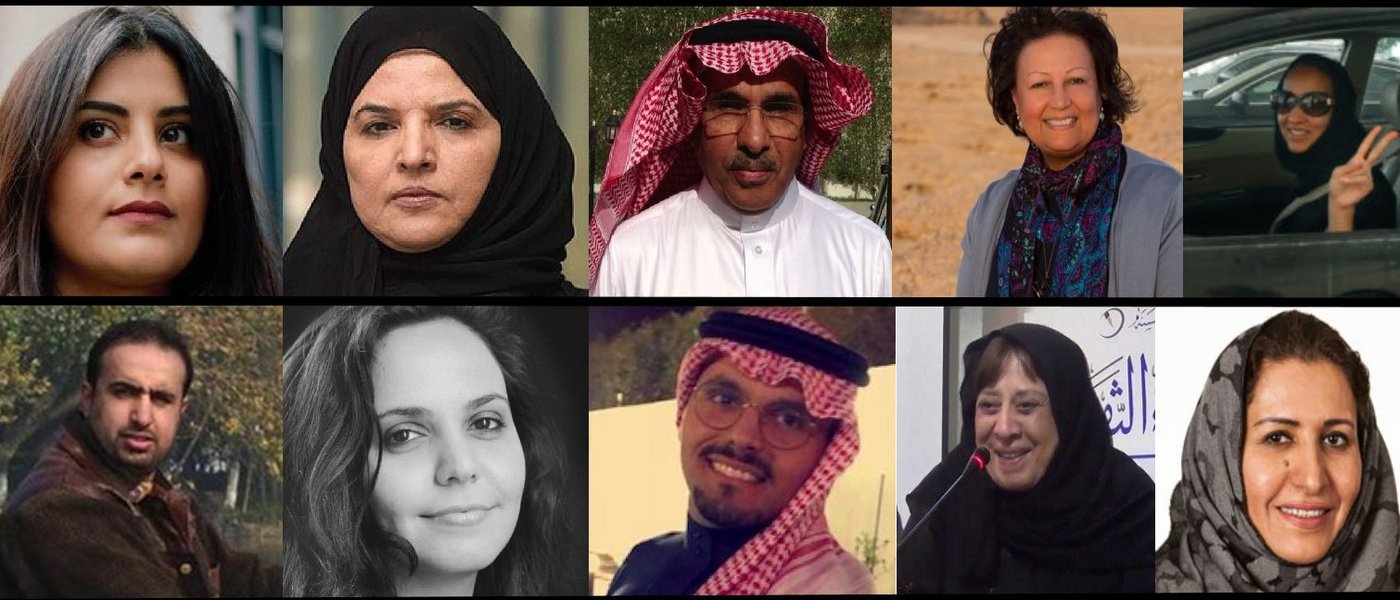 A senior Saudi official issued what was perceived to be a death threat against the independent United Nations investigator, Agnès Callamard, after her investigation into the murder of journalist Jamal Khashoggi.#MBS#Saudi_Arabia_crown_prince#MohammedBinSalman#JamalKhashoggi

— Better Life By MOHD H. ALM. 🇶🇦🇬🇧🇨🇦🐝 (@life_alm) March 23, 2021
Expression
On 23rd March 2021, The Guardian reported that the UN Special Rapporteur on extrajudicial killings, Agnès Callamard, had received death threats from Saudi officials in January 2020. The threats, which were reportedly made during a meeting with UN officials in Geneva, were in retaliation against Callamard's investigation and extensive report on the extrajudicial killing of journalist Jamal Khashoggi in the Saudi Consulate in Istanbul in 2018. The report by The Guardian states that Callamard's UN colleagues were told that she would be "taken care of" if she was not reined in by the UN. Callamard states that this comment can clearly be understood as a death threat in retaliation against her extensive work in documenting the circumstances surrounding Khashoggi's murder and, in particular, the compelling evidence she unearthed that Crown Prince Mohammed bin Salman had played a pivotal role in approving the murder.
Below, in separate developments which show a continuing and relentless trend by the Saudi government to abuse the criminal and judicial systems to punish those who fight for human rights, HRDs continue to suffer within the Saudi justice system. Courts which ought to administer justice and protect rights, continue to be used to illegally punish and retaliate against those who speak out against injustice.
On 22nd March 2021, the Gulf Centre for Human Rights reportedthat the Court of Appeal in Riyadh upheld the conviction and five-year prison sentence of writer, women's human rights defender and co-founder of the Al-Adalah Centre for Human Rights, Nassima Al-Sadah. She was convicted of violating article 6 of the Anti-Cybercrime Law for publishing personal opinions and articles on social media and for defending the right of women to drive. Al-Sadah, who has now exhausted all avenues of appeal, has been imprisoned in Al-Mabahith Prison since her arrest in 2018. She was held in solitary confinement for four months following her arrest, and was returned to solitary confinement for almost a year in 2019. On 25th November 2020, the Criminal Court in Riyadh sentenced Al-Sadah to five years in prison, with the suspension of the last two years, and a five-year travel ban on completion of her sentence. On 2nd June 2020, seven United Nations experts wrote to Saudi Arabia expressing concern for Al-Sadah and other women human rights defenders who have been imprisoned for their human rights activities in trials marred by gross abuses of fair trial rights and due process.
On 13th March 2021, 30 Saudi prisoners of conscience, including human rights defenders Dr Mohammed Al-Qahtani, Fawzan Al-Harbi and Issa Al-Nukhaifi, ended their week-long hunger strike in protest against the ill-treatment of prisoners of conscience in the Riyadh Reformatory section in Al-Ha'ir Prison after the authorities promised to address and implement their demands.
Saudi Arabia has released jailed activist Loujain al-Hathloul — best known for leading the campaign to legalize driving for women in Saudi Arabia. She was held for nearly 3 years.https://t.co/RWaPj0zxrx

— NPR (@NPR) February 10, 2021
In separate developments, women human rights defenders Loujain Al-Hathloul and Nouf Abdulaziz were released from prison on 10th February 2021. Al-Hathloul had been in prison since her arrest on 15th May 2018 and was sentenced in December 2020 to five years and eight months in prison for her peaceful human rights activities, as previously documented. While her release from prison is a welcome move, she is subject to a five-year travel ban and a three-year probation period, leaving her at risk of rearrest for any perceived illegal activity, including her peaceful women's rights activism, which is perceived as a crime under Saudi Arabia's terrorism regulations. In February 2020, a court refused to investigate Al-Hathloul's claims of torture in detention.
Amnesty International's Deputy Director for the Middle East and North Africa, Lynn Maalouf said:
"Loujain al-Hathloul's release after a harrowing ordeal in prison in Saudi Arabia — lasting nearly three years — is an incredible relief, but long overdue… Loujain al-Hathloul should never have been forced to spend a single second behind bars. She has been vindictively punished for bravely defending women's rights in Saudi Arabia, and for exercising her right to freedom of expression."
Abdulaziz, a journalist, blogger and activist, was arrested on 6th June 2018 after expressing solidarity with women's rights defenders who were arrested the month before, including Al-Hathloul. Details about her release and charges have not been made public. She remains subject to a travel ban.
On 10th February 2021, the Specialised Criminal Court (SCC) sentenced woman human rights defender Israa Al-Ghomgham to eight years in prison, followed by another eight year travel ban for exercising her rights to freedom of assembly and expression. The verdict is preliminary and subject to appeal. Al-Ghomgham was denied access to a lawyer during the early stages of her detention and interrogation, when she alleged being subjected to ill-treatment. However, none of her claims has been investigated. Al-Ghomgham remains in the General Intelligence Prison in Al-Dhamam, where she has been held since her arrest on 6th December 2015. Her husband, Mousa al-Hashim, was sentenced to 17 years and four other co-defendants were also sentenced to prison terms of between eight and 15 years, reports ALQST. As previously reported on the CIVICUS Monitor, Al-Ghomgham and her husband were arrested and detained in December 2015 for participating in anti-government protests in Qatif in the Kingdom's Eastern Province in the wake of the Arab Spring, and for calling for human rights reform and the release of human rights activists. The case caused an international uproar when the Public Prosecutor called for the death sentence in their case, making it the first time a woman human rights defender was facing death for her activism.
As the Saudi government continues to use the criminal and justice systems to punish HRDs for their work, a new report published by ALQST for Human Rights in cooperation with GCHR, entitled Torture in Saudi Arabia: Impunity Reigns, reveals that "torture is practised systematically in Saudi Arabia, both to extract confessions during interrogation and as a form of punishment during detention. Although detainees have reported telling courts about torture they have suffered, investigations are virtually never conducted into such allegations, and coerced confessions are routinely admitted as evidence against the accused. The overall lack of legal safeguards to prevent torture creates an environment that is conducive to the practice. Moreover, legislation like the Counter-terrorism Law contains provisions that facilitate, if not actively encourage, torture." The report provides details of the structural causes that underlie the practice of torture, the forces responsible for acts of torture and ill-treatment as well as the methods used.