Protests over labour rights, insecurity and political crisis in Haiti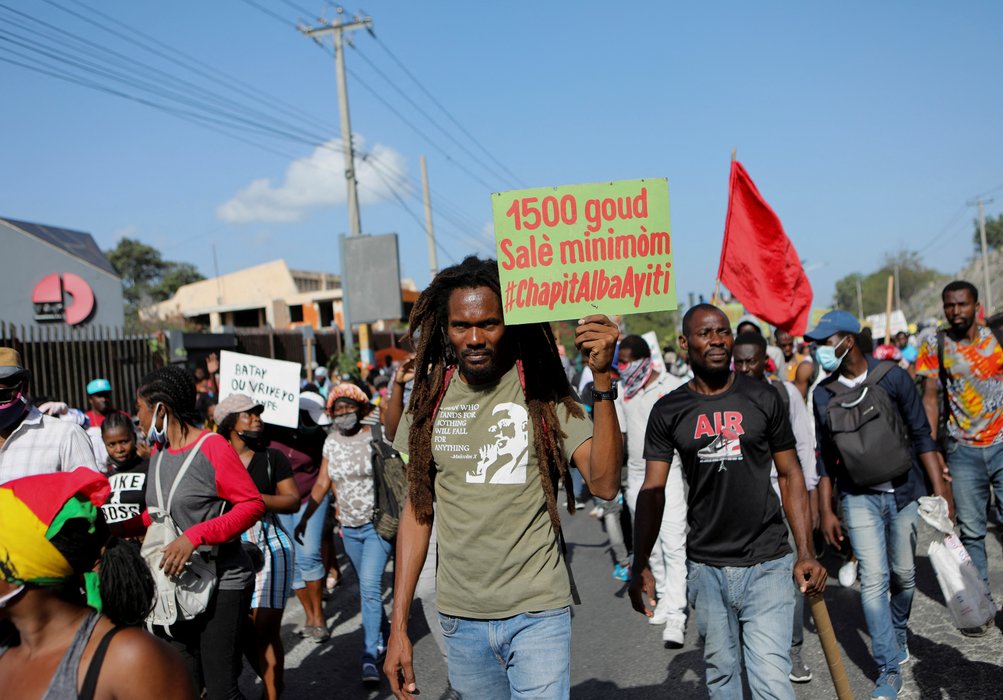 Video from today's protests in #Haiti today by workers demanding the minimum wage be raised to 1500HG ($14.59US). This was moments before a demonstrator was shot in the head and five others were arrested by agents of the National Police of Haiti. pic.twitter.com/NDMalpEjCJ

— HaitiInfoProj (@HaitiInfoProj) February 23, 2022
In early 2022, Haiti experienced extreme violence and the continued deterioration of security conditions, with rival criminal groups battling one another or the police for control of the streets.
Some civil society leaders continued to call for a transitional government, arguing that there are no conditions in place to hold free and fair elections. However, Prime Minister Ariel Henry said in a meeting on 25th January 2022 that he still intended to push for general elections as well as constitutional reform through the creation of a Constitutional Assembly in 2022.
Peaceful Assembly
Garment workers protest for higher wages
In January and February 2022, garment workers protested at factories and in Port-au-Prince to demand higher wages and better working conditions. On 17th January 2022, a coalition of nine trade unions sent an open letter to Prime Minister Ariel Henry seeking a wage increase from 500 gourdes (USD 4.82) per day to 1,500 gourdes (USD 14.62). Dominique St Eloi, of the National Union of Haitian Workers, said that if factory managers did not respond to their demands, they would ask Haiti's government to raise the minimum wage.
On 17th February 2022, thousands of protesters congregated around the Sonapi industrial park in the country's capital, and then later gathered along a nearby road after police dispersed them with tear gas. According to the Réseau National de Défense des Droits Humains (National Network for the Defence of Human Rights - RNDDH), there were at least 15 victims of police brutality; a video of the demonstration showed a peaceful protester slapped violently by a police officer. Another video showed armed civilians working with police to disperse demonstrators while threatening to shoot at them.
On 21st February 2022, Haiti's government announced a hike in the minimum wage by as much as 54 percent, following weeks of demonstrations by garment workers. However, the increase for these workers was still well below what trade unions demanded. On 23rd February 2022, police opened fire on demonstrators in Port-au-Prince as they called for higher minimum wages than those announced by the government. A reporter was killed and two other journalists were shot and wounded when police in a passing vehicle fired at protesters.
IPI extends its condolences to the family and colleagues of journalist Maximilien Lazard, killed while doing his job of covering a public demonstration in #Haiti. Authorities must swiftly hold those responsible for this senseless act to account ⬇️https://t.co/tajT1OV9Lt

— IPI-The Global Network for Independent Journalism (@globalfreemedia) March 2, 2022
Maxihen Lazzare, who worked for digital media group Roi des Infos, was shot in the chest and died later in hospital. "What happened today is a big hit for the press," said Oméus Romane, director of Roi des Infos. "If the constitution gives workers the right to protest, we as journalists are doing our job." On 9th March 2022, journalists marched in Port-au-Prince to demand justice for Lazzare.
Protests over insecurity
Day of protests: Thousands march against insecurity, other ills in Haiti https://t.co/7sIv1ZE2yI

— Haitian Times (@HaitianTimes_) March 30, 2022
Health professionals and transport workers protested in March 2022 over a spike in gang-related kidnappings. Protesters burned tyres and blocked roads on 15th March 2022, on the second day of a three day strike convened by doctors, nurses and other health professionals. During the protest, public and private health institutions were shut down in the capital Port-au-Prince and other cities, with only emergency rooms accepting patients.
According to a United Nations report published on 15th February 2022, there was a 180-percent increase in kidnappings for ransom in Haiti in 2021 compared to the year before. 655 kidnappings and 1,615 homicides were reported by the police in 2021.
Following the strike by health workers, transport workers also announced a strike from 17th to 20th March 2022. They called on the State to ensure the safety of public transport workers and passengers, after the seizure of four buses operating on the Jacmel/Port-au-Prince route by an armed group from Martissant.
On 29th March 2022, the 35th anniversary of Haiti's constitution, thousands of people returned to the streets to denounce crime, inflation and political paralysis. Demonstrations took place in a number of cities, including Port-au-Prince, Jacmel and Les Cayes. While the largest demonstration, in Port-au-Prince, was largely peaceful, protests in the southern city of Les Cayes ended in unrest, with an airplane set ablaze and at least one protester killed.
Expression
Haitian authorities must conduct a swift and thorough investigation into the brutal killings of journalists John Wesley Amady and Wilguens Louis-Saint, and bring those responsible to justice.https://t.co/K3F7Nc02Z3

— Committee to Protect Journalists (@pressfreedom) January 7, 2022
On 6th January 2022, journalists John Wesley Amady and Wilguens Louis-Saint were shot and killed by suspected gang members while reporting on the lack of security in Laboule 12, an area in the Port-au-Prince commune of Pétion-Ville. Amady was on assignment for the broadcaster Radio Écoute FM and Louis-Saint worked for the online outlets Télé Patriote and Tambou Verité. A third journalist, Wilmane Vil, was reportedly present at the attack but escaped.
On 31st January 2022, armed individuals riding in two vehicles fired several rounds and threw Molotov cocktails into the offices of private outlet Radio Télé Zenith (RTZ), located in the Croix-des-Bouquets area of Port-au-Prince. The bullets hit the entrance of the building and broke windows, and the explosions damaged some equipment and furniture. At the time of the attack, there were at least two staff members inside the offices broadcasting a news report, but no staff were harmed, RTZ's manager, Chimene Sylvestre told the Committee to Protect Journalists. Local groups said the attack may have been perpetrated by gang members because of the radio's gang-related coverage and previous threats they had received from criminal groups.
Association
Amnesty International's annual report 2021/22 highlighted that human rights defenders and journalists in Haiti were increasingly at risk of attack and human rights violations in 2021. The organisation said that there has been little progress in the investigation into the killing of journalist Diego Charles, a reporter for Radio Vision 2000 and co-founder of the website Larepiblik Magazine, and Antoinette Duclaire, a political and human rights activist, vocal government critic and co-founder of Larepiblik Magazine. They were murdered just a week before President Moïse. The authorities failed to protect their families, who were subjected to death threats and intimidation.