Protests in Indonesia against weakening of labour laws as activists and critics are silenced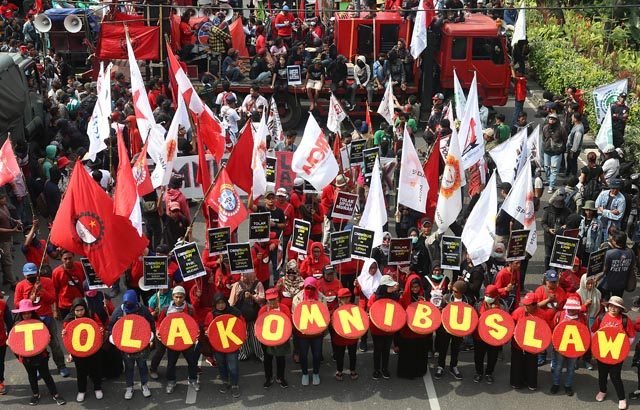 There have been mass protests in recent months against proposed new laws that could weaken labour and environmental rights in Indonesia. Scores of Papuan activists are facing trial for their activism while the national human rights body has finally issued a report on the 2014 killing of four Papuan students involved in a protest. Defamation laws are being used to silence critics of the government's handling of the COVID-19 pandemic, while human rights defenders are facing threats and arrests.
Peaceful Assembly
Protest against bills aimed to weaken labour and environmental rights
Indonesian workers and unions have been protesting across the country since January 2020 against planned changes to labour laws that could affect current provisions for minimum wages, social security and severance pay. The so-called "omnibus" bill aims to replace dozens of overlapping laws seen as obstacles to investment, and to streamline business permits and relax labour laws. In mid-February 2020, the government submitted the omnibus bill draft to the House of Representatives to begin deliberations.
On 9th January, approximately 100 protesters, representing about 20 labour groups in the Jakarta Labour Movement (GBJ), took to the streets of Tanjung Priok port in North Jakarta. On 15th January 2020, massive protests of over ten thousand workers were held outside the country's presidential palace followed by another mass protest outside parliament on 20th January. According to civil society groups some activists protesting the bill have faced intimidation and harassment from security forces.
Elly Rosita, President of the KSBSI said:
"We stand against the draft bill because it has been drafted without any consultation with trade unions and it's aiming at increasing Indonesia's labour market flexibility to attract more investors at a high cost for workers. We see a clear attack on workers' rights and decent work in the country."
Other amendments proposed are revisions to Environmental Law 32/2009 which will lower the standards for environmental protection and reduce community involvement in decisions that impact their environment and resources. Experts have warned that a slate of sweeping deregulation planned by the government could prove disastrous for the environment and create even more conflicts over land and resources.
Scores of Papuan activists on trial for their activism
As previously documented, six activists - Dano (Anes) Tabuni, Carles Kosay, Ambrosius Mulait, Isay Wenda, Arina Lokbere and Surya Anta Ginting - were accused of supporting separatism and arrested between 30th and 31st August 2019 by the Jakarta Regional Police Force after organising a peaceful protest on West Papua in front of the Presidential Palace in Jakarta.
They were all subsequently charged with "rebellion" (makar) under Articles 106 and 110 of the Criminal Code and have been detained. On 3rd April 2020, the public prosecutor demanded that the six Papuan activists each be sentenced to one year and five months in jail. Their trial is ongoing.
[breaking]

The trial of seven key West Papuan political prisoners charged with treason just started in Balikpapan, East Kalimantan.

Their transfer from West Papua was in breach of procedure law. For two of them, this is the third time they are being imprisoned. pic.twitter.com/k6jE0QJJUZ

— Veronica Koman (@VeronicaKoman) February 11, 2020
Scores of Papuan activists across Indonesia are also awaiting trial. Seven Papuan political activists involved in protests - Fery Kombo, Alexander Gobay, Hengki Hilapok, Buchtar Tabuni, Irwanus Uropmabin, Stevanus Itlay and Agus Kossay - are facing trial for "rebellion" at the Balikpapan District in East Kalimantan.
In Manokwari, three Papuan activists, Erik Aliknoe, Yunus Aliknoe and Pende Mirin, are on trial for speaking during an anti-racism demonstration in September 2019. Female activist Sayang Mandabayan was arbitrarily arrested on 2nd September 2019 at Rendani Airport, Manokwari after she returned from the city of Sorong carrying 1,500 small Morning Star flags. She was subsequently charged with "rebellion". Her trial began on 13th February 2020.
In early March 2020, a trial against the four activists Yoseph Laurens Syufi, Ethus Paulus Miwak Kareth, Manase Baho and Herman Sabo began at the Sorong District Court.The four activists were arrested for waving the pro-independence Morning Star flag as well as carrying banners during a peaceful demonstration in Sorong in September 2019
Rights commission finds military linked with killing of students during 2014 protests in Paniai
Komnas HAM menetapkan Peristiwa Paniai pada 7-8 Desember 2014 sebagai peristiwa pelanggaran HAM berat. #Stopkillingpapuans https://t.co/xoJiZXbVtb pic.twitter.com/Hhvvozdqeo

— #PapuaItuKita (@PapuaItuKita) February 15, 2020
In February 2020, the Indonesian National Human Rights Commission (Komnas HAM) issued its findings into the killing of four students during a protest in December 2014 in Paniai, Papua province. It found that Indonesia's military had shot the four dead and which amounted to "gross human rights violations" under Indonesian law. Komnas HAM said it had forwarded its dossier on the case to the country's Attorney General for possible prosecution.
On the morning of 8th December 2014, four students were killed and over a dozen injured when security forces, both police and military, opened fire on a crowd that was protesting at the Karel Gobai field located near the Paniai District Military Command (Koramil) in Papua province. The crowd had gathered to protest against soldiers from the Special Team Battalion 753, who had allegedly beaten a child from Ipakije village the night before, who had to be hospitalised.
In response to the commission's findings the Presidential Chief of Staff, Moeldoko, who was the commander of the armed forces at the time of the shooting, said it was not premeditated and disagreed that it was a violation of human rights.
Expression
Defamation laws used to criminalise netizens for spreading "fake news"
According to Human Rights Watch (HRW), the Indonesian authorities have been using criminal defamation laws to crack down on public criticism of the government's response to the COVID-19 outbreak. In a statement on 9th April 2020, HRW stated that police have charged 51 people under criminal defamation laws for allegedly spreading "fake news" about the coronavirus. They include five netizens who had allegedly spread false information on their social media accounts, including claims that a Muslim woman flying to Saudi Arabia for a religious pilgrimage had died suddenly from the virus at Jakarta's airport. Police have also blocked 38 social media accounts.
The organisation stated that authorities arrested three men for a social media message claiming that an area of the capital Jakarta had COVID-19 cases after the government sprayed disinfectant there. A 58-year-old man in Bogor was arrested for uploading a video on his Instagram account that included claims that the coronavirus was a pretext to undertake "mass murders".
US journalist deported for visa violations
Coordinating Political, Legal and Security Affairs Minister Mahfud MD plans to deport award-winning journalist Philip Jacobson, who allegedly violated his visa restrictions. #jakpost https://t.co/4m2pk14fDv

— The Jakarta Post (@jakpost) January 27, 2020
A US journalist who was jailed in Indonesia for allegedly violating the terms of his visa was deported from Indonesia on 1st February 2020. The journalist, Philip Jacobson, who works for the environmental news organisation Mongabay, was detained in mid-December 2019 in Palangkaraya, a city in Borneo, and ordered to remain there while his case was investigated. According to a letter from immigration officials, he was arrested under Article 122 of the 2011 Immigration Law for misuse of his residence permit. He was later jailed for three days in January 2020.
Jacobson was not working as a journalist during his stay in Indonesia, said his lawyer, Aryo Nugroho. He was detained after attending a public meeting and accused of violating the terms of his business visa.
Indonesia civil society groups, The Alliance of Independent Journalists (AJI), the Indigenous Peoples Alliance of the Archipelago (AMAN) and the Indonesian Forum for the Environment (Walhi) criticised the arrest. AJI chairman Abdul Manan said he believed that his arrest had something to do with his journalistic activities as Jacobson had planned to write a story on an agrarian dispute between a local indigenous community and a corporation.
Indonesian activist charged over social media post
Sudarto penyebar isu SARA dapat dukungan dari bani tusbol .
Tukang fitnah koq dibela. Oon
Sudarto dijerat UU ITE
Dengan sengaja dan tanpa hak menyebarkan informasi yang ditujukan untuk menimbulkan rasa kebencian dan SARA https://t.co/Xad3IUybkQ

— HUKUM MILIK PENGUASA (@HukumDan) January 8, 2020
An Indonesian activist who reported a ban on Christmas celebrations in a conservative Muslim province has been charged for online defamation.
In December 2019, Sudarto, from the Inter-Community Studies Centre (Pusaka), posted on Facebook that local authorities in a West Sumatra community had banned a Catholic congregation from performing Christmas mass. A local resident reported the post to police who subsequently charged him with spreading "false information" under an electronic information law (Law No. 11 of 2008 on Electronic Information and Transaction or ITE Law).
The small Catholic community in West Sumatra's Nagari Sikabau regency had been banned from performing mass for the past two years because of a local agreement against holding non-Islamic rituals unless they were conducted in a church. However, the nearest church is over 100km away.
As previously documented, The ITE law carries a maximum sentence of six years' imprisonment and/or a fine of up to one billion rupiah (around USD 66,700) for any person who deliberately and unlawfully disseminates information aimed at inflicting hatred or hostility. It has been used to prosecute individuals who use social media or other online platforms to criticise or ridicule abstract entities such as religion or "state ideology". The vague and overbroad legislation has often been used to arrest, prosecute and punish persons for peacefully exercising their freedom of speech.
Association
Arrest of environmental activists in Kalimantan
Saat ini James Watt, Petani Desa Penyang, Kabupaten Kotawaringin Timur, Provinsi Kalimantan Tengah, masih ditahan oleh pihak Polda Kalteng. Beliau telah mendapatkan pendampingan hukum dalam penanganan kasusnya. #walhikalteng #petanibukankriminal #pejuangagraria #pejuanglingkungan pic.twitter.com/dGm0N3tJVu

— WALHI Kalimantan Tengah (@walhi_kalteng) March 12, 2020
Human rights group ELSAM reported that on 7th March 2020, police arrested James Watt and Untung and Dedi Sasanto from environmental group Indonesian Forum for the Environment (WALHI) in Central Kalimantan. The activists have been involved in resisting a land grab by the company PT. Masawit Bangun Persada.
The three had gone to Jakarta for meetings with the National Human Rights Commission and other groups to garner their support in the land dispute between the farmers and the company. The dispute began in 2006 when the company allegedly seized around 117 hectares of their land.
Dozens of rights groups have called on the Indonesian government to free the three and to protect indigenous people from repressive acts by local police.
Threats against women's rights group
On 3rd February 2020, dozens of people forcefully entered the office of women's rights group LBH APIK in East Jakarta, searched the office and threatened to damage it. Four people claimed to be members of the Matraman police, although they were not wearing uniforms and did not produce a search warrant. The visit caused psychological distress to the staff of the organisation.
Police officers undertook another visit to LBH APIK on 12th February 2020. Again on this occasion no prior notice was given and no search warrant was presented.
A third visit took place on 21st February by the Matraman police and a member of the Municipal Police of East Jakarta, two days after LBH APIK had convened a press conference raising concerns about the earlier visits on 3rd and 12th February 2020. It was supposed to be a 'friendly visit' but no prior notice was given.
There is reason to believe that the visits were related to a case being handled by LBH APIK. During the visits, a police officer accused LBH APIK's staff of abducting and hiding a client, who shortly before had asked the organisation for help in connection with a domestic violence case.
Lawyers for Lawyers and Lawyers' Rights Watch Canada have called on the Indonesian authorities to "conduct a professional and independent investigation into the conduct of the people, including the four police officers, who made unannounced visits".
LBH APIK is one of a few leading organisations in Indonesia that focus on women's rights, campaigning for the elimination of violence against women and children and supporting victims of sexual violence across Indonesia.
Law being pushed targeting LGBTQ people
The Indonesian parliament is pushing for legislation that would force LGBTQ people into government-sanctioned rehabilitation centres to "cure" them of their sexual orientation or gender identity.
In February 2020, three lawmakers in Indonesia's House of Representatives introduced a draft of what is known as the "Family Resilience Bill." The legislation would force gay, lesbian, bisexual and transgender people to undergo rehabilitation at a series of religiously based treatment centres that would be opened across the country. If they do not readily submit to rehabilitation, their family members would be compelled to report them. The draft bill also claims that LGBTQ people are a "threat" to the nuclear family and likens homosexuality to incest and sadomasochism.
LGBTQ advocacy groups say that if passed, the legislation would have a grave impact on sexual and gender minorities in Indonesia.
Dede Oetomo, co-founder of the Indonesian LGBTQ group Gaya Nusantara Foundation, believes the legislation is merely another attempt on the part of lawmakers to target LGBTQ people after the failed attempt to criminalise homosexuality in 2018.