Protests escalate in Afghanistan as frustration with Taliban rule and abuses grow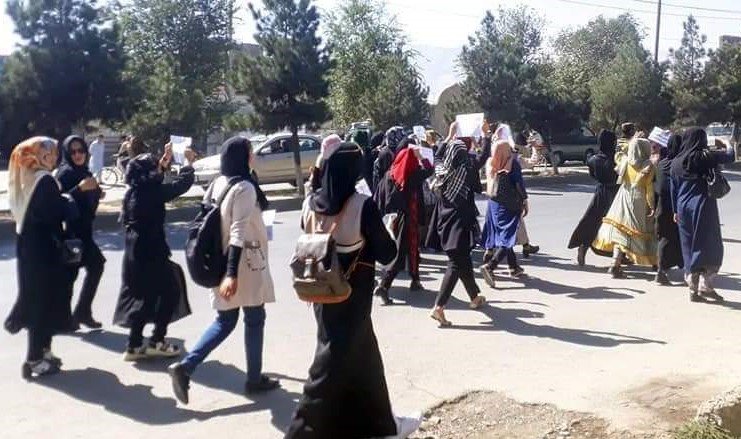 The state of civic space in Afghanistan is 'repressed'. The de facto authorities continue to severely curb civic space through restrictions on Afghans' freedom of assembly, expression and association. The Taliban remains intolerant of inclusive governance, free media, civil society and women's participation in public life.
Afghans who have exercised their fundamental right to freedom of expression by criticising the Taliban in the traditional media, in social media posts or at public demonstrations have faced arrest, incommunicado detention, beatings, torture and even extra judicial executions.
Protest activity increased notably during September and October 2022, highlighting Afghans' frustration with the status quo and refusal to submit silently to the Taliban's intolerant and repressive rule. The fact that people are willing to protest despite the Taliban's routinely violent response shows the remarkable resilience of civic spirit; this is the case despite the departure of many more established civil society figures since the Taliban's 2021 takeover.
Women's rights activists are at the forefront of civil resistance to the de facto authorities, but they pay a high price for doing so. Communication between the Taliban and various international stakeholders on humanitarian and other issues continues; however, the group's intransigence on issues such as girls' education, women's rights and more inclusive governance means the de facto authorities' demands for formal recognition remain unrealised.
The 51st session of the UN Human Rights Council discussed Afghanistan in September 2022, but failed to agree on an expanded monitoring mechanism despite calls from multiple local, regional and international human rights organisations. A report delivered by the UN Special Rapporteur on the situation of human rights in Afghanistan, Richard Bennett, to the Human Rights Council session highlighted a broad range of human rights concerns. Among other things, the Special Rapporteur noted serious abuses in the areas of freedom of expression, association and assembly; these included the use of violence against journalists and media workers, and the use of force against peaceful protests. The report notes the Taliban's use of "excessive force including live ammunition, batons, whips, pepper spray and tear gas, and house raids to target protesters, thereby heightening people's fear of reprisals for publicly expressing dissent."
The UN General Assembly adopted a resolution on 10th November 2022 accusing the Taliban of violating the human rights of Afghan women and girls, failing to establish a representative government, and plunging the country into "dire economic, humanitarian and social conditions." The resolution also pointed to persistent violence in the country since the Taliban takeover 15 months ago.
In recent months, protests by women activists have been met by restrictions and violence as well as arrests, torture and ill-treatment. Media outlets have been banned and journalists covering protests restricted. Books and social media apps have also been banned as well as political parties.
Peaceful assembly
A wave of disappearances of women protesters in early 2022 led to a relative lull in protests through the first half of 2022, but September and October saw a significant increase in demonstrations. During September 2022 these focused on the issue of girls' education and solidarity with women's protests in neighbouring Iran. October 2022 then saw a surge in rallies expressing fury about a suicide attack on an education centre on 30th September that killed more than 50 people, the majority of whom were young girls from the minority Hazara community; far from being a one-off, the attack took place in an area that has seen repeated violence but no corresponding effort from the Taliban to increase security.
Additional protests were seen in parts of the country where fighting has been taking place between the Taliban and various resistance groups; these protests differed from those in Afghanistan's large cities in that they involved not only young women but a broader section of society angered by the Taliban's collective punishment of civilian populations in affected areas, forced evictions and persistent reports of extra judicial executions by Taliban soldiers.
Paktia school protests
Girls protested in the streets in the center of Paktia to protest the closing of their schools. Earlier, some girls' schools above grade 6 in the province had been reopened due to a decision by tribal elders and local educational officials, but the schools were closed again. pic.twitter.com/FCw8t9XWp8

— TOLOnews (@TOLOnews) September 10, 2022
Early September 2022 saw protests in eastern Paktia province, prompted by the Taliban's re-closure of girls' schools after local elders had decided to reopen them. Five schools had reportedly reopened in the province in early September after consultations between local elders, teachers and parents. Taliban officials clamped down quickly, closing the schools again on 10th September.
Several of the affected girls and their teachers reportedly held a protest after being sent home from school. They rallied in Ghazni city, the provincial capital, but the gathering was dispersed by Taliban soldiers firing warning shots in the air. The Taliban also warned local journalists not to cover the protest.
Various posts on social media at the time suggested that Afghans in other parts of the country supported the Paktia elders' decision to reopen schools and wanted the same thing to happen in their areas.
Rallies in solidarity with Iranian women
Taliban Disrupt Afghan Women's Rally Supporting Iran Protestshttps://t.co/8FzMH2d47g

— Voice of America (@VOANews) September 30, 2022
On 29th September 2022, Afghan women held a rally outside the Iranian embassy in the capital Kabul in solidary with protests taking place in neighbouring Iran. The death of a young woman at the hands of the Iranian morality police in mid-September for not wearing her hijab 'correctly' had sparked a wave of countrywide demonstrations in Iran.
Afghan women used the same chants of "Women, Life, Liberty" at their Kabul protest, and the Iranian rallies may have given Afghan women's groups extra momentum to continue their struggle. Taliban security forces snatched and tore the banners before firing in the air to disperse the rally.
While there are clear parallels between the Iranian and Afghan protests, one key difference is that Afghan men have remained largely absent whereas Iranian protests have seen widespread participation of both men and women.
Surge of protests following attack on ethnic minority girls 
The September 30 suicide attack on ethnic Hazara students at Kaaj Educational Center in Kabul has sparked protests across Afghanistan. The attack, which took place as female students sat for a practice exam, claimed 53 lives, most of them girls and women. https://t.co/pODANIVko7 pic.twitter.com/jBAuzeVhkI

— Human Rights Watch (@hrw) October 12, 2022
A suicide attack on an education centre in Kabul that largely catered to Hazara students killed 53 people on 30th September 2022, most of whom were Hazara girls practising for their university entrance exams. The attack took place in an area that has seen repeated targeting by Islamic State-Khorasan Province. Despite this track record of attacks, the Taliban has not taken prevention seriously. The deaths caused a wave of rallies around Afghanistan - and indeed across the world - demanding protection for the Hazara community and more broadly for all Afghan children to be able to access education without fear of attack.
Since Oct 1, AW has seen an uptick in women-led protests in #Afghanistan.

✅AW geolocated footage of protests in Kabul, Herat, Bamyan, Balkh and Kapisa

🔴There have been reliable claims of protests in Ghazni, Daykundi and Nangarhar, though footage lacked geo-locatable features pic.twitter.com/d7Ww25lgVo

— Afghan Witness (@afghan_witness) October 5, 2022
The geographical spread of protest activity prompted by the Kaaj bombing was unprecedented in the post-August 2021 context. Multiple protests were reported in Kabul in the days after the attack, while demonstrations were also reported in the provinces of Herat, Mazar-e Sharif, Paktia, Bamiyan, Kapisa, Daykundi and Nangarhar.
As with all anti-Taliban demonstrations since August 2021, the rallies were met with a violent response from the de facto authorities. Even the surviving classmates of those killed were targeted with violence after they gathered the day after the bombing to mourn their friends. When a group of Kaaj students marched on 1st October from the Pol-e-Sokhta district to the Mohammad Ali Jinnah hospital in the west of the capital, Taliban soldiers beat them with batons andfired live bullets in the air.
In another rally, around 100 women reportedly marched in the western city of Herat on 2nd October chanting "Education is our right, genocide is a crime". The Taliban beat participants with sticks and fired in the air to disperse them; one woman claimed a Taliban soldier grabbed her hijab and her hair and pushed her to the ground. Another said: "The Talib sprayed pepper spray in our eyes, whipped us and humiliated us by calling us prostitutes who take money from the west to protest". A group of female university students wanted to join the Herat rally but were prevented from doing so by Taliban soldiers, who locked them inside a university building and threatened them with a pistol.
Protests calling for access to education and employment
Earlier this week, Taliban guards whipped women trying to enter Badakhshan University in Faizabad, #Afghanistan. One of our Afghan law student correspondents has now talked with a woman who was there. Here's a translation of her statement: "It was Sunday, and as usual..." pic.twitter.com/Oua93cJyjy

— JURIST (@JURISTnews) November 2, 2022
The increased frequency of protests held by women demanding their rights to education, employment and other fundamental rights continued throughout October. On 29th October, a group of women rallied near the Malika Suraya High School in theTaimani area of Kabul, calling for girls' schools to reopen. There were reports of a similar protest the same day in the Macroriyan area. On 30th October women were reportedly beaten and whipped outside a university in Badakhshan where they had been refused entry for not wearing the burqa; they were all wearing the hijab. Female students not wearing a burqa were barred from entry but refused to go home and eventually gained access to their classes. As one of them said: "We are not the generation to be silent. We will raise our voices to receive our rights."
The following day a group of women professionals who had been kicked out of their jobs when the Taliban seized power rallied in a park in the Shar-e Naw district of Kabul. They attempted to hold a peaceful rally during which they displayed their educational and professional certificates, but Taliban soldiers destroyed many of these documents and forced the women to leave the area.
Arrest and punishment of women protesters and their families
Expressing concern about the safety of human rights defenders under Taliban custody, Amnesty International has called for the immediate and unconditional release of Zarifa Yaqoobi, Farhat Popalzai, Humaira Yusuf, and their colleagues.https://t.co/rDLt0qPkNr

— KabulNow (@KabulNow) November 15, 2022
Dozens of women have now been detained since the Taliban takeover for exercising their right to peaceful public assembly. Some have been held for a matter of hours and others for many weeks. In one recent case, women's human rights defender (WHRD) Zarifa Yaqobi and four of her colleagues were reportedly detained by Taliban intelligence agents on 3rd November 2022 in western Kabul. Yaqobi had been involved in women's protests and was apparently taking part in a press conference where a new women's organisation was being launched at the time of her arrest. Local reports suggest that at least three journalists attending the gathering were also detained alongside the WHRDs.
On 8th November 2022, prominent young activist Farhat Popalzai was arrested by the Taliban according to reports by the Afghan news agency Jaama Press. She is one of the founders of the 'Spontaneous Movement of Afghan Women'. On 13th November 2022, another woman human rights defender, Humaira Yusuf, was taken into custody by the Taliban as per information from sources to Amnesty International.
On 20th October 2022, Human Rights Watch published a report detailing testimonies from women protesters who had been detained by the Taliban for their peaceful activism. The findings fit the patterns of abuse discussed in previous CIVCUS updates in which women protesters were subject to incommunicado detention in atrocious conditions, beaten, threatened and insulted, all for exercising their fundamental right to peaceful assembly. The latest HRW report provides extensive detail about the experiences of three women who were arrested from a safe house in February 2022 and detained for several weeks. They were detained alongside their children and husbands; the husbands received even worse treatment, being subjected to electric shocks and extensive beatings.
Protests in areas affected by armed resistance to the de facto authorities
Recent months have seen a surge in armed resistance to the de facto authorities. Taliban violence against local communities in affected areas has also sparked demonstrations. In one example, in early September 2022 a group of women protested in Panjshir against forced evictions of local communities. The women also complained about detentions, torture and harassment of local villagers after the Taliban had lost men in resistance attacks. In a second case, local residents in Nuristan province rallied on 29th September after the Taliban allegedly killed a popular local leader for reportedly forcing Taliban soldiers out of two districts and taking control of administrative buildings.
Expression
The Taliban continues to enforce extensive curbs on freedom of expression. Journalists and commentators face multiple layers of restrictions on what is considered acceptable public discourse, while private citizens can be arrested for even mild criticism of the de facto authorities on social media. Most surviving media outlets practise extensive self-censorship to avoid problems with the de facto authorities.
Media outlets banned
Taliban shuts down two news websites in #Afghanistan https://t.co/3DOdcS7glZ

— Committee to Protect Journalists (@pressfreedom) October 4, 2022
Newly appointed Education Minister Mawlawi Habibullah Agha reminded Afghans during a press conference on 21st September that open criticism of the Taliban is prohibited. Two weeks later, Taliban officials on 3rd October banned two media outlets for publishing 'false propaganda' against the Taliban. A Ministry of Telecommunications and Information Technology spokesman announced on Twitter that the de facto authorities had blocked the Hasht-e Subh Daily and Zawia News outlets. Hasht-e-Subh was founded in 2007 and was Afghanistan's most widely read newspaper until the Taliban's seizure of power in 2021.
Journalists prevented from covering protests
The Taliban continues to prevent journalists from covering protests or criticism of the authorities. Dozens of journalists have been detained and beaten for trying to do so since the Taliban retook power. In one recent example, four journalists were reportedly detained for several hours after trying to cover the protests by schoolgirls in Gardez on 10th September 2022, discussed above. During a press conference in early September, Taliban spokesman Zabiullah Mujahid warned that "Recent protests have been illegal and therefore filming and reporting on them is also illegal".
International journalists have also reported persistent obstruction of their work, and anecdotal reports suggest that accessing visas and the correct permissions to operate is becoming harder. Taliban officials are reportedly establishing a committee to vet visa applications by foreign journalists.
Mass media law being revised, and books and social media apps banned
Taliban spokesman Zabiullah Mujahid said on 6th September that the Ministry for Information and Culture was in the process of revising the mass media law, in particular the sections dealing with culture and religion. During the same press conference Mujahid announced that 150 books that had been found to be 'against Islam' or 'against unity' had been banned. Meanwhile the Ministry of Telecommunications announced on 17th September that they would ban TikTok and popular gaming app Pubg in the coming months.
Commission on Media Violations resumes work
The Commission on Media Violations (CMV), a body established under the former government, officially resumed work on 26th September 2022. While journalists have welcomed the committee's revival as a potentially useful communication channel, some have raised concerns over its composition. The committee has no female members but does have representatives from the General Directorate of Intelligence (GDI), the Taliban agency that has been most involved in clamping down on journalists and media workers since August 2021. Regarding the lack of women, Mahajar Farahi, Deputy Minister of Information and Culture, was quoted in a 28th October news article as stating: "You know that the Human Rights Commission and the Ministry of Women does not exist anymore in the Islamic Emirate so for this reason there is no need for women representatives".
In addition to representatives from the GDI, CMV includes officials from the Ministry of Information and Culture, Ministry of the Interior, The Ministry for the Prevention of Vice and the Promotion of Virtue and the journalists' union. The Afghan Journalists Safety Committee (AJSC) also took part in the meeting; they raised the difficult financial situation for media outlets and called for the release of jailed journalists.
Association
Civil society wiped out while political parties effectively banned
The Taliban takeover effectively brought an end to Afghans' freedom of association. The only groups that are permitted to organise, meet and hold rallies are those that support the Taliban.
The vast majority of civil society organisations have closed; most had their offices and equipment confiscated by the de facto authorities, while many of their staff fled abroad or went into hiding. Those that remain active must do so effectively in secret, facing risk of arrest or worse should their activities be discovered by the Taliban.
Political parties are effectively banned; Deputy Minister of Justice Abdul Karim Haider declared during a press briefing on 4th September 2022 that Afghanistan 'does not need' political parties in the current context.