Protests disrupted by police, met with excessive force in Nepal as UN reviews its rights record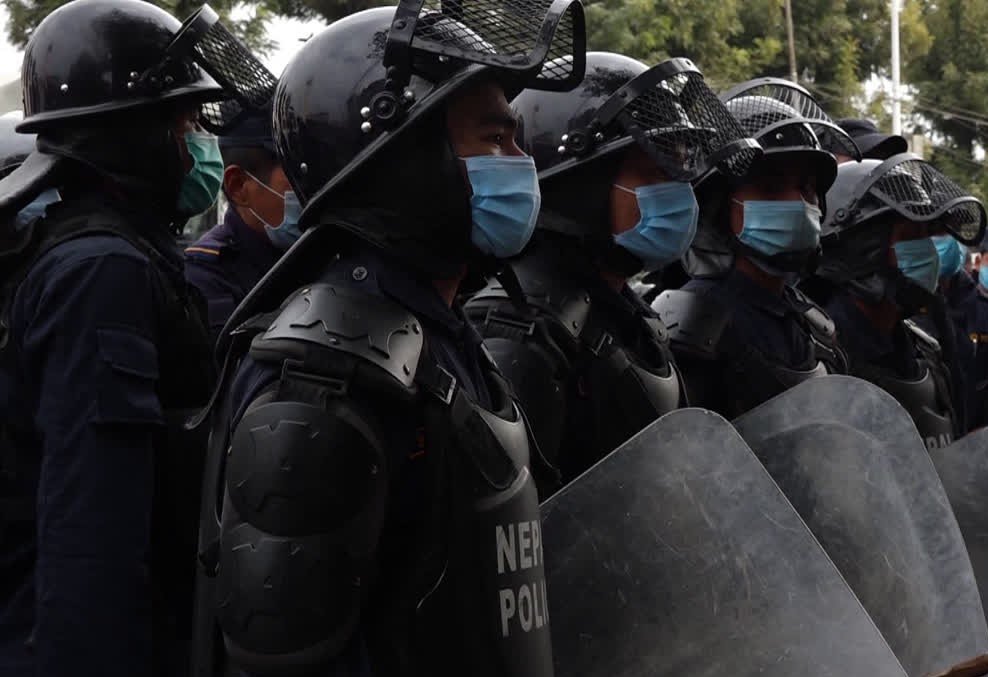 Civic space continues to be obstructed in Nepal. In its latest annual report released on 13th January 2021, Human Rights Watch highlighted that several bills before Nepal's parliament would severely curtail freedom of expression by imposing draconian penalties for broadly defined new offences regulating the media and online speech. Other draft laws give unlimited search and surveillance powers to the intelligence service and reduce the autonomy of the National Human Rights Commission.
On 21st January 2021, Nepal's human rights record was reviewed by the UN Human Rights Council as part of the 37th session of the Universal Periodic Review (UPR). Ahead of the review,CIVICUS had highlighted that repressive laws, including amendments made to Nepal's criminal code, have been used to limit the work of independent CSOs and suppress freedom of expression. The government has continued to introduce legislation that could restrict the work of CSOs unwarrantedly and that risks undermining freedom of association. Further, ongoing attacks against journalists continue to undermine civic space in the country and peaceful protests continue to be met with excessive force and arbitrary arrests.
During the review numerous recommendations were made related to civic space, including the following:
Consider revising local legislation on media and information technology in order to guarantee the full respect to the right to freedom of opinion and expression (Brazil);

Safeguard the freedom of expression and foster civil society participation; ensure that NGOs active in the field of human rights – including those receiving foreign grants – are free to operate (Czechia);

Guarantee freedom of expression, information and peaceful assembly by putting an end to the excessive use of force against demonstrators, human rights defenders and journalists as well as by sanctioning the perpetrators of violations of their rights (France);

Ensure no person is arrested for peacefully exercising their right to freedom of expression, association or assembly and that all arrests are carried out in according with the law and in line with international human rights standards (Greece);

Introduce and implement measures to protect lawyers and human rights defenders, including investigating and prosecuting all forms of attacks against them (Netherlands);

Reform the Electronic Transactions Act to eliminate the criminalisation of speech (United States);

Uphold respect for freedom of expression and the right to privacy, including in draft legislation regulating information technology, media and mass communications (Canada).
In recent months, mass protests against the decision by the prime minister K.P. Oli to dissolve parliament have been met with restrictions, arbitrary arrests and excessive force by the police. Threats and attacks against journalists have persisted and a new study shows that over-broad, vague and subjective laws are being used to censor or criminalise freedom of expression.
Peaceful Assembly
Thousands march against move to dissolve parliament
Nepal protests: Thousands march against move to dissolve parliament https://t.co/CRSGGOZtrI

— BBC Asia (@BBCNewsAsia) December 29, 2020
Thousands of people in Nepal defied COVID-19 restrictions to protest on 29th December 2020 the decision by the prime minister to dissolve parliament. The protesters argued that the move was unconstitutional, and Nepal's Supreme Court is considering petitions against it.
Rallies were held in different parts of the capital, Kathmandu. Police said at least 10,000 people were on the streets to participate in one of the marches.
K.P. Oli was appointed prime minister in February 2018 after his Nepal Communist Party (NCP) won legislative elections. He formed the NCP with the support of former Maoist rebels, becoming the first prime minister to be elected under the newly adopted constitution of Nepal in 2015.
But in recent months internal squabbling and a lack of co-operation from the former Maoist wing of his party have paralysed decision-making, forcing him to seek a new popular mandate. The dissolution of parliament at the request of Oli was announced on 20th December 2020, with elections scheduled for 30th April and 10th May 2021.
Pro-monarchy protests in Kathmandu blocked
Supporters of monarchy and police clash in front of Singha Durbar

Hundreds of people had gathered to garland the statue of the late king on the occasion of Prithvi Jayanti when clashes erupted.https://t.co/7Spb4mbC59 — Photos by @Elite_Joshi pic.twitter.com/95oGKZ0iR2

— The Kathmandu Post (@kathmandupost) January 11, 2021
On 11th January 2021, thousands came out to protest in Kathamandu demanding a return of the monarchy that was abolished in 2008, following the end of 10 years of armed Maoist rebellion two years ago.The protesters accused the government of corruption and using force against peaceful rallies.
Clashes erupted when the police stopped the march toward the statutein front of Singha Durbar to mark the 299th birth anniversary of the late king. The police used batons to beat the protesters, who responded by throwing rocks and sticks. This continued for hours and some protestors were injured.
According to reports, this was the latest in a series of protests against Prime Minister Khadga Prasad Oli's government by a variety of groups, including a faction of his governing Nepal Communist Party. The unrest, fuelled by Oli's failure to honour an agreement to split his term as prime minister with the co-leader of the governing party, Pushpa Kamal Dahal, has increased distrust of the political system. Instead, Oli ordered the dissolution of parliament last month and announced new elections later this year. The decision is being challenged in the Supreme Court.
Weeks of street protests in 2006 forced then King Gyanendra to abandon his authoritarian rule and introduce democracy.Two years later, a newly elected parliament voted to abolish the monarchy and declared Nepal a republic with a president as head of state. Since then, Gyanendra has been living in Nepal as a private citizen with no power or state protection.
Police disperse and detain those protesting against the dissolution of parliament
Rights activists protesting against House dissolution detained from Baluwatar https://t.co/vgJ2AyoYZD — photos by @Thapakeshav7 pic.twitter.com/NRELGlgWEO

— The Kathmandu Post (@kathmandupost) January 25, 2021
On 25th January 2021, police used batons and water cannon to disperse hundreds of people marching from Kamalpokhari towards Baluwatar - the official residence of Prime Minister Oli -to protest against the dissolution of Nepal's parliament.
The protest was organised by civil society and prominent activists - Dr Govinda KC, Mohana Ansari, Khagendra Sangraula and Narayan Wagle - who addressed the rally which had writers, poets, artists, intellectuals and members of the public in attendance.
Police reportedly detained around two dozen activists and civil society members who had gathered. According to the Asian Human Rights Commission, dozens were injured including Sangharsh Dahal, Kumar Bartaula, CN Tharu, Swarnim Dinesh, Ram Naresh Yadav and Professor Ramesh Bhattara. They received medical treatment at the Kathmandu Model Hospital, Helping Hands and the Himal Hospital. Mohana Ansari, former spokesperson of the National Human Rights Commission (NHRC) was also injured. Witnesses have reported hearing specific orders to target members of civil society.
Freedom Forum Executive Chief Taranath Dahal said: "[T]he disproportionate use of force by the security persons on peaceful protesters shows the government is for control and suppression, rather than respect to citizen's rights. Where citizens' rights are respected, the law is abided by. In a democratic system, the citizens have the right to exercise freedoms in an unobstructed manner".
Expression
Threats and attacks on journalists persist
There have been continued concerns about threats and attacks against journalists documented by Freedom Forum in recent months:
Nepal Awaits Improvement In Press Freedom Atmosphere https://t.co/uERqSIsGLN

— Tara Nath Dahal (@tndahal7) December 31, 2020
Freedom Forum recorded a total of 96 press freedom violations during the year 2020. The number of violations declined slightly compared to the previous year (111 in 2019).
From the 96 incidents of press freedom violations recorded, 167 journalists, including 16 female reporters, were directly affected. Of the total number of incidents recorded in 2020, more than 50 percent took place during the lockdown imposed in response to the COVID-19 pandemic. The silencing of journalists with arrests and detentions was the most worrying trend of the year. Similarly, the intimidation and harassment of journalists for reporting news, the government's attempt to silence the media, and the suppression of citizens' right to freedom of expression on social media were equally noticeable.
New study on criminalisation of freedom of expression online 
The report, #UnshacklingExpression: A study on criminalisation of freedom of expression online in Nepal, comes out today. It shows how the legal framework in Nepal promotes or stifles the citizens' #freedomofexpression. Access the report here: https://t.co/iXtAQAmvep pic.twitter.com/4i8iPRUn2C

— APC (@APC_News) November 26, 2020
In November 2020, the Association for Progressive Communications (APC) with the support of the CYRILLA Initiative published a study entitled "Unshackling Expression: A study on criminalisation of freedom of expression online in Nepal".
Among the findings of the study was that the internet is treated more as a service which government intends to regulate rather than a right or a space for the general public to explore and express. Further, the legal mechanisms for the regulation of digital space are guided by patriarchal and religious norms. As a result, the legal provisions are ambiguous.
Several terms used in the laws are over broad, vague and subjective. This falls below international standards and guarantees for freedom of expression in Article 19 of the International Covenant on Civil and Political Rights as well as the Universal Declaration of Human Rights. This gives the authority the power to interpret laws in their favour.
Direct or indirect censorship, arbitrary accusations and custodial action has been taken by the state based on these ambiguous laws and through its mechanisms. This has been instrumental to curb free speech of the press, artists and general citizens. Press freedom, artistic freedom and sexual expression are limited in the name of morality, public decency, national security, national integrity and sovereignty.