Protests demand release of activists detained over bank heist, journalists face rape threats and death threats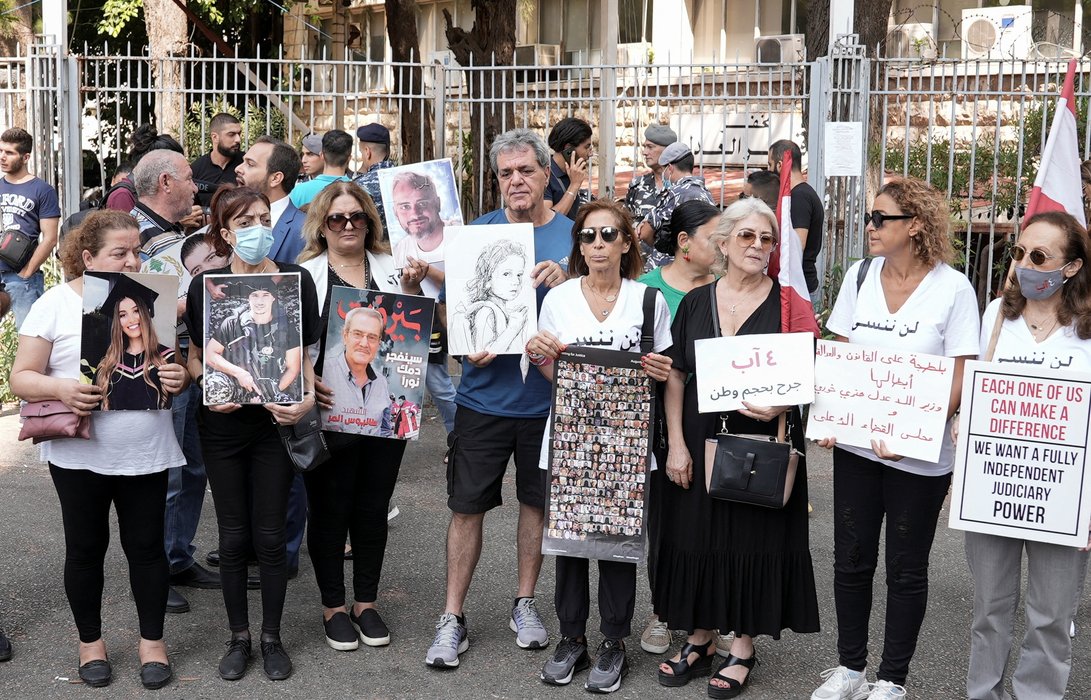 Association
During August 2022 and September 2022 several new civil society organisations were established in Lebanon. Their focus area was social development and socio-economic issues in line with the ongoing crisis situation in the country.
As reported by Skyes Center, on 18th September 2022, unknown persons threw a Molotov cocktail at the March association in Bab al-Tabbaneh. The director of the March association said: "The association's centre in Bab al-Tabbaneh in Tripoli was attacked with a Molotov cocktail, but no damage occurred, and all the work team is fine, as no one was present at the moment of the attack."
Peaceful Assembly
The month of September 2022 saw 111 collective actions in Lebanon: 71 sit-ins and demonstrations, 35 roadblocks, three strikes, three building blockades and occupations, and two marches. Nine collective actions were repressed.
On 1st September 2022, the army launched tear gas to disperse protesters who blocked the Minieh-Tripoli highway during a protest over power outages. Activists have been calling on people to protest at the entrance of Deir Ammar power plant on social media, which the army had cordoned off. During a sit-in, which took place the night before, two protesters were injured.

On 7th September 2022, state Security harassed and insulted protestors who gathered outside the Justice Minister's home to protest against the Higher Judicial Council's decision to appoint an alternate investigative judge in the Beirut blast probe. Additionally, on 9th September 2022, the riot police assaulted relatives of Beirut port blast victims who demonstrated at the Justice Palace. During the protest, they attempted to storm the offices of the Ministry and clashed with riot police, stating "Shame on you," and "Where is the minister?". Related to this, 11 human rights groups, including Human Rights Watch, issued a call to the United Nations Human Rights Council to put forward a resolution for an independent and impartial fact finding mission in the Beirut blast.

On 14th September 2022, the guards outside the home Saad Azhari, Blom Bank's chairman, fired live bullets at activists who were protesting outside. The protests come after the bank refused to drop charges against two activists who accompanied a woman depositor who held bank employees at gunpoint to withdraw some of her savings for her ailing sister's cancer treatment. Additionally, on 19th September 2022, the army fired live ammunition in the air to disperse protesters and arrested 18 protesters in front of the Justice Palace, four of whom were injured in custody. Protesters were demanding the release of two activists who were arrested for their participation in events at Blom Bank. Similarly, on 21st September 2022, security forces assaulted protesters outside the Justice Palace.

On 16th September 2022, security forces assaulted protesters demonstrating outside the Azerbaijani embassy demanding an end to resurfaced military attacks by Azerbaijan forces in a disputed border area with Armenia and Artsakh.

On 26th September 2022, police and soldiers launched tear gas toward the protesters gathered outside the Parliament to protest against the draft budget.
In August 2022 there were 88 collective actions staged in Lebanon: 56 sit-ins, 26 roadblocks, seven strikes, 15 marches and two building blockades and occupations. Three collective actions faced repression.
On 4th August 2022, during the march commemorating the two-year anniversary of the Beirut port blast, scuffles briefly broke out between protesters and security forces in front of the Parliament building, and journalists reported that security forces used rubber bullets and stun grenades.

On 26th August 2022, the army broke up a sit-in staged outside the Beirut Military Court by families demanding the release of nine of their sons who were detained a month earlier.

On 31st August 2022, the army clashed with protesters and used tear gas to break up a sit-in denouncing power cuts outside the Deir Ammar power plant. Thirteen protesters were injured.
Expression
Journalist faces repeated death threats
On 3rd August 2022, photojournalist Hassan Shaaban, who had published videos and photos of protests against water shortages in Beit Yahoun on social media, was assaulted by a group of 12 to 15 men affiliated with Hezbollah, received death threats, and was asked by local Hezbollah officials to remove the videos of the protests, which he refused to do. A day later, on 4th August 2022, he found a bullet stuck on his car window. On 14th August 2022, he found his car with a punctured tyre and a note saying "Leave the village, spy, dog".
Also happening in #Lebanon: photojournalist @hasanshaaban, who previously received death threats in August after his coverage of protests against a water shortage, found a note on his car on August 14, demanding he leave his home village of Beit Yahoun.https://t.co/ftjD1ZqaYd

— Committee to Protect Journalists (@pressfreedom) August 24, 2022
Additionally, on 1st September 2022, Shaaban found an handmade explosive device under his car. In response to the numerous attempts to intimidate Shaaban, the Alternative Press Syndicate staged a sit-in at the Interior Ministry and Information Ministry in Beirut to demand authorities take action.
لا يزال المصوّر حسن شعبان يتعرّض للمضايقات والتهديد في بلدته بيت ياحون الجنوبية، حيث أقدم مجهولون ليلاً على تمزيق إطار سيارته ووضع تهديد عليه تضمّن التالي: "فل من الضيعة يا عميل يا كلب"، وذلك إثر تغطيته الاعتصامات في البلدة.@hasanshaaban pic.twitter.com/J4TR6m2Ir0

— Samir Kassir Eyes (@SK_Eyes) August 14, 2022
Woman journalist targeting by rape and death threats
On 13th August 2022, journalist Dima Sadek was the subject of a public incitement to murder and rape campaign launched by Jawad Nasrallah, the Hezbollah head's son, after she published a satirical photo on Twitter about the attempt on the life of British-American novelist Salman Rushdie in the United States and Iran's role in it, with the caption "The Satanic Verses'. Following this, supporters on Twitter encouraged a troll campaign against the journalist, and Hezbollah's activists and supporters started threatening her with rape, murder and other forms of violence. The Coalition for Women in Journalism (CFWIJ) said that this case is similar to those of30 other journalists who have been the targets of such methods since the Beirut port explosion two years ago.
"The Coalition for Women In Journalism (CFWIJ) stands in solidarity with Dima Sadek; we express grave worry over threats to her. The CFWIJ lament this wave of hatred against journalists in Lebanon being unleashed and involved by Hezbollah leaders and activists. The CFWIJ urge the Lebanese authorities to protect Dima and other journalists and investigate the intimidation they were subjected to; we stress that digital violent threats often lead to physical violence."
#Lebanon: TV host @DimaSadek is receiving death and rape threats in an online harassment campaign by Hezbollah supporters since August 13, over a tweet. CPJ condemns the threats and calls the authorities to investigate them and protect Sadek. https://t.co/gQsx73Fcl7

— CPJ MENA (@CPJMENA) August 15, 2022
Other incidents against journalists included: