Protests continue; amid COVID-19 and despite police brutality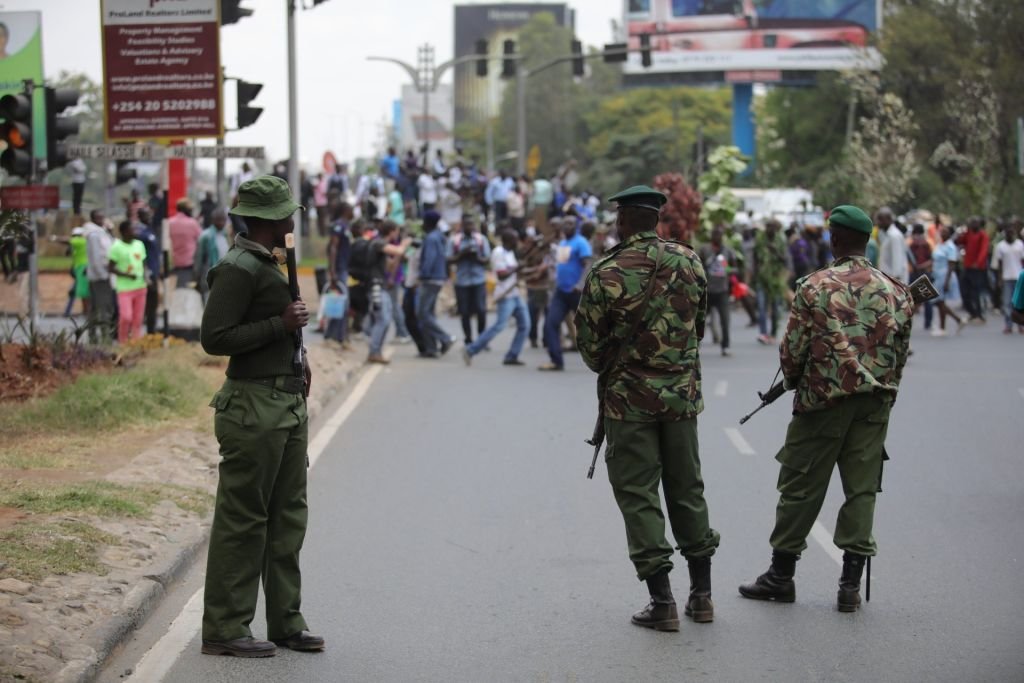 General Situation:
On 27th August 2020, Kenya celebrated its constitution's 10th anniversary. On the anniversary political commentators raised concerns about the effectiveness of the rights enshrined in the constitution, in particular the right to freedom of assembly, which has increasingly been violated in recent months during violent clashes between police and protesters, as previously reported by the Monitor.
Despite the gains that were brought by the new constitution, Kenya's police force continues to be one of the main perpetrators of human rights violations in the country. On 24th September 2020, four rights groups, including Amnesty International Kenya, announced that they were suing the government over alleged killings and human rights violations by members of Kenya's police force when enforcing a night-time curfew. Relatedly, the Independent Medico-Legal Unit (IMLU) accused Kenyan police on 13th October of torturing to death a suspect in their care. IMLU has documented 24 other cases of deaths in police custody since January 2020.
Separately, in what was seen to represent a victory for the rule of law, accountability, and victims of violations of the right to the enjoyment of a safe, clean, healthy and sustainable environment, in July 2020, a landmark decision was reached by a Kenyan court who awarded 1.3 billion Kenyan Shillings (12 million USD) to residents of a suburb of Mombasa affected by pollution from a nearby lead smelter. It was ruled that the responsible government agencies should pay the compensation within 90 days and that the site should be cleaned up within four months. 
"Masks and sanitiser hawker shot dead by police in Kisii, sparking violent protests » @CapitalFMKenya News" https://t.co/2Yzs1AXqYx #PoliceBrutality #SabaSabaMarchForOurlives

— MissingVoicesKE (@MissingVoicesKE) July 6, 2020
Peaceful Assembly
Police brutality and heavy-handed enforcement of COVID-19 restrictions continued throughout July and August 2020, despite an outcry by Kenyan human rights organisations earlier in March. On 5th July 2020, a group protested outside a police station in Kisii County concerning the death of a local trader who was allegedly killed by police over a dispute related to fake hand sanitiser. A number of participants in the demonstration turned violent, setting alight the police station and injuring five officers.
Police brutality continued to be documented even in other non-COVID related protests as follows:
On 8th July 2020, police arrested several activists and fired tear gas at people taking part in the annual 'Saba Saba' protest march in Nairobi, which marked the 30th anniversary of peaceful protests against the regime of the late President Daniel Arap Moi. This year, the protests were attended by approximately 100 people and were particularly driven by anger over increasing police brutality during the COVID-19 lockdown, as previously reported in the Monitor. Among those arrested were activists Editar Ochieng and Wilfred Olalof the Mathare Social Justice Centre. As is often the case in Kenya, in spite of a legal framework establishing a notification process for public gatherings (i.e., simply requiring organisers to notify authorities ahead of planned events), conveners of the protests said that in practice they were denied permission to hold demonstrations.
Two people were early today shot dead in Garissa town by police under mysterious circumstances.
The killings sparked protests in the town as residents protested of alleged police brutality.#KTNWeekendPrime pic.twitter.com/iJfzlgRipw

— KTN News (@KTNNewsKE) July 25, 2020
On 25th July 2020, two men were shot dead during a protest against the arrest of a man suspected of murder in Garissa county. This was quickly condemned by the Garissa Member of Parliament, Aden Duale, who drew attention to a pattern of police brutality in the area. The following day, two police officers were arrested in connection with the shooting, after Kenya's Independent Policing Oversight Authority (IPOA) launched an investigation into what happened. The incident came just one month after the IPOA stated that it would press charges against four officers over assaulting a man in Garissa, as previously reported on the Monitor.
On 28th July 2020, a woman legislator was beaten by four police officers at the Nairobi County Assembly, where several politicians had gathered in a demonstration to try and impeach the House Speaker. The following day, the IPOA launched an investigation into the incident after photographs of the attack were shared widely online.
In September 2020, the Network Action Against Corruption (NAAC) accused Kenya Medical Supplies Authority (KEMSA), a government agency that supplies medicine and medical equipment to the Ministry of Health, of embezzling hundreds of millions of dollars of COVID-19 relief money. In response, the Director of Public Prosecutions set up a team to review findings from an investigation by the Ethics and Anti-Corruption Commission (EACC). On 30th September, it was announced that the Auditor General would be issuing preliminary findings to the Senate, for further action. In relation to these claims, demonstrations were held in Nairobi on 21st August 2020. Before the protest began, police threw teargas at those demonstrating and arrested at least five people.
On 14th September 2020, Amnesty International Kenya Chairperson Renee Ngamau was arrested when demonstrating with her neighbours against planned private development on public land in her neighbourhood. She was arrested following the peaceful demonstration and later released on bail before being ordered to appear before the Kibera Magistrate's Court in Nairobi.
Samburu University Students Association (SUSA) members held peaceful demonstrations in Maralal town, on 18th September 2020, to protest killings in the neighbouring town of Baragoi. The protesters attempted to enter the County Commissioner's compound, but were stopped by police when teargas was used to disperse the group. Four protesters were arrested.
On 23rd September 2020, a demonstration held by the Communist Party of Kenya in Gem constituency, turned violent after a rival group threw teargas and attacked protesters.
On 24th September 2020, over one hundred people peacefully gathered in Migori town to protest alleged discrimination against Muslims residing in the town, who have been unable to acquire National Identification Cards.
A peaceful demonstration was staged by youth in Murang'a town on 6th October 2020, in relation to recent clashes in the town between local security and politicians. The group called for the arrest of people involved.
Separately, on 8th October 2020, in the light of ongoing political campaigns in the country ahead of the 2022 general elections, some of which had turned violent, the Head of Public Service announced that people organising public gatherings must notify police three days in advance and that organisers should be present throughout the gathering. Media outlets were also warned against reporting on protests and republishing speech deemed to incite hate or violence. The Kenya Media Sector Working Group expressed concerns about the new directives, stating that they would pose a threat to media freedom and would restrict reporting on political and public events.
Following several recent occasions of police violence, women have been speaking out about police brutality towards female protesters during recent demonstrations.
Expression
On 11th August 2020, the Law Society of Kenya's (LSK) application to suspend sections of the Cybercrimes Act was dismissed by the Court of Appeal. The LSK and Bloggers Association of Kenya had brought the case requesting enforcement of the section on "false publication" and "publication of false information" related to COVID-19 to be suspended, pending the hearing and determination of their appeal.
The LSK said in part:
"Bloggers, activists, journalists and whistleblowers will be discouraged from publishing information on suspected violation of the Ministry of Health Covid-19 guidelines with grave public health consequences."
Bloggers and social media users now risk a fine of KSh20 million (184,487 USD) or a prison term of 10 years, or both, for harassing a person through the internet by publishing posts that are considered indecent or grossly offensive. This follows a recent decision by the high court, which in early March 2020 dismissed a petition by the Bloggers' Association of Kenya (BAKE) which challenged the Computer Misuse and Cybercrimes Act 2018 for unduly restricting the freedom of expression, as previously documented.
In other developments, political tensions have been rising in anticipation of the next Kenyan national elections, scheduled for 2022. In September 2020, two MPs were arrested in separate incidents:
On 7th September, MP Johana Ng'eno was arrested for 'insulting' President Uhuru Kenyatta's mother in an online post, questioning the power of the President's family. He was later granted bail after denying all charges.
On 25th September, MP Ferdinand Waititu was arrested on charges of using hate speech related to a video posted on YouTube reacting to the killing of a street child.
Separately, on 27th September 2020, a High Court Judge issued a temporary injunction restraining Communist Party of Kenya national chairman Booker Ngesa Omole, or his associates, from holding or conducting public protests against an MP whom they have accused of corruptionand embezzling of public funds. 
Doctors working in hospitals under the Nairobi County Government have issued a one week strike notice. Strike starts on the 21st of August 2020.

— Sarah Kimani (@sarahkimani) August 14, 2020
Association
In late August 2020, doctors in the Nairobi County government went on a six day strike to protest delayed salaries and a lack of protective equipment in hospitals. They resumed duty after signing an agreement with the county officials to improve conditions for doctors in government-run hospitals.