Protests calling for climate change action and strikes by teachers in New Zealand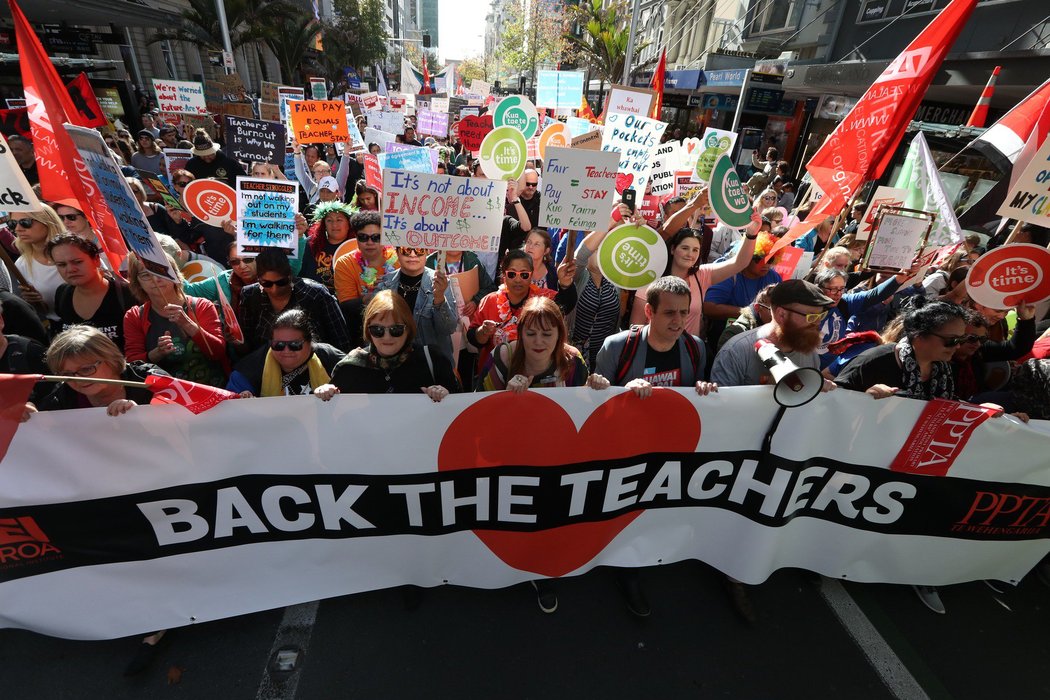 In January 2023, Labour leader Chris Hipkins was sworn in as New Zealand's prime minister following the resignation of outgoing Prime Minister Jacinda Ardern after more than five years in that role. Hipkins got the unanimous support of legislators from the ruling Labour Party. Hipkins named Carmel Sepuloni as deputy prime minister, New Zealand's first deputy prime minister of Pacific origin.
In February 2023, Hipkins came under fire for withdrawing proposed hate speech laws in favour of "refocusing on the economy". The laws, which toughened the response to hate speech against minority groups, were put forward as a result of recommendations from the royal commission of inquiry into the Christchurch attacks.
Over the last month, thousands have been protesting for climate change action following devasting floods in many parts of the country. Two Greenpeace protesters were arrested for a protest outside Fonterra's headquarters. Thousands of teachers also went on strike over the cost of living. Charges against many who were involved in protests in and around Parliament Grounds in February and March 2022 were withdrawn.
Peaceful Assembly
THOUSANDS JOIN CLIMATE CHANGE PROTESTS
Thousands join climate change protests in New Zealand https://t.co/QCvkvBfVqu

— News That Matter (@jay1stnewyorker) March 12, 2023
On 3rd March 2023, thousands of people around the country protested for climate change action from the government.
Thousands of school students left their classrooms and took to the streets. Youth organisations School Strike for Climate and Fridays for Future combined forces and held the climate strike in 11 cities across the country, alongside environmental organisations.
The organisers of the protest had five demands, including no new fossil fuel mining or exploration and a rebate for e-bikes. Other demands include greater marine protection, funding a transition to regenerative farming and lowering the voting age to 16.
In Christchurch, young climate activists breached the doors of the city council offices and staged a sit-in.
The protest follows New Zealand's worst flooding in recent memory in January and February 2023 across much of Auckland, the biggest city, Hawke's Bay, Gisborne, Northland and Coromandel. Fifteen people were killed in the floods and about 10,500 were displaced, with many unable to return to their destroyed homes.
TWO GREENPEACE PROTESTERS ARRESTED
ICYMI Fonterra gets "flooded" by climate activists on profit reporting day https://t.co/JPxMVc3iFJ #TooManyCows

— Greenpeace Aotearoa (@GreenpeaceNZ) March 17, 2023
On 16th March 2023, police arrested two Greenpeace protesters from outside Fonterra's central Auckland headquarters. In a statement, Greenpeace said it was turning Fonterra's headquarters into a "virtual flood zone" and placing pieces of abandoned flood-damaged furniture outside the building. The first-floor windows were covered with images that gave the impression that the building was under water.
Greenpeace said the action was to remind the government that Fonterra was the nation's biggest producer of climate emissions, which contributed to this summer's deadly and destructive storms. Its climate campaigner Christine Rose said they were "returning to sender" damaged household goods from the community. The group called on the government to regulate the big dairy industry in order to protect the people from flooding, storms and cyclones made worse by climate emissions.
TEACHERS STRIKE OVER COST OF LIVING
"Investing in teachers is investing in our kids," said one educator. "Investing in our kids is investing in New Zealand's future." https://t.co/kdfFHWdYst

— Common Dreams (@commondreams) March 17, 2023
Around 50,000 primary and secondary school teachers in New Zealand went on strike on 16th March, after union talks with the Ministry of Education aimed at improving salaries and conditions stalled. It was the country's largest industrial strike action from the education sector since May 2019.
Teachers demanding better pay waved placards declaring "can't afford the dentist" and "too poor to print good signs" as the one-day strike forced kindergartens as well as primary and secondary schools to close across the country.
Trade unions argued that the government's latest pay offer did not match inflation and that the education sector is at a "crisis point" due to teacher shortages. Teachers are also deeply concerned about chronic understaffing, large class sizes and the lack of resources for students with high needs.
Education Minister Jan Tinetti said she was disappointed to see teachers strike and wanted the dispute resolved quickly. After the strike, the unions announced they would go straight back into talks with the Ministry.
CHARGES WITHDRAWN FOR MANY WHO PROTESTED OUTSIDE PARLIAMENT
Previously, in January 2023, it was reported that 160 people who were arrested between 9th February and 4th March 2022 in relation to protest activity in and around Parliament Grounds have since had their charges withdrawn. A reported 29 individuals received diversion for one or more charges, 17 have pleaded guilty, two youths received a warning, one person was found not guilty and 42 people are still facing charges before the courts.
As previously documented, anti-vaccine protesters occupied parliament grounds in the capital, Wellington, for nearly a month in 2022. Among the protesters' grievances was the requirement in New Zealand that certain workers get vaccinated against COVID-19, including teachers, doctors, nurses, police and military personnel. Many protesters also opposed mask mandates.
The protests continued until police moved in again to disrupt and end the protests. They dismantled an encampment outside parliament, towed away vehicles and arrested dozens. Police used sponge bullets to drive off the remaining protesters. They also used pepper spray on some of them before gaining control of the grounds and the streets around parliament, bringing the protest to an end.