Police disrupt anti-vaccine protests at NZ parliament while journalists face threats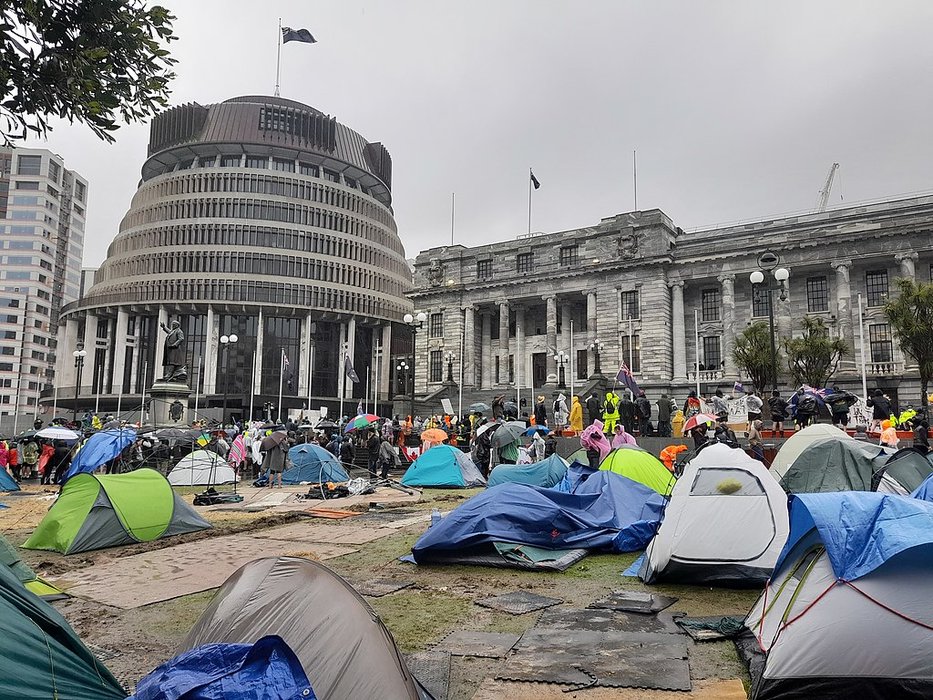 Peaceful assembly
On 8th February 2022, anti-vaccine protesters occupied parliament grounds in the capital, Wellington. The protesters, inspired by the "siege of Ottawa" where truckers paralysed the city and caused a state of emergency, led a convoy of several hundred vehicles to parliament. A number stayed overnight, pitching tents on the lawns and parking their cars, blocking traffic.
Among the protesters' grievances was the requirement in New Zealand that certain workers get vaccinated against COVID-19, including teachers, doctors, nurses, police and military personnel. Many protesters also opposed mask mandates.
New Zealand police began removing the protesters from parliament grounds on the third day of their demonstration. The police picked people off one-by-one at the front of the line, prompting scuffles to break out. By the afternoon, the police had arrested 120 people and used pepper spray on some members of the crowd but made little headway in moving the protesters off parliament's grounds. Two police members were injured, and some protesters suffered minor injuries.
"We continue to acknowledge people's rights to protest, however those who behave unlawfully will face arrest."

More than 50 protesters had been arrested by late morning in the New Zealand's capital, according to police. https://t.co/jmP54HUyM0 pic.twitter.com/HrBYanRRuH

— Bloomberg (@business) February 10, 2022
The protests continued for the next three weeks until police moved in again to disrupt and end the protests on 2nd March 2022. They dismantled an encampment outside parliament, towed away vehicles and arrested dozens. Retreating protesters set fire to tents, mattresses and chairs as dozens of protesters remained in nearby streets, some hurling objects at police.
Police used sponge bullets to drive off the remaining protesters. They also used pepper spray on some of them before gaining control of the grounds and the streets around parliament, bringing the protest to an end.
Police said they made 65 arrests for a range of offences including trespass, wilful damage and possession of restricted weapons. At least three officers were injured, police said.
Police in New Zealand cleared anti-COVID vaccine mandate protesters, who set fire to tents and mattresses on Parliament grounds after more than 3 weeks of occupying the area.

Police pepper-sprayed protesters & arrested 65 people. 95% of eligible New Zealanders are fully vaxxed. pic.twitter.com/RLF3TLIBs9

— AJ+ (@ajplus) March 2, 2022
Over the past year, New Zealand's anti-vaccine and anti-mandate protest movement has been increasingly home to conspiracy theories, threats and violent rhetoric, particularly against reporters, the prime minister and other members of parliament. Calls for "citizens' arrests", "Nuremberg"-style trials, and for the execution of reporters and politicians have become commonplace in the movement's social media pages and chat apps.
Expression
Reporters Without Borders (RSF) said that reporters were faced with threats and violence by the large crowd of demonstrators camped outside the parliament building.
In a statement published on 23rd February 2022, RSF said that journalists trying to cover the protest were regularly pelted with tennis balls with not-very-subtle insults such as "terrorists" and "paedophiles" written on them. Journalists who approached the protesters were also met with drawings of gallows and nooses, as well as insults and threats of violence.
Mark Stevens, the head of news at Stuff, New Zealand's leading news website, sounded the alarm about the attacks on journalists in an editorial published on 11th February 2022. "They've had gear smashed, been punched and belted with umbrellas," he wrote. "Many reporters have been harassed [...], including one threatened with their home being burned down."
RSF reported that the verbal and physical violence against journalists was accompanied by extremely shocking online hate messages. Stuff's chief political reporter Henry Cooke tweeted an example of the threats he had received on social media: "You're marked for death, you filthy sell-out, you evil, deceptive system pig propagandist. Many will beat you bloody and senseless and then shit on your face. [Your] days are numbered."
Graham Bloxham – a Wellington resident who runs the Wellington Live Community local news page on Facebook – who went to interview one of the protest organisers, said he and his cameramen were also beaten.
Daniel Bastard, the head of RSF's Asia-Pacific desk said: "the virulence of the threats against journalists by demonstrators, and the constant violence to which they have been subjected since the start of these protests are not acceptable in a democracy…we call on the office of the Prime Minister, Jacinda Ardern, to not allow these disgraceful acts to go unpunished."