Protests break out against President Ismail Omar Guelleh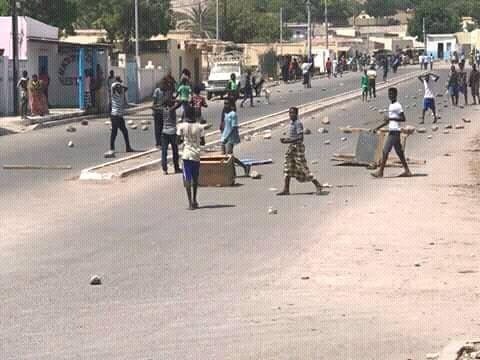 Peaceful Assembly
Protests break out against President Guelleh
Djiboutians held demonstrations to protest a fifth term for incumbent President Ismail Omar Guelleh, who is running for re-election beyond his two-decade rule (34 years to be precise). According to the President, "Young Djiboutians told me to stay put, so that's why I'm standing for re-election". Guelleh, 73, is facing political newcomer Zakaria Ismail Farah, his only rival after traditional opposition parties decided to boycott the upcoming election, citing lack of fairness and transparency. President Guelleh recently engineered a change in the constitution to eliminate a provision that would have prevented him from seeking re-election for a further term. On 18 February 2021, a rally was held which drew thousands of protesters but resulted in the deaths of two people. Since then, protests in the capital have grown since unrest erupted in other countries in the region in January 2021. Mohamed Daoud Chehem of the opposition National Democratic Party said the violence that resulted in the two deaths at last month's demonstration was initiated by police. Authorities deny the allegation that police provoked the violence, noting that one of the dead was a police officer. The planned resumption of mass protests in Djibouti was hindered by a massive police presence in the capital and arrests of about 300 opposition and civil society leaders.
"We make only pacific [peaceful] demonstrators… We are not violent. Our people are not violent. But the government side made a provocation to make violence" Mohamed Daoud Chehem
Thousands of Djiboutians took to the streets to protest against the octogenarian dictator Ismail Omar Gelle. This is the biggest uprising against the despotic rule of his family regime. #DjiboutiProtests#FreeDjibouti https://t.co/uHolBoCZba

— Hashi, MD ⚖ ✍ (@SomPundit) March 9, 2021
The authorities in Djibouti detained three top opposition leaders a day after the protest to demand regime change. The three are National Democratic Party chairman Aden Robleh Awaleh, Djibouti Democratic Party chairman Mohamed Daoud Chehem and Ismail Guedi Hared. The demonstration had started peacefully but droves of young opposition supporters -- several thousand according to the organisers -- dug in at the entrance of Djibouti's main stadium for the long haul. Clashes then broke out between demonstrators hurling stones and riot police firing tear gas grenades, leaving one protestor and one policeman dead, according to the interior ministry. The Ligue Djiboutienne des Droits Humains (LDDH) released a statement criticising the government for arbitrarily arresting and detaining 23 persons. LDDH claims that several others, whom it has been unable to identify, are being arbitrarily detained at the Nagad administrative center.
Association
At least 20 migrants killed
On 10th March 2021, 20 migrants drowned during a crossing from Djibouti and Yemen. Reportedly, 200 migrants were on board a boat leaving Oulebi Djibouti before the smugglers panicked and threw approximately 80 people overboard. Only 60 made it back to shore. According to Yvonne Ndege, IOM regional spokesperson for the East and Horn of Africa, "Survivors believe there are still some unaccounted for. Five bodies washed up on shore".
#Ethiopia: 8 migrants drown, 12 missing while trying to reach #Djibouti. All were thought to be #Ethiopian and making the passage to Djibouti from #Yemen https://t.co/Sexp8ArRwS pic.twitter.com/y7kfv6Udvm

— Yewondwosen የወንድወሰን (@wondesen_a) October 5, 2020