Protests against systemic racism continue despite flagrant attacks on civil liberties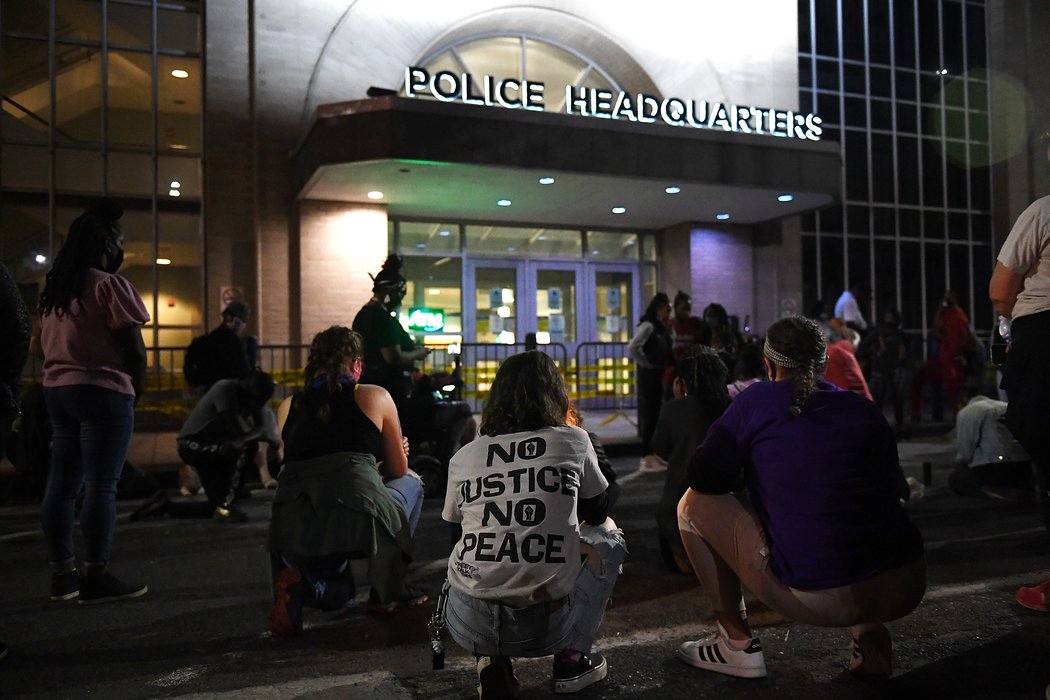 Peaceful Assembly
Protests against racial injustice and police brutality
The Wisconsin National Guard was deployed in Kenosha Monday following the police shooting of Jacob Blake and subsequent protests.

More at @journalsentinel. https://t.co/kEh3WIQsfN

— The Marshall Project (@MarshallProj) August 24, 2020
At the end of August 2020, the shooting of a Black man, Jacob Blake, by a white police officer sparked further outrage and led to several nights of protests in Kenosha, where the shooting took place, and other cities. During demonstrations on 24th August 2020, several businesses were vandalised and several cars were set on fire. The police reportedly used excessive force against protesters, including tear gas, rubber bullets and smoke bombs, and several people were detained. The police shooting also led to a decision by the local NBA team not to play games as a protest against police violence, and led to several other professional sports leagues and prominent athletes joining them in refusing to play.
A 17-year-old Illinois resident was arrested for his involvement in a shooting that left two racial justice protesters dead and another injured during the third night of demonstrations in Kenosha, on 25th August 2020. The teenager, who was charged with first-degree intentional homicide, is seen in a video holding a semi-automatic rifle and can be heard saying, "I just killed somebody." According to news reports, an investigation is ongoing into whether the teenage shooter was part of armed civilian militia patrolling the streets during the protest.
Confrontations between groups of protesters and counter-protesters were often reported in August and September 2020. "Far-right groups have flooded the streets to pose as an armed intimidating force on the periphery of peaceful protests," wrote an analyst from civil society organisation Southern Poverty Law Center, warning that violent incidents could continue without action to curtail presence of vigilante groups and de-escalate law enforcement tactics in protests.
Several U.S. cities witnessed a third night of protests as demonstrators continued to voice outrage with a decision not to charge police officers in the death of Breonna Taylor https://t.co/jxEGWCUczo pic.twitter.com/nMu1Wadckh

— Reuters (@Reuters) September 26, 2020
In Louisville, thousands of protesters took to the streets after Kentucky's Attorney General announced on 23rd September 2020 that his office would not charge any police officers for shooting Breonna Taylor, a 26-year-old emergency room technician who was killed during a police raid on her apartment in March 2020. Only one officer involved in the incident was indicted by a grand jury and charged with wanton endangerment. Several people were arrested at a subsequent protest on 24th September 2020, including a state legislator, for felony rioting, failure to disperse and unlawful assembly. Two officers were allegedly shot during demonstrations and were taken to hospital with non-life-threatening injuries.
Protesters in more than a dozen cities also mobilised following the grand jury's decision in Breonna Taylor's case. In New York City, a group held a sit-in on the Brooklyn bridge for more than an hour. In Chicago, hundreds of people demonstrated on Michigan Avenue and protested outside a police station.
On 22nd August 2020, about 100 people in Detroit rallied against "Operation Legend", a police initiative sending federal agents to multiple U.S. cities to address gun and gang violence. Video from the protest shows police dressed in riot gear using pepper spray multiple times on the crowd. At least 40 people were arrested, including local activists from the group Detroit Will Breathe who organised the protest. One week later a federal judge temporarily banned Detroit police from using batons, shields, gas, rubber bullets, chokeholds or sound cannon against Black Lives Matter protesters, saying that police use of these weapons has been excessive. As previously reported on the CIVICUS Monitor, in cities like Portland, the deployment of federal troops through Operation Legend has escalated tensions between protesters and law enforcement.
The arrest of a protester in Pittsburgh by plainclothes police officers on 15th August 2020 drew criticism from civil society as well as the city's mayor and other state officials. On social media, bystanders shared videos of officers putting the protester into an unmarked van. According to the local American Civil Liberties Union, witnesses said the officers tricked a protest leader to approach them and then whisked him away – in a "snatch and stash" arrest tactic. Multiple people in Portland and New York have also been detained by unmarked police and other agents.
Other developments
The NYPD just attacked us at the Times Square abolish ICE protest for stepping off the sidewalk. Several organizers arrested for no reason. Police violence at protests is escalating in nyc, please pay attention pic.twitter.com/HcyAosYEtu

— Isabelle Leyva (@isabelle_leyva) September 19, 2020
On 19th September 2020, about 300 people demonstrated in Times Square in New York City to call for the abolition of Immigration and Customs Enforcement (ICE) following a whistleblower's report revealing that a Georgia ICE facility had an unusually high rate of hysterectomies and alleged medical neglect of detainees. Police arrested 86 protesters for disorderly conduct and resisting arrest.
In an online post on 1st September 2020, a congressman from Louisiana described armed protesters as a "real threat" and threatened to shoot them. The social media message was posted on Facebook as protesters gathered outside a council meeting in Lafayette. "We don't care what colour you are. We don't care if you're left or right. If you show up like this, if we recognise threat...you won't walk away," Rep. Clay Higgins wrote. The post included a picture of armed Black militia members who participated in a Louisville protest in July 2020.
On 29th August 2020, a member of a far-right group was shot and killed in Portland after taking part in a caravan organised by the group to counter racial justice protests. A murder suspect, and alleged antifa activist, was killed by law enforcement on 3rd September 2020. On 12th September 2020, President Donald Trump described the suspect's shooting by U.S. Marshals, whose circumstances are under scrutiny, as "retribution". Speaking in an interview with Fox News, Trump said, "this guy was a violent criminal, and the U.S. Marshals killed him. And I will tell you something—that's the way it has to be. There has to be retribution".
In related developments, on 26th September 2020, about 500 people gathered in a Portland park as part of a rally to condemn "anti-fascists." According to The Guardian, about four people were arrested. For over 100 days, thousands of people have participated in protests in Portland against police violence and racial injustice.
Florida anti-protest law
.@GovRonDeSantis' anti-protest proposal is undemocratic and hostile to Americans' shared values.https://t.co/CLtpmFHbxC

— ACLU of Florida (@ACLUFL) October 5, 2020
On 21st September 2020, Florida's governor proposed anti-protest legislation that would criminalise protests obstructing roadways and provide immunity for drivers who strike or kill protesters "if fleeing for safety from a mob". The bill would increase charges for people involved in disorderly assemblies or damaging statues, make it a crime to participate in a disorderly assembly at a public accommodation such as a restaurant, and attach racketeering (RICO) liability to people who organise "disorderly" assemblies. The legislation would also allow people to sue local government if they are the victim of a protest-related incident.
As previously reported on the CIVICUS Monitor, since demonstrations over the police killing of George Floyd began in May 2020, there have been over 50 vehicle-ramming incidents at protests. A man was charged with intentionally driving his vehicle through a crowd of demonstrators in Iowa City on 21st August 2020. No one was seriously injured in the attack, but at least one person said they were struck when a vehicle drove into a crowd of protesters. At a protest in Rochester on 7th September 2020, video shows a person spray Black Lives Matter demonstrators with a yellow substance before striking one of them with their vehicle. On 14th September 2020, at least one person was seriously injured after being hit by a police car in Sacramento at an anti-Trump protest. At least one person in Los Angeles was seriously injured when a truck drove into a crowd of people during a demonstration against racial injustice on 24th September 2020. In Yorba, California, two people sustained non-life-threatening injuries after a woman drove her car into a crowd of pro-government counter-protesters on 26th September 2020. She was arrested and charged with attempted murder.
Expression
Thank you https://t.co/5ajOiRV1m6 for what is the clearest footage of my arrest by @LASDHQ.

It's how I remember it — like being tossed around in the ocean and then slammed into rock pic.twitter.com/G3rfCR1NiI

— Josie Huang (@josie_huang) September 14, 2020
On 12th September 2020, Los Angeles police officers tackled and arrested journalist Josie Huang of KPCC/LAist while she was covering the arrest of protesters. During the incident, a police officer allegedly stepped on her phone and damaged it. Video of the incident shows deputies throwing Huang to the ground before arresting her. The reporter was charged with obstructing a police officer. Press advocates have documented hundreds of cases of journalists assaulted, arrested and prevented from documenting the mass protests against police brutality that started in late May 2020.
On 15th August 2020, a reporter covering a rally of far-right group Proud Boys in Kalamazoo, Michigan, was arrested by police despite being marked as a member of the media. In a Facebook Live broadcast captured by Robinson, he can be heard identifying himself as a reporter as officers knock him to the ground. The following day, Kalamazoo Public Safety Chief Karianne Thomas issued a public apology to the journalist at a press conference and said the charge against him would be dropped.
Court ruling on protests and free speech
On 19th August 2020, a federal judge dismissed a lawsuit against anti-Israel protesters near an Ann Arbor synagogue, saying that peaceful protest on public streets and sidewalks is protected speech. The lawsuit had been filed by a member of the congregation, arguing that the protests were anti-Semitic. Members of a group called Jewish Witnesses for Peace have held demonstrations by the synagogue for over fifteen years, often holding signs with messages such as "Resist Jewish Power," "Jewish Power Corrupts," and "End the Palestinian holocaust".
In March 2020, the American Civil Liberties Union (ACLU) of Michigan had filed a friend-of-the-court brief condemning the protesters' speech and tactics but arguing that their speech is nonetheless protected. According to the organisation, if the lawsuit were allowed to proceed, activists who peacefully protest about a wide range of issues could be targets of litigation. This in turn would have an overall chilling effect on speech and political activity. "Peaceful protest speech such as this – on sidewalks and streets – is entitled to the highest level of constitutional protection, even if it disturbs, is offensive and causes emotional distress," the judge wrote in her ruling dismissing the lawsuit.