Protests against impunity war crimes in eastern DRC, journalists and HRD subjected to threats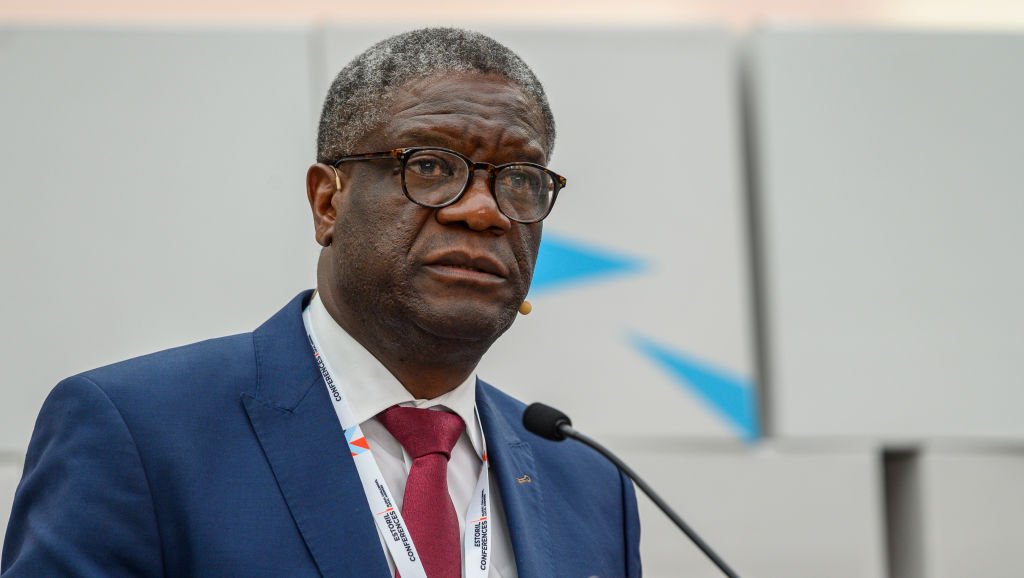 Denis #Mukwege a gynaecologist who shared the 2018 #NobelPrize for Peace for his work against sexual violence in war, said that he and his relatives had been threatened following a tweet condemning the massacre of 18 people in #DRCongo https://t.co/vYXTXrbQka

— AFP news agency (@AFP) September 4, 2020
Association
Death threats against HRD Dr. Denis Mukwege
In September 2020, Dr Denis Mukwege and the Panzi hospital finally received protection from the United Nations mission in DRC after protests and international calls for his protection by the UN and the DRC government. Mukwege, a gyneacologist who founded the Panzi hospital in Bukavu for survivors of sexual violence, has been subjected to death threats since July 2020 after making statements on a recent massacre of civilians and calling for perpetrators of war crimes in eastern DRC to be brought to justice. According to the CSO Physicians for Human Rights (PHR), the threats appear to also be in reaction to 'consistent appeals for the implementation of the longstanding recommendations of a UN Mapping Report on the most serious violations of human rights in the DRC between 1993 and 2003.' The UN Mapping Report outlines a series of serious rights abuses, including mass killings and sexual violence, by rebel armies, foreign troops and Congolese government forces, while concluding that most of the 617 incidents investigated in the report qualify as war crimes and crimes against humanity.
Mukwege's family and staff at the Panzi hospital were reportedly also targeted. The UN withdrew its security detail in May 2020 after an outbreak of COVID-19 among UN peacekeepers. Mukwege is an outspoken advocate for justice and accountability for crimes committed in eastern DRC, including the use of sexual violence as a tool of war, and was a co-recipient of the Nobel Price for Peace in 2018. He survived an assassination attempt in 2012, which killed a security guard, and had been under protection from UN Peacekeepers until May 2020.
Disappearance of LUCHA activist
LUCHA activist Ben Benoit Kabey, disappeared on 19th August 2020 in Kenge, in the province of Kwango, after a protest he co-organised against the governance of the province. He had reportedly received threats previously. On 5th September 2020, the United Nations called on authorities in DRC to investigate in order to shed light on Kabey's whereabouts.
Yesterday's peaceful march In #Kisangani was strongly repressed. It is unacceptable that the authorities order the #PNC to use violence against its population when it is peacefully demonstrating for #justice and to #EndImpunity in #DRC. #NoJusticeNoPeace https://t.co/spvvNrNUP6

— Denis Mukwege (@DenisMukwege) October 2, 2020
Peaceful Assembly
Protests to demand justice for sexual violence, killings and war crimes in eastern DRC
On 1st October 2020 - on the 10th anniversary of the UN Mapping Report which outlined hundreds of serious human rights abuses, including mass killings and rapes, in eastern Congo between 1993 and 2003 - demonstrations took place in four cities to demand an end to the impunity for the killings, abuses and sexual violence in eastern DRC and the implementation of the recommendations of the UN Mapping Report. In Bukavu, the city of Dr Denis Mukwege's Panzi hospital, at least 3,500 survivors of sexual violence and hundreds of lawyers participated in the protests. In Kisangani, Tshopo province, the protest, which was banned by local authorities, was dispersed by security forces. Dr Denis Mukwege, who could not attend the Bukavu protest for security reasons (see under Association) told Agence France-Presse:
"To deny that there have been crimes against humanity and war crimes in the Democratic Republic of Congo – even to deny there has been genocide in DRC – is to be in bad faith."
Several protests banned, dispersed
On 14th October 2020, police officers used tear gas to disperse an opposition protest in Kinshasa. The protest, organised by the opposition platform Lamuka, aimed at supporting national territorial unity, called out against what protesters call 'the balkanisation' of DRC and to demand an International Criminal Court for the DRC. According to news reports, some protesters were injured while certain others were arrested. Police officers reportedly punctured the tyres of the vehicle of opposition leader Martin Fayulu, president of opposition political party Ecidé and coordinator of Lamuka, preventing him from moving to the place of the planned protest. The protest was previously banned by local authorities.
According to news reports, police officers occupied the Place de la Gare centrale in Kinshasa, in order to prevent protesters from gathering on 12th September 2020. The protest, organised by the feminist movement 'Je dénonce' (I denounce) to call an end to kidnappings, was not authorised by local authorities. Police reportedly proposed that they assist a few protesters to go to the city's town hall to deliver their memorandum.
On 17th September 2020, police officers were reportedly deployed at the University of Kinshasa (UNKIN) to prevent students from protesting. The police action followed a statement in which students denounced the prolonged strike by professors.
Hundreds of people gathered on 3rd September 2020 in Bukavu in support of Dr Denis Mukwege, who has been subjected to death threats (see under Association). Protesters called on president Tshisekedi to ensure the protection of Mukwege. No incidents were reported.
Several protests, organised by social movements, took place in September 2020 to demand the expulsion of Rwandan ambassador to DRC Vincent Karega, after the latter published a controversial tweet in which he denied any responsibility of Rwanda in a mass killing that took place in August 1998 in eastern DRC.A protest in Kinshasa on 4th September 2020 was reportedly met with tear gas and warning shots to attempt to disperse the protesters. Floribert Anzuluni of the social movement Filimbi said to RFI:
"This is unacceptable, unfortunately. We do not understand, citizen marches are needlessly repressed. Which is not to be expected, as we wrote 48 hours earlier and received no response."
After negotiations with police officers, about 30 protesters were allowed to deliver a memorandum at the Ministry of Foreign Affairs. The activists also demand the establishment of an International Criminal Court for the DRC, for crimes judged by the UN as war crimes and crimes against humanity. 
Sankuru: Arrestation du Directeur de la Radio Losanganya #LibertéDeLaPresse #RDC #Sankuru #JEDhttps://t.co/JMjaEpvdcq

— JournalisteEnDanger (@jedkinshasa) September 16, 2020
Expression
Journalists forced to flee, hide after threats
According to Reporters without Borders (RSF), at least two journalists went into hiding after having received threats. Editor for the Goma-based community radio Pole FM Rozenn Kalafulo went into hiding in October 2020 after witnesses claimed they overheard officers of the armed forces issue threats against her for having asked a question of President Tshisekedi during a press conference on 8th October 2020. Kalafulo asked the President about the business activities of members of the armed forces and potential links with armed groups. Byobe Malenga, director of radio station Radio Ngoma ya Amani in Fizi, South Kivu, and correspondent for BBC's Swahili language service, fled by canoe after three armed men came looking for him at the premises of the radio station and his residence on 27th September 2020. Malenga also received several threats on social media. The journalist felt compelled to go into hiding after a security officer told him to simply 'take precautions' when he alerted security officers to the visit of the three armed men.
Arrest of journalists
On 15th September 2020, a group of agents, who presented themselves as agents for the provincial governor of Sankuru, arrested journalist François Lendo at the airport of Lodja. According to press freedom CSO Journalistes en Danger, he was driven to the Prosecutor's office where he was accused of having insulted the provincial governor in several of his broadcasts for the radio station Radio Losanganya. The complaint against Lendo, seen by RSF, alleges that Lendo said in a broadcast that the provincial governor, Joseph-Stéphane Mukumadi, was 'a terror campaign' and has arrested and tortured anyone who tried to intervene. RSF said that the audio recording was first broadcast on Top Congo and later replayed on Radio Losanganya, and that it was not Lendo who had made the remarks but a civil society lawyer. Mukumadi is holding on to the post of governor despite having been removed by a vote in the provincial Assembly of Sankuru. The journalist was released on 26th September 2020.
Journalist for online news outlet deboutRDC.net, Justin Murhu, was arrested on 2nd September 2020 after being summoned by a court in Bukavu, Sud Kivu Province. Editor of the outlet, Patrick Babwine, was also summoned by the court. Both journalists are accused of defamation by the lawyer of the family of former president Kabila, Jean Claude Zihalirwa, over an article published on 24th August 2020. The article alleges that Zihalirwa, in the company of soldiers, visited people who were evicted from Mbobero, land claimed by Kabila's family, to dissuade them from testifying. Arnaud Froger of RSF commented:
There is absolutely no justification for arresting these journalists or, even less, placing them in pre-trial detention, for reporting sourced and easily verifiable facts in an article. Covering human rights violations should not lead to imprisonment. These journalists were just doing their job and we call for their unconditional release."
As reported previously on the Monitor, four persons involved in the making of the human rights documentary Mbobero, la raison du plus fort est toujours la meilleure (Mbobero: Might Is Always Right) - journalists Gaël Mpoyo and Franck Zongwe, president of human rights CSO Nouvelle dynamique de la société civile en RD Congo, Jean-Chrysostome Kijana and Fidèle Mutchungu went into hiding after receiving threats following the film's release on 6th July 2018. The film documents human rights violations in Mbobero, a village outside Bukavu. The violations relate to the purchase of land by the president's family. Human rights abuses include the eviction of more than 2,000 people and the destruction of about 230 houses, with the assistance of security forces including the Republican Guard, according to CSO Nouvelle dynamique de la société civile en RD Congo, the organisation that originally documented the forced evictions and was involved in the making of the documentary.