Protests against Anti-Asian attacks in the USA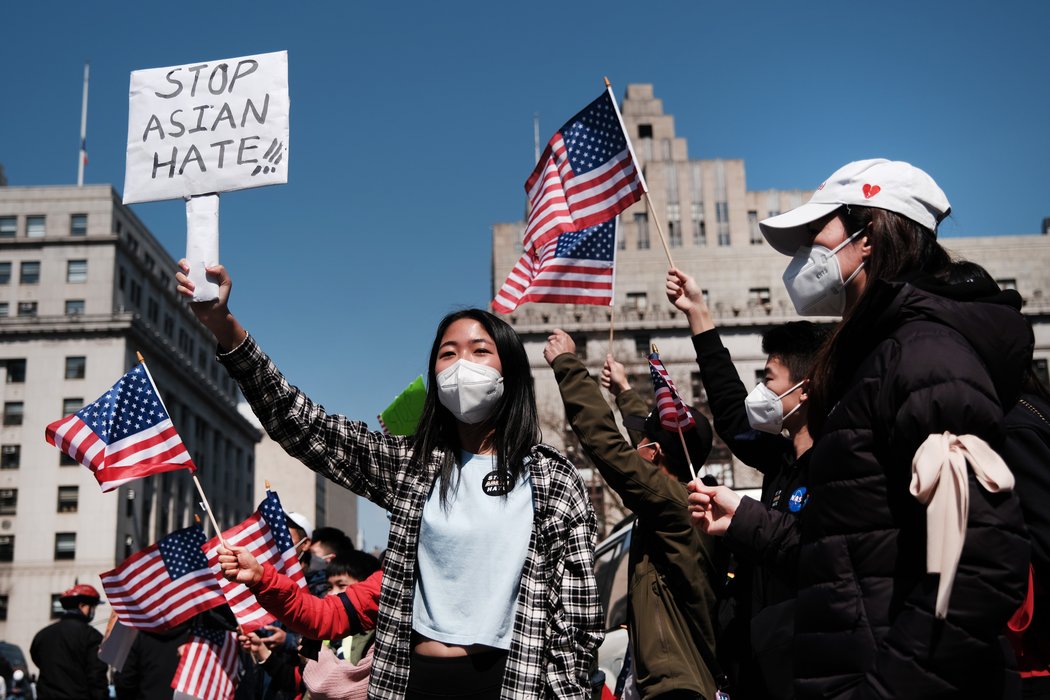 Democrat Joe Biden was sworn in as the United States' 46th president on 21st January 2021. The usual celebrations were cut back because of the coronavirus pandemic and the inauguration was also closed to the general public because of security concerns related to the 6th January 2021 storming of the U.S. Capitol.
According to news reports, no major protests were recorded nationwide on the day. Demonstrators gathered in small numbers at some statehouses, many of which were barricaded or fenced off. There were also some protests against immigration policies, as detailed in the "Peaceful Assembly" section of this update.
Peaceful Assembly
Currently at the rally here in SF where hundreds of community members came together to protest anti-Asian violence.

People are painting butterflies to remember those lost from these attacks. #StopAsianHate pic.twitter.com/wcicgyU1Vo

— Jada Chin (@jadachin) March 20, 2021
On 28th February 2021, hundreds of demonstrators held a rally in New York in response to a wave of attacks on Asian Americans. Many in the crowd held signs with messages like, "we deserve to be safe." The rally was hosted by the Asian American Federation, an umbrella organisation that advocates for better policies and services for Asian Americans. The organisation recorded nearly 500 incidents of anti-Asian discrimination in 2020, ranging from verbal to physical assaults, to being coughed at or spat upon, and to shunning, among others. In March 2021, the issue became particularly salient after eight people were killed – including six women of Asian descent – in a mass shooting targeting three massage businesses.
The violent crime sparked multiple demonstrations and vigils across the country. In Atlanta, memorials were set up outside the three spas where the shootings took place on 16th March 2021. In Washington, DC, about 200 people gathered in the city's Chinatown neighbourhood where they held a vigil, marched and carried signs that said "Asian Lives Matter". Similar protests were held in Columbus and San Antonio.
In separate developments in early February 2021, hundreds of people participated in events to express support for the people of Myanmar after the military takeover of the government on 1st February 2021. The Free Burma Action Committee staged multiple events in San Francisco to raise awareness and demand support for Myanmar, also known as Burma. "I'm so upset, and so angry, and so worried for our new generation," said one of the event's organisers. "But we have no choice — we have to fight for our freedom". On 8th February 2021, people protested outside the United Nations building in New York City holding signs with messages like, "Free our Leader", referring to State Counsellor Aung San Suu Kyi who came to power in 2015 and has popular support in the country. In Myanmar, over 250 people have been unlawfully killed, mostly during the anti-coup demonstrations.
Protests against COVID-related restrictions were also held across the country at the beginning of the year. In Los Angeles, about 200 students and parents gathered outside the West L.A. Federal Building on 22nd February 2021 to pressure school officials to bring students back for in-person instruction. On 30th January 2021, about 50 people temporarily blocked a vaccination site at the Dodger Stadium in Los Angeles, falsely claiming that the vaccine is a scam. Protesters carried placards with messages like, "Save Your Soul Turn Back Now" and "Take off your mask". On 6th March 2021, about 100 people demonstrated against restrictions outside the Idaho Capitol. Videos and images shared online showed people in the crowd encouraging children to throw masks into a fire. "We're standing here today to rein back government," one of the event's organisers said. A spike in coronavirus cases in the state forced the state legislature to shut down after at least six lawmakers tested positive.
Following President Biden's inauguration on 21st January 2021 there were reports of violent demonstrations in Seattle, where protesters against Immigration and Customs Enforcement (ICE) reportedly broke windows at a federal courthouse and at least three people were arrested. Similarly, in Portland, about 150 people marched on the headquarters of the Democratic Party of Oregon and an ICE building. Some in the crowd held a banner that read, "We don't want Biden -- we want revenge for police murders, imperialist wars, and fascist massacres". On a related note, at another protest against immigration policies in Portland on 12th March 2021, at least 100 people were detained after police began kettling protesters for allegedly breaking windows and throwing rocks at officers.
Separately, on 25th January 2021 in Tacoma, protesters set fires and vandalised buildings in response to an incident the day before, when a police car drove through a crowd of pedestrians and injured at least two people. Demonstrators gathered at a park, then marched through downtown. Several items were set up to create a barricade in the street where a large trash can was set ablaze. At least two people were arrested.
States continue to push restrictive protest laws
This is what your state lawmakers were doing while you were sleeping.

In a rare, after-midnight vote, Oklahoma House Republicans approved legislation to grant immunity to drivers who hit protesters #okleg https://t.co/vWoAqVIssa

— Carmen Forman (@CarmenMForman) March 10, 2021
Oklahoma lawmakers approved a bill which grants immunity to drivers who hit protesters, and are debating two other bills that would make blocking a roadway a felony and allow state prosecutors to charge participants in "unlawful assemblies" under racketeering and organised crime statutes. "These bills are so obviously pointed at anyone who tries to speak up to their oppressor to stop oppressing us," said a local teachers' union spokesperson. Lawmakers in several states, such as Iowa, Missouri, Utah and Florida, have either introduced or already passed bills that increase penalties for protest-related incidents and provide legal protections for people who hit demonstrators with their vehicles.
Expression
The acquittal of journalist Andrea Sahouri in Iowa today is a welcome relief, but Polk County prosecutors never should have filed charges against her in the first place.

Reporting is not a crime.

Our full statement: https://t.co/oQCP2qQdbS https://t.co/fcolmFylp1

— Committee to Protect Journalists (@pressfreedom) March 10, 2021
On 10th March 2021, a reporter with the Des Moines Register who had been arrested while covering racial justice protests was acquitted of all charges. Andrea Sahouri said she was clearly identified as press but the police pepper sprayed her face while she was handcuffed. The trial drew national attention because Sahouri was the first working American journalist to face a criminal trial since 2018, and several prominent human rights and free speech groups had campaigned against her arrest and charges. A jury acquitted Sahouri of two misdemeanour charges, failure to disperse and interference with official acts. Both charges carried fines and up to 30 days in jail.
On 25th February 2021, the Washington Post denounced attacks against correspondent Seung Min Kim, who faced online harassment. The newspaper's national editor said that a picture of the journalist posted to Twitter led to a "flood of racist, sexist and ill-informed attacks on Seung Min. The racist and sexist attacks have been vicious and typical. She and other minority women endure vile, baseless attacks daily, no matter what story they are working on, or tweeting about. The attacks on her journalistic integrity were wildly misguided and a bad faith effort at intimidation".
On a related note, the Coalition For Women In Journalism said it has also observed a clear rise in difficult and at times hateful treatment towards Asian American journalists, and women in particular. The organisation released a report detailing several cases of Asian American women journalists who faced physical and verbal attacks when reporting in the past two years. These have included racial slurs and sexist attacks.
Separately, on 20th January 2021 independent journalist Alissa Azar was hit with crowd-control munitions by federal officers while covering a protest at a U.S. Immigration and Customs Enforcement facility in Portland. Azar said she was standing on the sidewalk with other journalists when federal officers began firing pepper balls and tear gas at the protestors. After being struck by a flash bang, Azar wrote in an online post that her chest hurt and she was struggling to breathe. She was taken to hospital and was diagnosed with a concussion and a torn muscle.