Protests across political spectrum in Canada: demonstrations for liberty, defunding police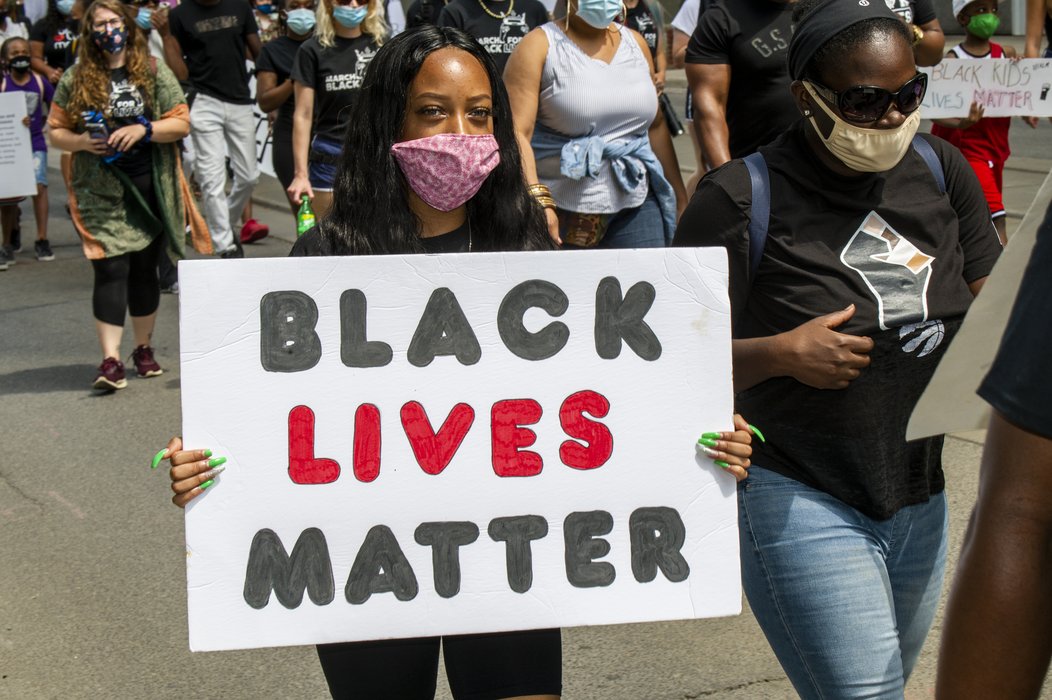 Peaceful Assembly
On 29th August 2020, hundreds of people demonstrated on Parliament Hill in Ottawa to protest pandemic safety measures which they say infringe on their personal rights. The crowd, mostly unmasked, carried signs with messages like "liberty" and "unmask the truth". The event was part of a global day of action against restrictions that authorities have implemented in response to COVID-19. On 8th August 2020, a similar protest in Montreal attracted a larger crowd that included chants of "liberté" and some people making a show of embracing without wearing facial coverings.
In separate demonstrations on 29th August 2020, hundreds of people gathered in London, Ontario, to support the Black Lives Matter movement and call on the provincial government to defund the police. The event was organised by the Coalition for Black, Indigenous and People of Colour (BIPOC) which asked for the redirection of public funds away from law enforcement and toward mental health and civilian conflict resolution services to replace policing of smaller infractions. The protest was one of several to happen as part of a countrywide call to action to defund the police in favour of putting more funding towards community services like schools and homeless prevention. Similar protests took places in other cities such as Calgary. On 30th August 2020, a statue of Canada's first Prime Minister, Sir John Macdonald, in Montreal was toppled by people marching in support of defunding the police.
Earlier in August 2020, hundreds of people demonstrated to support the Black Lives Matter movement and to call on government to recognise Emancipation Day as a national holiday. In Vancouver about 150 people gathered at a local plaza to commemorate the day when slavery was outlawed across British territories in 1834. In Toronto, the "March for Prison Abolition" organised by Not Another Black Life and other local groups included rallies near the Children's Aid Society and the Toronto Police Headquarters to demand an end to systemic racism in policing and the justice system. A day before the event, the group posted a message online that said, "emancipation isn't real until the systems that oppress us are abolished."
Throughout August 2020, migrant workers and their allies demonstrated in multiple cities to call on the national and provincial governments to provide stronger protection for workers during the pandemic. On 23rd August 2020 in Toronto, for example, people protested for migrant workers' rights outside an immigration office. "If we want a really equal society, everyone should have the same status and opportunities, regardless of whether they were born here," said Syed Hussan, the executive director of the Migrant Workers Alliance for Change. The protests highlighted farm labourers and undocumented workers who have been working while COVID-19 spread through several farms in Ontario. Similar protests in other cities have also called on the government to reunite families separated due to recent changes to immigration policies.
On 17th August 2020, health-care workers in Kingston staged a protest outside a hospital to voice their opposition to legislation that they say infringes on their labour rights. The province's largest medical worker unions mobilised against Bill 195, the Reopening Ontario Act, a law that allows Premier Doug Ford to bypass the legislature to extend emergency measures every 30 days for another two years. Under the Act, according to the unions, healthcare employees can have their shifts changed from days to nights with little notice, be reassigned to another job, re-located to another community, laid off without notice and have their parental leaves cancelled. Over 6,000 Ontario healthcare workers contracted COVID-19 at work and at least 14 have died since the virus' outbreak started in the spring of 2020.
Condemning repression in Hong Kong, harsh treatment of Chinese Uighurs and clashes with neighbouring India, on 1st August 2020 communities in multiple cities united to protest against the Chinese government. The demonstrations were organised by groups like Canada-Hong Kong Link and Bangladesh Minority Rights Alliance. In Toronto, many people waved Tibetan and Indian flags and held signs criticising the Chinese government for what they view as expansionist and oppressive actions. Similar protests have been staged throughout the summer, including one where protesters demanded the release of two Canadians who have been charged with espionage and detained in China since late 2018. "We hope to invite other communities and civil society organisations to come together for a unified voice," said Gloria Fung, president of Canada-Hong Kong Link.
On 29th July 2020, relatives of victims of a Nova Scotia mass shooting marched through the streets of Halifax to thank supporters for helping them persuade lawmakers to conduct a full public inquiry into the incident. During the shooting that took place in April 2020, 22 people were killed. The families had originally planned the march to protest a decision by province leaders to conduct a less rigorous review, which they said would lack transparency and accountability. Several academics, politicians, women's groups, senators and family members spoke out against the decision, leading the government to bow to public pressure and announce a full public inquiry a day before the protest.
On 12th July 2020, several student organisations held a demonstration outside the Vancouver Art Gallery as part of the global "Day of Rage" against Israel's annexation of the West Bank. Organised by groups including Solidarity for Palestinian Human Rights at the University of British Columbia (UBC), Independent Jewish Voices UBC and the Arab Students Association, the event featured speakers highlighting the connections between the domestic oppression of First Nations and the Canadian government's support for anti-Palestinian policies.
On 1st July 2020, Indigenous activists and their supporters held events in multiple cities as part of "Cancel Canada Day" protests. Organised by Idle No More, the events were part of a movement to demand an end to the violence against Indigenous communities and to recognise those who have been killed by police and other government agents. In Vancouver, speakers shared personal stories about being discriminated against and the inequalities that many different communities experience on a daily basis. In Hamilton, a vigil was held to acknowledge missing and murdered Indigenous women and girls. "You can't deny that there is systemic racism and systemic discrimination in all systems, whether it be the health care system, the justice system, the educational system. But in order to deal with it you have to acknowledge that it exists," said National Chief of the Assembly of First Nations Perry Bellegarde.
Expression
RSF condemns the arrest of Canadian Indigenous journalist @KarlDockstader — charged for covering a #LandRights movement in southern Ontario — and calls on the police to drop the charges and ensure their actions do not infringe on press covering protests. https://t.co/43C6GuZwIu.

— RSF in English (@RSF_en) September 16, 2020
On 2nd September 2020, Indigenous journalist Karl Dockstader was detained and charged with mischief and failure to comply with a court order. The journalist had been covering a land dispute between members of Six Nations and a development company on land known as the Haldimand Tract in Caledonia, Ontario. In late August 2020, an Ontario court judge extended an injunction evicting Six Nation members occupying the site. Dockstader was reporting on the ground for radio programme One Dish, One Mic on CKTB 610 AM. "I thought I had covered all my bases and that my being there in my capacity as a journalist would have protected me," he said. "So long as I was not assisting the land defenders and was there in my capacity as a journalist, I thought I was protected." The Canadian Association of Journalists (CAJ) and Canadian Journalists for Free Expression (CJFE) condemned the incident, demanding that charges against the reporter be dropped. In a statement, CAJ president Brent Jolly said:
"The Ontario Provincial Police are well aware that journalists have an established constitutional right to be present and cover matters of public interest. Attempting to prevent a journalist from documenting a moment of contentious action is impermissible in a country like Canada. Journalism can never be silenced."
The CAJ condemns attacks against journalists @karianeb, @hassinhadi & @poirieryvesTVA, who were covering anti-mask protests in Quebec City & Montreal last week.

We call on police to sanction all behaviour that put journalists' health & safety at risk: https://t.co/fqfqmjpbYX pic.twitter.com/K2gxYe8h1J

— Canadian Association of Journalists (@caj) July 29, 2020
Multiple journalists reported being assaulted and threatened while covering anti-mask events. On 26th July 2020, TVA journalist Kariane Bourassa was assaulted by two people who allegedly embraced her against her will while she was reporting on the protest in Quebec City. Neither protester was wearing a mask and both ignored physical distancing rules when they interrupted her broadcast. At the same event, Radio-Canada's Hadi Hassin said he was insulted by several people. The day before, a beer can was thrown at TVA's Yves Poirier who was covering an anti-mask protest in Montreal. Groupe TVA released a statement denouncing the attacks against their staff, and advocated against any infringement on press freedom. The Fédération Professionnelle des Journalistes du Québec also spoke out, condemning these incidents and saying journalists should never be intimidated for doing their job.
Developments in legal cases
On 27th July 2020, the Supreme Court of Canada said they would hear the appeal of a comedian whose case touches on the limits of artistic expression and the role of the country's human rights tribunals. Comedian Mike Ward sought the appeal after Quebec's highest court upheld a human rights tribunal's ruling requiring him to pay damages to a young singer with a congenital disorder whom Ward had mocked years before. In its 2-1 decision, the lower court stated "comedians must nevertheless realise that artistic freedom isn't absolute and they are, like all citizens, responsible for the consequences of their actions when they exceed certain limits." The comedian's lawyers have defended his style of humour, arguing that his words fall under Canada's freedom of expression rights.
Civil liberties advocates warned that a case about copyright infringement could open the door to freedom of expression violations in the country. In July 2020, Canada's Federal Court of Appeal took up a December 2019 ruling by the Federal Court of Canada that ordered the blocking of websites allegedly using other companies' copyrighted materials. "Site blocking orders could be used to shut down journalists, artists, scientists or politicians," said B.C. Civil Liberties Association's Megan Tweedie. "If we are going to have site blocking orders, we need strict limits on how they are used." The case involved telecommunication giants Bell Media Inc., Groupe TVA Inc. and Rogers Media Inc. against anonymous operators of goldtv.ca, goldtv.biz or GoldTV Services. On 10th September 2020, the Federal Court of Appeal handed an interim victory to the independent internet providers.