Protestors dispersed and detained, attacks against LGBTIQ+ community escalate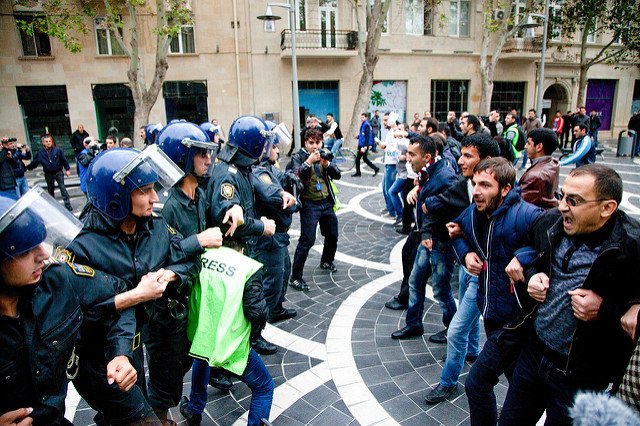 Peaceful Assembly
Veterans protest in front of the Parliamentary building
On 13th July 2022, soldiers of the second Karabakh war gathered in front of the Milli Majlis to protest a recent spate of suicides by veterans and the treatment of veterans by state departments. On 2nd June, the veterans had also gathered in front of the Ministry of Labour and Social Protection.
According to reports, at least 50 cases of attempted suicide by soldiers who had fought in the 2020 Nagorno Karabakh war had been reported by mid July 2022, with 36 of those cases being fatal.
The last incident of suicide before the 13th July protest was that of Elvin Jafarov who set himself on fire on 10th July 2022 in front of a government building in the Sabirabad district after his veteran's pension was suspended, leaving him without medical cover he needed for the removal of pieces of shrapnel that were still in his body. Jafarov also said that he could not find a job, and that efforts to meet the head of the local government had proved futile.
More than 40 people detained after protest is dispersed
On 17th July 2022, Caucasian Knot announced that the Azerbaijani authorities refused to authorise a protest by Tofig Yagublu, a member of the National Council of Democratic Forces (NCDF) coordination centre and the "Musavat" Party. The demonstration was planned to protest against the continued closure of land borders, a measure which had yet to be lifted since the pandemic. The protest organisers argued that this measure was affecting the poorest groups in the country since air tickets are significantly more costly.
Despite the denial of authorisation by authorities, the protest proceeded on 20th July 2022. Police officers dispersed the crowd, detaining more than 40 protesters.
Association
Members of the Muslim Unity Movement of Azerbaijan go on hunger strike
On 3rd June 2022, Sheikh Taleh Baghirzade, chair of Azerbaijan's Muslim Unity Movement, who is serving a 20 year sentence, went on a hunger strike to protest against the alleged arrest and torture of members of his organisation by authorities.
Baghirzade was arrested and subsequently prosecuted and sentenced in 2015 after he was accused of attempting to overthrow the government during the violent police raids of Baku's Nardaran neighbourhood which saw at least seven people, including two police officers, lose their lives. Other members of the organisation were prosecuted and sentenced for obstruction and drug related charges.
Threats and attacks against LGBTIQ+ community continue
In early July 2022, Roman Mammadov, an Azerbaijani man, posted a video onTikTok where he threatened to behead queer community members with an axe. In the video, he announces that he would hit anyone who seemed to him to be queer.
Activists for the rights of sexual minorities in Azerbaijan accused authorities of indifference and failing to undertake concrete actions to investigate the threats and pressures to which members of the queer community are subjected. Just a few months previously, LGBTIQ+ member and journalist Avaz Hafizli was brutally murdered, wrapped inside a rug and hauled to a morgue in the capital city in a garbage truck.
In late July 2022,Amrulla Gulaliyev, Hafizli's cousin, was found guilty of the brutal murder and sentenced to nine years and six months. Notably, although murder charges in Azerbaijan carry a sentence of 10 years, the courts have discretion to double the punishment in cases where significant brutality was used. In this regard, LGBTIQ+ activists expressed discontent with the sentence for a man who brutally murdered the openly gay journalist through beheading and severing his genitals. The activists called on the court to review the sentence.