Protesters gather in support of President Hashim Thaci, who is accused of war crimes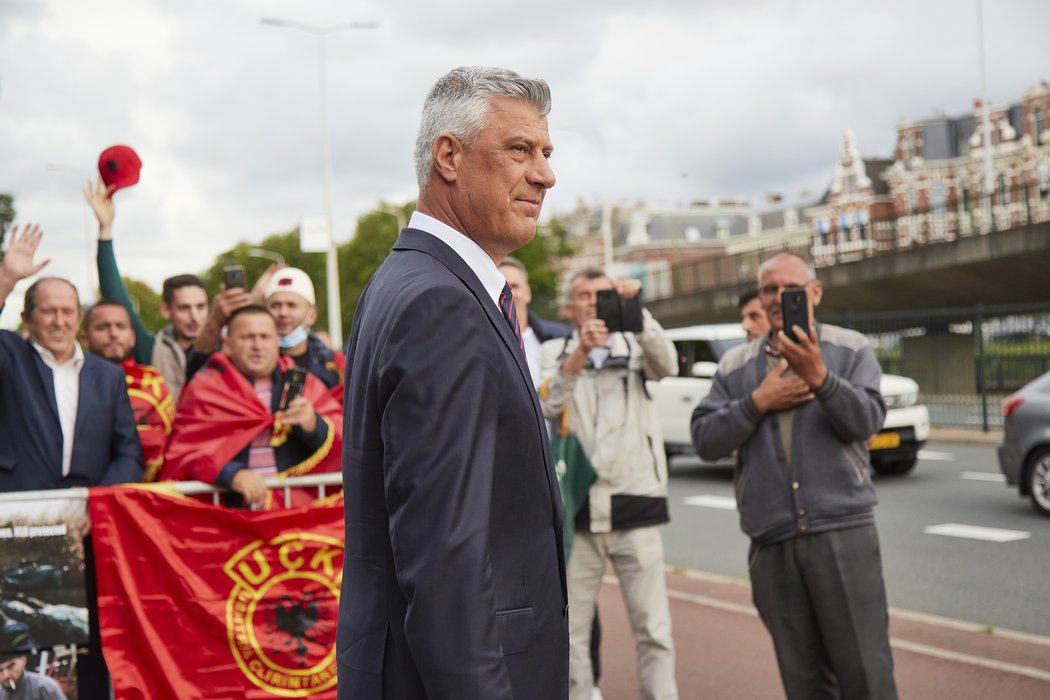 Peaceful Assembly
Despite the COVID-19 outbreak, during this reporting period the following protests were held in Kosovo:
A gathering was organised by opposition party "Vetëvendosje!" commemorating the 21st anniversary of the liberation of Kosovo and the 15th anniversary of the founding of "Vetëvendosje!". The party is also calling for new elections;

The Federation of Driving Schools of Kosovo protested over the Ministry of Infrastructure's decision to postpone the holding of driving exams during the COVID-19 pandemic;

Veterans of the Kosovo Liberation Army protested against the Special Court, which was founded in 2015 to investigate and prosecute alleged war crimes instigated by members of the Kosovo Liberation Army (KLA). The protest was held in Pristina and other cities in Kosovo. Protests were organised after the court released indictments against President Hashim Thaçi and the chairman of PDK (Democratic Party of Kosovo), Kadri Veseli for war crimes. Protesters believe that these accusations are biased and politically motivated.
#Kosovo war veterans protest against #WarCrimes charges on President @HashimThaciRKS https://t.co/O4q7YIZx9b#balkans #TheHague #Serbia pic.twitter.com/V1dcmLFHP7

— DTT-NET English (@dtt_net_english) July 9, 2020
Infermierët protestuan para ndërtesës së Qeverisë së Kosovës, duke kërkuar që ndërrimi i natës t'iu paguhet më shumë. #Protest #Nurses #Kosovo #COVID19 pic.twitter.com/MKCo8IMKcy

— Radio Evropa e Lirë (@evropaelire) August 3, 2020
Expression
The following cases of attacks on journalists were recorded during the reporting period:
The Association of Journalists of Kosovo (AJK) expressed concern regarding the reported attempt to burn the car of journalist Shkumbin Kajtazi. Representatives from the AJK called on the police to take the necessary action to find the perpetrator.
"Such threats to the Association of Journalists of Kosovo are completely unacceptable, which severely violates freedom of expression and endangers the climate of journalism in Kosovo."
The AJK strongly condemned the language used by the senior official of the Democratic Party of Kosovo (PDK), Gani Koci, towards journalist Jeta Xharra. In a Facebook post, Koci wrote: "The time has come, not to disinfect them but to close with concrete the Serbian septic tanks, still left in Kosovo. Many are stinking!". This type of expression towards journalists is an attack on freedom of expression, the AJK stated. The association further called on all political officials to stop the verbal attacks on journalists, as their work is vital for the democratic development of society in Kosovo.

The AJK has condemned the banning of the Radio Television of Kosovo team in Zubin Potok by a group of people who were wearing a uniform that said "security" in Serbian. Despite having prior permission to shoot in the area, cameraman Mumin Jashari and two other members, Zymer Leci and Arben Jashari, were asked to delete footage and were escorted to the police station where they were detained for a few hours before release by Kosovo police. AJK stated:
"Such actions against journalists and media professionals on duty, put pressure on them. Detention and other forms of intimidation have recently increased and this threatens the safety of journalists, their independent reporting and the general freedom of the media in Kosovo."