Protest movement pushes Sri Lankan president to resign despite harassment, arrests and attacks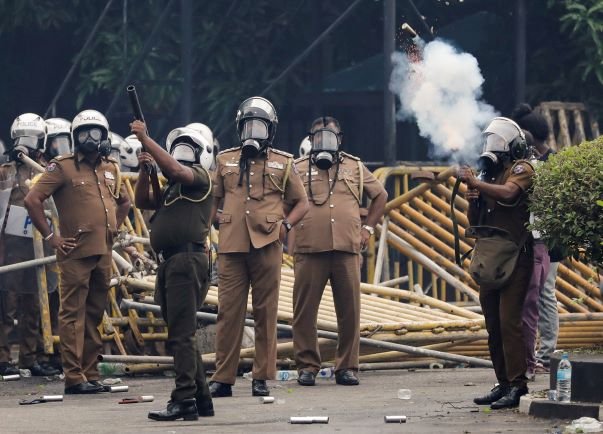 In June 2022, Sri Lanka was added by the CIVICUS Monitor to a watchlist of countries that have seen a rapid decline in civic freedoms. Since March 2022, amid its worst economic crisis in decades, anti-government protests have been held around the country demanding that President Gotabaya Rajapaksa resign.
The authorities responded to the protests with water cannon, tear gas and rubber bullets. Hundreds have been arbitrarily arrested and there have also been incidents of torture or ill-treatment in detention, including denial of access to medical care and lawyers. Journalists have also been targeted and some are facing charges. The authorities also used state of emergency regulations to curtail protests and shut down social media networks.
The violations against protesters are part of a broader trend of attacks on civic space under the Rajapaksa administration that civil society has documented in recent years including the targeting of activists and critics, use of the notorious Prevention of Terrorism Act (PTA), harassment of Tamil war victims' families and civil society organisations and failure to hold officials accountable for conflict-era crimes under international law.
Over the last month, the security forces continued to harass and restrict activists, with arrests of peaceful protesters and use of excessive force, tear gas and water cannon to disperse protests. Journalists have also been targeted for their reporting on the crisis and protests.
Peaceful assembly
Judicial harassment, restrictions and arrests of protesters and activists
Fr. Amila Jeewantha Pieris, an activist priest involved in #GotaGoGama protest site in #Colombo has been informed by the CID on Sunday (22), to surrender his passport to Fort Magistrate Court after he & 6 others offered to give evidence about recent violent attack on protesters. pic.twitter.com/EXnh6S8JJ6

— JDS (@JDSLanka) May 23, 2022
On 27th May 2022, it was reported that Catholic priest Father Amila Jeewantha Peiris, who is an active member of "GotaGoGama" protest movement, and six others who supported the peaceful protest, were banned from travelling abroad, as the Criminal Investigation Department (CID) sought and obtained a court order to ban foreign travel for these individuals. Known in Colombo for his commitment to human rights, Father Peiris had joined protesters who set up the "GotaGoGama" village, a protest camp. He had filed a complaint in connection with violence by pro-government supporters on 9th May at the protest camp.
#SriLanka Protest in support of HR lawyer Senaka Perera, who has been asked to report to CID for his involvement in #GoHomeGota campaign pic.twitter.com/oKUKozlgA0

— sunanda deshapriya (@sunandadesh) June 6, 2022
On 6th June 2022, activist and lawyer Senaka Perera, who is the head of the People's Lawyers Association and an active member of the "GotaGoGama" protest site at Galle Face, was summoned to appear before the CID. The police did not communicate the reasons for the summons. 
Sri Lanka police arrests 21 anti-govt protestors as IMF talks begin: ECONOMYNEXT – Sri Lanka police has arrested 21 protestors at the 'GotaGoGama' agitation site in Colombo for obstructing the gates of the Presidential… https://t.co/AvOWREU4Qp #FinancialChronicle #Srilanka #LK pic.twitter.com/hPbzgcQXrd

— Financial Chronicle (@ChronicleLK) June 20, 2022
On 20th June 2022, the police arrested 21 protesters at the 'GotaGoGama' agitation site in Colombo for obstructing the gates of the Presidential Secretariat and the Treasury building, ahead of a meeting with International Monetary Fund (IMF) officials. Out of the 21 people arrested for an 'unlawful assembly', four were women and 16 males, including a Buddhist monk.
Footage shared on social media showed some suspects being carted off to a police bus. One of them was ordered to be taken to the bus for recording. It is not clear what provisions of the law were used for these arrests.
At least 7 prominent youth activists - Lahiru Weerasekara, Jagath Manuwarna, Jehan Appuhamy, Rathkerewwe Jinarathana Thero, Dhammika Munasinghe, Eranga Gunasekara & Rathindu Senaratne - were detained by police when they reported to the #Maradana police station on Wednesday (22). pic.twitter.com/iY09qYY0C6

— JDS (@JDSLanka) June 22, 2022
Seven prominent youth activists including a Buddhist monk were detained by police on 22nd June 2022, when they reported to a police station. The activists were arrested for allegedly damaging public property during a protest on 9th June in front of the police headquarters. Among those remanded were Ven. Rathkarawe Jinarathana Thera, actor Jehan Appuhamy, social media activists Rathidu Senaratne, Dhammika Munasinghe and Lahiru Weerasekera, Catholic actor Jagath Manuwarna and Eranga Gunasekera. They were remanded until 1st July 2022.
On 29th June 2022, police arrested four protesters at Chatham Street in Colombo, including President of the United National Self-Employed Businessmen's Association, Pradeep Charles. Police had closed Chatham Street using barricades due to the protest organised by the association. 
Hirunika Premachandra and 11 others arrested during a protest in front of the President's House released on police bail#SriLankaCrisis #ProtestLK #PoliticalCrisisLK #EconomicCrisisLK #SriLanka #LKA #SL pic.twitter.com/O3SMcULNQH

— Rizwan Segu Mohideen (@RizwanStWEET) July 6, 2022
Former MP Hirunika Premachandra and 11 others were arrested on 6th July 2022 by police while protesting in front of the President's house in Colombo Fort. They were later released on police bail.
On 8th July 2022, police imposed a curfew in Sri Lanka's capital and surrounding areas, a day before a large protest. Hours before the curfew announcement, police fired tear gas and water cannon to disperse thousands of protesting students wearing black clothes, holding black flags, shouting anti-government slogans and carrying banners saying "Enough — now go."
The curfew announcement drew criticism from government opponents and the Bar Association of Sri Lanka, which said the "curfew is blatantly illegal and a violation of the fundamental rights."
On the same day, the spokesperson for the UN High Commissioner for Human Rights, Ravina Shamdasani, urged Sri Lankan authorities to show restraint in the policing of assemblies and ensure every necessary effort to prevent violence. She noted that "police have used tear gas and water cannon at times in an unnecessary and disproportionate manner. On occasions, armed forces have also fired live ammunition".
About 100,000 protesters gathered outside the president's official residence on 9th July 2022, demanding Rajapaksa's resignation. Video broadcast on television and on social media showed protesters entering the President's House — Rajapaksa's office and residence in the commercial capital of Colombo — after breaking through security cordons placed by police. 
The security forces brutally attack the protesters. Women are also brutally attacked. #Lka pic.twitter.com/AicHqagFUz

— Manjula Basnayake (@BasnayakeM) July 9, 2022
A video circulating online (above) showed security forces brutally assaulting protesters outside the president's official residence. Another video (below) showed security forces shooting at a large crowd of protesters. The video showed the bullets from their guns puncture the wall that stood between them and the protesters.
Following the protests, President Rajapaksa said he would resign on 13th July 2022 to "ensure a peaceful transition of power" while the newly appointed Prime Minister Ranil Wickremesinghe also said he was willing to resign and make way for an all-party government to take over.  It has been reported that President Gotabaya Rajapaksa has since fled the country on a military jet, to the capital of the Maldives, Male.
Expression
Journalists targeted for their reporting on crisis and protests
Dharshana Handungoda, a journalist as well as a social activist, has been summoned to appear before the CID at 10 am tomorrow. #Lka pic.twitter.com/jALSv5UmSB

— Manjula Basnayake (@BasnayakeM) May 24, 2022
Sri Lankan journalist and political vlogger Dharshana Handungoda was summoned for questioning by the Criminal Investigation Department (CID) on 25th May 2022. Working as a freelance journalist for several years, Handungoda has held discussions on the country's political issues and has also reported several financial malpractices through YouTube. The CID has reportedly summoned the journalist to inquire about a video that had been shared on YouTube during one of his discussions on the current economic and political crises in Sri Lanka.
#SriLanka🇱🇰: Journalist and media activist Tharindu Uduwaragedara was summoned to appear before the Sri Lanka Computer Crimes Division of the Criminal Investigation Department (CID) in Colombo on June 28. @IFJGlobal https://t.co/kvQZCOIXYi

— IFJ Asia-Pacific (@ifjasiapacific) July 6, 2022
Front Line Defenders reported that on 22nd June 2022, Sri Lankan journalist, media rights campaigner and human rights defender Tharindu Uduwaragedara was served a notice requiring him to appear at the Criminal Investigation Department (CID) in Colombo for inquiry on 28th June 2022. Tharindu Uduwaragedara was not given clear reasons for the inquiry except that it relates to the content of his YouTube channel, and that a complaint had been made against him by the Intelligence Division of the Sri Lanka Air Force (SLAF).
On the same day, Uduwaragedara filed a complaint with the Human Rights Commission of Sri Lanka (HRCSL) on the basis that the complaint filed against him was an attempt to silence him for his work as a professional journalist.
According to Front Line Defenders, Tharindu Uduwaragedara is a well-known independent journalist and media rights campaigner who has been reporting on the ongoing citizen protests across the country against government corruption, mismanagement and the lack of basic resources including medicines, food and fuel. He is the former president and active member of the Sri Lanka Young Journalists' Association (SLYJA) and an Executive Committee member of the Sri Lanka Working Journalists' Association (SLWJA).
Journalists attacked during protest coverage
At least eight media workers were beaten and violently assaulted by security forces and police personnel during live coverage of an anti-government protest outside Prime Minister Ranil Wickremesinghe's residence in Colombo on 9th July 2022.
The International Federation of Journalists (IFJ) reported that a team of television journalists and crew from Sri Lankan news broadcaster Newsfirst, including Sarasi Pieris, Judin Sinthujan, camera operator Warun Sampath and Janitha Mendis of Newsfirst Digital, were attacked while broadcasting live during coverage of the anti-government protest at the Prime Minister's residence at 7:20 pm.
According to Newsfirst, Mendis had informed the security forces of the live coverage on the outlet's 'prime time news bulletin' before the broadcast. While live on air, officers assaulted the journalists, with footage showing Commanding Officer of the Police Special Task Force SSP, Romesh Liyanage, giving a signal to troops before the attack.
A team of journalists from Newsfirst, including Kalimuttu Chandran, Imesh Sutherland, Chanuka Weerakoon and Banidu Lokuruge, attempted to rescue their colleagues but were also attacked, with security forces firing tear gas.
Several of the media workers suffered serious injuries and were taken to Colombo National Hospital for treatment.