Protest against police negligence in rape and murder case banned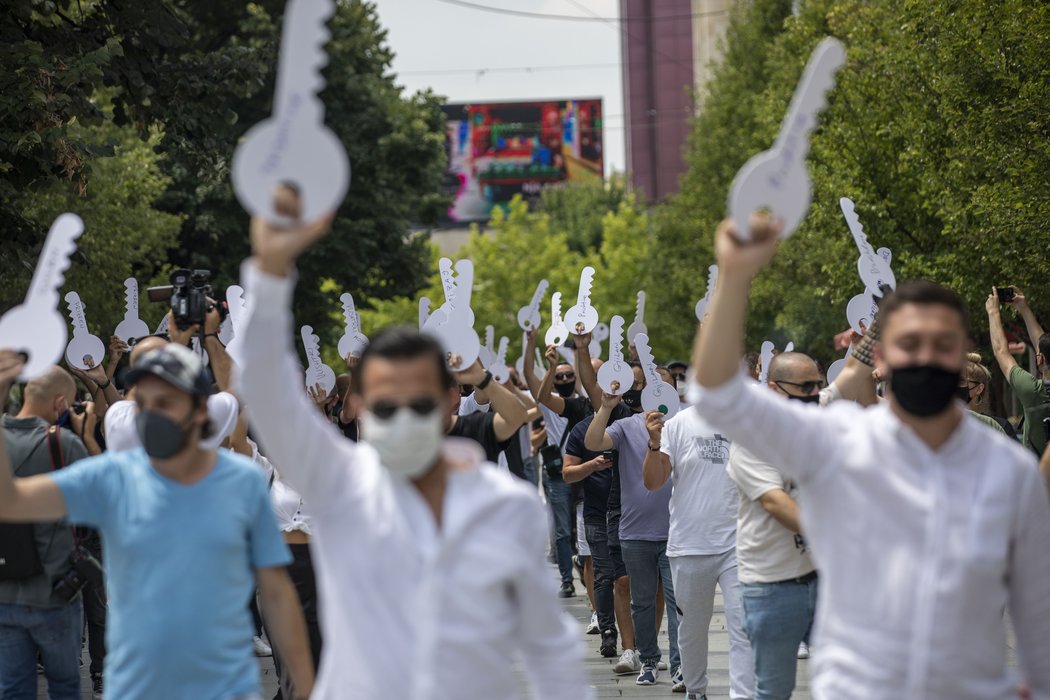 Peaceful Assembly
Between 6th August 2020 and 30th September 2020, the following protests were held in Kosovo:
A protest was denied by the Kosovo Police, which was dueto take place in front of the building of the State Prosecutor over the rape and murder of Kujtim Veseli, a 11-year -old Roma boy, who is a citizen of Kosovo. Even though the protest was announced in advance and complied with COVID-19 restrictions which limits gatherings to 20 people only, the Kosovo Police did not approve the peaceful protest. According to civil society activists and the family's lawyer, the coronavirus situation does not constitute grounds for denial since all safety measures were taken into account, and the Kosovo Police were aware of this. Kujtim Veseli's murder has sparked protests against police negligence and institutional racism. Prior to Veseli being murdered, police had interviewed the perpetrator of the crime, Ruhan Salihu, who had admitted to sexually abusing the boy. However, they failed to prosecute the case. Shortly afterwards, Veseli was found dead on 11th July 2019 in Fushë Kosova.

Following the ban, civil society activists demanded justice in the case of Veseli's rape and murder through an online petition and also launched legal action against the police for the ban on protests. Civil society activist Gazmend Qyqalla said:
"We consider this decision unfair, illegal and discriminatory, therefore we filed a lawsuit against the Police on August 28 in the Basic Court in Pristina. The reasoning of the Police that the security conditions related to the pandemic have not been met are unfounded as we aimed to maintain a distance of two metres, and provided masks for protesters." (translated from Albanian).
October 6, 2020
Fermerët hedhin mijëra litra qumësht në rrugët e Prishtinës#Kosovo #farmers #milkproducers #protest https://t.co/lWRc6EOqtQ pic.twitter.com/1ylQICpeIi

— Radio Evropa e Lirë (@evropaelire) September 29, 2020
Expression
The following incidents were documented against journalists:
On 7th September 2020, Ramush Haradinaj, the leader of Alliance for the Future of Kosovo (AAK) and former Prime Minister of the country, attacked journalists during a TV debate on "Debat Plus", a political show aired on RTV Dukagjini. He called Kosovar journalists who reported from the U.S. a pack of "hounds" and compared journalists from Washington who reported on the Kosovo-Serbia agreement to "mercenaries" that would "sell you out for a bone". The Association for Journalists Kosovo said that such comments are unacceptable:
"It is concerning for AJK that journalists are still victims of such lynching. Labels like these by the former Prime Minister of the country... are completely unacceptable and seriously violate freedom of expression."
On 8th September 2020 Ermal Panduri, a journalist and managing director of RTV Dukagjini in Kosovo, received death threats on social media, including threats against his wife. The threats come after Panduri posted a video on Facebook which showed President Hashim Thaci discussing a controversial land swap between Kosovo and neighbouring Serbia. AJK said that such threats "endanger the climate of journalism" in the country.