Prominent union leader convicted, as activists and journalists continue to be silenced in Cambodia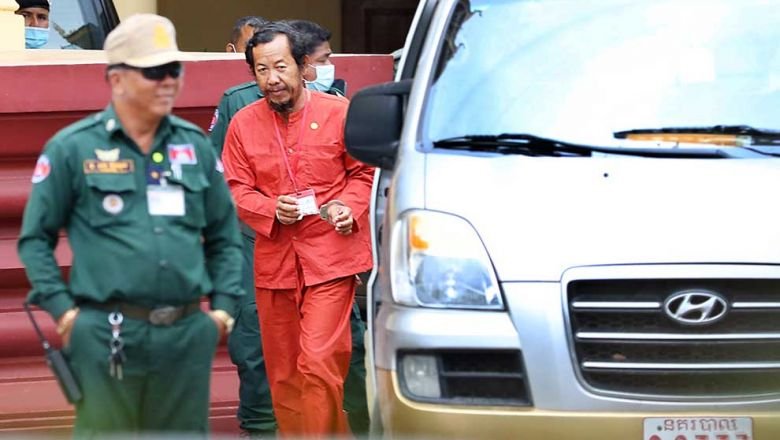 The repression of human rights defenders and activists continued to worsen in Cambodia. According to media reports an estimated 80 individuals including political, social and environmental activists, members of youth groups and monks, have been arrested by the ruling Cambodian People's Party (CPP) from early 2020 to June 2021, accused of charges such as 'conspiracy' and 'incitement'.
On 29th July 2021, the US House Foreign Affairs Committee passed the Cambodia Democracy Act of 2021, a bipartisan legislation which would allow the US President to sanction senior officials from the government, military or security forces found to have undermined democracy or committed serious human rights violations. The 2018 and 2019 versions of the bill had passed in the House but had not been passed by the Senate.
The US has pursued sanctions against Cambodia since the dissolution of CNRP in 2017. It has faced pressure to act on Cambodia's human rights record. It previously used its Global Magnitsky Act to freeze assets of individuals accused of corruption, allegations that Cambodia's Foreign Ministry condemned as groundless.
A draft law to establish a national human rights institution (NHRI) is currently being prepared by the Cambodian Human Rights Committee (CHRC) to be sent to the Council of Ministers for approval before the National Assembly. However, in light of the ever-worsening human rights situation in Cambodia, civil society organisations are deeply concerned about its expected effectiveness and credibility. They highlighted how all the institutions previously set up to be independent have ended up being inactive or fully controlled by the government. They fear that the NHRI will suffer the same fate.
In recent months, the government has escalated its judicial harassment and attacks against human rights defenders, journalists, members of the dissolved Cambodia National Rescue Party (CNRP) and peaceful protesters. Prominent union leader Rong Chhun received the maximum sentence for incitement, while additional charges were piled on Mother Nature Cambodia activists. Amidst continuing reprisals against journalists, the government formed a new committee with the power to 'discipline' journalists. This crackdown against fundamental freedoms has continued despite concerns and condemnations by UN bodies, the international community and civil society.
Association
Union leader Rong Chhun, two other activists found guilty of incitement
🇰🇭#Cambodia: The conviction today of trade unionist Rong Chhun to 24 months in prison & activists Sar Kanika & Ton Nimol to 20 months for 'incitement' exemplifies the systematic weaponization of the courts.
We call for their immediate release: https://t.co/ZEcAt8n1xm pic.twitter.com/dRWwgHtUtS

— CIVICUS (@CIVICUSalliance) August 18, 2021
On 18th August 2021, prominent union leader Rong Chhun was found guilty of 'incitement to commit a felony' and given the maximum sentence of two years. As previously documented, he had been charged for comments suggesting that farmers living along the border with Vietnam had lost land during the demarcation of the border. Chhun had been in pre-trial detention since his arrest in July 2020.
Two other activists, Sar Kanika and Ton Nimol, who were arrested for joining peaceful demonstrations calling for Chhun's release were each sentenced to 20 months in prison on charges of incitement. All three were fined two million riel (approximately USD 490) each and were ordered to jointly pay 400 million riel (approximately USD 98,000) to the Cambodian Border Affairs Committee in compensation.
Human rights groups and members of the international community in Cambodia have condemned the conviction, stating that it raised serious concerns on freedom of speech in the country. Civil society group Cambodian Center for Human Rights (CCHR) called it part of a "broader pattern of systemic silencing of dissenting or critical voices".
UN human rights experts also sharply criticised Cambodian authorities over the conviction. Vitit Muntarbhorn, UN Special Rapporteur on the situation of human rights in Cambodia said: "The prison terms and heavy fines handed to these three activists are neither justified nor proportionate."
Mother Nature Cambodia activists face additional charges
A court in Cambodia has charged three environmental activists with plotting against the government and insulting the king. The members of the group Mother Nature were arrested after they documented waste run-off into Phnom Penh's Tonle Sap river.#DefendTheDefenders pic.twitter.com/7Vilet6VOM

— Fridays For Future Bangladesh (@FFFinBD) June 22, 2021
On 19th July 2021, Mother Nature Cambodia (MNC) environmental activists Long Kunthea, Phuon Keoraksmey, and Thun Ratha were charged with anti-government conspiracy or "plotting" (Article 453 of the Criminal Code), on top of incitement convictions they received in May 2021. The three may face an additional 10-year sentence, if convicted of the new charges.
As previously documented, Long Kunthea, Phuon Keoraksmey and Thun Ratha, who have been in pre-trial detention since September 2020, were convicted in May 2021 of incitement over attempts to organise a march to the prime minister's residence to protest the filling-in of a city lake in 2020. They were sentenced to between 18 and 20 months in prison, along with Chea Kunthin and Alejandro Gonzalez-Davidson. The latter two were sentenced in absentia. In June 2021, MNC activists Gonzalez-Davidson, Sun Ratha and Yim Leanghy were charged with both 'plotting' and 'insulting the king' for investigating pollution in the Tonle Sap river. A young activist, Ly Chandaravuth, was charged only with 'plotting'.
UN entities call for end to punitive measures against environmental activists
In a joint statement, the UN Human Rights and the UN Environment Programme raised concerns on the detention of environmental human rights defenders in Cambodia and called on the Cambodian authorities to end the use of the punitive measures which have been continuously used against human rights and environmental rights workers in Cambodia. The Southeast Asia Representative for the UN Human Rights Office urged the authorities to ensure that civil society is able to operate "without fear and intimidation" and that fundamental freedoms are respected.
In response, Cambodia's Human Rights Committee's official spokesperson Kata On dismissed the concerns raised, stating that these were the opinions of individuals who are not acting in Cambodia's best interests. The spokesperson added that the Committee would address these concerns if they were raised in official mechanisms such as the Human Rights Council meetings or the General Assembly.
Conviction of land rights activists
Two land rights activists - Phon Sophal and Sem Chamnan - were sentenced on 2nd July 2021 to one-year prison terms for conspiracy and incitement.
Phon Sophal, a community representative of the Coalition of Cambodian Farmers Community (CCFC) in the Choam Kravien, was arrested in December 2020 by police in Ream commune, Prey Nob district, Sihanoukville Province. Prior to his detention, he was actively involved in promoting community land rights through peaceful advocacy.
Sem Chamnan is a Tbong Khmum community representative. He had been involved in a land dispute since 2011 involving a Chinese company and three villages – Sre Praing, Boss Snaor and Trapaing Pring – in Dambe district. Villagers say they never agreed to sell off nearly 4,000 hectares of community land.
Land ownership and the lack of titling has been a highly controversial issue in Cambodia, as small plots of land are often the only assets held by a majority of rural families. The government has exacerbated the issue of the widespread practice of land grabs in which authorities seize land from people for development projects or foreign invested enterprises without paying them fair compensation for lost crops, property and livelihoods.
Judicial harassment and intimidation of opposition CNRP members and families
Members of the banned opposition Cambodia National Rescue Party (CNRP) and their families continued to face judicial harassment, intimidation and physical attacks.
On 24th June, 2021, 20 Phnom Penh police officers arrested Kak Sovannchhay, the 16-year-old son of a jailed former CNRP member. Kak Sovannchhay, with autism spectrum disorder, was charged with inciting and insulting public officials in connection with his online activities. He could face up to two years in prison if convicted and was later transferred to Prey Sar Prison. His mother, Prum Chantha, believes the government is attempting to silence her for protesting over her husband's imprisonment. Prum Chantha has joined the "Friday Wives", a group of women who hold weekly protests to call for the release of their husbands. Kak Sovannchhay was previously attacked by unknown individuals on a motorbike.
UN human rights experts called on the government to release the boy on 2nd September 2021, who has been held in pre-trial detention for more than two months without access to his family.
On 2nd July 2021, a court in Cambodia's Tbong Khmum province sentenced 14 individuals including members of CNRP to one-year prison terms over charges of 'conspiracy' and 'incitement'. Eight of the convicted were held in the Tbong Khmum provincial prison, while six defendants were convicted in absentia after having fled the country to avoid arrest. Among the eight held in the prison were six CNRP members, who were arrested in November and December 2020, prior to the planned return to Cambodia of the exiled former vice-president of the CNRP, Mu Sochua and other CNRP members. Civil society has decried the convictions as politically motivated.
On 23rd July 2021, former CNRP commune council member Kem Tola was arrested without a warrant and detained on her return to Cambodia. Kem Tola escaped to Thailand in 2019 after being summoned over online statements supporting the return of exiled opposition leader Sam Rainsy. She was tried in absentia in April 2021 and sentenced to a year's imprisonment for "incitement" over the comments. She decided to return after Hun Sen promised amnesty towards CNRP activists living in exile. Her sister alleged that local authorities had urged Kem Tola to defect to the CPP, but she refused.
On 29th July 2021, teacher and former councillor of CNRP, Pen Chansangkream was convicted of "incitement to commit a felony" and sentenced to 18 months in prison and ordered to pay three million-riel (approximately USD 728) for his participation in weekly protests calling for the release of other detained CNRP members. He was detained in December 2020, and charged with incitement. He was placed in pre-trial detention and remained there for seven months prior to his sentencing.
More than 30 former CNRP activists and relatives have reportedly faced physical attacks from anonymous attackers, as of July 2021. No arrests or prosecutions have been made in relation to these attacks, while former opposition activists claimed they now live in fear. One CNRP activist, who was assaulted twice, called these attacks part of a "campaign of systematic political persecution."
Peaceful assembly
Activists convicted over peaceful protest outside Chinese embassy
A woman is carried by police officers after security guards broke up a small protest near the Chinese embassy opposing alleged plans to boost Beijing's military presence in the country, in Phnom Penh, Cambodia
REUTERS/Heng Mengheang pic.twitter.com/SmtVd0nJmC

— Pixiedust (@PixiedustJtT) October 24, 2020
On 2nd August 2021, nine activists, including members of the CNRP, were convicted of incitement and sentenced to prison terms ranging from 12 to 20 months, for a peaceful protest held in October 2020. The group held the protest on 23rd October 2020, the 29th anniversary of the Paris Peace Agreements, outside the Chinese embassy to urge the Cambodian government to respect the agreement and oppose alleged plans to increase China's military presence in the country. The protesters tried to submit petitions to the Chinese, French and American embassies, signatories of the peace accords, claiming that the Cambodian government had violated the tenets of the agreement.
CNRP politician Ho Vann and youth leader San Seihak were given 20-month sentences in absentia, while activists Hong An, Lim San, Yoy Sreymom and Ton Nimol were sentenced to 18 months and Pai Ren, Sann Srey Neat and Sat Pha to 12 months. The activists were all fined two million riel (approximately USD 500).
Farming community representatives fined over protests
Two Svay Rieng land dispute representatives have been charged again for violating Covid-19 law; separately, Mondulkiri province indigenous families file a land clearance complaint against a Takhmao city resident. https://t.co/hlrNX5Onii

— VOD English (@VOD_English) August 30, 2021
On 4th August 2021, two representatives of a community in Svay Rieng Province, which had been protesting over their farmlands, were fined USD 500 each for allegedly violating health measures related to COVID-19. In Soth and Yos Sophorn said authorities summoned them and accused them of "incitement" and holding illegal gatherings without respecting COVID-19 health protocols. They were told to pay the fine or face legal charges.
On 30th August, it was reported that the two have now been charged for obstructing the enforcement of health measures and face up to three years in jail. They were summoned by provincial police and detained overnight. They were then sent to the provincial court for questioning.
LICADHO spokesperson Am Sam Ath said they had since been charged under Articles 10 and 11 of the COVID-19 Law. Infringement of administrative measures can be fined up to five million riel (USD 1,250), and obstruction of enforcement up to 10 million riel (USD 2,500), and punished by up to three years in jail.
Around 120 families have been protesting against provincial authorities who they claim are forcing them to accept lower compensation for their farmland. The dispute concerns the planned expansion of the Kampong Chrey canal project, which could affect two communes in the Svay Chrum district. Sophorn accused the government of using COVID-19 to threaten them instead of addressing the farmers' issues.
Expression
Committee to monitor journalists raises concerns on freedom of expression
Journalists and rights groups have expressed concerns about the government's establishment of a "Monitoring Committee for Journalism Ethics Practice" which will be tasked with reviewing complaints against journalists and media outlets, and resolving issues over journalistic standards. It will also be allowed to summon any journalist or news organisation and draft recommendations to journalists and media. Government officials make up the majority of the 15-member ethics committee.
Reporters without Borders (RSF) stated that, in practice, the committee will be able to "summon and sanction" journalists who may displease the government with their reporting. Local journalists have raised fears that the new panel will become an additional burden for independent journalists and will further compromise the ability of journalists to operate.
As previously documented, Cambodia ranked 144th out of 180 countries in the 2021 World Press Freedom index for draconian laws and criminalisation of dissent.
Journalists face reprisals for reporting and commentary
Journalists have continued to face charges, as well as threats of legal action, for their reporting and critical commentary.
The Ministry of Information allowed local authorities to take legal action against journalists allegedly spreading false information, without going through the ministry. In July 2021, Kandal province authorities sent a letter regarding journalists who live-streamed a demonstration against a new airport development in Kandal Stung district. The Kandal governor complained that the journalists had been spreading false information and obstructing the efforts of authorities in resolving the dispute. In its response, the Ministry of Information noted that in cases where journalists violate the law or commit incitement, authorities can proceed with legal action. The governor has clarified that it had not yet filed a complaint with the authorities but warned the journalists that they would face consequences for continuing to work in a way that causes issues for authorities
In July 2021, Kao Piseth, a correspondent for the publication Siem Reap Tannhektar (Breaking News), was detained on charges of "incitement' and hindering the implementation of measures by the Ministry of Health" for publicly denouncing the government's use of Chinese-made vaccines. In his social media account, Piseth had allegedly questioned the efficacy of these vaccines, criticised the government and accused it of using these vaccines as a "political trick". The police accused him of inciting people not to use Chinese vaccines. His arrest brings the total number of journalists arrested in 2021 for reporting on the government's handling of the pandemic to four. Civil society criticised the government for silencing criticism and urged authorities to ensure they investigate allegations prior to arresting journalists.
On 13th August 2021, two journalists from CamboJA and Voice of America Khmer were harassed by Phnom Penh police while covering a dispute between authorities and families living along Boeng Tompun lake. On that day, the homes of 11 families were being cleared by bulldozers, following an earlier order that their homes be removed to pave way for a new development. Freelance journalist for CamboJa an Vichet said that police took his phone and press card and ordered him to delete all the photos he had taken. Lors Liblib of VOA Khmer, who was also covering the incident, shared that police confiscated his phone, deleted his photos and ordered him to be arrested. He was then ordered to leave or face legal action.
Civil society groups denounce use of digital surveillance
Human rights groups have condemned the use of digital surveillance to target human rights defenders and to criminalise online speech. In June 2021, a video clip allegedly taken from a Zoom meeting of Mother Nature Cambodia activists and posted on social media was used as supposed evidence of the group's plans to topple the government. In the same month, the son of a former CNRP official was charged with "incitement" and insulting officials while chatting over messaging app Telegram.
For civil society actors who often hold online meetings or use online apps to communicate, this has raised fears that they will be targeted with similar tactics and accused of being political. The government had previously used private communications to target opposition and critics.
Cambodian Center for Human Rights (CCHR) executive director Chak Sopheap stated that in recent years the government had expanded its arsenal of laws, allowing it to conduct overbearing surveillance without oversight. Sopheap urged the government to respect human rights in both online and offline spaces.
In February 2021, Prime Minister Hun Sen signed a sub-decree calling for the creation of a single national internet gateway to control the flow of Cambodia's online traffic. According to the sub-decree, the gateway will require internet service providers to provide a monthly, quarterly and yearly report to the government and grant it the right to monitor a company's infrastructure and equipment.