Prominent human rights defender Abdulhadi Al-Khawaja convicted on new charges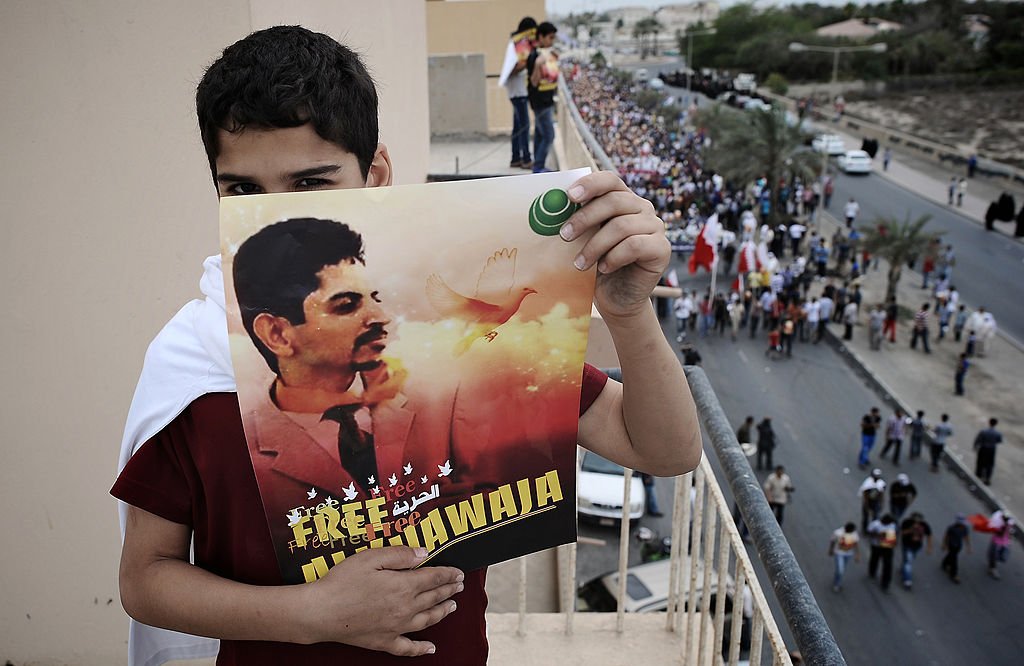 Ministry of Foreign Affairs: Abdulhadi Al Khawaja is convicted of carrying out hostile acts against #Bahrain , its citizens, and residents, and establishing and managing an unlawful organization to carry out acts of terrorism and sabotage. #البحرين #بيان_وزاره_الخارجيه

— Bahrain Beacon (@BeaconBahrain) December 19, 2022
Expression
The Gulf Centre for Human Rights (GCHR) reported that prominent human rights defender Abdulhadi Al-Khawaja was convicted after short hearings in a Bahraini court relating to his activism, including protesting against unjust treatment in Jaw Prison. GCHR expressed its concern that Al-Khawaja was taken to court in new cases at a time when there are renewed efforts to free him so he can receive medical treatment in Denmark, where he is a dual citizen.
On 16th November 2022, Al-Khawaja had a hearing in Bahrain's Second Lower Criminal Court related to new criminal charges linked to his protests about being denied the right to call his daughters abroad from Jaw Prison. The hearing was postponed to 21st November and then again until 28th November, on the grounds that Al-Khawaja needed to sign a power of attorney which he was going to do in person while attending the hearing. While in a holding area, a lieutenant attempted to pressure Al-Khawaja into recording a video. He refused and was then transferred back to his cell.
On 28th November 2022, the Second Lower Criminal Court in Bahrain upheld two separate criminal charges levelled against Al-Khawaja, who was not taken to court. In the first case, Al-Khawaja was convicted of verbally insulting a public servant, a police officer at Jau Prison and ordered to pay a fine of 100 Bahraini Dinar (USD$266). He told the prison guard that it was not charity to be allowed to make phone calls to all his daughters and said, "I have the right to call my kids". His trial on these charges began in his absence before the Second Lower Criminal Court on 3rd November 2022.
In the second case, Al-Khawaja was convicted and fined 60 Bahraini Dinar (USD$160) on the charge of breaking a plastic chair valued at 10BHD in November 2021 when Al-Khawaja was again denied his right to call his daughters in exile. Al-Khawaja was not given the opportunity to grant power of attorney to his lawyer and therefore had no official legal representation at either trial, in a flagrant violation of due process. More information on the cases is available at the freealkhawaja.org website.
On 12th November 2022, Bahrain held elections without any opposition candidates. Human rights organisations and others warned that the elections would bring no meaningful change due to the government's decision to ban opposition candidates. The government barred the two main opposition groups from fielding candidates - the Shia Al-Wefaq and secular Waad parties - which were dissolved in 2016 and 2017.
Commenting ahead of the elections, GCHR stated:
"While the news of elections might at first glance sound like a positive event, once one takes a closer look, in Bahrain it in fact is very misleading. Elections should be the time in which citizens of the country feel they have a voice and are represented, but how can they when the Bahraini government continues to imprison activists and protesters - most of whom have been subjected to torture, spent more than a decade serving time for trumped up charges, and are continuously being mistreated in prison. Human rights abuses in Bahraini prisons - from beatings, harassment, and lack of medical care among other things - never seem to stop."
In 2018, Bahrain passed so-called political and civil isolation laws, barring former opposition party members from running for parliament and sitting on the boards of civil organisations. On 31st October 2022, Human Rights Watch released an extensive report on the political isolation laws. Amongst its main findings was that the government is using its political isolation laws and a series of other tactics to keep activists and former opposition party members out of public office and other aspects of public life. It also concluded that the targeted marginalisation of opposition figures from social, political, civil and economic life in Bahrain resulted in a spectrum of other human rights abuses.
On 7th November 2022, the UN Human Rights Council's Universal Periodic Review (UPR) Working Group examined Bahrain's human rights record and made recommendations to the country. In a joint submission ahead of the UPR session, GCHR, ADHRB, the Bahrain Center for Human Rights (BCHR) and FIDH examine the Government of the Kingdom of Bahrain's (Bahrain) compliance with its UPR recommendations and international human rights obligations, and make a number of recommendations related to freedom of expression and assembly, violations against women and men human rights defenders and prisoners of conscience.