Press freedom under attack: two journalists handed down heavy prison sentences; two media outlets suspended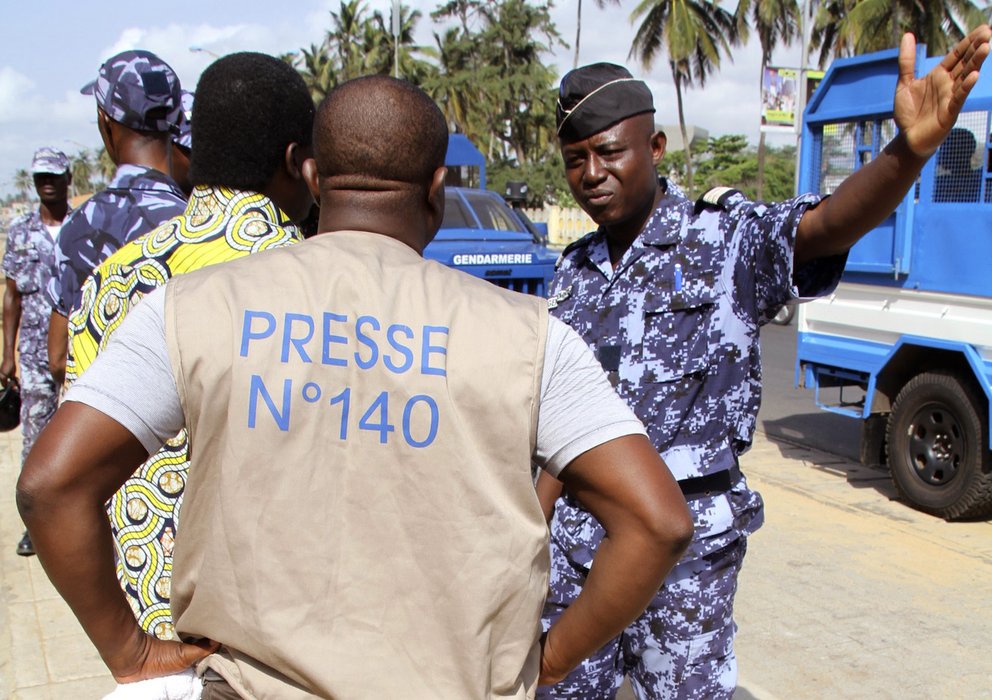 Suspension du '#Quotidien Liberté' : la cour suprême annule la décision de la #HAAC. https://t.co/jLiI7OHypk pic.twitter.com/0jnEipeWbl

— Togomedia24 (@togomedia24) March 3, 2023
Expression
Two media outlets suspended; Supreme Court annuls the suspension of newspaper La Liberté
On 2nd March 2023, the administrative chamber of the Supreme Court reversed the decision, taken by Togo's media regulator Haute Autorité de l'Audiovisuel et de la Communication (HAAC), to suspend the newspaper La Liberté, on grounds that the decision did not conform with regulations in force. On 1st February 2023, HAAC suspended La Liberté for a period of three months, referring to letter 13/PG-CAB from the Attorney General at the Lomé Court of Appeal concerning the implementation of a court decision in the case between the Prime Minister, Victoire Sidémého Tomégah-Dogbé and La Liberté, although the latter had appealed the court ruling, issued on 5th October 2022, ordering the suspension of La Liberté and a fine totalling 12 million CFA francs (approximately 20,000 USD) to be paid by the newspaper, the director of the newspaper and the author of the article, Géraud Afangnowou. After the Appeal Court at had first confirmed the initial ruling on 12th January 2023, the appeal procedure continued in the Supreme Court. The case relates to a defamation complaint against the newspaper by the office of Prime Minister Dogbé for its article, published on 21st September 2022, alleging the Prime Minister's vehicle convoy was involved in a road accident, and that a security officer had shot at and killed a young man. The newspaper had already apologised to the Prime Minister and had confirmed she had not been implicated in the incident.
On 1st February 2023, HAAC also suspended the bi-monthly media outlet Tampa Express for a period of three months on grounds of "grave professional errors" in its article published on 16th January 2023 following a complaint for defamation and the publication of false information by Charles Gafan, general director of company Groupe Bolloré. The suspension of Tampa Express was upheld.
On March 15, #Togo court sentenced journalists Ferdinand Ayité and Isidore Kouwonou to three years in prison for insulting authorities & fined the journalists 3 million Central African francs (US$4,860) each. Ayité and Kouwonou are presently in hiding.https://t.co/UvkTVbxT6k

— Committee to Protect Journalists (@pressfreedom) March 17, 2023
Two journalists sentenced to three years in prison for 'insulting authorities'
On 15th March 2023, the High Court in Lomé sentenced journalists Ferdinand Ayité and Isidire Kouwonou, the director of publication and the editor-in-chief respectively of the bi-weekly newspaper L'Alternative, to prison sentences of three years and a fine of 3 million CFA francs each (approximately 5,000 USD) for insulting authorities, reportedly under Togo's Criminal Code as the Press Code does not recognise YouTube as a press organ. A third journalist, Joël Egah, was also prosecuted but had died in March 2022. Since December 2021, Ayité, Egah and Kouwonou have been investigated for 'insulting authorities' and 'spreading false statements on social networks' following a complaint by the Ministers of Commerce and Justice for comments critical of two ministers and alleging possible corruption, made during a broadcast of the programme L'Autre Journal on L'Alternative's YouTube channel in November 2021.
As reported previously on the Monitor, Ayité and Egah had already spent 21 days in prison in December 2021, while Kouwonou was placed under judicial control and banned from travelling outside the country.
Although official apologies were issued by the journalists, the prosecution continued. Following a discussion alleging the mismanagement of COVID-funds, on 1st March 2023 Ayité and Kouwonou received summons to attend a court hearing, prompting the journalists to go into hiding abroad. The two journalists were sentenced in absentia, and an international warrant was issued for them. Ayité and Kouwonou have appealed the decision.
Journalists summoned to court over defamation allegations
On 13th February 2023, journalists Isidore Akollor, director of publication for Actu Express, and Jérôme Sossou, publication director for Triangle des Enjeux, were summoned to appear before a judge on defamation allegations, following a complaint issued by Béby Benito Amorin, father-in-law of President Gnassingbé. The complaint relates to articles published in January 2023 alleging influence peddling and intimidation by Amorin against Aba Olympio in a building lease case between the two.
Togo: le meeting de la société civile interdit, une fois de plus https://t.co/KUsbzgw73K pic.twitter.com/IwHa2rxjmP

— RFI (@RFI) April 16, 2023
Peaceful Assembly
Civil society meeting banned by authorities
A civil society meeting, planned for 15th April 2023 by a collective of civil society organisations, was banned by local authorities. The meeting aimed to discuss a report by the Court of Auditors, which revealed the mismanagement of COVID-funds. A previous attempt to meet, planned for 1st April 2023, was likewise banned.