Press freedom under assault in Bangladesh while critics, protesters also silenced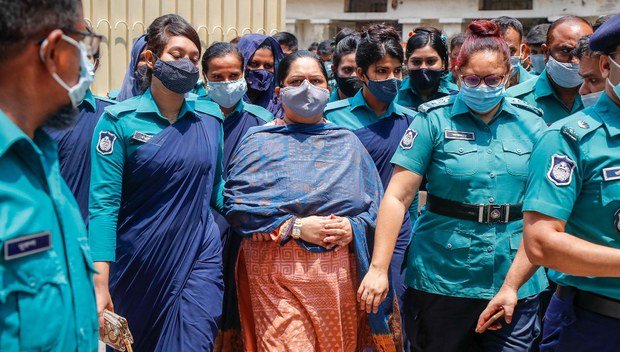 According to human rights groups, the Bangladesh authorities are exploiting the COVID-19 pandemic to restrict civic space. A country-wide lockdown has been imposed since 14th April 2021 to contain the spread of the pandemic. The government maintains South Asia's poorest testing facilities coupled with a high undercount of infection and death. Its vaccination programme had to be suspended due to the shortage of supplies from the Government's preferred lone source. The country's law-enforcement agencies, including the Rapid Action Battalion (RAB) and the police, are apparently using the lockdown to silence activists and critics.
In recent months, journalists have been targeted for their reporting on the pandemic or being critical of the authorities. Some have been criminalised and attacked, including Rozina Islam, Abu Tayeb Munshi and Ruhul Amin Gazi and there is still no accountability for the death of writer and commentator Mushtaq Ahmed. Reports of police brutality and attacks by pro-government groups against anti-Modi protesters in March 2021 have yet to be investigated.
Expression
Journalist investigating corruption detained for alleged spying
Rozina Islam (pictured above), a senior reporter of Prothom Alo - a widely circulated national daily - is the latest journalist to face detention in Bangladesh for her investigative journalism. She has been accused of stealing confidential official documents and espionage.
The Deputy Secretary of the Health Services Division of the Ministry of Health and Family Welfare had filed a case against Rozina Islam and accused her of stealing confidential official documents from the health ministry.
Prothom Alo's managing editor Sajjad Sharif told Amnesty International that Rozina Islam has produced several investigative reports critical of the public health sector during the COVID-19 pandemic. The newspaper feels that the actions taken against her are a result of the authority's grievance against her.
Rozina was initially detained for five hours at the Ministry of Health located at the Bangladesh Secretariat - the bureaucratic headquarters of the country - on 17th May 2021. In the evening Rozina was brought to the Shahbagh Police Station where various charges were laid against her under Section 379 (Punishment for theft) and Section 411 (Dishonestly receiving stolen property) of the Penal Code and Section 3(Penalties for spying) and Section 5 (Wrongful communication, etc., of information) of the Official Secrets Act. If convicted, she faces up to 14 years in prison and the possibility of the death penalty.
On 18th May 2021, the police produced Rozina before the Chief Metropolitan Magistrate's (CMM) Court of Dhaka and sought a five-day remand for her. Magistrate Mohammad Jasim rejected the remand petition and fixed 20th May for hearing the bail petition. Metropolitan Magistrate Baki Billah heard the bail petition on 20th May but said he would, reportedly, deliver his decision on 23rd May after 'examining the documents in relation to the case'. Rozina was then detained in Kashimapur Women's Central Jail at Gazipur.
Rozina was granted bail on 23rd May 2021 after being ordered to surrender her passport and pay a bail bond of 5,000 taka (USD 60) by the chief metropolitan magistrate of the capital Dhaka, her lawyer told reporters.
In response to the detention of Rozina Islam on allegations of stealing confidential official documents and espionage, Amnesty International's South Asia Campaigner, Saad Hammadi, said: "the prosecution of Rozina Islam under the Official Secrets Act is a brazen attack on the right to freedom of expression and the ability of Bangladeshi society to seek and receive information. Information about how the government is procuring COVID-19 vaccines is in the public interest and should not be hidden behind national security locks".
As previously documented, the media has come under strict controls and restrictions under the Sheikh Hasina government. There has been a disturbing increase in press freedom violations and Bangladesh is ranked 151 out of 180 countries in Reporters Without Borders' (RSF) 2020 World Press Freedom Index, one place lower than in 2019.
Khulna journalist arrested under the Digital Security Act
#Bangladesh 🇧🇩: Abu Tayyab, a senior television journalist, was arrested by police on April 20 under the controversial Digital Security Act (DSA) for writing social media posts about alleged corruption by Khulna City Corporation (KCC) mayo. @IFJGlobal https://t.co/z6OJzvLXQM

— IFJ Asia-Pacific (@ifjasiapacific) April 23, 2021
Abu Tayeb Munshi, a journalist from National Television (NTV), Dainik Loksomaj and Khulna Gazette, was arrested from his residence at Nurnagar in Khulna city on 20th April 2021 under the Digital Security Act-2018. Abu Tayeb had uploaded a Facebook post about alleged corruption involving a private company owned by Talukdar Abdul Khalek, the mayor of Khulna City Corporation and president of the city unit of the Bangladesh Awami League (BAL) - the ruling party of the country.
Abu Tayeb's Facebook post was substantiated by official documents from the Mongla Customs House Authorities where the mayor's name and signature were found in relation to evading customs duty.
On 21st April, Acting Chief Metropolitan Magistrate Sumi Ahmed of the Chief Metropolitan Magistrate's (CMM) Court of Khulna ordered that Abu Tayeb be detained in jail. He was denied bail on two occasions on the 22nd and 28th April. On 5th May, a High Court Bench granted him bail. Subsequently, on 12th May he was freed from jail. However, the case against the journalist still remains pending.
Journalists attacked after being terminated from pro-government outlet
The Daily Janakantha - a pro-ruling party national vernacular newspaper - terminated the employment of 26 journalists. On 15th March 2021, the management of the daily sent emails to the journalists notifying them about the termination of their jobs.
The sacked journalists subsequently protested against the mass termination and on 11th April 2021, reporters and leaders of journalist bodies organised a protest in front of the Globe-Janakantha Building. The protesters found the main gate locked to bar them from entering the premises.
Following this, a group of thugs allegedly linked to the newspaper's management attacked the protesting journalists with sticks, iron rods and bricks. Ten journalists were injured in the physical attack. No redress has yet been available for the affected and injured journalists since the incident.
Journalist languishing in prison for sedition
Daily Sangram Chief Reporter Ruhul Amin Gazi, also president of a faction of Bangladesh Federal Union of Journalists (BFUJ), was arrested this evening after a warrant was issued against him in a DigitalSecurity Act today. No freedom speech in Bangladesh. pic.twitter.com/PlvVdVcXba

— Md. Wali Ullah (@roadtodemocracy) October 22, 2020
Ruhul Amin Gazi, Chief Reporter of The Daily Sangram - a pro-opposition newspaper representing the Bangladesh Jama'at-E-Islami (BJI) party - has languished in jail for seven months.
He was detained on 21st October 2020 and charged with sedition under the Digital Security Act-2018. Gazi and Daily Sangram editor Abul Asad have been under investigation for sedition since a complaint was filed in December 2019 over a news article calling Abdul Quader Molla - an opposition figure executed in 2013 for war crimes - a "martyr".
Abul Asad had previously been arbitrarily detained between 13th December 2019 and 7th December 2020 by the authorities. Further, Muktijuddho Mancha - a pro-ruling party group - had physically assaulted Abul Asad, vandalised the newspaper's office and filed the case against him for publishing the article. The perpetrators of the attacks have not been held accountable.
Workers' leader detained for Facebook post
Ruhul Amin, a workers' leader and coordinator of Sramik-Krishak-Chhatra-Janata Oikya Parishad in Khulna, was picked up at the house of persecuted cartoonist Ahmed Kabir Kishore at Goalkhali, Khlishpur, Khulna city on 26th February 2021.
Ruhul Amin had criticised the government on Facebook for the prolonged arbitrary detention of writer Mushtaq Ahmed, who died in prison on 25th February 2021. The following day the police implicated Ruhul in a case filed under the Digital Security Act-2018. The police accused him of 'tarnishing the image of the state', 'defaming the government' and 'spreading confusing information' through Facebook.
The Chief Metropolitan Magistrate's (CMM) Court of Khulna placed him on a two-day police remand. After the remand period, Ruhul was detained in Khulna Jail. His bail petitions were denied on 1st and 14th March 2021. On 19th April, the Metropolitan Session Court Judge Shahidul Islam granted bail to Ruhul Amin. After 51 days in arbitrary detention, Ruhul was released.
Still no accountability for death of writer
🇧🇩 #Bangladesh: We are extremely disturbed that writer Mushtaq Ahmed has died in custody. He was detained under the draconian Digital Security Act for his criticism of the authorities. There must be a prompt & impartial investigation into his deathhttps://t.co/IOcXCHNH5s pic.twitter.com/EpoPFQQBy6

— CIVICUS Monitor (@CIVICUSMonitor) February 26, 2021
There has been no accountability in the case of writer and commentator died while in detention in February 2021. Ahmed was pronounced dead on arrival at the Shaheed Tajuddin Ahmed Medical College Hospital, in the central city of Gazipur, after being transported from the Kashimpur Jail. He had been held since May 2020 for allegedly violating the country's Digital Security Act.
As previously documented, Ahmed runs a Facebook page "Michael Kumir Tagore" that posts comments on social and political issues. Prior to his arrest he had published an article criticising the shortage of personal protective equipment for doctors. He and cartoonist Ahmed Kabir Kishore were disappeared for hours after they were picked up by the Rapid Action Battalion (RAB) from different locations in Dhaka on 5th May 2020. Following a social media outcry, the RAB officially handed them over to the Metropolitan police and a case under the Digital Security Act was filed against them.
According to the Committee to Protect Journalists (CPJ,) Ahmed appeared in court and was in decent health. At the hearing, Kishore passed a note to his brother stating that he had been subjected to severe physical abuse while in police custody, sustaining a serious leg injury and ear injuries that have led to infections due to inadequate medical care.
"Mushtaq Ahmed's death in a Bangladeshi prison, where he never should have been detained in the first place, is a devastating and unconscionable loss," said Aliya Iftikhar, CPJ's senior Asia researcher.
Michelle Bachelet, UN High Commissioner for Human Rights, said. "The Government must ensure that its investigation into Ahmed's death is prompt, transparent and independent". She urged the authorities to conduct a review of the Digital Security Act under which Mr. Ahmed was charged; suspend its application; and release all those detained under it for exercising their rights to freedom of expression and opinion.
Peaceful assembly
Mass arrests and police violence against anti-Modi protesters
Bangladesh police use force to break anti-Modi protests in Dhakahttps://t.co/AkoIGexWkQ

— Earthman Journalist (@Intprofessor) March 27, 2021
Protests erupted in Bangladesh in March 2021 against the visit of Indian Prime Minister Narendra Modi. The protests, which took place at the main mosque in the capital, Dhaka, spread to several key districts in the country.
According to the Asian Human Rights Commission, the government responded brutally to the protests. The police, Rapid Action Battalion (RAB) and the ruling party's student wing Bangladesh Chhatra League (BCL) unleashed violence against peaceful protestors. The BCL attacks left numerous protesters injured. According to VOA, at least five people were killed by police gunfire in eastern Bangladesh.
The victims included ordinary students, workers, and leaders of pro-opposition entities, including the Progressive Students' Alliance, Bangladesh Chhatra Odhikar Parishad, Bangladesh Jubo Odhikar Parishad and Hefazat-E-Islam - a close ally of the ruling party.
The Sheikh Hasina government also launched mass arrests against the anti-Modi protesters. Leaders and activists of Bangladesh Chhatra Jubo and Sramik Odhikar Parishad (Student, Youth and Workers' Council) and Hefajat-E-Islam (a recently defunct pro-ruling party) were the prime targets of arbitrary arrests and detention. The government also slowed down the internet speed and restricted Facebook to curb communication and coverage around the attacks on the protesters.
Modi arrived in Dhaka on 26th March, his first international trip since the outbreak of the coronavirus pandemic last year, to celebrate the 50th anniversary of Bangladesh's independence. He left the country the following day after holding talks with Bangladesh Prime Minister Sheikh Hasina and giving the country 1.2 million COVID-19 vaccine shots. Many groups in Bangladesh accuse Modi of alienating minority Muslims in Hindu-majority India. There was also widespread discontent among a large number of Bangladeshis about the unequal relationship between India and Bangladesh.