President & Prime Minister attack the media; repeated attempts to intimidate journalists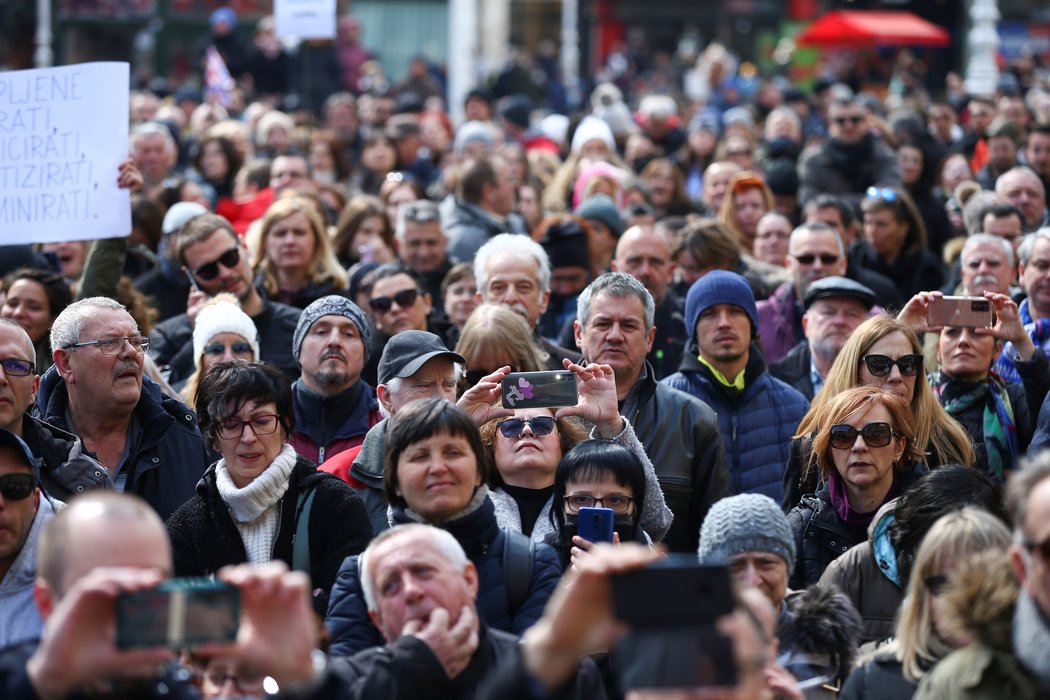 Peaceful Assembly
Continuing from the previous reporting period, anti-lockdown protests were again organised in several major Croatian cities on 15th May 2021, in parallel with other protests in over 180 cities globally. Protesters in Zagreb expressed their dissatisfaction with the epidemiological measures in place. They added that such measures are destroying the economy and that restricting movement across borders is unconstitutional, while also stressing that children need to have a normal education.
Other protests also took place during this period:
Expression
According to the Reporters Without Borders Media Freedom Report, the biggest problem in Croatia is political interference in personnel policy at the national public broadcaster HRT and in editorial decision-making. The report notes the links of private media with the economy and politics. In addition, it stresses the existence of campaigns to intimidate journalists, including physical attacks and threats, especially towards those involved in "investigating organised crime or war crimes cases".
The report also notes that public figures and politicians have filed hundreds of lawsuits against journalists under the defamation law, which has been in force since 2013. A survey by the Croatian Journalists' Association (HND), published in April 2021, has recorded at least 924 active lawsuits, from which prosecutors are demanding indemnities to the amount of almost 10,5 million Euros.
At least 924 lawsuits against journalists and the media currently active in #Croatia!
What is the Croatian government doing to protect #PressFreedom? https://t.co/nS9QzI0As0

— Ricardo Gutiérrez (@Molenews1) April 16, 2021
By the end of May 2021, HND raised concerns about a new wave of lawsuits against the Telegram.hr portal for five published articles by journalist Drago Hedl, who wrote about irregularities in a judicial officer's work. HND said:
"This act of judicial aggression aims to destroy any critical journalism in the public interest and the financial destruction of media, in this case, the Telegram.hr portal."
Such judicial aggression is aimed at censoring or intimidating journalists.
Related to this, Croatia's public broadcaster HRT was given a parody 'award' as part of the first European SLAPP Contest, an initiative intended to highlight the use of strategic lawsuits against public participation to intimidate and deter journalists and rights campaigners.
Winners of the @CASECoalition's SLAPP awards 2021 announced ✨

🏆Corporate Bully of the Year: goes to Italian oil and gas company #ENI
🏆SLAPP Politician of the Year & People's choice award with 38953 votes - a double win for Polish PiS Party leader Jarosław #Kaczyński!

— ECPMF (@ECPMF) May 21, 2021
In June 2021, three journalists working for daily newspaper Glas Istre were fired by management after criticising the media outlet's editorial policy. The three reporters were given extraordinary dismissals after they accused the paper's editor-in-chief of trying to influence coverage of the local election campaign in late May 2021 to benefit the long-dominant regional party, Istrian Democratic Party (IDS). Following this, the Croatian Journalists' Association (CJA) and the Trade Union of Croatian Journalists (TUCJ) condemned the newspaper's management and launched a social media campaign under the slogan "Support the journalists of Glas Istre". On 19th June 2021, supporters of the fired journalists gathered in the Istrian city of Pula, where the HQ of the media house is located, to protest against their dismissal. Media trade unions called for the withdrawal of the journalists' dismissal.
President and PM attack the media
Croatian President Zoran Milanovic drew condemnation after he insulted HRT reporters, accusing them of being tricksters, mercenaries and an embarrassment to the country. The Union of Croatian Journalists, SNH, and the local HND branch in Split said they "strongly condemned" Milanovic's verbal attack and his "harmful generalisation", although they themselves "persistently warn of the dubious editorial policy and transparency" of HRT's administration.
Added to this, as reported by Mapping Media Freedom Rapid Response (MFRR), on 30th May 2021, the Prime Minister Andrej Plenković publicly made verbal attacks and accusations against media and journalists after the second round of local elections. The PM remarked that the media are "being paid to vilify a political camp" and accused them of deliberately and repeatedly misnaming the HDZ's candidate for Zagreb mayor, Davor Filipović, in debates in the first election round. He also accused the media of being "mercenaries who disgust one's political option". He also attacked Drazen Lalic, a professor at the Zagreb Faculty of Political Science, stating that he was paid by broadcasters to smear HDZ candidates and targeted HND President Hrvoje Zovko, who strongly condemned Plenković's attack on the media. The Union of Croatian Journalists (SNH) and the Croatian Journalists' Association (HND) condemned the attacks:
"What we consider unacceptable… are the open threats PM Plenkovic has made against all our colleagues and media which do not follow his and the HDZ's ideology. To name all those who critically speak about candidates ahead of elections and to mark as targets 'those who dishonour for money' is not a discourse used by politicians, let alone prime ministers of civilised and democratic EU countries".
In a separate development, instances of hate speech and ethnic intolerance have continued to be reported. On 13th April 2021, the Serbian National Council presented its annual report, registering 214 incidents of ethnic intolerance, historical revisionism, denial of historical facts, offences, threats, physical attacks and hate speech targeting Croatian Serbs last year.