Enforced disappearance during Guadalajara protest and two journalists at severe risk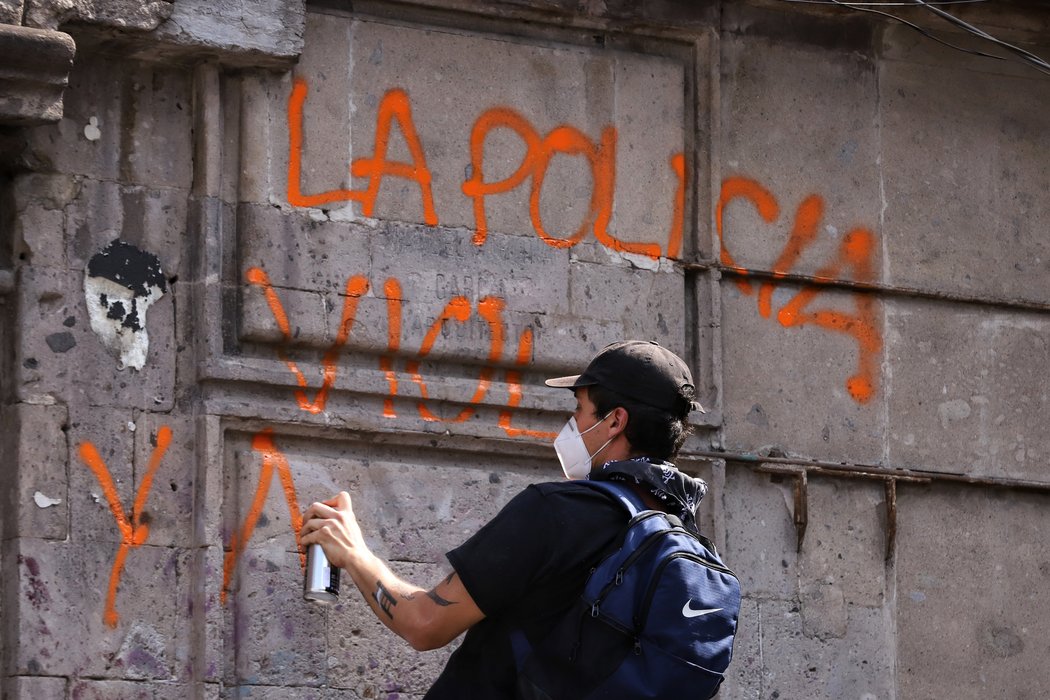 Peaceful Assembly
Abuses during protests against police brutality in Guadalajara, Jalisco
📢 Hacemos las siguientes exigencias en relación a los hechos y violaciones graves a los derechos humanos ocurridas durante los días 4, 5 y 6 de junio 👇 pic.twitter.com/hQdPhU2gwd

— CEPAD (@CEPAD_AC) June 7, 2020
In the beginning of June 2020, hundreds of people joined protests against police brutality and demanded justice for Giovanni López, a man who was detained and died the next day from a head injury. The case took place in early May 2020 in the town of Ixtlahuacán de Los Membrillos near Guadalajara, but outrage about the circumstances of the killing surfaced after a video of his detention emerged on 3rd June 2020, showing bystanders saying his only infraction was not wearing a mask. In addition to the head trauma, Giovanni also had a bullet wound to the leg – injuries sustained while in police custody.
On 4th June 2020, hundreds of people in Guadalajara called for authorities to be held accountable for López's killing. Groups of protesters vandalised buildings and damaged police vehicles, and the police used tear gas to disperse the crowd. Journalists covering the protests also reported being attacked by police. During the protest, a police officer was set on fire after being sprayed with flammable liquid. At least 26 people were arrested for vandalism and violence.
The following day, protesters in Guadalajara again gathered to demand justice for Giovanni López in front of the state Attorney General's headquarters. They were met with police repression, and human rights organisations denounced arbitrary and illegal detentions. Protesters have described being taken by plainclothes officers in unmarked cars, beaten and mistreated, robbed of personal belongings, held for hours and left on the outskirts of the city without any means to return home. "Nobody knows where you are," the police reportedly told a young protester. "We're going to disappear you."
On 6th June 2020, local groups said the whereabouts of over 20 people were still unknown. Human rights organisations and activists demanded information on the detained, and the governor of the state of Jalisco published a video message admitting abusive behaviour by police officers and saying the government was still checking on all the young people reported missing. On 9th June 2020, six young protesters who remained in detention were released without charge following pressure on social media.
Several human rights organisations have called for an investigation to determine what took place in these protests and in Giovanni López's case. Jalisco's Human Rights Commission published a special report saying as many as 80 people could have been victims of enforced disappearance. At the end of June 2020, news media reported that 14 police officers were suspended for abuses during the protests. Although an investigation on Giovanni López's killing is ongoing, in early July the president of Mexico's National Human Rights Commission said she had received death threats because of the organisation's work on the case.
Further protests against police violence
🆘 Denuncian represión de policías a manifestación en #CDMX. Este video muestra la agresión contra una joven de 16 años. @Claudiashein, reportan que la llevaron herida en ambulancia placas ERUM MX-06-G2. Se tienen que investigar uso excesivo de la fuerza pic.twitter.com/svrw0KNJpo

— Erika Guevara-Rosas (@ErikaGuevaraR) June 5, 2020
In solidarity with U.S. protests over the killing of unarmed Black man Gorge Floyd and against police violence, about 300 people protested outside the U.S. Embassy in Mexico City on 4th June 2020. "It is important to speak out and ask that we end this horrible state of racism. It is important that we make the connections between state violence in the United States and in Mexico," one protestor said. Demonstrators held signs with messages like, "Racism kills. I can't breathe" and "Justice for George Floyd".
On 5th June 2020, protesters in Mexico City organised another demonstration against police violence in both Mexico and the United States. Some protesters vandalised shops and banks, and news media reported that about 400 officers were deployed to disperse the protest. On social media, demonstrators denounced excessive force and anti-rioting officers were caught on video beating a teenage girl. Two officers were later detained for the aggression against the young protester. On 7th June 2020, local authorities announced they would create a protocol for police operations in protests in Mexico City to avoid abuses against demonstrators and journalists.
On 7th June 2020, about 100 people participated in protests against police violence in Tijuana, including groups who temporarily blocked southbound border lanes at the San Ysidro Port of Entry, before marching to City Hall. On 13th June 2020, family and friends of Alexander Martínez Gómez protested in Mexico City after the 16-year old Mexican-American was shot by local police in southern Mexico.
Labour lawyer accused of inciting violence during protest
On 8th June 2020, labour lawyer Susana Prieto Terrazas was arrested in Matamoros, Tamaulipas state, on charges including inciting a riot, threats and coercion. Prieto advised factory workers during mass strikes for higher wages in February 2019 and had recently campaigned against policies which she said put workers at risk of COVID-19 infection. The charges leading to her arrest were related to a protest in front of the local labour board in March 2020. Prieto denied the allegations, claiming that officials had targeted her because of her advocacy and work on behalf of maquiladoras workers. Supporters held rallies in June to demand the charges be dropped. On 1st July 2020, the lawyer was released after reaching a conciliation agreement with the state's prosecutors, which includes conditions such as a fine and an international travel ban of more than two years.
Other protests
Demanding adequate protective equipment to respond to the growing COVID-19 emergency, medical workers temporarily blocked roads in Mexico City on 20th May 2020. Some workers said there have been equipment shortages and that medical staff have had to reuse masks even after several co-workers became sick and died. As previously reported on the Monitor, medical workers in several states have conducted protests since March 2020, calling on the government to do more to support medical facilities during the pandemic.
On 27th May 2020, dozens of family members of children with cancer protested near the Secretary of Public Health's office in Mexico City to denounce medication shortages. Threatening to go on hunger strikes, the protestors said the government is neglecting other medical conditions as it responds to the coronavirus outbreak. Similar protests took place in Sinaloa in June.
On 30th May 2020, protesters in over 60 cities mobilised against the policies of President Andres Manuel Lopez Obrador's government. In cities such as Mexico City, Veracruz, Hidalgo and Tamaulipas, the protesters organised car convoys where people held signs with messages calling for the president's resignation. Similar protests were held in June.
In July 2020, people in Sonoyta protested against non-essential travel during the pandemic, amid fears that tourism from the United States could contribute to local COVID-19 outbreaks. Organised by a group called Sonoyta Unido Jamás Será Vencido (United Sonoyta Will Never be Defeated), protesters used their cars to block the border crossing with the state of Arizona during the U.S. holiday weekend of 4th July.
Also on 4th July 2020, about 200 street vendors temporarily blocked several major roads in Mexico City as a protest against coronavirus-related restrictions that limit where they can sell their goods. Without insurance or other benefits, vendors said they have struggled to survive after months of lockdown.
Expression
Violence in Ciudad Obregón, Sonora: a journalist killed and another's life threatened
#AlertaGUARDIAN #Obregon #Sonora Sujetos armados ejecutan al editor de Grupo Editorial Medios Obson el cual pública el medio electrónico El Tiempo, Jorge Armenta Ávalos. Dos de sus escoltas están graves. #Mexico #NosEstanMatando @PropuestaCivica @CPJAmericas @RSF_esp pic.twitter.com/GkyKupMCNy

— Periodistas Desplazados y Agredidos A.C. (@AlertaAMPDA) May 17, 2020
On 16th May 2020, journalist Jorge Miguel Armenta Ávalos and a police officer assigned to protect him were gunned down by armed men as they were leaving a restaurant in Ciudad Obregón. Another officer was also injured in the attack. Armenta Ávalos was the owner and director of Medios Obson, whose daily newspaper El Tiempo and weekly Última Palabra cover security, politics and news in Sonora. The reporter had been enrolled in the federal programme to protect journalists since 2016 after receiving multiple threats related to his work. "The threats came from criminal gangs in Ciudad Obregón, who don't like the fact that we consistently publish about murders in the area," one of the newspaper's reporters told the Committee to Protect Journalists (CPJ). "The fact that a journalist under state protection was murdered in broad daylight shows the scale of violence against the media. The federal government must demonstrate a real political will to end this carnage and combat impunity," a Reporters Without Borders spokesperson said.
On 27th May 2020, assailants used an explosive to bomb a car belonging to Marco Antonio Duarte Vargas, editor of Ciudad Obregón Sin Censura. The journalist and his family were in their home when they heard a loud sound and saw the car on fire in their driveway. As previously reported on the Monitor, in 2019 Duarte Vargas denounced receiving threats on multiple occasions from people linked with local government. This recent attack took place less than two weeks after the killing of journalist Jorge Armenta Ávalos.
According to Article 19, Duarte has tried to enrol in the federal protection programme for journalists and human rights defenders but his previous requests were yet to be processed. In addition, security provided by local authorities for his home ended in early June 2020. Another regional journalist, Ariel Amparán Figueroa, said he had received a threatening phone call where he was told to stop supporting Duarte and reporting on Armenta's killing.
Other threats and attacks against journalists
Mexican authorities must immediately investigate an attack by gunmen on journalist Fernanda de Luna Ferral, bring those responsible to justice, and re-evaluate protective measures provided to her by the government.https://t.co/ujpJBHc3lx

— Committee to Protect Journalists (@pressfreedom) May 27, 2020
On 24th May 2020, journalist Fernanda de Luna Ferral was attacked by gunmen in the town of Gutiérrez Zamora, Veracruz. The attack occurred just two months after her mother, journalist Maria Elena Ferral Hernández, was killed. According to CPJ, an unknown number of gunmen shot several times at De Luna's car from another vehicle. The journalist was accompanied by police officers from the Veracruz state government, assigned as bodyguards after her mother's killing. The guards returned fire, leading the attackers to flee the scene. De Luna Ferral is the editor of local news website El Quinto Poder, which was co-founded by her mother and covers local politics, crime and news in Papantla. She has enrolled in the Federal Mechanism for the Protection of Human Rights Defenders and Journalists. Six people have been arrested in connection with Maria Elena's killing.
El compañero y amigo periodista Antonio Abundiz Ramírez, quien sufrió un atentado en su propiedad, me informó que un perito de la @FGEGUANAJUATO le ha confirmado que el incendio a su automóvil sí fue provocado intencionalmente. https://t.co/9OqMy6VLlO pic.twitter.com/3TX10Wj1Qg

— Alex Ramblas 📽 (@alexramblasr) June 4, 2020
On 29th May 2020, a car belonging to Antonio Abundiz, a reporter with digital media Ecos de Cuevano, was set on fire outside his home in Guanajuato. The reporter was at home at the time of the attack but was unharmed. As reported by Article 19, Abundiz said the attack could be related to his work investigating local police corruption.
On 4th June 2020, unknown assailants fired two shots at the offices of Momento newspaper in San Luis Potosi. While the reason for the attack is under investigation, the station's director general has received threats before because of the outlet's reporting on local crime and land-rights issues.
On 20th June 2020, journalist Raúl Fernández León with Discontento Ciudadano was detained in Benito Juárez, Quintana Roo. As reported by Article 19, the journalist had been covering alleged power abuses in the municipal police department. He also claimed to have been beaten and threatened during the incident, and was released hours later. The police department published a statement saying León was detained for insulting a public institution and its representatives, an administrative offence subject to a fine. Article 19 issued a public letter in response, underscoring that due process must be followed regardless of an individual's behaviour and highlighting León's complaints of mistreatment by officers.