Police watchdog raises concerns over abusive policing practices at Black Lives Matter protests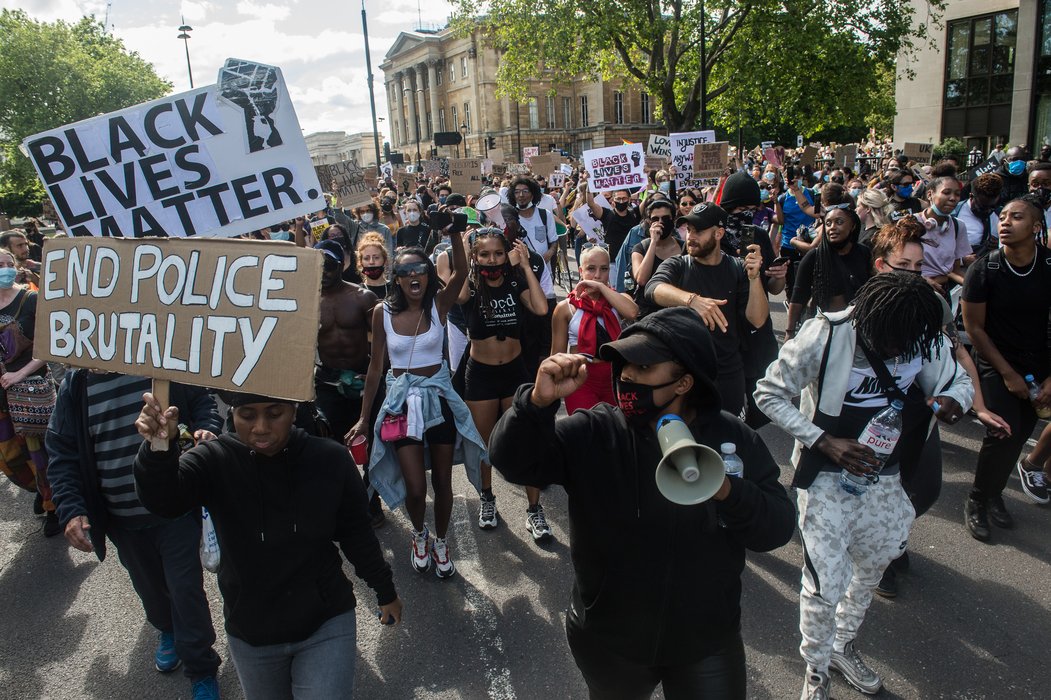 Association
Emergency legislation will impact vulnerable groups
As reported previously by the Monitor, the UK's Coronavirus Act came into effect on 26th March 2020. The Act gives UK authorities emergency powers to address the coronavirus (COVID-19) pandemic, including the power to detain individuals who are deemed "potentially infectious" and place them in isolation facilities. Under the Act, surveillance warrants may be in place for up to 12 days (previously three days) before being reviewed by judicial authorities. The Act must be renewed by parliament every six months.
'The Act has three main aims:
to give further powers to the government to slow the spread of the virus

to reduce the resourcing and administrative burden on public bodies

to limit the impact of potential staffing shortages on the delivery of public services.'
However, human rights organisations have warned that the Act could have an impact on the rights of certain groups and sectors, in particular:
Black, Asian and Minority Ethnic (BAME) communities

People with disabilities and elderly people

Emergency legislation on social care provision
"These are unprecedented times but weakening the safeguards in an already coercive Mental Health Act, and extending its powers, is a grave step and risks the rights of people with disabilities. Given the serious implications of the Coronavirus Act for some of the people it seeks to protect, it's vital that the government ensures that the new law doesn't undermine rights and do lasting harm."- Akiko Hart, CEO of UK National Survivor User Network (NSUN).

"Support for thousands of people with disabilities and older people does not need to be sacrificed to fight the current COVID-19 crisis." - Shantha Rau Barriga, director of Disability Rights at Human Rights Watch.
Measures and challenges for the sector
NCVO - National Council for Voluntary Organisations assessed the challenges faced by the charity and CSO sector during the pandemic and in its aftermath. The main concern is the huge financial loss, estimated at around GBP 3,7 billion. While several organisations have funds to survive for about two to three months, cash flow is severely limited.
At first government announced a GBP 30 billion package for businesses, which will cover partial unemployment. This also applies to charities and CSOs, but it is far from enough.
In addition, on 20th May 2020 the government pledged to provide a £750m support package for UK charities during the coronavirus pandemic. The government has also developed a guidance which outlines how this money will be spent. Applications for the government's new coronavirus community support fund opened on 22nd May 2020.
However, NCVO states that there is a real risk that many CSOs will not be able to reopen and operate after the crisis, especially those relying on for-profit activities.
Peaceful Assembly
Monitoring policing during the lockdown
Updates from the blog "Policing the Corona State" launched in March 2020 by Netpol (Network for Police Monitoring) continue. The aim of the blog is to monitor the everyday impact of the new policing powers and whether they are used proportionately. Among the updates, Netpol reports that the Metropolitan Police has been criticised for conducting stop and search operations during the lockdown, with figures showing an increase in the use of this tactic during April 2020. Additionally, police have been issuing thousands of lockdown-breach fines (about 14,000 in the period between 27th March and 11th May 2020), most of which were found to be unlawful by a review initiated by the Crown Prosecution Service (CPS).
Netpol, Big Brother Watch and other organisations welcomed the review and wrote a letter to the National Police Chiefs Council stressing the importance of promptly reviewing the fines issued, in light of the recent assessments.
"To protect the rule of law and policing by consent, these failures need to be remedied. The public will not be reassured simply by good intentions, but by actions taken to address the policing mistakes that have been made." (extract from the letter)
In addition, an open letter written by Drill or Drop, coordinated by Netpol to senior police officers, signed by 600 people, called for an end to the categorisation of political campaigning as "domestic extremism", which is specifically directed towards climate activists. Netpol's campaign has been ongoing for eight years and despite the announcement by the Home Office in August 2019, as previously reported on the Monitor, the terminology has not yet been dropped.
Black Lives Matter protests
Despite restrictions on public gatherings due to the pandemic, people gathered during May 2020 in solidarity with the Black Lives Matter mass protests in the US over the death of George Floyd, a Black man, by a Minneapolis police officer. In London, thousands gathered at several locations chanting "No Justice, No Peace", and others gathered in Cardiff. Five people were arrested, three for breaching COVID-19 social-distancing legislation and two for assault on police, according to Scotland Yard.
Netpol reports that those arrested were charged with breaching regulation 7 of the coronavirus regulations, but it remains unclear how these individuals were detained while hundreds of others were not.
Protestors from the group Extinction Rebellion, who gathered outside Parliament Square and Hyde Park in London were also arrested on 30th May 2020. Protesters argued that they were maintaining social distancing, but the Metropolitan Police claimed that they were in breach of COVID-19 regulations. Protestors underlined the hypocrisy of allowing people in public spaces to sunbathe or picnic but not allowing the exercise of their right to peaceful assembly.
Extinction Rebellion is holding silent socially distanced protests across the country calling for a citizens' assembly to be involved in the recovery from #coronavirus.

Read today's top stories here: https://t.co/4ozTbgvoxl pic.twitter.com/oB6NQRa8ld

— SkyNews (@SkyNews) May 30, 2020
Following the Black Lives Matter protests in May 2020, Netpol and other organisations wrote a letter to the Met Police to express their concerns on policing protests under regulation 7. They argue that "[it] fails to provide adequate protection to the right to free speech and the right to protest".
In addition, according to a tweet from an activist on Twitter, police showed up at the home of a Black campaigner who had shared details of BLM protests on social media. The police entered and questioned him on the details and organisers of the protests.
Important message for protestors❗️ Yesterday police turned up at the home of a Black British person who shared details of a protest on social media. They blocked the door with their foot, went inside + questioned for 20 mins on details of organisers & attendees #BlackLivesMatter

— Sofia Akel (@sofiaakel) June 4, 2020
From 1st June 2020, small gatherings of groups of up to six people were allowed but attempts to have larger assemblies were met with more arrests in several parts of the UK.
During the second wave of protests in London which took place on the second weekend of June 2020, campaigners from Netpol reported abusive police practices, such as the use of the controversial containment tactic called "kettling" on four separate occasions. A similar scenario happened a week later in Glasgow, during another BLM protest.In London, they allowed "protesters (including some minors as young as 12) to leave the kettles in ones and twos into a sterile area outside of the police lines, so that officers could film each individual. Face masks were pulled down to make sure faces were captured." On this occasion, names and addresses of the protestors were demanded, using section 50 of the Police Reform Act, another controversial anti-social behaviour power. The Act gives police the power to take down details if they believe that you are engaged in anti-social behaviour. Protesters also claimed that the kettling technique is even more unlawful as it prevents people from respecting physical distancing and is thus a dangerous disregard on the part of the police for the health of the people taking part in protests.
On Sunday I went to a BLM peaceful protest in London and ended up being detained by the police outside Downing Street for almost 6 hours along with hundreds of others from 8.50pm to 2.30am. I just want to detail and document some of the things I witnessed involving the police...

— Alessandra (@alessadavison) June 9, 2020
We need to call out Police Scotland for their dangerous disregard for life today. We stood against racism. We social distanced. The police however kettled us like animals. Antagonised and threatened us. We will build working class resistance to excessive policing in our city. pic.twitter.com/VKQ99oSOcD

— Suki Sangha (@sukisangh) June 20, 2020
After the protest, human rights organisation Liberty and Black Protest Legal Support UK released a joint statement.
"We are particularly concerned with the use of [s.50 powers] during the kettle. The police grouped together hundreds of protesters and stated that if they wished to leave they would have to give their name, address, date of birth and be filmed head to toe. This is concerning because s.50 must not be used as a blanket power. Despite the police not being able to comment on what actions each protester had taken part in that could be deemed 'anti-social' under the act, the police still insisted that everyone provide personal details before leaving."
According to Metropolitan Police figures, 86 people had been arrested at the demonstrations which took place during the second weekend of June 2020. The list of offences includes violent disorder, affray, criminal damage and offences under the COVID-19 legislation.
Police officers in London are charging at protestors with horses. #BlackLivesMatter pic.twitter.com/CPtzsXVl6y

— Hasan Patel 🌹 (@CorbynistaTeen) June 6, 2020
After the BLM protests, the Police Federation has urged the Home Secretary to implement an outright ban on all protests while the country is under threat of the coronavirus. Netpol commented that it appears that the Federation is seeking political support for a more stringent use of the special emergency powers. Netpol also clarified that "while mass gatherings are currently illegal under the Coronavirus Act, this doesn't mean that police have enforced the legislation to make arrests."
The head of the Police Federation has called on the government to impose an emergency ban on all protests https://t.co/SCeSwOp53y

— Netpol (@netpol) June 14, 2020
After the Black Lives Matter protests, right-wing counterprotesters gathered in central London. The rally was organised by the Democratic Football Lads Alliance, a football hooligans network which claimed it came to London to "protect the war memorials" after the statue of Winston Churchill in Parliament Square was sprayed with "was a racist" during the BLM protests. BLM protesters have been calling for the removal of statues of colonial and racist figures, for example the statue of imperialist Cecil Rhodes at Oxford University under the Rhodes Must Fall campaign. In Bristol, BLM protesters removed the statue of Edward Colston, a 17th-century slave trader and toppled it into the city's river.It is reported that 100 people were arrested during the far-right protests.
Following the concerns raised about policing during BLM protests, Netpol announced that it is launching a campaign to produce and publish a comprehensive report on the policing of Black Lives Matter protests in the UK. The organisation highlights that young black people are more likely to face arrest during BLM protests.
Today we are launching a campaign to produce and publish a comprehensive report on the policing of #BlackLivesMatter protests in Britain. Find out how to share your evidence and testimony and how to donate at https://t.co/rNygJznUl8 pic.twitter.com/JV1XvLYmZH

— Netpol (@netpol) July 3, 2020
Meanwhile, the Prime Minister has failed to offer any clear response on the issue of protesting during the pandemic. Contrary to what he previously tweeted regarding the importance of safeguarding the right to protest, on 12th June 2020 he declared in a thread - once again - on Twitter to "stay away from these protests".
Expression
Press freedom has come under serious threat from UK officials in the last year, as previously reported on the Monitor, but even more so in recent months as the lockdown continues.
On 26th May 2020, a big scandal involving the Prime Minister's senior adviser Domenic Cummings was reported in the newspapers and by the media. The media were subject to attacks on social media (Twitter especially) through hashtags such as #ScumMedia.The scandal was broken by the Guardian and The Daily Mirror which reported that Cummings and his family travelled 260 miles while his wife was experiencing symptoms related to COVID-19, despite the government issuing guidelines for staying at home at the time.
In response to the media coverage on the issue, the PM's office declared that the incident was based on "false allegations", "falsehoods and errors" and an "inaccurate article".
The declaration from Downing Street indicates "a worrying trend of governmental bodies' heavy-handed responses to reporting on stories related to the COVID-19 pandemic." Officials also started commonly echoing "You should not believe everything you read in the newspapers".
"We are alarmed by the UK government's dismissal of serious public interest reporting as 'false' and coming from 'campaigning newspapers'. These Trumpian tactics are only serving to fuel hostility and public distrust in the media. This worrying trend is certainly not in keeping with the government's stated commitment to champion global media freedom - and must be immediately reversed before the UK's press freedom climate is further eroded."- RSF UK Bureau Director Rebecca Vincent.
There have been several other instances where false reporting accusations were directed at media publications, as reported by RSF:
Government officials accused The Sunday Times of reporting a "series of falsehoods and errors" and misrepresenting the work of government in relation to its story titled: 'Coronavirus: 38 days when Britain sleepwalked into disaster'.

The editor of the Manchester Evening News was forced to defend a story after government accused her on Twitter of publishing an inaccurate story.
What I reported was that Greater Manchester has been told by government the 'Everyone In' hotel-based approach is being wrapped up. Here is the relevant section of the report. I'm just doing my job. pic.twitter.com/8fGTUitc9b

— Jennifer Williams (@JenWilliamsMEN) May 15, 2020
An Open Democracy reporter was banned from asking questions during briefings as government accused the online publication of being a 'campaigning' organisation.
@openDemocracy's correspondent James Cusick "was told by Downing St he would not be permitted to ask questions at government press briefings as openDemocracy was a "campaigning" organisation.... [Cusick's] reporting exposed serious flaws in government's Covid-19 testing regime." https://t.co/dPG6fQIfrJ

— Peter Geoghegan (@PeterKGeoghegan) May 27, 2020
Reporters Without Borders UK also highlighted other concerns. For example, reporters are faced with restrictions when covering the Prime Minister or governments officials' daily press briefings on the status of COVID-19 in the country.In addition, there is limited opportunity for journalists to engage in virtual participation - with follow-up questions rarely permitted. Foreign correspondents are not allowed to take part in these briefings at all.
In a separate development, a joint statement issued by the Committee to Protect Journalists (CPJ), European Centre for Press and Media Freedom (ECPMF) and several other organisations condemned the threats made by South East Antrim Ulster Defence Association (UDA) against journalists at the Sunday Life and Sunday World in Northern Ireland. Police warned journalists of the credible threats, including the targeting of journalists through a car bomb. The threats stem from news reports involving South East Antrim UDA in their coverage of the murder of Glenn Quinn, as well as the UDA's role in the Northern Irish drug trade.