Police excesses during protests a worrying trend, company in spotlight for using SLAPP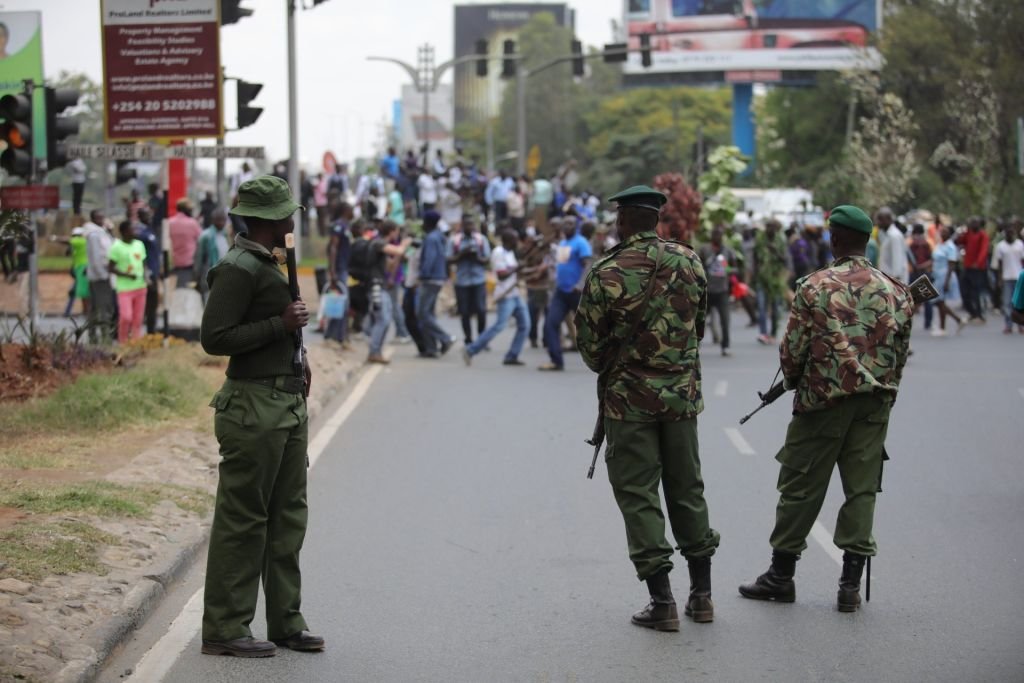 The Business & Human Rights Resource Centre @BHRRC has highlighted the SLAPP suit that @Kakuzi_Plc attempted to use as an attack against our advocacy against the company's abusive activities.

Learn more on how SLAPP suits are used to attack activists.https://t.co/uW9GDAukZo

— KHRC (@thekhrc) October 6, 2021
Association
In March 2021, Kakuzi PLC, a Kenyan agricultural company, sued two human rights organisations - the Kenya Human Rights Commission (KHRC) and Ndula Resource Centre (NRC) - over a press statement which they jointly issued on 14th February 2021. KHRC and NRC, who have been involved in advocacy campaigns against Kakuzi following reports of human rights violations by aggrieved workers and communities, had brought a suit against the company and its UK-based parent company, Camellia PLC, in the United Kingdom jurisdiction. The press statement was released following a costly settlement before the London High Court.
In the lawsuit, Kakuzi sought to have KHRC and NRC withdraw the February statement claiming that it damaged its reputation and violated its right to a fair trial. The KHRC and NRC in turn stated that the suit by Kakuzi was a strategic lawsuit against public participation (SLAPP) intended to intimidate the two organisations. The company eventually withdrew the suit.
The killing of Joanna Stutchburry adds to the number of violent deaths of environmental activists in Kenya. We call for increased protections for environmental & human rights activists defending our environment & justice for those who have lost their lives in their line of work . https://t.co/wnN9VtcqnQ

— Justice For All (@justice_2030) July 21, 2021
In separate developments, on 16th July 2021, unknown assailants shot environmental activist Joannah Stutchburry outside her home. Reports indicated that prior to her death, Stutchburry had received multiple death threats for her work campaigning against development in wetlands in a national park, and vocally opposed powerful businessmen who were trying to undertake construction projects in the Kiambu forest, on the outskirts of Nairobi.
The forest, which is located in an area where land prices have soared incredibly in recent years, has been invaded by land grabbers eyeing the land for housing development projects. According to the Conservation Alliance of Kenya, Stutchburry had reported a threat from a developer earlier in the year, although no action was taken by authorities. President Uhuru Kenyatta and NGOs including Amnesty International and the Conservation Alliance of Kenya condemned the murder and called for an investigation.
In a joint statement, CSOs from around the country denounced the murder. Their statement issued on 16th July 2021 read in part:
"…We, as organizations from all parts of the country, the African region, and the world, condemn this senseless killing and call for justice for Joannah and all the other environmental and human rights activists who have lost their lives while defending the integrity of our environment and natural heritage. These fierce and courageous defenders have met their untimely death while trying to leave behind a better world for the next generation."
In yet another incident involving the targeting of human rights defenders, on 8th August 2021, James Mungai, a land rights activist, and his wife Priscilla Wangui were attacked on their farm in Mithini, Muranga county. Prior to the attack, unknown assailants destroyed their farm produce and threatened them with eviction from their ancestral land. Mungai, who was born and raised in Mithini, is the chairperson of the squatters' association in the area, and advocates for the rights of the squatters who are facing eviction by private developers who fraudulently claim the land. The developers are said to collude with local authorities to intimidate and harass the Mithini community, including by instituting trumped up criminal charges against them. Although the community has reported several incidents to the police, little has been done.
Peaceful Assembly
On 27th June 2021, protests broke out in Kisii after the police shooting of a 16-year-old girl. Reportedly, police officers shot the girl who was walking home, while dispersing a protest in Rioma the previous day, where residents were demonstrating against the death of a convict, Erick Achando, who died while in police custody. The residents believed security agents beat Achondo for breaking the 7 pm curfew, while the police insisted that Achondo had fallen ill and died after being rushed to Marani Sub-county Hospital.
The death of the girl sparked further protests as residents demanded the suspension of the area's police bosses.
Margaret Nyaboke, a resident, said:
"The police officers here have become notorious and kill us at will".
Similar incidents of police shootings during protests were reported:
On 5th August 2021, police officers fired live bullets to disperse a protest in Embu, killing one person. The protest had broken out following the death of two brothers in police custody after they were arrested for allegedly breaking the 10 pm curfew imposed to curb the spread of COVID-19. Their bodies were discovered in Embu mortuary two days after they were last seen after police picked them up. The death of the two brothers sparked public outrage nationally, with police officers claiming that the two young men jumped from a moving police vehicle.
On 17th August 2021, six police officers linked to the death of the two brothers were arrested and charged with murder.
On 25thAugust 2021, a man was allegedly shot dead by the police who were dispersing a protest in Kahawa west, Kiambu County where protestors demonstrated against the demolition of trader stalls by the Nairobi Metropolitan Service without a prior eviction notice. The protesters lit bonfires and blocked roads leading to the area.
In yet another incident of police brutality in enforcement of a COVID-19 related curfew, on 19th August 2021, residents of Kayole in Nairobi protested the death of John Kiiru who was allegedly beaten to death by police officers for violating the COVID-19 curfew. Kiiru's dead body was found on the street the next morning, sparking demonstrations. Protestors barricaded roads and lit bonfires while police officers responded by firing teargas to disperse the protesters.
Relatedly, on 7th July 2021, police in Nairobi arrested dozens of protestors calling for an end to police brutality and an end to the curfew put in place to curb COVID-19, during the annual Saba Saba protest that takes place every 7th July. Police officers dispersed the protest by shooting live bullets and firing teargas at protestors. Saba Saba was initially started in 1990 to demand free elections, however, HRDs and civil society organisations now commemorate the day by protesting police brutality, extrajudicial killings, and to demand respect for the Constitution.
Against the backdrop of increasing cases of police brutality, on 5th August 2021 the National Police Service (NPS) announced that a comprehensive training programme would be rolled out in November 2021 to equip police officers to use non-lethal means to manage the public as the country approaches the 2022 general election. It remains to be seen whether this will be implemented and practised by police officers in the country.
#Kenya: 3 student leaders from the University of Nairobi (UoN) arrested over protests against the recent fee increment.

The varsity has more than doubled fees for postgraduate courses and parallel degrees as it seeks to ease a cash crunch. pic.twitter.com/WLsLQrypP4

— Rogers Atukunda (@rarrigz) July 15, 2021
In other developments, on 14th July 2021, Nairobi University students protested a fee increase. The protest, which was held along University Way and Uhuru highway in the capital's central business district, was organised by the University of Nairobi Students' Association after negotiations over the increment collapsed. The increment saw the tuition fees for some self-sponsored students move from KES 275,000 to 600, 000 (USD 2,460 to 5,368), with some degree courses reaching as high as KES 1,000,000 (USD 8,947). Police beat and used tear gas and water tanks to disperse the protest. Reports indicated that some students were arrested, while the police also blocked the university's entrance to prevent more students from leaving to join the protest.
In a similar incident the following day, 15th July 2021, students of Dedan Kimathi University in Nyeri staged a protest outside the school and blocked roads leading to the institution to denounce a fee increase. The school's administration suspended all in-person learning at the institution following the protest, and ordered all students to vacate the premises until further notice.
In another incident involving university students, on 19th July 2021, learners at Meru National Polytechnic University demonstrated against student election irregularities. According to the students, the administration had influenced the elections to favour a particular group of students preferred by the school's administration. The elections, which were held digitally, were criticised by students for opening up room for manipulation, and were a shift from the norm, where elections were conducted both manually and electronically. In response to the protest, police fired teargas and arrested a few students, while the school's administration closed the institution indefinitely. 
Journalists from the western Kenya region currently holding a peaceful demonstration in Bungoma town to condemn an alleged death threat from Bungoma Governor Wycliffe Wangamati to Sulwe FM reporter Jimmy Simiyu on the story he filled. @KUJ_Kenya @kujnakuru @MediaCouncilK pic.twitter.com/UTAsTqLkc5

— Marcello Omutiti Omuttaha🇮🇪🇰🇪 (@MOmuttaha) June 14, 2021
Expression
On 12th June 2021, Royal Media Services correspondent Jimmy Simiyu allegedly received death threats from the administration of Bungoma Governor Wycliffe Wangamati. The threats followed Simiyu's publication of two stories accusing the governor of breaking COVID-19 regulations. On 14th June 2021, journalists in Bungoma demonstrated in support of Simiyu.
John Makuba, chairman of the journalists' association in Bungoma said:
"We are not taking these threats lightly. That is why we have come to present our memorandum to the county commissioner for necessary action".
The Media Council of Kenya (MCK) urged Governor Wycliffe Wangamati to respect press freedom.
In a statement, MCK's Chief Executive Officer, David Omwoyo said:
"The Media Council of Kenya calls upon the public and various public governance levels, including county governments, to refrain from threatening and obstructing journalists from undertaking their lawful roles."
On 9th July 2021, Yvonne Chepkwony, a journalist working for The Standard newspaper, and an intern from Kenya News Agency, Faith Lagat, were arrested and detained by police in Baringo while covering a defilement case. The two journalists were following up on an open case against a head teacher who had allegedly defiled and impregnated a 17-year-old secondary school girl. The police officers confiscated their phones after ordering them to delete the photos they had taken. They were released following a lawyer's intervention an hour later, and their phones returned to them.
On 10th July 2021, several journalists from The Standard Group, Citizen TV, NTV, KBC, The Star, and Equatoria TV were attacked by "rowdy youths" while covering a political rally in Mathare, Nairobi. The perpetrators beat and injured the journalists and stole their equipment. Following the incident, the Media Council of Kenya released a statement warning members of the public against attacking journalists.
MCK's statement read in part:
"We would like to caution members of the public against attacking journalists as this is a serious violation of freedom of expression, media freedom, and access to information as provided for in the Constitution… "Journalists are messengers and should not be targeted for attack from any quarters. The Council takes this matter seriously. We urge the police to hasten investigations and subject the perpetrators to relevant legal sanctions." 
Kenyans will not be allowed to view the critically acclaimed documentary film 'I Am Samuel', because it has been restricted by the Kenya Film and Classification Board (KFCB).
@IamSamuelFilm pic.twitter.com/i3hDhz7OT5

— tanktop vegan (@mooo_fasa) October 13, 2021
In separate developments, I am Samuel, a Kenyan documentary exploring an intimate relationship between two men and affirming the lives of LGBTQI+ Kenyans, was banned by the Kenya Film and Classification Board (KFCB) on 23rd September 2021. KFCB claimed that the documentary was an intentional attempt to promote same-sex marriage as a valid alternative. According to the acting Chief Executive, Christopher Wambua, the film violates Article 165 of the Penal Code which prohibits homosexuality, the rules of Kenya's Films and Stage Plays Act, Cap 222 and Article 45 of the Kenyan constitution, which recognises the family as the basic unit of society and defines marriage as between two persons of the opposite gender.
The Collaboration on International ICT Policy for East and Southern Africa (CIPESA) released a report in July 2021 analysing digital privacy and surveillance laws in 19 countries including Kenya. The report found that there is progress in enacting laws safeguarding the right to privacy in some countries including Kenya, however, governments should review existing laws, policies and practices on surveillance, including COVID-19 surveillance, biometric data collection, encryption, and data localisation to ensure they comply with regional and international standards.