Police crack down on protesters and journalists following rare demonstrations in Djibouti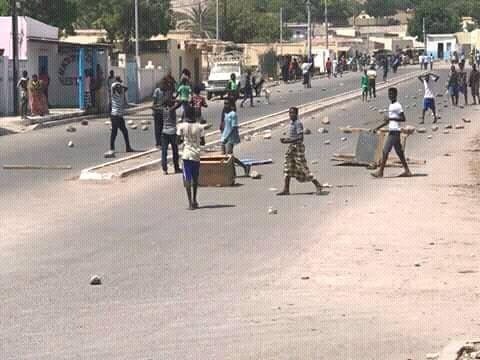 The next presidential election is set to take place in early 2021, when President Ismaël Omar Guelleh will run for a fifth term. On 25th September 2020, the Union pour le Salut National (USN), which is a coalition of several opposition parties, announced that they were mobilising against Guelleh ahead of the election. The USN also called for free elections and an overhaul of the Election Commission.
As the country enters the last few months before the next elections, rare protests have been documented in Djibouti as demonstrators rally support for a whistle blower who was jailed for exposing corruption.
Anti-government protests erupt throughout #Djibouti 🇩🇯The People are protesting over the arrest and torture of young pilot Fouad Yusuf who criticized @IsmailOguelleh Djibouti's dictator, who has been in power since 1999. @Smith_JeffreyT pic.twitter.com/FP5JSU1069

— Nabad iyo Caano (@VancitySam) June 4, 2020
Expression
On 12th June 2020, Lieutenant Fouad Youssouf Ali was arrested and charged with "treason" after releasing a video alleging corruption by a high-ranking military official and clan-based discrimination in late-March 2020. He was held in allegedly harsh conditions in Gabode prison in Djibouti City where he went on two hunger strikes and his health condition deteriorated according to his lawyer. On 24th August 2020, Youssouf Ali's uncle spoke to Radio Boukhao, urging the international community to apply pressure on the government concerning the case. Two days later, La Voix de Djibouti (The Voice of Djibouti) news outlet released a video of Youssouf Ali's mother on 26th September 2020 stating that Ali was being deprived of food and being tortured. The video was published despite the fact that Djibouti's few free journalists, mostly working for La Voix de Djibouti have continued to be targeted for reporting on Youssouf Ali's case, or on the resulting protests across the country.
Ali had previously fled Djibouti after denouncing corruption in the armed forces and sought refuge in Ethiopia, from where he was deported back to Djibouti where he is accused of "treason".
Following unrest that followed throughout June and July 2020 as protesters took to the streets in support of Ali (see below in Peaceful Assembly section), several journalists, including those working for La Voix de Djibouti, were arrested, or went into hiding for fear of being targeted for their coverage of the protests. Kassim Nour Abar was arrested on 5th June 2020 while preparing to cover protests in Ali Sabieh, and Mohamed Ibrahim Waiss was arrested on 7th June 2020 while reporting on protests in Djibouti City. Both were later released without charge, however their arrest prompted other high profile journalists, such as Osman Yonis Bogoreh to go into hiding. Charmarke Saïd Darar, who also works for La Voix de Djibouti was arrested on 15th July 2020 and refused access to a lawyer or visits from his family. Darar had been in hiding prior to his arrest following his coverage of the case of Lieutenant Fouad Youssouf Ali. He had appeared on a weekly news programme "Échange sur l'Actualité" (News Exchange) on 12th July, stating that two of his family members had recently been arrested in an attempt to intimidate him into stopping his work as a journalist. A video released following the police search of Darar's house on 2nd August showed that his house was vandalised in the process, while his mobile phone and computer were confiscated and his Facebook account hacked into.
La Voix de Djibouti is largely considered to be the only independent Djiboutian broadcaster and is based in France. Their journalists are often the target of harassment and arbitrary arrest, as previously reported on the monitor.
L'Aurore, Djibouti's last privately-owned media outlet, was suspended in August 2016 after its co-director and editor-in-chief, Kadar Abdi Ibrahim, was arrested at Djibouti's international airport. Although Ibrahim was released, L'Aurore has not been allowed to resume its work since August 2016.
Peaceful Assembly
Throughout June and July 2020, rare street protests broke out in support of former Djiboutian Air Force Lieutenant Fouad Youssouf Ali and against the treatment meted out to him while in detention.
Protests first broke out in early June, after a video appeared online where he appeared to be held in a toilet of the notorious Gabode prison in Djibouti City and showed signs of torture. Ali's lawyer reported that around 200 people had been arrested during the protests in early June, including members of his family. The protests were compounded by general public dissatisfaction with corruption and poverty in Djibouti.
The protests in June and July were categorised by the government as "unauthorised demonstrations", and were met with excessive police force. There were also many reported arrests of protesters and journalists who were covering the demonstrations. Public gatherings remain rare and when they do take place they are often met with repression in Djibouti.