Canada: Police restricts press access to environmental protests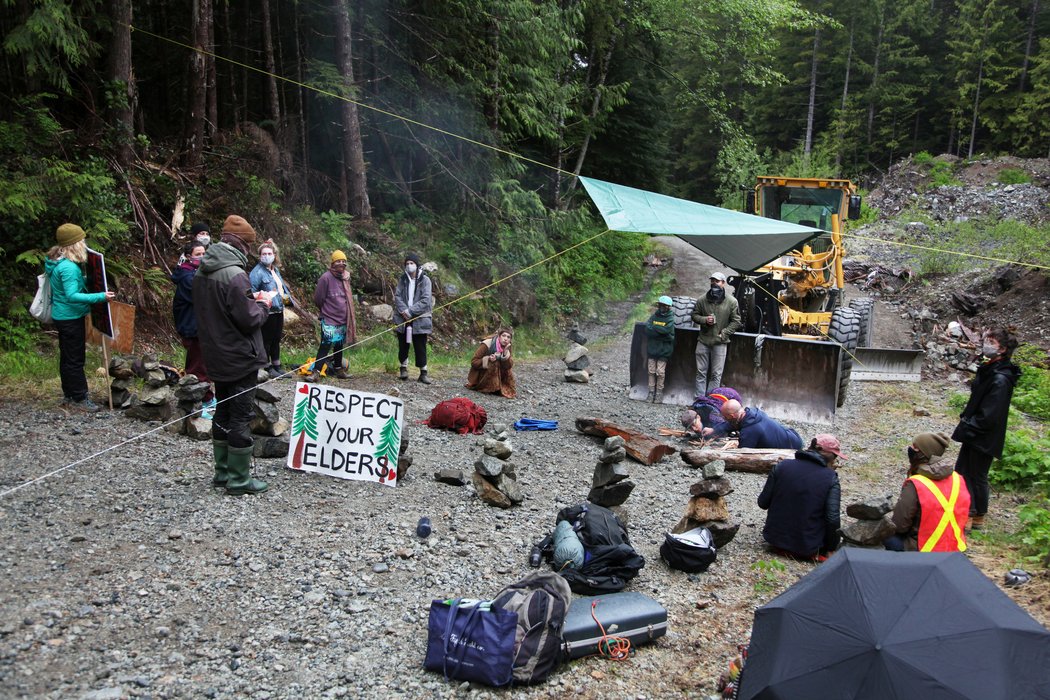 Association
ITF calls Canada's back-to-work legislation an 'illegal assault on human rights' of Montreal dockworkers https://t.co/HiPhSdJezs pic.twitter.com/NrvfWOtAkk

— Splash (@Splash_247) April 29, 2021
On 30th April 2021, Canada's federal government passed back-to-work legislation that essentially ended a strike by Montreal dockworkers, who had been protesting changes to their work schedules which they describe as unfair. The strike was the second walkout in less than a year. The Canadian Union of Public Employees, representing the workers, said the new law violates fundamental rights protected by the Charter of Rights and Freedoms. The labour union vowed to file a legal challenge.
Peaceful Assembly
'We Must Not Stand Down': 270+ Arrested at Anti-Logging Protests in Canada

"The world watches in horror as British Columbia's government allows the destruction of remaining old-growth forest," - @billmckibben #NoForestNoFuture @NDPhttps://t.co/X4qCaq09f5 pic.twitter.com/fqA2A7LVRe

— Climate Save Movement (@climatesavemvmt) June 26, 2021
After a court injunction allowed logging of old-growth forests to resume in British Columbia in April 2021, at least 270 people were arrested for protesting and trying to block workers from cutting down trees in the area. Since August 2020, protesters had been camping and mobilising to prevent deforestation on southwestern Vancouver Island. "I feel like industry and government have put shackles around our people," said Rainbow Eyes, an Indigenous woman who lives nearby. Canadian news organisations denounced that police had stopped them from covering the demonstrations and the police's efforts to disrupt them, as detailed in the 'Expression' section of this update.
On 25th April 2021, about 200 people gathered in a park in Montreal to demonstrate against police brutality and racial profiling. The event was organised following the release of a video showing police violently arresting a woman at a metro station. "We have severe racial inequality here, like everywhere else, and that needs to be addressed," said one protester. "There's not enough accountability in the police force."
In May and June 2021, there were several demonstrations against pandemic-related restrictions. In Ottawa, at least 500 people attended an anti-lockdown rally where many chanted, "No more lockdowns!" and "Freedom!". In a protest on 1st May 2021 in Montreal, one officer was injured after being hit by an object allegedly thrown by demonstrators. At least four people were arrested and police ticketed 28 people for health violations. On 8th May 2021, hundreds of people gathered outside the Whistle Stop Cafe in Alberta as part of the "Save Alberta Campout Protest" event after its owner was arrested for violating a court order that prohibited protests against restrictions. He had reportedly threatened to shoot people during phone conversations and drove his car at officers who tried to detain him. On 5th June, around a thousand people marched in Montreal to oppose restrictions and public health measures imposed by the government.
On 1st May 2021, about 150 people blocked an intersection in downtown Vancouver to call attention to the climate crisis. Organised by Extinction Rebellion, the protesters carried a large pink boat painted with the words "tell the truth" and "billions will die." At least five people were detained for refusing to disperse. "We do not want to cause disruption to people going about their everyday lives, but we have no other choice at this point," an activist said.
On 8th May 2021, healthcare workers in Ontario protested to demand more action from the province to keep essential workers and the community safe from COVID-19. During the demonstration organised by Health Providers Against Poverty, the Toronto Street Nurses' Network and the Decent Work and Health Network, the workers called for more paid time off and prioritising vaccines for essential workers and marginalised communities. "We're here because we are fed up with Premier Doug Ford playing politics with people's lives. Health workers across Ontario are outraged, we're upset, we're angry and we're tired of watching our colleagues and patients fall sick and die," one healthcare worker said.
Demonstrations by pro-Palestinian and pro-Israel groups were held in cities across the country following escalating violence in Gaza and Israel in May 2021. In Toronto, thousands of people gathered in Nathan Phillips Square to denounce the violence against the people of Gaza. In Ottawa, the Palestinian community rallied outside the Human Rights Monument to condemn Israeli attacks. "I feel helpless, so the least I can do is remind Canada, the global community, that Palestinian human rights should matter," said one attendee. In Vancouver, a few hundred pro-Israel demonstrators marched near the Vancouver Art Gallery downtown and called for peace in the region. While police acted to keep the two groups separate or set up barriers, there were reports of clashes between protesters at some of the events. In Montreal, police used tear gas to disperse pro-Israel and pro-Palestinian demonstrations which were held just a few blocks apart, reportedly because of altercations between groups.
Expression
Journalists restricted from covering environmental protests
CPJ calls on @rcmpgrcpolice to cease blocking journalists from covering protests on Vancouver Island.

"We are concerned that the Royal Canadian Mounted Police seem to have a pattern of prohibiting journalists from accessing protest sites." @cmdelasernahttps://t.co/uJUVZIJfdH

— Committee to Protect Journalists (@pressfreedom) May 26, 2021
After reports that the police restricted journalists from covering anti-logging protests in British Colombia, a coalition of news organisations and press freedom groups announced it would pursue legal action to ensure journalists fair access to the demonstration areas. As reported by the Committee to Protect Journalists, local journalists said the RCMP denied them access to the demonstration sites; demanded that members of the press stay within areas that are often out of earshot and only provide a partial view of what's going on; and threatened journalists with arrest.
Free press advocates said the police had used broad exclusion zones to restrict the media for years and this is the latest example. "It is also unacceptable for journalists to be threatened with arrest or corralled into police cordons with limited freedoms," one of the advocates said. The coalition filing the legal action includes groups such as Capital Daily, Canada's National Observer, the Aboriginal People's Television Network (APTN), The Discourse and IndigiNews.
Other developments
Civil liberties advocates challenged an injunction aimed at curbing illegal gatherings in opposition to coronavirus-related restrictions in Nova Scotia, which they claimed violates freedom of assembly and expression. The Canadian Civil Liberties Association said the court injunction, which was imposed in May 2021 after two large gatherings to protest restrictions in the province, should be modified or cancelled because it violates the Charter of Rights and Freedoms. A similar court order was issued in Alberta but its language is not as broad. "We can't make Canada a protest-free zone because of COVID," said one of the advocates.
On 12th May 2021, a military reservist was charged with "endeavouring to persuade another person to join in a mutiny" and "behaving in a scandalous manner unbecoming of an officer," after allegedly encouraging military members to disobey orders to disseminate the COVID-19 vaccine. In December 2020, the officer had described the vaccine as a "killer" while speaking at an anti-lockdown event in Toronto.
Federal legislation tabled in November 2020 would amend the Broadcasting Act which regulates digital media in Canada, expanding it to apply to all streaming audio or video content on the internet, including Netflix, Spotify, YouTube and other popular streaming services. Supporters of Bill C-10 argue it would protect Canadian artists whose work is increasingly consumed on global streaming services. But critics have warned that the law could potentially curtail freedom of expression, giving regulators excessive powers to control content. "We're outraged our government is trying to take so much power over our speech," said Matthew Hatfield, campaign director of the group Open Media.