Police brutality during protests and targeting of journalists a huge concern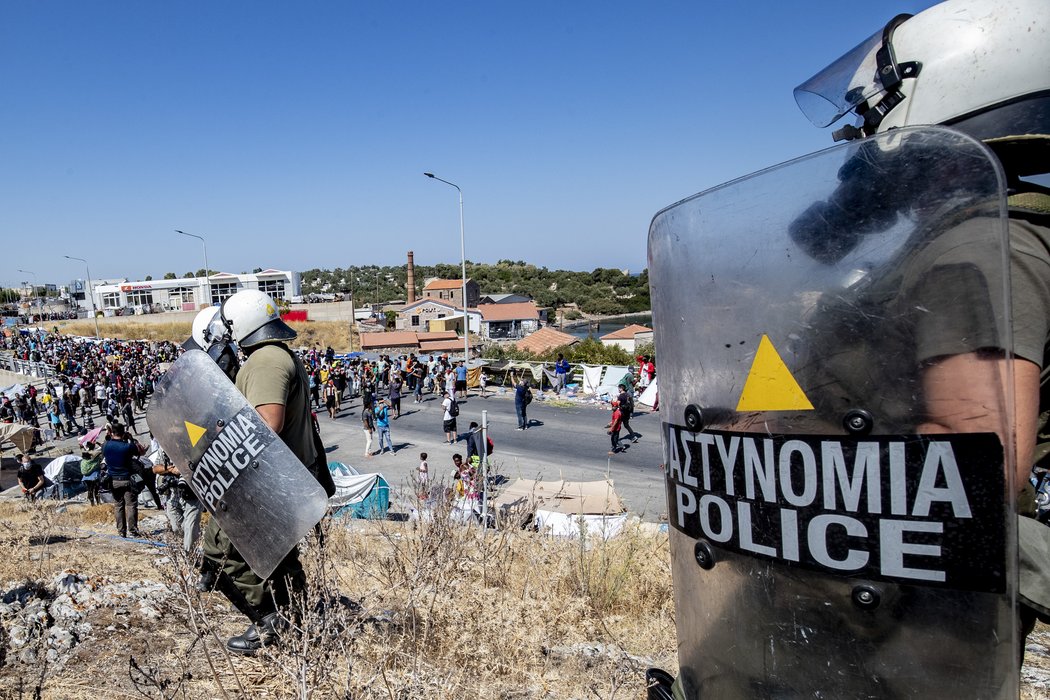 Background
From 3rd January 2021, Greece once again tightened the coronavirus restrictions that were previously eased for most of December 2020. The new, tightened measures were in effect until 11th January 2020. During this time, all non-essential businesses were closed and Greeks could leave their homes only after sending an SMS to a government hotline number that included their reason for movement. Government spokesman Stelios Petsas said in a televised statement that the measures were expected to help with the reopening of schools on 11th January 2021.
Despite the strict lockdown measures in place since early November 2020, Greece's ICU units face immense pressure because of the number of patients who needed treatment. Some ICU units are currently operating at near capacity.
Peaceful Assembly
Student uprising remembrance protest
On 17th November 2020, hundreds of people gathered in Athens to remember the 1973 student uprising. Every year on this day, thousands gather in front of the Athens Polytechnic to remember the protesters who died there. They march to the US Embassy, as the United States supported the military junta ruling Greece between 1967 and 1974. The marches often turn violent with clashes between protesters and the riot police (see Monitor updates on earlier protests here and here).
In order to prevent this year's march from happening, the government tightened the restrictions on gatherings to a maximum of three people between 15th and 18th November 2020 citing the strain on the healthcare system.
Opposition parties said that banning gatherings of four or more people was unconstitutional and defied the ban. However, the Council of State, the highest administrative court of Greece, ruled in favour of the government's decision.
Amnesty International also raised concerns about the blanket ban. Nils Muižnieks, Amnesty International's Regional Director for Europe said:
"The decision of the Greek authorities to issue a blanket ban on all public assemblies across the country is disproportionate and violates Greece's obligations under international human rights law. Restrictions to the right of peaceful assembly to curb the pandemic are permissible but must meet the principles of strict necessity and proportionality. Governments do not have carte blanche to restrict human rights, even during these difficult times."
Nonetheless, about 250 people, according to the Associated Press, wearing masks and keeping social distancing protested in the morning in front of the US Embassy. Subsequently, about 1,500 people gathered in central Athens. This latter gathering was dissolved by the police who eventually used tear gas and a water cannon. Dozens were detained.
The fines for those attending unauthorised gatherings that violate the government's ban range from 300 Euros for people attending the gathering to 3,000 Euros for the organisers, and 5,000 Euros for those organisations who arrange the event.
Women rights activists arrested
On the International Day of the Elimination of Violence Against Women which is held every year on 25th November, women protested in Syntagma Square, in Athens. Five activists were carrying a banner outside the parliament saying that the lockdown would not protect women from the pandemic of violence.
Nine women were arrested and charged with breaking public health rules and they were given a fine of 300 Euros each. According to Amnesty International, this was a violation of the activists' freedom of expression and assembly, given the fact that they were wearing masks and observing physical distancing rules.
"Arresting, fining and charging peaceful activists simply for staging symbolic actions against gender-based violence is an assault on their rights to freedom of expression and peaceful assembly. The Greek authorities must drop all charges against them and ensure that people can safely raise their opinions even during this public health emergency. Activists must not be penalized for trying to raise awareness about gender-based violence, let alone at a time when women and girls face increased risks due to lockdowns and other restrictions around the world,"- Nils Muižnieks, Amnesty International's Regional Director for Europe.

Furthermore, according to the NGO, the women repeatedly asked why they were taken into custody and transferred to the Syntagma police station but their questions were not answered until late in the evening.
Την Παγκόσμια Ημέρα για την εξάλειψη της βίας κατά των γυναικών η αστυνομία έκανε 9 προσαγωγές γυναικών. pic.twitter.com/3HKev4ZFxj

— lolos marios (@lolosmarios) November 25, 2020
On 6th December 2020, about 100 people were arrested in Athens for attending a march in honour of the 12th anniversary of the death of 15-year-old Alexandros Grigoropoulos. The teenager was shot dead by police in 2008 in the Exarchia district, in Athens. According to the authorities the people who gathered on Sunday were violating the ban on gatherings imposed by the government. A video documented police using excessive force, which included the use of tear gas and physical violence by kicking a protester in the face.
Activists have warned about the rise in police brutality during protests in Greece. Amnesty International Greece launched a campaign, addressed to the Greek Minister of Civil Protection, Michalis Chrysochoidis, and the Greek Minister of Justice, Costas Tsiaras, calling for the end to police violence and impunity.
"These incidents are not "isolated", as the Greek authorities claim, but rather systematic, and reflect a continuing culture of impunity. Meanwhile, victims of police ill-treatment and / or their families complain of lengthy criminal proceedings and ineffective criminal and disciplinary investigations into their cases."
Αναδημοσιεύουμε το άρθρο του @POLITICOEurope και της Nektaria Stamouli για την αύξηση της αστυνομικής βίας στην Ελλάδα, εν μέσω της καραντίνας.https://t.co/ZPi2d5eSt5

— Διεθνής Αμνηστία (@AmnestyGreece) January 11, 2021
Expression
Incidents against journalists
On 19th October 2020, a German media crew making a film about climate-induced migration on the Greek island of Samos were detained for seven hours, strip searched and held in jail without charges and repeatedly denied access to a lawyer. Several media watchdog organisations, including the International Press Institute (IPI), condemned these actions in a letter to Greek authorities and requested that authorities should explain on what grounds such actions were taken against the crew.
"We... believe that the unprofessional behaviour of the police officers, the arbitrary manner of their questioning, their unnecessary use of strip-search, the violation of COVID-19 precautions, and their repeated obfuscation of the charges against the crew members, amount to an unacceptable act of intimidation against a journalistic documentary crew."
#Greece: A German media team including journalists Larissa Rausch & Manolo Ty suffered a 7-hour detention & mistreatment by the police just because they were producing a documentary on #migration on #Samos. @RSF_inter calls on the authorities to stop the intimidation immediately! pic.twitter.com/hx0GfkThVt

— RSF in English (@RSF_en) October 20, 2020
On 17th November 2020, police detained journalist Antonis Rigopoulos who was covering the commemoration of the Polytechnic uprising (see Peaceful Assembly). Rigopoulos works for Documento and Koutipandoras.gr. As IPI reports, the journalist was documenting the arrest of protesters when he was approached by traffic officers who tried to fine him €300 under COVID-19 regulations for not wearing a surgical mask -- even though he was wearing a full gas mask. Rigopoulos says that he was then taken to the headquarters of the Traffic Police and was treated in a threatening and abusive manner. Officers also refused to recognise his journalistic ID. He was eventually released without charge.

During the same protest in Athens another journalist, Marios Aravantinos, reported that he was shouted at and hit by the police to prevent him from filming and was asked: "What are you filming?"
"The unjustified detention of Antonis Rigopoulos was an unacceptable attempt to harass reporters covering the protests and a clear attack on press freedom. Sadly, this isn't an isolated incident. In recent weeks, we've seen police in Greece use arbitrary detentions and threats of fines and charges to intimidate journalists covering sensitive topics,"- IPI Deputy Director Scott Griffen.
On 17th November 2020, three freelance German journalists were detained, interrogated and photographed. The journalists were reporting on migrants and refugees and alleged illegal "pushbacks" by the Greek authorities on the island of Lesbos. The journalists believe that this was an act of intimidation to deter them from reporting. In addition, the journalists were driven in a fully loaded car to a police station, which they state contravened the government's COVID-19 regulations and put them at risk of infection.
On 2nd December 2020, Italian freelance photojournalist Danilo Campailla and his associate were interrogated by police for over four hours for documenting the aftermath of the sinking of a ship carrying refugees to Europe at Mytilene Port. Police officers demanded the journalist hand over his camera and SD card and forced him to format the card, deleting his footage. Two police officers, one who was unmasked, drove the two to a building in Port Hautory where they were interrogated. This was in violation of COVID-19 regulations which state that only two people are permitted per car.

On 6th December 2020 during a march in honour of the 12th anniversary of the death of 15-year-old Alexandros Grigoropoulos, several journalists and photojournalists report that they were pushed with police shields and prevented from doing their work. The Hellenic Photojournalist Association (EFE) denounced police violence against photographers who "were harassed, pushed into a crowd and received pushes and blows with the shields of the police."
Αυτή η σκηνή μου θυμίζει,τρόπο,ύφος,ηχώ από τα γραφεία της Χρυσης την ημέρα των εκλογών
Εγέρθητοοοο#Γρηγοροπουλου #Γρηγοροπουλος #ΝΔ_αλητες pic.twitter.com/XwOe235Hft

— Marka1 (@Marka149133376) December 6, 2020
Cases of censorship
On 13th December 2020, Elena Akrita, a well-known journalist and columnist at Greek daily newspaper Ta Nea, announced that she was resigning due to a recent column being 'censored'. Greek media have reported that the columnist was pushed out due to her critical commentary on Prime Minister Kyriakos Mitsotakis.
In a separate case, on 16th December 2020, Greek journalist Dimitra Kroustalli, who works for newspaper To Vima, announced that she was forced to resign due to "strangling pressure" from the cabinet of the Greek Prime Minister, Kyriakos Mitsotakis. She stated that such pressure is believed to be linked to the publication of her work on government's response in tracking and monitoring COVID-19 cases, which resulted in "permanent gaps and inaccuracies" in data collection. The journalist said: "This created internal tension and put me in a dilemma: personal and professional humiliation or resignation." The government has denied any interference, stating that it "does not interfere in the media or in the work of journalists."
Media blackout
Journalists and other media staff staged a strike from 8th December 2020 over proposed changes to Greece's press laws. Both state-run and private media halted all broadcasts except for COVID-19 developments. The proposed law, which aims to reduce the requirement of 400 employees at television channels to 280, includes more flexible articles against journalists regarding their employment contracts.
#Greece 🇬🇷 Greek TV stations' strike which started on 8 December continues today to protest against changes in labor relations leading to job cuts and mass layoffs. We join their struggle and express our solidarity. #StrongerTogether #solidarity💪https://t.co/BSKsoWHajD

— IFJ (@IFJGlobal) December 10, 2020
Petsas list
As previously reported, the Greek government was accused of not being transparent in how it allocated public money to the media that are closer to the government. Following the accusation, the government released the Petsa list. In early December, the European Commissioner for Values and Transparency, Vera Jourova, likened the situation of the funding of public media in Greece to what has been happening to the media environment in Hungary and Poland.