Poland deports human rights activist as EU takes it to court over rule of law concerns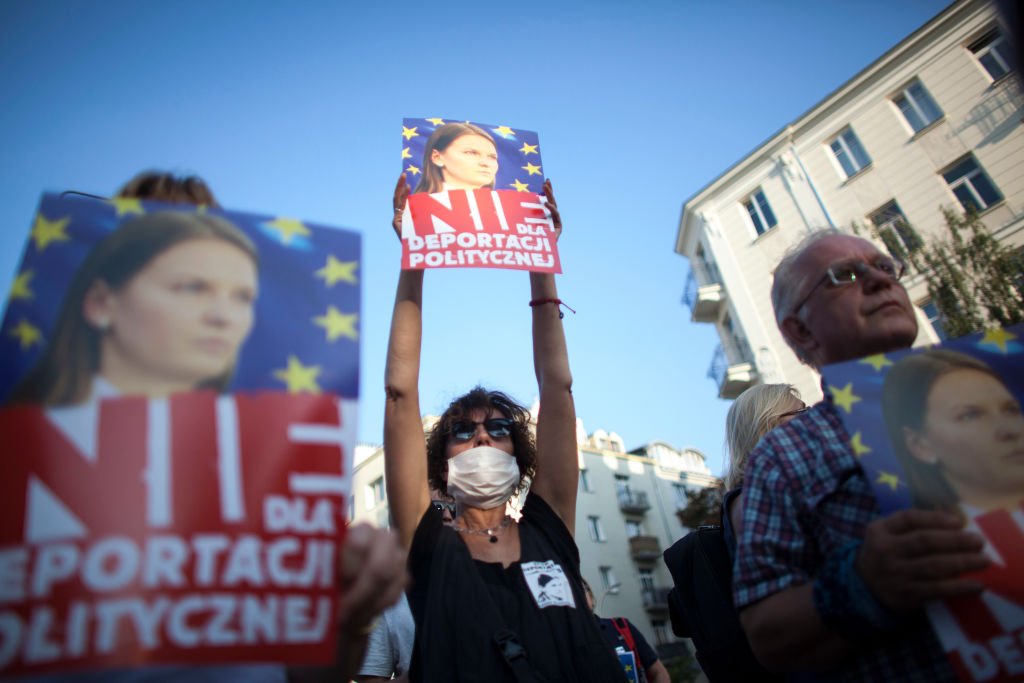 Association
In August 2018, Ukrainian activist Lyudmyla Kozlovska's was deported from Poland after her application for permanent residency was rejected. She was also banned from entering the 26 countries of the Schengen Area. Kozlovska runs the Open Dialogue Foundation, a human rights foundation committed to the "protection of human rights, democracy and rule of law in the post-Soviet area". She has run the organisation for nine years without interference from the authorities in Poland. Kozlovska is married to a Polish citizen, Bartosz Kramek, who also works for the foundation.
Ukrainian rights activist claims Poland banned her from Schengen zone https://t.co/nFHOgFcXBD

— EURACTIV (@EURACTIV) August 17, 2018
Kozlovska believes that her deportation was linked to her human rights activism and that of her husband. A spokesman for the Polish government had earlier claimed that they had "serious doubts concerning the financing of the Open Dialogue Foundation, which is run by Ludmila Kozlovska". The situation turned sour, according to Kozlovska, when her husband called for civil disobedience, strikes and anti-government protests on social media in July 2018. Soon after Kramek's post, the Polish Foreign Ministry had the foundation's finances reviewed, and attempted to get the existing board of directors replaced. On August 23rd, protestors took to the streets of the Polish capital Warsaw holding photos of Kozlovska and calling for her deportation to be overturned.
In September 2018, the German embassy in Kiev gave Kozlovska an entry permit so that she could address the Bundestag (German parliament) on the human rights situation in Poland. The decision sparked an angry reaction in the pro-government media in Poland, which described Kozlovska as a Soros-paid mercenary.  The German invitation also provoked a negative reaction from some of Poland's most senior government officials. Polish President Andrzej Duda told his German counterpart Frank-Walter Steinmeier that the Bundestag's invitation was harmful to bilateral relations between the neighboring countries. On 26th September, Kozlovska was also allowed to travel to Brussels where she spoke at a meeting of a group of MEPs at the European Parliament:
🔴LIVE now: @LyudaKozlovska speaks at @ALDEgroup meeting calls to protect #fundamentalfreedoms & #ruleoflaw in EU "it cannot be normal that + than 2000 cases of proceedings against peaceful protesters who defend constitution are at place in Poland" @guyverhofstadt @SophieintVeld pic.twitter.com/HMDv2oZJZS

— Open Dialogue Foundation🇪🇺 (@ODFoundation) September 26, 2018
Poland's relations with Germany and the EU are becoming increasingly strained. On 17th September 2018, Poland was banned from the European Network of Councils for the Judiciary (ENCJ) over its courts' perceived lack of independence following controversial government reforms.
Poland has been suspended from the European Network of Councils for the Judiciary following Warsaw's changes to the judicial system https://t.co/Ophj6QaQwT

— POLITICO Europe (@POLITICOEurope) September 17, 2018
On 24th September, the European Commission referred Poland to the European Court of Justice (ECJ) because of the government's refusal to heed calls by Brussels to halt its interference with the Polish Supreme Court.
Poland referred to European Court of Justice over rule of law https://t.co/tr2eC1YuhT via @European Interest

— Claude Moraes MEP (@Claude_Moraes) September 26, 2018