Journalists and civil society activists face kidnapping, detention and killing in Iraq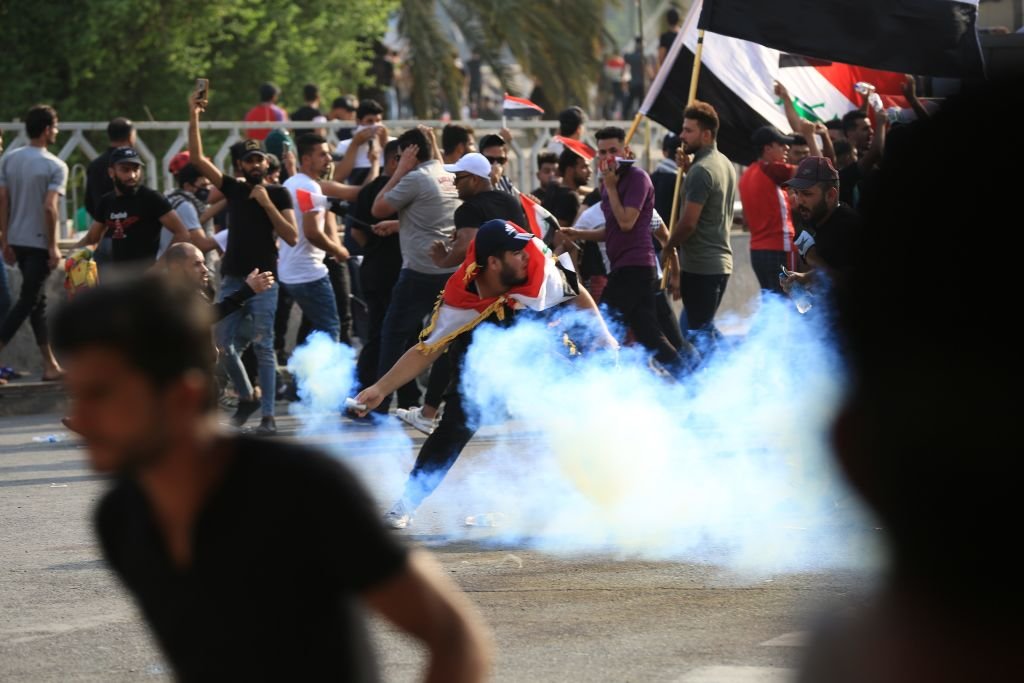 Peaceful Assembly
Continued killings and assassinations of demonstrators and activists
On 9th May 2021, the Gulf Centre for Human Rights (GCHR) published its 14th periodic report on human rights violations during the popular protests in Iraq. The report provides a comprehensive overview of the targeted violence, killings, arrests and prosecutions affecting human rights defenders, peaceful protesters and other critical voices. GCHR reports that despite a decrease in demonstrations and the approaching elections, the brutal killings and assassinations of demonstrators and activists have continued unabated. According to human rights defenders interviewed by GCHR, the impunity with which perpetrators commit these crimes has only confirmed their lack of confidence in the Al-Kadhimi government.
"We are looking for a decent way to die." Deceased prominent human rights defender Ihab Jawad Al-Wazni posted
Protest leader Ihab Jawad Al-Wazni assassinated
On 8th May 2021, human rights defender Ihab Jawad Al-Wazni, the head of the Karbala Coordination for the Civil Movement, was assassinated by unidentified gunmen riding a motorbike, who shot him dead in front of his home in the centre of Karbala. He had previously survived an assassination attempt on 8th December 2019, when two gunmen in the middle of the fortified Old City assassinated his colleague, human rights defender Fahim Al-Tai, using silenced weapons. Al-Wazni had been a steadfast participant in the popular movement protests since 2011 and devoted his widely-followed Facebook page to coordinating his peaceful human rights activities and reporting news of the main sit-in square in Karbala.
HRD Ihab Jawad Al-Wazni was killed on Sunday near his home in Karbala, #Iraq. He was a leading figure in protests against the government. https://t.co/PhLz5R6WAX

In 2020 the @HRD_Memorial project recorded the killing of at least 8 HRDs in Iraq; 7 were targeted assassinations. pic.twitter.com/0b186llkwG

— HRD Memorial (@HRD_Memorial) May 11, 2021
Peaceful protestor killed during demonstration
On 24th April 2021, Iraqi security forces ran over and killed a peaceful protester, Mohammed Sattar, as he participated in demonstrations in a southern suburb of Baghdad. The demonstrations were organised to demand improvements to basic services and to denounce the power outages. Eyewitnesses to the incident said, "One of the security forces' wheels ran over Sattar in the Al-Wahda neighbourhood and killed him." On the same day, security forces also injured nine peaceful protesters. As the Commander in Chief of the Armed Forces, Prime Minister Mustafa Al-Kadhimi directed leaders of the security forces to open an investigation into the killing of Sattar but the outcome of this investigation remains unknown. Commenting on the events of 24th April 2021, a member of the Human Rights Commission in Iraq, Ali Al-Bayati, published the following statement; "The same scenario is repeated every time and everywhere, as well as the government methods and behaviour. The lack of services continues, people make demands without a response, demonstrations last for days without interference, then anger which causes reactions from the security forces with weapons, killing and an angry reaction again, and the problem is exacerbated.".
Eastern countryside of #Hasakah: The Iraqi refugee "Hussein Hassan Ashour", 33 years old, was shot dead in the head by unknown assailants believed to be "ISIS" cells, in the third section of #Al_Hol_Camp this morning.

— Sydoc (@Sydocs) July 12, 2021
Civil society activist assassinated
On 15th April 2021, unknown gunmen assassinated a well-known civil society activist, Hassan Ashour, in the Rifai district of Dhi Qar Governorate. According to reliable sources, Ashour was assassinated in front of his house, having received a series of threats. On 7th April 2021, the Joint Operations Command announced, via a media statement, the results of the investigation into the killing of demonstrators in Dhi Qar Governorate. On 5th April 2021, the Nasiriyah Investigation Court in Dhi Qar Governorate issued an arrest warrant for an officer and a number of soldiers for killing protesters. This included an officer with the rank of colonel in the Iraqi army, and three soldiers who were charged with killing a number of protesters in Dhi Qar Governorate in November 2019. In addition, on 2nd April 2021, demonstrator Bashir Abbas was sentenced to 10 years in prison.
Expression
Activist and journalists kidnapped and detained
Late on the night of 2nd May 2021, journalist, poet and civil society activist Abbas Al-Rafi'i was kidnapped by armed forces in Karbala. Al-Rafi'i works as a reporter for the 25 October satellite channel, which monitors news of popular protests. He has also been an active participant in the activities in the main protest square in Karbala. He uses his Facebook page to transmit news of peaceful activities from the main protest sit-in in Karbala and supports the popular movement. On 6th May 2021, he was released in good health. On 28th April 2021, the Court of Appeal upheld the six-year prison sentence of five activists and journalists, Sherwan Sherwani, Guhdar Zebari, Hariwan Isaa, Ayaz Karam and Shvan Saeed. On 16th February, the Erbil Criminal Court had sentenced the five men to six years in prison following unfair trials based on trumped up charges, including "receiving money from the consulates of the USA and Germany," "sending sensitive information to foreign entities" and "cooperating with the Kurdistan Workers' Party (PKK)."
On 16 February 2021, journalists Sherwan Sherwani, Ghudar Zebari, and activists Hariwan Issa, Ayaz Karam and Shvan Saeed were sentenced to six years in prison based on trumped-up charges for their human rights and journalistic work. TAKE ACTION!#Kurdistanhttps://t.co/uugdUq95nj pic.twitter.com/t81Ik2k4oK

— Amnesty Iraq (@AmnestyIraq) June 15, 2021
Human rights lawyer arrested
On 25 April 2021, the Babylon Governorate Criminal Court sentenced human rights lawyer Hassan Maharj Al-Toufan to two years in prison in accordance with Article 226 of Iraqi Penal Code No. 111 of 1969. Article 226 states, "Anyone who insults the National Assembly, the government, the courts, the armed forces, or other statutory bodies, public authorities, departments, official or semi-official departments shall be punished with imprisonment for a period not exceeding seven years or with imprisonment or a fine." Al-Toufan is dedicated to denouncing corruption in the Governorate of Babylon and as a result has been subjected to constant retaliation and harassment. For example, during a television interview two years ago he revealed that the former Governor, Karar Al-Abadi, had converted green spaces into residential plots, distributing them to judges. This interview led to his arrest and eventual release on bail.
Social media threats and interference
Activists and bloggers have been exposed to threats and interference with their conversations on apps such as Clubhouse. Prominent blogger Hussain Ali (also known as Hussain Taqriban) has denounced the tendencies of militia members to infiltrate apps by attempting to establish dialogue with activists and bloggers with a view to gathering evidence that will be used to incriminate their peaceful activities. On 6th April 2021, security forces in the Karbala Governorate arrested civil society activist Hussain Dakhel after he held up a picture on which was written "the Men of Nasiriyah", referring to the courage and bravery of the demonstrators in Dhi Qar Governorate.
@IraqiEmbassyUSA Hatsyar Wshyar, assistant judge, held in solitary confinement & reportedly tortured. Subject to unfair trial; Hatsyar Wshyar has been on hunger strike. Release HatsyarWshyar immediately &unconditionally, drop all charges, &investigate the torture allegations.

— Denise Curry (@denisecurry1123) March 17, 2020
On 3rd March 2021, Amnesty International reported that assistant judge Hatsyar Wshyar is facing up to seven years in prison. He is charged under article 226 of the Iraqi penal code with "insulting public institutions or officials" in social media posts. Wshyar was previously sentenced on 2nd December 2019 to a one-year prison term under article 2 of the penal code for "misuse of electronics" in a trial marred with due process violations. The charges related to the same social media posts for which he is now facing trial. Despite having completed his prison sentence on 2nd December 2020, Wshyar remains in the custody of the Sulaymaniyah security forces. The last time his family saw him was in October 2020 and he has only been able to call them three times since then, each time lasting less than one minute. Wshyar met with his lawyer on 28th February 2021 for a period of 30 minutes, during which members of the security forces were present.