Peaceful assembly under threat: crackdown on environmental and BLM protesters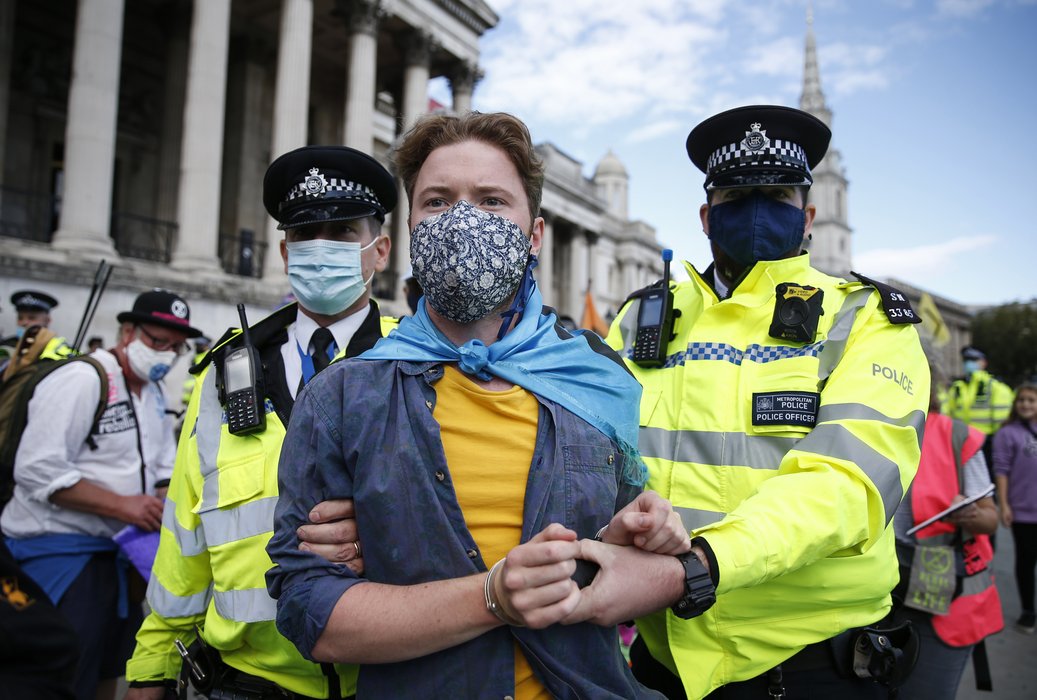 Introduction
Over the last six months there has been a significant crackdown on environmental and Black Lives Matter protesters, through the use of police violence, arrests and anti-terrorism legislation to prosecute protestors. In particular, environmental protestors have been labelled as domestic extremists by the police and Home Office and students participating in climate protests have been put on police watch lists.
Association and Peaceful Assembly
Home Secretary calls environmental protestors extremists
Home Secretary Priti Patel denounced environmental activists as "extremists". Other conservatives and right-wing media have also been set to alienate public support for climate protests. Extinction Rebellion activists have been labelled "green fanatics terrorising a generation of children" by the Telegraph, "zealots" by the Daily Mail and "essentially totalitarian" by the BBC's Justin Webb on Radio 4's Today programme. Welsh Conservatives have labelled activists as both "extremist and neo-fascist". One of its Senedd members said "the Extinction Rebellion movement needs to be de-legitimised and regarded as dangerous and criminal", in response to the group staging protests which blocked and delayed the distribution of Rupert Murdoch's News Corp titles, in reaction to these publications failing to "report on the climate and ecological emergency". News Corp's titles include the Sun, Times, Sun on Sunday and Sunday Times, as well as the Daily Telegraph and Sunday Telegraph, the Daily Mail and Mail on Sunday, and the London Evening Standard. Blockades took place in Broxbourne, in Hertfordshire, and Knowsley, near Liverpool, with 42 protesters being arrested by Hertfordshire police. Prime Minister Boris Johnson accused the activists of attempting "to limit the public's access to news".
This language and categorisation has not only alienated public support but also instilled fear in protesters to exercise their rights to freedom of assembly, as well as justified more aggressive policing and surveillance.
We're here all night, folks! We're going to to filter out the lies and take the power back for a night.

FREE THE TRUTH#ExtinctionRebellion #freethetruth #ClimateEmergency #WeWantToLive pic.twitter.com/mUhFvp0tc5

— Extinction Rebellion UK 🌍 (@XRebellionUK) September 5, 2020
This morning people across the country will be prevented from reading their newspaper because of the actions of Extinction Rebellion.

This attack on our free press, society and democracy is completely unacceptable. https://t.co/3DfasjD6sS

— Priti Patel (@pritipatel) September 5, 2020
Call for stronger protest protections, less surveillance
A survey of campaigning groups conducted by Netpol during October 2020 gathered responses from 25 organisations. The results show an increased need for protections during protests and the need to protect against surveillance. Organisations demonstrated an overwhelming support for protesters retaining their right to privacy during protests and a firm rejection of police treating civil disobedience and direct actions which involve disruption and illegal acts as "violent". The overwhelming majority of groups are also worried that facial recognition technology is able to pick out individuals on a 'watchlist' from a crowd, which could further threaten the right to freedom of peaceful assembly. The survey also revealed how organisers of protests have faced additional hurdles, e.g. being asked to provide evidence of public liability insurance, or a traffic management plan. Furthermore, 64% of survey respondents felt strongly or very strongly that Police Liaison Officers, now seen at almost every demonstration wearing a distinctive blue bib, seemed more interested in gathering information about protesters than communication and dialogue. In addition, 76% of respondents said they felt very strongly that protesters from black and minority communities are at higher risk for being targeting by police for arrest or for the use of stop and search powers.
Government plans major crackdown on the right to protest in 2021
The Conservative government is planning to introduce major changes to public order legislation to crack down on protests, under a new "Protection of the Police and Public Bill" planned for 2021. This comes after Home Secretary Priti Patel denounced environmental campaigners Extinction Rebellion as "so-called eco-crusaders turned criminals" at the Police Superintendents' Association conference in September 2020 and at the Conservative Party conference in early October 2020. Patel also accused Black Lives Matter campaigners of "hooliganism and thuggery".
Britain's Conservative government is planning to introduce major changes to public order legislation to crack down on protests, under a new "Protection of the Police and Public Bill" planned for 2021 https://t.co/wHbRUYkCzD pic.twitter.com/4vKEoAvMAK

— Netpol (@netpol) November 26, 2020
Proposed changes include:
Amending Section 14 of the Public Order Act, which currently gives a senior officer the power to impose conditions of a static assembly including the place it is held, its maximum duration and the maximum number of participants. According to Netpol, the intention of such an amendment is to broaden these powers so they are more like those available for processions, which also allow the police to prohibit a demonstration from entering any specified public place.

Changing the wording of powers that impose conditions on protests so that they no longer apply to only a "serious disruption to the life of the community" but for "significant disruption". The proposed changes are simply more likely to give the police the chance to make a greater number of arrests early into the protest.

Introducing new grounds for using stop and search powers in order to "prevent significant disruption", which could include searches for items that protesters could potentially use for direct action or civil disobedience, such as D-locks or climbing equipment. This would represent a significant expansion of stop and search powers and may result in front-line police officers searching everyone who may be associated with a particular protest.
In light of repeated hostility shown towards protesters by the Home Secretary, together with disproportionate use of police violence in BLM protests, there are serious concerns regarding freedom of assembly and the right to protest in the UK. Campaign groups have recently made it overwhelmingly clear that the ability of people to collectively take to the streets in opposition to government policy does not need managing, it needs protecting.
Police target black protesters
November 10, 2020
Netpol has released a report on police violence employed during BLM protests across the UK during 2020. 'Britain is not innocent': A Netpol Report on the policing of Black Lives Matter protests in Britain's towns and cities in 2020' is informed by evidence from over 100 witnesses, including protesters, legal observers and arrestee's support volunteers. Key findings document:
Excessive use of force and the disproportionate targeting of black protesters, with baton charges, horse charges, pepper spray and violent arrests.

Kettling, enclosing large numbers of protestors – including children and potentially vulnerable people – in confined spaces for up to eight hours, making social distancing impossible and with no access to toilets, food or water.

Neglect of BLM protesters experiencing violence from far-right organised counter-demonstrators, with examples of a seriously injured protester being searched rather than supported, while others being ignored.
The report concludes that policing of BLM protests was institutionally racist, having uncovered evidence of excessive use of force, failures in the duty of care, and racial discrimination. Dr Adam Elliott-Cooper, who authored the report, told Vice:
"There is a bitter irony in the fact that protests against racism in policing were themselves sites of disproportionate use of force and discriminatory practices. When taken case-by-case, the evidence in this report suggests racially discriminatory policing, but when viewed collectively, there can be little doubt that policing in Britain still has a serious problem with institutional racism."
Today we launch "Britain Is Not Innocent", our 60-page report on the policing of this summer's #BlackLivesMatter protests in Britain. Here's the key conclusions. Read and download the report at https://t.co/hlsclrLFTy #BritainIsNotInnocent pic.twitter.com/98bgvT2mc3

— Netpol (@netpol) November 12, 2020
Some positive news
After years of campaigning, policing in Britain has at last decided to abandon the "domestic extremism" label. Correspondence between Netpol and the National Police Coordination Centre (NPoCC) has verified that "police have moved away from using the term Domestic Extremism and are at present consulting on appropriate terminology to use in respect of all levels of protest". The label "domestic extremists" attached to social and political movements has been enormously controversial because the police have struggled to provide a clear, legally robust or sustainable definition of what it means – leaving it open to considerable interpretation based on police bias and hostility towards particular protest groups.
Expression
During November 2020, the Coalition for Women in Journalism (CFWIJ) condemned the online harassment that Geri Scott, the Yorkshire Post's Westminster correspondent, faced following her appearance on the Andrew Marr Show TV programme on BBC One. Following her appearance on the show, Scott was targeted by an "online trolling campaign", when she received 52 Instagram follow requests and "abusive messages and even rape threats". CFWIJ called on authorities to investigate the abusive posts.
Goodnight to everyone except David Hall and all the others like him who see a woman being knowledgable on the TV and can't resist seeking out her private social media profiles to put her right. pic.twitter.com/ISTJIumVCm

— Geri Scott (@Geri_E_L_Scott) November 24, 2020