Peaceful Assembly under attack: Policing bill proposes up to 51 weeks' jail time for protesting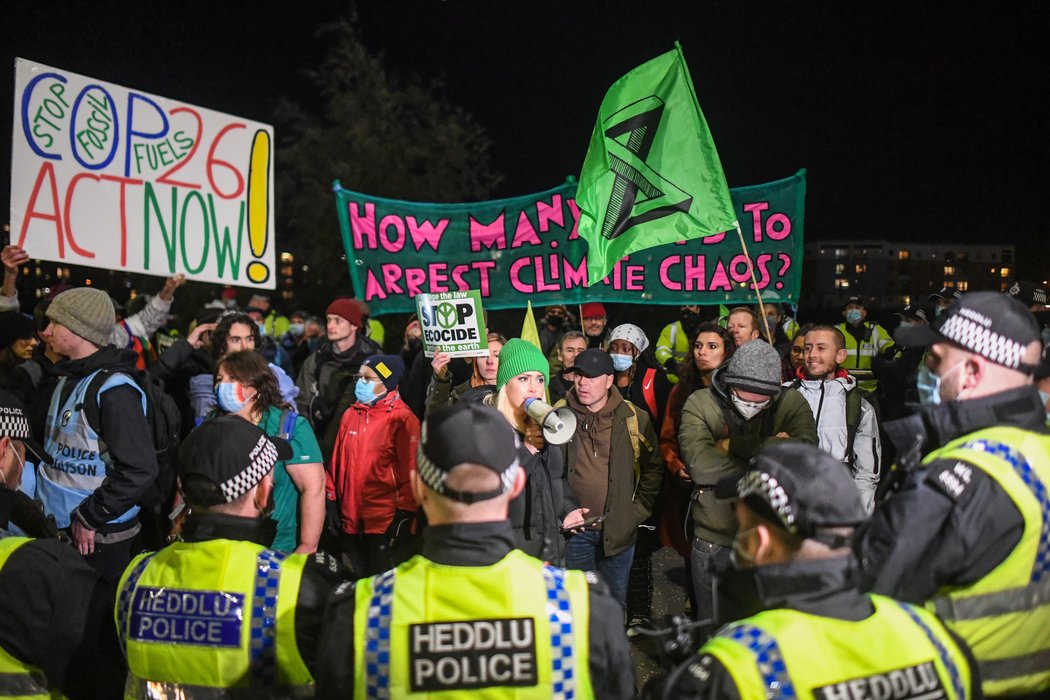 Introduction
In September 2021, the UK was added to the CIVICUS Monitor Watchlist due to a rapid decline in civic freedoms. Major concerns have been raised on the Policing, Crime, Sentencing and Courts Bill which proposes to give police more power to crack down on protests and will have serious repercussions for minority groups, including Gypsy and Traveller communities and people of colour. Several other legislative developments, such as proposed changes to the Human Rights Act, the New Elections Bill and the Judicial Review and Courts Bill, threaten fundamental rights and democratic checks and balances, which aim to hold the government accountable. During this reporting period the government continued its attack on fundamental rights by continuing to push through restrictive legislative reforms, despite concerns raised. Additionally, new additions to the Policing Bill are a "staggering attack" on the right to peaceful assembly. 
Association
CSOs launch full legal proceedings on the appointment of the new chair of the Charity Commission
Following a legal challenge and a crowdfunding campaign, at the end of October 2021, The Good Law Project (GLP) launched formal judicial review proceedings on the appointment of the new chair of the Charity Commission.
This decision came two days before interviews began for the new chair, after the government published an article on the Gov.uk website explaining that whoever they hired would be required to "rebalance" charities away from their so-called "woke" agenda.
"In our view, that article fatally compromised the independence of the interview process – and threatened the way of life of the UK's charities. We have now launched formal judicial review proceedings, seeking an order that the application process be re-run without the shadow of this article hanging over it", said The Good Law Project.
In a statement published on 28th October 2021, The Good Law Project explained the next steps in the legal proceedings:
"It seems the Culture Secretary plans to respond to our challenge by rushing in a new chair of the Charity Commission behind closed doors. It was reported earlier this week that the Government's preferred candidate for the role has been chosen, but not yet named. We cannot imagine an approach more likely to undermine the "integrity" of the process than that – and we believe it is unlawful. We've asked the Court for an expedited timetable so the case will be heard before the interim Chair's term expires on 26 December. The Secretary of State has until 19 November to respond."
Despite this, on 2nd December 2021, Culture Secretary Nadine Dorries announced Martin Thomas as the government's preferred candidate for the Charity Commission Chair. Jasmine Watkiss, communications officer of the Good Law Project, said that the GLP is writing to ask the government for more details of the process by which Thomas was appointed, before deciding on the next steps for the legal proceedings.
Judicial Review and Courts Bill introduced in parliament without amendments
Despite concerns voiced by CSOs, the Judicial Review and Courts Bill finished the committee stage and has been introduced to parliament.
The Public Interest Law Centre explained that the bill has several concerning provisions.
"As when Legal Aid, Sentencing and Punishment of Offenders Act 2012 (LASPO) introduced cuts in funding for legal aid, the measures contained in this bill will disproportionately affect the poorest in society. Now, as then, there is an urgent need for lawyers to join with grassroots groups and the trade-union movement in opposition to a retrograde piece of legislation."
Clause 1 seeks to water down the effect of a quashing order, which is not only an effective tool for courts, but for clients too. Firstly, the Bill would give the courts power to delay the effect of an order until a future date, allowing an unlawful decision, policy or practice to be treated as if it were still valid until that date. Secondly, the bill would create the presumption that a quashing order would not have any retrospective effect, shielding the government from accountability for subjecting people to unlawful policy or practices.

Clause 2 seeks to reverse the impact of the so-called 'cart' judicial review claims, which allows people who had been refused permission to appeal by both the First Tier and Upper Tribunals to apply for judicial review in the High Court. These claims are currently the last resort in immigration and social security cases, often involving fundamental aspects of human rights law.
According to the Public Interest Law Centre, "the proposed reform would close another door in the face of people who have been trying, often for years, to assert their fundamental rights."
What's wrong with the new Judicial Review and Courts Bill? Well, a lot.

Read this explainer from @publiclawcentre's @_PaulHeron to find out how it will disproportionately impact the poorest in society. 👇https://t.co/m02JdTttFz

— Law Centres Network (@LawCentres) November 24, 2021
Conservative MPs attack Human Rights Act amid independent review
It has been about a month since the Independent Human Rights Act Review (IHRAR) delivered its report to the government. Now, civil society is expecting a follow-up consultation by the Ministry of Justice before Christmas. The Human Rights Act (HRA) incorporates rights set out in the European Convention on Human Rights in UK law.
Meanwhile, many Conservative MPs and Ministers have attacked the HRA, even using the death of 27 migrants who lost their lives in the Channel at the end of November 2021 as a cover. For example, MP Edward Leigh said, referring to the incident: "We have to be tough. We have to face down the human rights lawyers. If governments are weak, people die."
Justice Secretary Dominic Raab is expected to announce plans to withdraw from the jurisdiction of the European Court of Human Rights in Strasbourg, meaning future human rights cases would be settled in London.
On the HRA review, Liberty said that the government is rewriting rules at the expense of human rights:
"This is, after all, a Government intent on making rules that only apply to us – not them. In fact they are rewriting the rules so that only they can ever win. The Human Rights Act protects all of us. It is a vital part of a healthy democracy, ensuring that governments and public bodies act within the law and respect everybody's fundamental rights. The HRA has allowed ordinary people from all walks of life to challenge decisions they think are wrong and unjust."
Concerns over Nationality and Borders bill
In yet another concerning development, during December 2021, the Nationality and Borders bill, put forward by the Conservative government, was passed in the House of Commons. Clause 9 of the bill will give the government the right to deprive people of citizenship without notifying them. Concerns have been raised that this bill will harshly impact on ethnic minorities. The bill will now move to the House of Lords where it is likely to pass. An investigation by the New Statesman reveals that the bill could impact the citizenship of about six million people. A petition calling for the parliament to remove Clause 9 of the bill had gathered close to 250,000 signatures thus far.
Yesterday I, along with my entire family and a shit-ton of my friends from ethnic minority backgrounds, were made second-class citizens in the UK as a result of the Nationality and Borders Bill. 6 million of us can now be stripped of our nationality without being told about it.

— Hind Hassan (@HindHassanNews) December 9, 2021
Amnesty International UK stated that the "draconian" bill would largely shut down the UK's asylum system and punish those fleeing conflict and persecution. Steve Valdez-Symonds, Amnesty International UK's Refugee and Migrant Rights Director, said:
"Ministers claim the bill will stop people making dangerous journeys, combat people smugglers and save money - none of this is true....Tragically, the government seems more interested in playing politics with asylum than in fulfilling its responsibilities toward people in dire need of a place of safety."
"The Nationality and Borders Bill must be drastically amended and the underlying asylum plans dropped. Instead, we need efficiency and genuine humanity to fix an asylum system that the Government is making increasingly dysfunctional."
We're deeply disappointed that the Borders Bill passed in the House of Commons today - this is a wholesale attack on refugees', migrants' & British minorities' rights.
We will keep fighting against the #NABB in the Lords & urge everyone to join us. The struggle is far from over! pic.twitter.com/oQpTRKMySn

— JCWI (@JCWI_UK) December 8, 2021
Peaceful Assembly
Policing Bill: "a staggering attack on the right to protest"

The Police, Crime, Sentencing and Courts Bill (known as the Policing Bill) is continuing its passage through Parliament, with the House of Lords debating it. They concluded the committee stage on 24th November 2021, ending with debate on Part 3 on Public Order.
There will be six days for the report stage (due to begin in December 2021 and finish in January 2022) and this is when the Members of the House of Lords will vote on amendments to the Bill. This will be followed by a Third Reading.
During committee stage in the Lords, on 15th November 2021, the government introduced a range of new amendments, including the introduction of:
Serious Disruption Prevention Orders (SDPOs), which effectively ban individuals from participating in certain protests, restrict their freedom of movement and expression, and bar their participation in public life;

Drastic new stop and search powers given to the police in relation to protest;

New criminal offences for locking-on which are punishable by up to 51 weeks'imprisonment, a fine,or both for going equipped to lock-on, and

obstructing major transport works or willful obstruction of a highway which is punishable by up to 51 weeks' imprisonment.
According to the latest briefing published by Liberty UK in November:
"these amendments […] are a staggering attack on the right to protest. In combination with the rest of the measures in the Bill […] these powers threaten to extinguish a crucial means by which people can stand up to power."
Climate justice protesters face intimidation & harassment
Several actions were staged in Glasgow between 31st October and 12th November 2021 during the 26th UN Climate Change Conference of the Parties (COP26). However, concerning reports emerged alleging that police "created an atmosphere of fear" for protesters, through harassment, intimidation and kettling of protesters. According to Network for Police Monitoring (Netpol), during a protest for climate justice on 6th November 2021, where about 100 000 people took to the streets, police used kettling tactics, bringing the march to a standstill. The network reports that police told protesters that they could only leave the kettle if they provided personal details and allowed police to photograph them. However, the group were eventually released after they collectively refused to comply with this order.
Today's action by the police in kettling and removing a small bloc of YCL and Living Rent campaigners from the march is another example of the unacceptable policing we have seen at #Cop26. This morning one of our drivers was also threatened with arrest whilst setting up our rally pic.twitter.com/OhxXYeAHb9

— COP26 Coalition (@COP26_Coalition) November 6, 2021
A few days earlier, police also kettled a "Greenwash" protest staged by Extinction Rebellion for over four hours, with participants "denied access to food, water, toilets and medication". The Network said:
"Legal observers on the ground reported that people were left without medical assistance by police after someone suffered a panic attack, and medically vulnerable people were detained in close quarters for several hours."
The Guardian reports that activists faced intimidation and harassment from police. This includes:
An activist was threatened with arrest for releasing a banner at a train station.

A police officer threatened an organiser with arrest for wearing a blue bib, accusing them of impersonating a police officer.

One activist was reduced to tears after being followed into a men's toilet by three officers.
"Police Scotland seem to have gone for a saturation approach to policing the Cop26 protests, and with so many officers and little for them to do, reports are flooding in of police intimidation, harassment and aggression. All of these small incidents add up to create an atmosphere of fear and repression, and have a chilling effect on the right to protest,"- Kat Hobbs, of the Network for Police Monitoring.
Additionally, police attempted to raid emergency accommodation in an unoccupied building provided to climate activists. The building, known as Baile Hoose, was a former homeless shelter. Metropolitan police and Welsh forces conducted the raid at 3am and are accused of using batons to intimidate the occupants. The activists occupied the building after hundreds of COP26 delegates, including indigenous activists were unable to secure accommodation for the summit.
"Baile Hoose has provided a safe home and meals for hundreds of activists during this summit. There have been a lot of people who have travelled here from all over the world and the country, and quite often people from marginalised communities are not getting their voices heard."
The COP26 coalition wrote to First Minister Nicola Sturgeon MSP about the concerning policing tactics witnessed during the summit.
"The disproportionately high number of officers deployed, combined with intrusive police surveillance has created an atmosphere of fear and intimidation.... The rights to freedom of assembly, association and expression are not trivial principles that officers can choose to ignore. They are cornerstones of our democracy."
It is reported that almost 80 protesters were arrested during the COP26 summit.
Expression
Continued attacks by Britain Uncancelled against anti-racism campaigning
On 24th November 2021, MP Ester McVey wrote a concerning op-ed in the Express, supporting the Britain Uncancelled campaign which is "opposed to cancel culture in all forms" and calling out organisations campaigning on anti-racism. In fact, she accused "a loud minority of political campaigners" of seeking to "inflict their discriminatory opinions" on the rest of the British citizens "by trashing British heritage, toppling statues, flag shaming and seeking to silence those with whom they disagree."
On an even more concerning note, McVey also wrote to the Cabinet Office, calling for them to undertake a review "to investigate how much public money is being used to fund the activities of politically motivated campaigners that are talking down Britain".
Incidents against journalists/media outlets
On 26th October 2021, the YouTube channel of Novara Media, an alternative media outlet which reports on politics, was temporarily deleted, without "warning or explanation". The channel was reinstated later that day. Novara Media is among the top 50 most watched news and politics channels in the UK. In a statement the outlet said: "We are now demanding a step-by-step explanation as to how this happened." According to YouTube the channel was flagged but reinstated upon review.
A statement from Novara Media on our YouTube channel's deletion. pic.twitter.com/LXRUaIQN1X

— Novara Media (@novaramedia) October 26, 2021