Parliamentary elections characterised by protests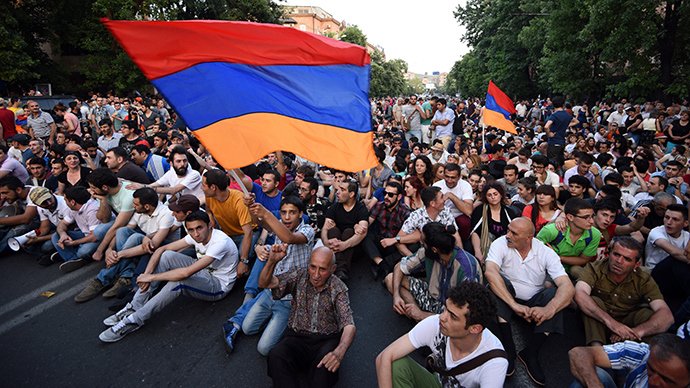 Armenian Prime Minister Nikol Pashinyan's Civil Contract party won a snap election that he called after protests erupted against a peace deal he signed to end fighting with Azerbaijan last year. Here's what to know about Armenia's postwar crisis. https://t.co/AhYakrBGdm

— Council on Foreign Relations (@CFR_org) June 22, 2021
Peaceful Assembly
Protests held before and after parliamentary elections
Early parliamentary elections were held in Armenia on 20th June 2021. The elections were characterised by mass protests of the opposition and citizens who opposed the Treaty signed in November 2020 by Azerbaijan, Russia and Armenia, following which Nagorno Karabakh came under the jurisdiction of the Azerbaijani authorities. According to the press, about 20,000 people took to the streets of Yerevan to protest against prime minister Nikol Pashinyan, and also cautioned against potential election fraud.
According to the results of the early elections, Pashinyan's political party (Civil Contract Party) garnered 53.9% of the votes cast, while the Armenia Alliance ranked second with 21%.
Separately, another political protest took place in the town of Stepanakert (Nagorno Karabakh) as residents in the region demanded the resignation of Araik Arutyunyan as President of Nagorno-Karabakh. Protesters were unhappy that Arutyunyan congratulated Prime Minister Pashinyan on his victory in the early parliamentary elections. According to Caucasian Knot, the protest was launched on Facebook. More than 1,500 people of all ages gathered in the street. Protesters see Nikol Pashinyan as a traitor because he signed a ceasefire treaty in November 2020 and allowed the region to pass under Azerbaijani jurisdiction.
Village farmers give up protest
On 29th June 2021, several farmers in the Shirak Region staged a protest to ask authorities for access to water for their crops in a march which began with the blocking of motor traffic on the Gyumri-Yerevan highway. Soon, however, the protest ended.The protesters argued that their crops had already been destroyed due to lack of water for irrigation and that the protest would not serve its purpose as it could not save their investments.
Association
New Freedom House Report highlights impact of disinformation and misinformation on civil society
In early June 2021, Freedom House published a report titled "Disinformation and Misinformation in Armenia. Confronting the Power of False Narratives". The report carefully analyses the impact of misinformation in Armenia, with a particular chapter dedicated to Armenian civil society. According to the report, civil society has been under pressure in Armenia since 2018 and faces false narratives that label them as foreign agents representing foreign interests and values. It also highlights other narratives that have been pushed against CSOs, including a recent one in 2020 where civil society was accused of being one of the actors that weakened public institutions through their projects.
Armenian authorities are pressing spurious criminal incitement charges against human rights activist Sashik Sultanyan in retaliation for an online interview he gave about problems facing the local Yezidi community in Armenia. https://t.co/boPdSHzDJd pic.twitter.com/MqVOIufdtm

— Kenneth Roth (@KenRoth) June 16, 2021
Expression
Human rights activist accused of inciting national enmity
On 9th July 2021, the Helsinki Citizens' Assembly-Vanadzor (HCA Vanadzor) announced that they would represent human rights activist Sashik Sultanyan in a criminal case where he is accused of "incitement of national, racial or religious hatred, at racial superiority or humiliation of national dignity, committed publicly or by mass media."
This came after charges were filed against Sultanyan by the National Security Service on 3rd October 2020. The charges are in relation to his conversation with Faris Mshko, of yezidinews.com, in which Sultanyan expressed concerns regarding challenges faced by the Yezidi community (a national minority) in the country.
The conversation was inaccurately translated from Yezidi in a way which presented the conversation in a negative context. HCA Vanadzor filed petitions to dismiss the case against Sultanyan, terming the charges as groundless and false, and hindering his human rights activities to highlight discrimination against minorities.