Outrage at government response to the pandemic sparks protests in Paraguay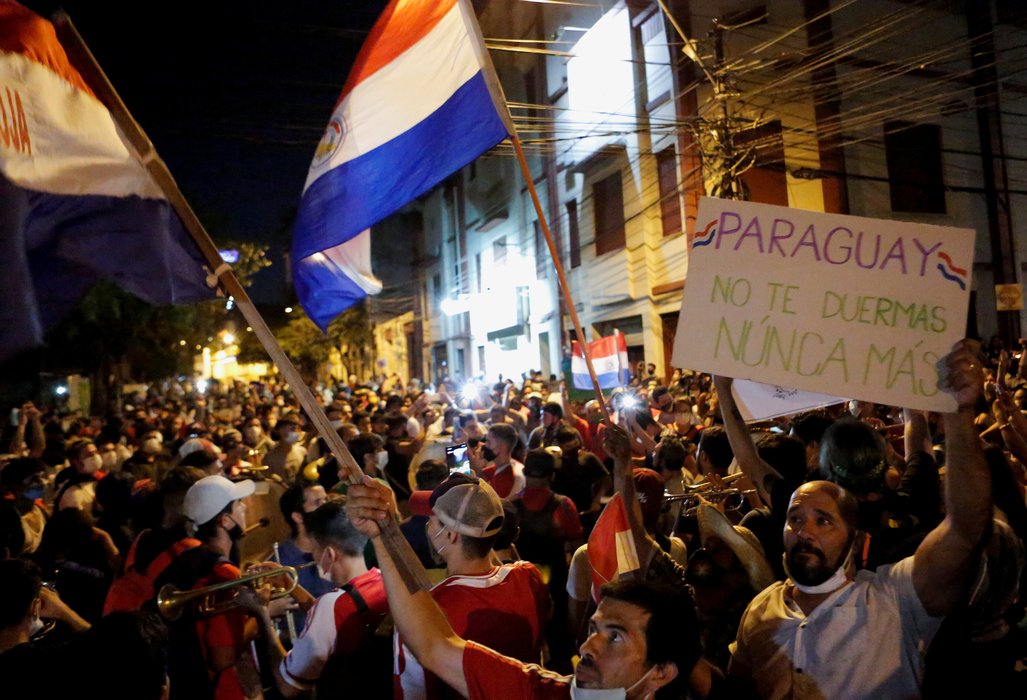 Peaceful Assembly
Tercer día del #MarzoParaguayo2021 en inmediaciones de Mburuvicha Róga. Imágenes de los manifestantes a esta hora. Video: Carlos Juri #LeéLN #TodoEstáEnLN pic.twitter.com/ATiLvxau6c

— Diario La Nación (@LaNacionPy) March 8, 2021
In March 2021, thousands of demonstrators took to the streets in Paraguay to protest the government's response to the COVID-19 pandemic as well as rooted socioeconomic issues such as corruption, inequality and poverty. On 3rd March 2021, medical doctors and nurses, patients and their families protested in demand for more medication and equipment. Two days later, amid growing outrage at rising number of infections and the precarious situation of the healthcare system, thousands rallied in Asunción's historic city centre. Earlier the same day, the Health Minister had resigned over the lack of medicine and equipment to treat coronavirus patients and the slow vaccine rollout.
Security forces fired rubber bullets and tear gas on groups of protesters who gathered around the Congress building on 5th March 2021. Some of the demonstrators responded by breaking through security barriers, burned tires and threw stones at law enforcement officers. According to news reports, at least 20 people were injured - eight protesters and 12 police officers. On 6th March 2021, President Mario Abdo Benítez announced a reshuffle of the cabinet, requesting the resignation of several ministers.
However, largely peaceful protests continued, with many calling for President Abdo's resignation. "We came because we are tired," said protester Rosa Bogarín. "We need free vaccines for everyone, medicine, education and a popular solution to this situation."
Protests intensified on 17th March 2021 after Congress rejected a bid by opposition lawmakers to impeach the country's president, vice-president and the rest of the cabinet. A group of protesters started a small fire in the headquarters of ruling party Partido Colorado. The fire was later brought under control by police with no major damage or injuries reported. Three young people, student leader Vivian Genes, Pedro Areco and Luis Trinidad were arrested at the end of the month in connection with the arson and alleged "public disturbance". Charges and arrest warrants were reportedly issued for two other people.
On 6th April 2021, student groups protested against criminalisation and demanded the release of the three young people arrested. With cries of "Freedom to those arrested for the struggle" and "Vivi, you are not alone!", the students organised artistic interventions as a form of protest. Speaking to feminist media outlet Latfem before her arrest, Vivian Genes highlighted the role of young people in the context of the demonstrations of the "Marzo Paraguayo 2021," or Paraguayan March 2021: "we students went to add our voices to those of other sectors. We talked in the street, with the people, because we are political subjects, we are not apolitical people. The slogans were driven by the young people: the memes, the chants". The three detained protesters were put under house arrest in April 2021.
Codehupy calls for training of prosecutors on the right to protest
At the end of March 2021, civil society network Coordinadora de Derechos Humanos del Paraguay (Human Rights Coordination of Paraguay – Codehupy) made a request to the Attorney General's Office that it prepare members of the Public Prosecutor's Office on the right to social protest guaranteed in Paraguay's Constitution and international instruments signed by the State. According to Codehupy, during the demonstrations of March 2021, the response by law enforcement agencies focused on the arrest and prosecution of protesters. Punishing people for defending their legitimate rights is contrary to the spirit of the Constitution, said the group. In a letter, they argued:
"The repression of protests, whether with violence or criminalisation, is nothing more than the symptom of a society that has failed in its attempts at plurality and the search for consensus. The Paraguayan state, represented by the public authorities, in this case the Public Prosecutor's Office, cannot renounce its tutelary role of protecting the law."
Expression
Journalists injured during protests
The union Sindicato de Periodistas del Paraguay (Paraguayan Journalists Union - SPP) reported that press workers were injured while covering the protests that began on 5th March 2021. At least five journalists were attacked on the first day of the protests, and a number of other media workers reportedly had their equipment damaged. The SPP and the International Federation of Journalists (IFJ) repudiated these acts of violence and demanded health and safety measures for workers covering the protests. They also urged Paraguay's police and authorities to fulfil their obligation to defend freedom of expression.
Association
Armed civilians attack and harass a Mbya Guaraní community
AHORA. Violento atropello a la Comunidad Mbya Guaraní LOMA PIRO´Y x civiles armados, sin presencia de fiscales. 9 indígenas heridos, todas sus casas y pertenencias quemadas. Brutalmente violado el derecho básico a la integridad de la vida. Ni un policía para protegerlos. pic.twitter.com/h4Jail0HCF

— Miguel K Rodríguez (@miguelkenchor) March 17, 2021
On 18th March 2021, armed civilians violently attacked and harassed the Mbya Guaraní Indigenous community of Loma Piro'y, in the Caaguazú department. As reported by news outlets, attackers burnt houses and injured at least nine Indigenous people. A similar attack took place three months earlier, in December 2020, when 30 armed men threatened the Mbya Guaraní and killed community members' dogs. The assaults were allegedly perpetrated by persons hired by a landowner who claims ownership of the land where the community is settled.
Codehupy issued a statement denouncing the attack and called it representative of a "strategy of land appropriation and land grabbing" promoted by soyabean agribusinesses. According to the human rights group, these attempts to harass and expel Indigenous communities from their lands take place with the complicity of an absent State that neglects Indigenous rights. As reported by the Articulación Nacional Indigena por una Vida Digna (National Indigenous Articulation for a Dignified Life), several other Indigenous communities in Paraguay have faced similar attacks.
On 20th April 2021, three people were charged for attempting to evict the Mbya Guaraní violently and without judicial order.
Universal Periodic Review of Paraguay
La situación de los derechos humanos en Paraguay fue considerada el miércoles 5 de mayo de 2021 en el Examen Periódico Universal (EPU), un mecanismo de evaluación de Naciones Unidas a los esfuerzos que hacen cada uno de los 193 países miembros. pic.twitter.com/gj6EfnEKtQ

— Codehupy (@Codehupy99) May 7, 2021
In May 2021, the UN Human Rights Council's Universal Periodic Review (UPR) Working Group examined Paraguay's human rights record for the third time. Ahead of the review, several human rights organisations submitted reports with information on the situation of civic space in the country.
Amnesty International said that in recent times there has been an increase in stigmatisation and judicial persecution of human rights defenders in Paraguay. Authorities have neither condemned these campaigns nor highlighted the important work of human rights defenders. The organisation also highlighted that investigations on the alleged use of excessive force against protesters in 2017 are still ongoing. As reported by the Monitor at the time, one person was killed and over 200 protesters were detained in demonstrations against a constitutional amendment that would have allowed the president to run for re-election.
Free expression advocate groups IFEX and SPP said that between 2016 and 2019, there were a number of attacks on journalists – more than half of which were perpetrated by public servants. They also highlighted the judicial harassment of journalists, cases of censorship and self-censorship and the mass dismissal of workers by media outlets. CIVICUS and Semillas para la Democracia also highlighted the growing hostility, stigmatisation and criminalisation faced by journalists and human rights defenders.
During the UN review on 5th May 2021, Paraguay received 210 recommendations. A number of countries raised civic space concerns, which included:
Adopt measures to ensure that human rights defenders and journalists can carry out their work in a safe environment, without risk of reprisals (Italy);

Promote the parliamentary debate for the approval of a Law for the Protection of Journalists and Human Rights Defenders with the participation of all relevant actors; that includes an institutional framework for the Roundtable on the Safety of Journalists (Uruguay);

Put an end to legal obstacles to the exercise of freedom of association, in particular in the workplace, and investigate incidents of persecution of trade unionism (Bolivarian Republic of Venezuela);

Ratify the Escazú Agreement and ensure appropriate resources are in place to enforce it domestically in order to better protect environmental defenders, including Indigenous peoples, rural leaders and journalists (Canada).