Outrage as five journalists killed in Mexico in early 2022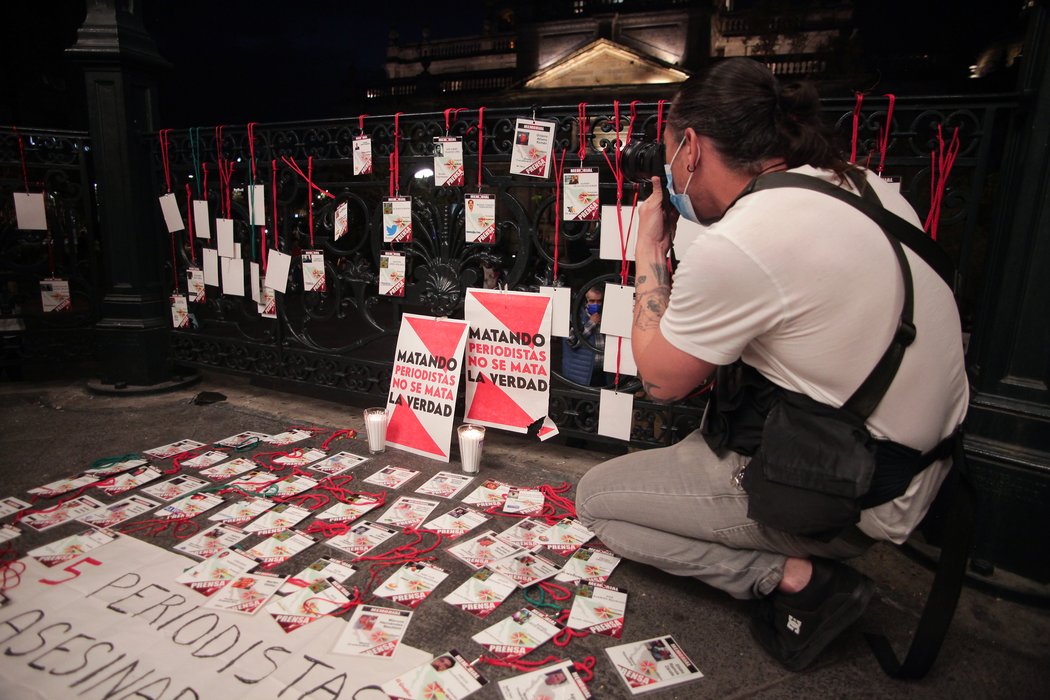 Expression
Four Mexican journalists were killed in less than four weeks this year, while two more escaped attacks on their life.

Mexico is the deadliest country for journalists in the Western Hemisphere. https://t.co/5V0KWqGSGn pic.twitter.com/PqUiMFTibb

— Committee to Protect Journalists (@pressfreedom) February 4, 2022
Five journalists were murdered in Mexico in the first two months of 2022, leading to protests for justice and calls for more government action to stop the violence against the press.
On 10th January 2022, the body of José Luis Gamboa was found with several stab wounds in a residential neighbourhood in Veracruz. Gamboa, who worked for the Inforegio Network, was a strong critic of local government corruption and officials with links to organised crime. News reports said authorities did not have a record of threats to Gamboa over his work, and that the killing may have occurred during an attempted robbery. However, the case is still under investigation.
On 17th January 2022, Margarito Martínez, a veteran photojournalist who had worked with several outlets, was shot and killed at his home in Tijuana. According to a colleague and close friend of Martínez, who spoke with the Committee to Protect Journalists (CPJ), the photographer had returned briefly to his home from an assignment earlier that day and was about to head out again to take more photos from another area when he was ambushed. The photojournalist had faced attacks and stigmatisation and had requested federal protection but had not yet finalised his enrolment in the programme. Authorities said the gun used in his death was also used in at least 5 other crimes since 2020.
On 23rd January 2022, veteran journalist Lourdes Maldonado López was shot and killed by gunmen outside her home in Tijuana. She had returned home moments before and was still in her vehicle when she was attacked. Maldonado had extensive experience in broadcast journalism covering local politics and crime stories in Baja California. During a press conference in March 2019, she had told Mexican President López Obrador that she "feared for her life", asking his government for protection and mentioning a labour dispute with her former employer PSN. Just days before she was killed, the journalist had received a favourable ruling on the lawsuit. The company had been ordered to pay compensation and reportedly to also hand over financial documents and information about payment to its employees to the reporter's lawyer.
On 31st January 2022, Roberto Toledo of Monitor Michoacán was killed by three unidentified men in Zitácuaro, Michoacán. He worked as a camera operator and video editor for the outlet, and he was at the office of a colleague to record a video column when the attack took place. According to CPJ, Toledo was shot from the street after opening the door when the doorbell rang. In a video statement, the media's director Armando Linares said their team had received several death threats because of Monitor Michoacán's criticisms of state and municipal authorities. Linares said:
"Today the threats were ultimately fulfilled. One of our colleagues lost his life at the hands of three people who shot him in a mean and cowardly manner. We are not armed. We do not carry weapons. Our only defence is our pen."
Fifth member of the press killed in #Mexico in less than six weeks: Mexican journalist Heber López shot and killed in Oaxacahttps://t.co/SXtoBLOSQT

— Committee to Protect Journalists (@pressfreedom) February 19, 2022
On 10th February 2022, attackers shot and killed Heber López Vásquez as the journalist was about to enter a home in the coastal city of Salina Cruz, in Oaxaca. The men fled the scene, and municipal police officers chased and arrested two suspected shooters shortly after the attack. Authorities said they were investigating and did not rule out journalism as the motive for the killing. López founded and edited NoticiasWeb and RCP Noticias, two digital outlets covering general news, politics, crime, corruption and security in the region. The day before his killing López had accused Arminda Espinosa Cartas, a former municipal official in Salina Cruz, of corruption, and alleged that she used coercion to secure votes in March 2022's municipal elections. News articles later reported that one of the arrested suspects was Espinosa Cartas' brother. On 11th February 2022, the Federal Mechanism for the Protection of Human Rights Defenders and Journalists said they were placing the journalist's family in a protection programme.
Other attacks
⚠️ Periodistas son víctimas de agresiones por grupo de choque al cubrir protesta en Oaxaca.

📣 Conoce todos los detalles y las exigencias que realizamos ARTICLE 19, @prensacimac y @CPJAmericas sobre el caso:

👉 https://t.co/gf61mSRxwh pic.twitter.com/ll8pBpmvv1

— ARTICLE 19 MX-CA (@article19mex) December 14, 2021
On 8th December 2021, several journalists were attacked and had their equipment damaged while covering a protest by a labour union at a government building in Oaxaca. According to witnesses, the attack took place after some journalists and government workers were held in the building for several hours, as some protesters occupied the site. The journalists said they were forced to flee the scene after a group of people armed with knives and stones began attacking them and the protesters. After the police failed to intervene, some of the journalists tried to hide in nearby buildings. One journalist was threatened with a knife and another had his work phone taken. Those attacked include Leslie Aline Aguilar López of Vivo Noticias, Yasohara Berenice Aguilar Barbosa of Online Effect, Gabriela Acevedo Santiago of Vecino Vigilante Huajuapan, Francisco Uriel Barragán Ortiz of La Grandiosa 88.5 FM, and Álvaro Medina Sánchez of Correo Mixteco.
On 27th December 2021, the Governor of Jalisco said he was taking legal action against a reporter who had recently published stories alleging he had connections with narcotrafficking. Ricardo Ravelo, of SinEmbargo, said Governor Enrique Alfaro's lawsuit against him is in retaliation for his reporting. Ravelo told Article 19: "It is extremely difficult to do investigative journalism in a country where there are links between the government and organised crime. Faced with this intimidation to which I am subjected, I ask the authorities for their support because I fear for my physical integrity."
In a potentially related incident, a day after Channel 44 Radio and Television interviewed Ravelo about the lawsuit, the Channel 44 office in Tlaquepaque, Jalisco, was attacked. At least three attackers shot and killed two security guards at the office's entrance and fled on motorcycles.
On 9th January 2022, police in Coahuila allegedly injured and threatened reporter Daniel Leal de Koster and took his mobile phone while he covered a fight in a public area. After arriving on the scene, Koster said he kept his distance and identified himself as a reporter but officers pushed him against a wall and took his phone when he began photographing the arrest of those involved in the incident. The journalist wasn't detained but when he went to the police station to retrieve his phone, he said officers continued to threaten and intimidate him. His phone was returned but was reportedly damaged.
In another incident, a journalist said he narrowly escaped when armed men shot at his vehicle while he drove on a rural highway in Oaxaca on 26th January 2022. José Ignacio Santiago said he was travelling with two bodyguards assigned to him under the federal protection programme, and that they helped keep him safe during the attack. Santiago was assigned the guards after he was abducted in 2017. At least seven journalists in the programme have been killed since 2018.
Association
El #CentroFederalLaboral informa sobre los resultados de la consulta en la planta de #GM Silao.

Comunicado: https://t.co/YVpM2b2kpX pic.twitter.com/g8TyCROxCg

— Centro Federal de Conciliación y Registro Laboral (@Centrofcrl) February 3, 2022
On 3rd February 2022, workers at a General Motors factory in Silao elected independent union National Independent Union of Workers of the Automotive Industry (SINTTIA) to represent them, a move seen as a victory for labour rights. As previously reported on the CIVICUS Monitor, a previous vote was suspended after irregularities were found in the process. About 88% of eligible workers voted in the new election to determine which of four unions would negotiate its next contract. The winning union received more than 4,000 of about 5,400 votes.
The vote is one of the first significant actions under the United States-Mexico-Canada Agreement (USMCA), which requires the three countries to guarantee worker rights to collective bargaining, union democracy and freedom of association.
Peaceful Assembly
Migrants protest
#AmericaLatina | Migrantes retoman protestas en frontera sur de #México https://t.co/G86XbrCr8Y

— Diario Las Américas (@DLasAmericas) January 21, 2022
Between December 2021 and February 2022, Mexico saw several large protests against the harsh treatment of migrants moving through the country toward the U.S. border. For example, on 16th December 2021, people gathered outside the National Institute of Migration in Mexico City to demand the government stop criminalising immigration. Led by protesters carrying a banner reading, "To migrate is not a crime, the criminal is a government that represses migrants," the protest took place less than a week after a truck carrying more than 160 migrants overturned in southern Mexico, killing 55 people and injuring many more.
Many of the protests also denounced the slow-moving application process for those attempting to stay and work in Mexico. On 10th January 2022, hundreds of Haitian migrants demonstrated outside the Commission for Refugees' office in Mexico City to voice frustrations with the process to obtain work permits in the capital. Many migrants said their applications were rejected because they were issued work permits in other cities where living conditions are difficult and there are few job openings. Nearly 40,000 Haitians applied for asylum in Mexico in 2021, but less than half were accepted. A similar protest was held on 3rd February 2022 in Tapachula, Chiapas.
In another protest in Tapachula on 16th February 2022, a group of migrants gathered with their mouths sewed shut in front of the offices of the National Migration Institute. Advocates for the asylum seekers blamed the Biden administration and Mexico's government for a crackdown on migrant caravans that they say has driven asylum seekers to take increasingly dangerous measures to reach the U.S. border.
Protests against gender-based violence and discrimination
Esta fue protesta en Ciudad Juárez, #Chihuahua, por el #feminicidio de Nohemí y Yulizsa, una pareja LGBTQ+ #ImagenNoticias con @YuririaSierra pic.twitter.com/IWPWto4g4l

— Imagen Televisión (@ImagenTVMex) January 21, 2022
On 20th January 2022, feminist and LGBTQIA+ groups gathered outside the office of Chihuahua state attorney general to call for more action to address violence against women. The protest was convened just days after the bodies of two women were found on a highway outside Juárez. Three weeks into 2022, 11 women had already been killed in Juárez, including a same-sex couple. Organised by Programa Compañeros, Red Mesa de Mujeres and the Marcha de las Diversidades Afectivo Sexuales, participants chanted, "No nos maten por ser diferentes" ("Don't kill us for being different") and demanded a full investigation into the murders, including the possibility of a hate crime based on gender and sexual orientation.
In another development, the Six Flags amusement park in Mexico City said they dropped a policy against "affectionate behaviour" after LGBTQIA+ activists and allies staged a kiss-a-thon in protest at a homosexual couple being kicked out of the park.
Journalists call for justice
"We work beneath the shadow of being attacked and killed for our work."

Five journalists have been killed this year alone in Mexico, sparking outrage and protests. pic.twitter.com/mjgtFeFw4X

— DW News (@dwnews) February 22, 2022
Following the killings of multiple journalists in January, on 25th January 2022 members of the Mexican press union and allies staged demonstrations in multiple cities to protest against violence. Thousands of journalists from all of Mexico's states demonstrated to demand justice for the recent murders and more government action to ensure security for reporters under threat.
In Mexico City, a crowd of several hundreds of journalists and human rights defenders gathered in front of the Ministry of the Interior. They held up photos of killed reporters, lit candles and projected the photos of slain colleagues on the wall of the building. "You don't kill the truth by killing journalists," read a projection near a portrait of late photojournalist Margarito Martínez, one of the victims of the systematic violence.
Reporter Alejandro Castro, who helped organise a demonstration in Cancún, told CPJ:
"I think this can be a watershed moment in the collective struggle for better, safer and dignified working conditions. The rallies were also spearheaded by young journalists, which to me signifies a generational change."
Mexico is the most dangerous place in the Western Hemisphere for journalists. The Mexican government said 52 journalists had been killed in the country since December 2018.