Opposition protests: hundreds arrested, journalists assaulted and detained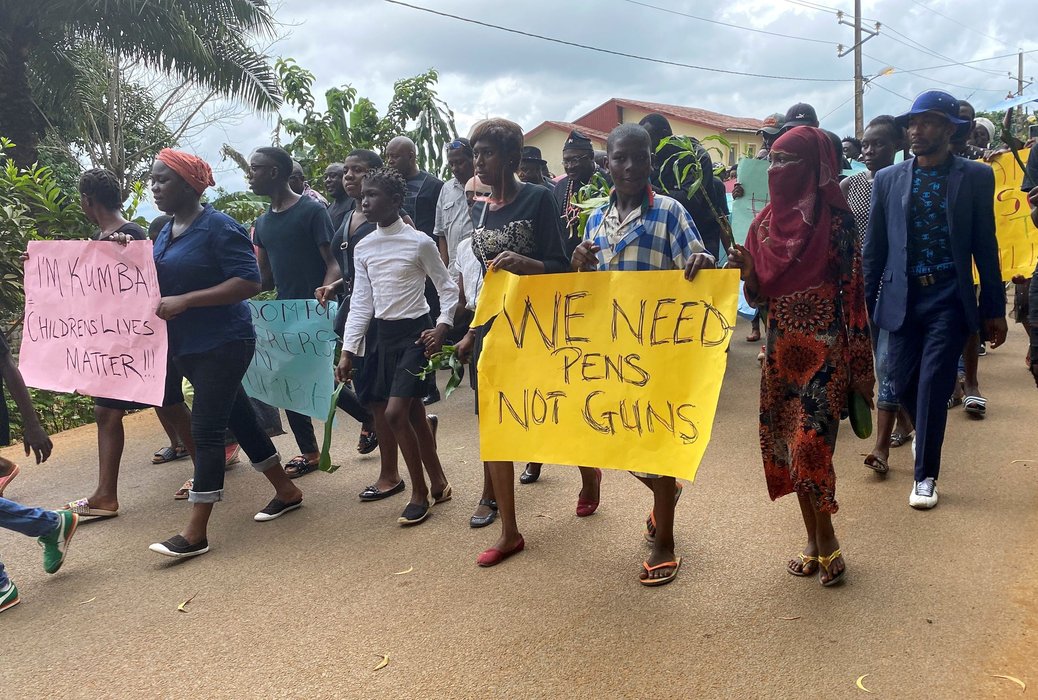 Cameroon: Opposition Leaders, Supporters Detained https://t.co/hXXWNSqrYF

— Human Rights Watch (@hrw) October 19, 2020
Peaceful Assembly
Opposition protests banned, dispersed, protesters arrested
Opposition protests across the country on 22nd September 2020, in response to President Biya's announcement to hold regional elections in December 2020, were violently dispersed by security officers, who used tear gas and water cannon to disperse protesters. Hundreds of protesters were arrested, some of whom were beaten. According to opposition party Mouvement pour la renaissance du Cameroun (MRC), more than 500 people were arrested with only 155 released. Authorities claim that 294 people were arrested and 176 released. Several journalists covering the protest were physically attacked, arrested or saw their equipment confiscated (see under Expression).
Authorities previously banned the protest and issued firm warnings for those wanting to defy the ban. On 15th September 2020, theCommunication Minister said that the protests could be seen as an 'insurrection' and that those arrested could be prosecuted under the anti-terrorism law. On the day of the protests, security forces were deployed to dissuade people from protesting.
Lewis Mudge of Human Rights Watch commented:
"These steps are a thinly veiled attempt by the Cameroonian government to use the Covid-19 pandemic and the draconian anti-terror law as a pretext to quell the right to assemble. Cameroon's authorities should protect and facilitate the right to assemble, not seek to curb it."
Several United Nations Special Rapporteurs, including the Special Rapporteur on Freedom of Association and Assembly, Clément Nyaletsossi Voulé, issued a joint statement on 12th October 2020 calling on authorities in Cameroon to release MRC opposition leader Maurice Kamto and others who were arrested during the protests (see under Association) and to stop the intimidation of political activists. In the statement the UN Special Rapporteurs said: 
"We are disturbed by the excessive use of force against peaceful demonstrators by the Cameroonian security forces. The violence against protesters was indiscriminate, with tear gas and water cannon used to violently disperse them."
Women march after attack on school in Kumba, killing seven children
One week after armed men attacked the Mother Francisca International Bilingual Academy in Kumba, South West Region, on 24th October 2020, killing seven children and injuring at least 13 others, hundreds of women marched in Kumba to express their anger and to demand justice. The protest was authorised by local authorities. In Douala and Yaoundé, civil society organisations reportedly organised protests in the days following the attack, despite a ban on gatherings. 
Association
Arrests of opposition members and supporters
Several opposition members and supporters were arrested in relation to the protests on 22nd September 2020. MRC opposition leader Maurice Kamto was placed under de facto house arrest from 20th September 2020, with security forces deployed at his residence in Yaoundé. Nine MRC members, including spokesperson for Maurice Kamto Olivier Bibou Nissack and MRC Treasurer Alain Fogue Tedom, were arrested on 22nd September 2020 and later charged with 'attempting a revolution', 'rebellion' and 'aggravated assembly'. On 30th October 2020, 39 other MRC members appeared before an investigating judge, of whom 36 were sent to prison on the same charges. 
Additionally, four members of Stand Up for Cameroon, a platform of opposition parties and civil society organisations, were reportedly arrested on 18th September 2020 after they attended a meeting in Douala.
#Cameroon: Michael Loumou of Radio Carrefour was freed today. He was the last of the 8 journalists detained on Monday for covering opposition protests. Cameroon remains the second worst jailer of journalists in sub-Saharan Africa with at least 7 others still in jail. #FreeThemNow

— CPJ Africa (@CPJAfrica) September 24, 2020
Expression
Journalists covering opposition protests arrested, physically attacked, equipment seized
According to news reports, several journalists who were covering the protests were arrested and physically assaulted by security forces. The latter also confiscated equipment from journalists. In Yaoundé, correspondent for Radio France Internationale (RFI) Polycarpe Essomba was questioned and beaten by police officers, who searched and seized his equipment. Essomba was taken to several police stations before being released at the end of the day. His equipment was returned to him. Reinnier Kaze, correspondent for Agence France-Presse was reportedly detained. Équinoxe TV cameraman Rodrigue Ngassi was assaulted, necessitating treatment in hospital. Journalists Lindovi Ndjio and William Omer Tchuisseu, of la Nouvelle Expression and La Voix du Centre respectively were ordered to leave. Jarvis Tah Mai and Christian Tebong of Media Prime TV were arrested while covering the protest in Douala. Arnaud Froger of Reporters without Borders (RSF) said:
"These reporters have committed no offence and the actions of the security forces have nothing to do with maintaining order. The heavy-handed methods they use are solely aimed at intimidating the journalists and censuring an event that the authorities find disturbing. The perpetrators must be punished."
Break-in at office of newspaper Le Jour
On the night before the opposition protests on 22nd September 2020, unidentified persons broke into the offices of the daily Le Jour, stealing computer equipment, the newspaper's archives and documents on ongoing investigations by the media outlet. Editor of Le Jour told RFI:
"It is absolutely essential that our colleagues who want to continue to practise this profession in more or less acceptable conditions in Cameroon, continue to resist, to resist all this intimidation which makes no sense. We have to do it, it's our job. It has fallen on us and we must do it." (translated from French)