Opposition against Olympics continues, as state of emergency extended in Japan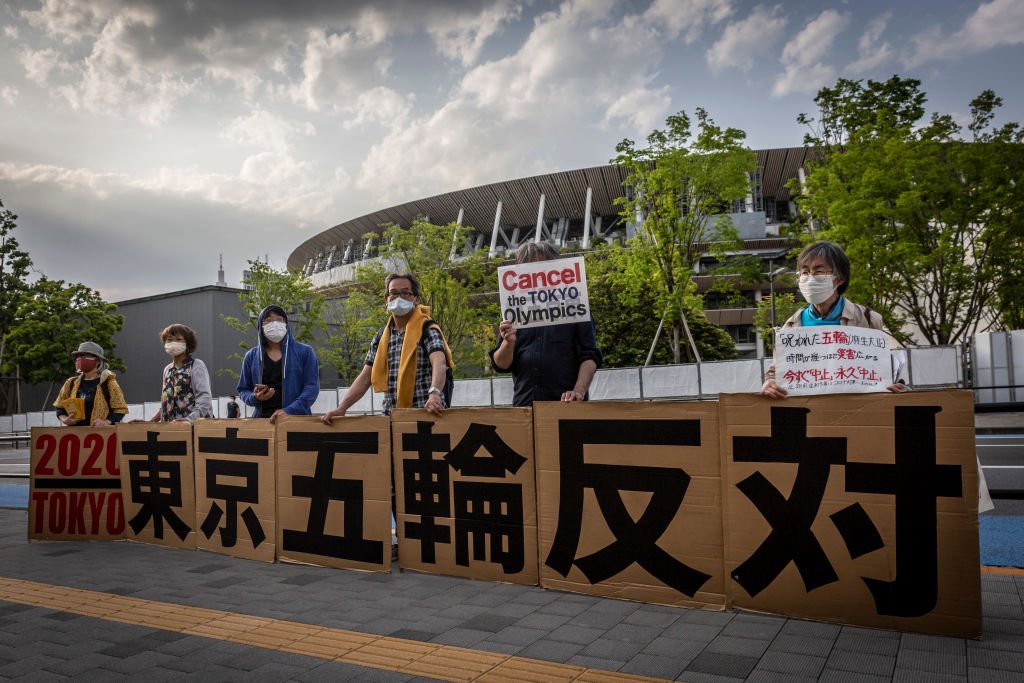 Japanese Prime Minister Yoshihide Suga announced on 7th May 2021 that the government would extend COVID-19 state of emergency measures for Tokyo and surrounding prefectures by three weeks to 31st May 2021 as infection rates remain high.  
In February 2021, the head of the Tokyo Olympics organising committee, Yoshiro Mori resigned after he was criticised for sexist remarks he made against women. His remarks highlighted how discrimination against women is still rife in the country. In March 2021, a Japanese court ruled that not allowing same-sex couples to get married is "unconstitutional". The ruling by a district court, the first in Japan on the legality of same-sex marriages, is a major symbolic act. In April 2021, lawmakers from ruling and opposition parties launched a bipartisan group to draw up legislation that will enable Japan to impose sanctions on countries for human rights abuses.
In recent months, protests against the Olympics have persisted, including by nurses. A public broadcaster muted protests against the games during the Olympic torch relay as Japan's press freedom rankings drop. The International Olympic Committee (IOC) said it would prevent athletes from protesting or demonstrating at the Olympics, sparking criticism.
Peaceful Assembly
Protests against Olympics continue
There have been ongoing protests against the Olympics scheduled for July 2021, as previously documented by the CIVICUS Monitor. Activists opposed to the Tokyo 2020 Olympic and Paralympic Games say the events will hurt individuals and businesses through high costs and disruption and will provide only fleeting gains for a small number of people in the political, economic and media elite. They report increasing human rights violations including the harassment and displacement of unhoused residents of Tokyo and increased policing, privatisation and exclusion as developments and gentrification accelerate in the surrounding areas.
聖火を止めろ!五輪は中止!デモ。

新橋駅SL広場から、晴海の組織委員会に向けて出発🎵#聖火リレー阻止#中止だ中止 #CancelTheOlympics pic.twitter.com/mifVGWHiAQ

— 杉原こうじ(NAJAT・緑の党) (@kojiskojis) March 25, 2021
On 6th March, there was a protest march that started from the National Stadium where the Games' opening ceremony is planned to be held and went through the busy shopping street of Omote Sando. Protesters held banners and shouted slogans denouncing the Olympics and Paralympics.
Another protest was held in front of the National Stadium on 9th May 2021. While an athletics test event was taking place inside the stadium about 100 people gathered outside the Olympic venue to protest against holding the games. Some members of the protest group delivered speeches criticising the International Olympic Committee, Tokyo 2020 organisers and the government for pressing ahead with the games. The group then marched around the stadium.
Public concerns have also mounted over holding the games during a pandemic. An online petition calling for the cancellation of the games had received over 200,000 signatures at a record pace as of 7th May, just two days after its launch. The petition, addressed to International Olympic Committee President Thomas Bach, Prime Minister Yoshihide Suga and other representatives of organisers, said the games should not be held to protect people's lives amid the global health crisis.
With less than three months until the opening of the Olympics, Tokyo is currently under a COVID-19 state of emergency, which was extended to 31st May in an attempt to curb infections and ease the strain on hospitals.
Expression
Public broadcaster censors sound of protests as press freedom rankings drop
NHK asked to investigate after anti-Olympic protest muted during torch relay. https://t.co/glYUKVzg2Z

— magdalena osumi 💁🏼‍♀️ (@jt_mag_os) April 19, 2021
On 1st April, the sound on public broadcaster NHK's livestream of the Olympic torch relay in the central Japan city of Nagano was abruptly cut for almost 30 seconds after the voices of individuals along the course protesting the Tokyo Games could be heard.
There were 11 protesters in the footage, including members of a citizen group based in the community, which has been opposing the Tokyo Games since movements to host it started in Japan. They held up banners reading, "Focus on coronavirus countermeasures," and "Cancel the Olympics," and used megaphones to raise voices of protest against the games on the part of local residents. Although their demonstration was initially audible for a moment in NHK's live footage, it vanished suddenly.
Japan dropped one place to 67th in the World Press Freedom Index by Reporters Without Borders (RSF) published in April 2021. According to RSF, Yoshihide Suga, Shinzo Abe's former right-hand man and successor as prime minister since September 2020, has done nothing to improve the climate for press freedom. The world's third biggest economic power, Japan respects the principles of media freedom and pluralism. But journalists find it hard to fully play their role as democracy's watchdog because of the influence of tradition and business interests. 
On social networks, nationalist groups harass journalists who are critical of the government or cover "anti-patriotic" subjects such as the Fukushima Daiichi nuclear disaster or the US military presence in Okinawa. The government continues to refuse any debate about a law protecting "Specially-Designated Secrets," under which whistleblowers, journalists and bloggers face up to ten years in prison if convicted of publishing information obtained "illegally".
Nurses protest against Games
#Japan's nurses protest against request to deploy them to #Tokyo #Olympic Games
East Asia News @Straits_Times https://t.co/1CoAGUMK8Z

— GlobalNewsJapan 🇯🇵 (@GlobalNewsJapan) April 28, 2021
On 28th April 2021, nurses protested online against a request by Olympic organisers for 500 of them to be deployed to the Games, saying that they are "not expendable pawns" to be diverted for a "non-essential" event.
Olympic officials have said they will need 10,000 medical workers to staff the Games, and the request for more nurses comes amid a new spike in the virus, with Tokyo and Osaka under a state of emergency.
Tweets from irate medical workers using the hashtag "problematic to dispatch nurses for the Games" trended on Twitter. Many vented their anger over the plan that could deprive Japan of critical medical resources for its COVID-19 fight. Another hashtag - "protect lives above the Olympics" – also trended. They said their responsibility must be to their patients, and called on Japan to "get its priorities straight".
In a statement from the Japan Federation of Medical Workers' Unions, secretary general Susumu Morita said the focus should be on the pandemic, not the Olympics. "We must definitely stop the proposal to send as Olympic volunteers those nurses tasked with protecting the fight against the serious coronavirus pandemic," Morita said.
Protests and demonstrations banned during Olympics
In a statement on 28th April 2021, the International Olympic Committee (IOC) said it had come to the decision to continue with the Rule 50 ban preventing athletes from protesting or demonstrating at the Tokyo 2020 Olympics. The decision was reportedly based on a 10-month consultation process with over 3,500 athletes, who represent 185 different National Olympic Committees and all 41 Olympic Sports.
Rule 50 states that: "No kind of demonstration or political, religious or racial propaganda is permitted in any Olympic sites, venues or other areas." Sanctions for athletes who violate Rule 50 will be handled on a case-by-case basis.
That means raising a fist on the podium or taking a knee would still risk punishment. The IOC also said that slogans such as "Black Lives Matter" will not be allowed on athlete apparel at Olympic venues, though it approved using the words "peace," "respect," "solidarity," "inclusion" and "equality" on T-shirts.
Global Athlete, an organisation formed to strengthen athletes' voices in world sport, questioned the methodology of the survey, saying it had commissioned social science research experts who found it flawed.
"One cannot survey how people feel about human rights and freedom of expression. These types of surveys only empower the majority, when it is the minority that wants and needs to be heard," Irish karate athlete and Global Athlete founding member Caradh O'Donovan said. "Once again, the IOC has favoured suppression over expression."